I am excited to share some ReStore DIYs with you today!
The ReStore
I have learned so much partnering with Habitat for Humanity and LOVE the work that they do!  One of the ways they raise money is through their ReStore locations.  ReStores are home improvement and décor stores where 100% of the profits go to Habitat for Humanity's mission to build safe housing for people in need.  Many of the items in their stores are donated from people's homes , like light fixtures, furniture, doors, shutters, appliances, etc. but they also carry new items.  They have TONS of home improvement supplies (tools, paint brushes, etc.) and builders sometimes donate leftover supplies from jobs, so brand new tile and flooring is often available too.  It requires a little digging, but there are always treasures to be found, and the pricing can't be beat!
In starting Crisp Collective I decided one of the ways I could support Habitat is by visiting ReStores often, sharing my finds, and sharing fun ways these items can be repurposed or re-done.  I will be sharing these projects here from time to time, as well as giving quick tutorials if you want to try similar projects on your own!  I am honored that Dallas Habitat for Humanity is also going to be sharing some of my ideas on their social media outlets.
DIY
Let me preface all this by saying, I do not consider myself a master DIY-er!  I will be sharing the simplest, most time-effective way to do these projects because that's how I roll!
On my first trip to the ReStore I purchased this fun little chair for $15 and both of these shutters for $5, $2.50 each.  I loved the shape and details on this chair, but it was definitely in need of some TLC.  I started by giving it a good scrub down so that it was clean and then spray painted all the wood with this primer.  I have tried several primer sprays, and love the coverage of this one!
Then I painted the chair with a brush and white paint.  There are tons of fancy chalk paints out there that are great, but I actually purchased Waverly Inspirations Chalk Paint at Walmart.  The price is great, and I only used about a fourth of the bottle.  The coverage was perfect for this project.
I then got a sandpaper block and lightly distressed some of the corners and edges.  I am not the best painter so this also let me distress/sand away any places where the paint had gooped up a little or didn't look like I wanted.   Because I knew I was going to be replacing the fabric anyway I did not have to be super careful with my painting either (bonus!)
I went to my local Hobby Lobby and found gray plaid fabric that I thought was super fun.  The chair is not huge, so I only needed 1.5 yards.  The piping and detail on the chair was a little beyond my expertise, so I took the fabric and chair to a local upholstery shop and they recovered the cushions for me in the fabric I chose.  So, are we ready for a before and after?
BEFORE: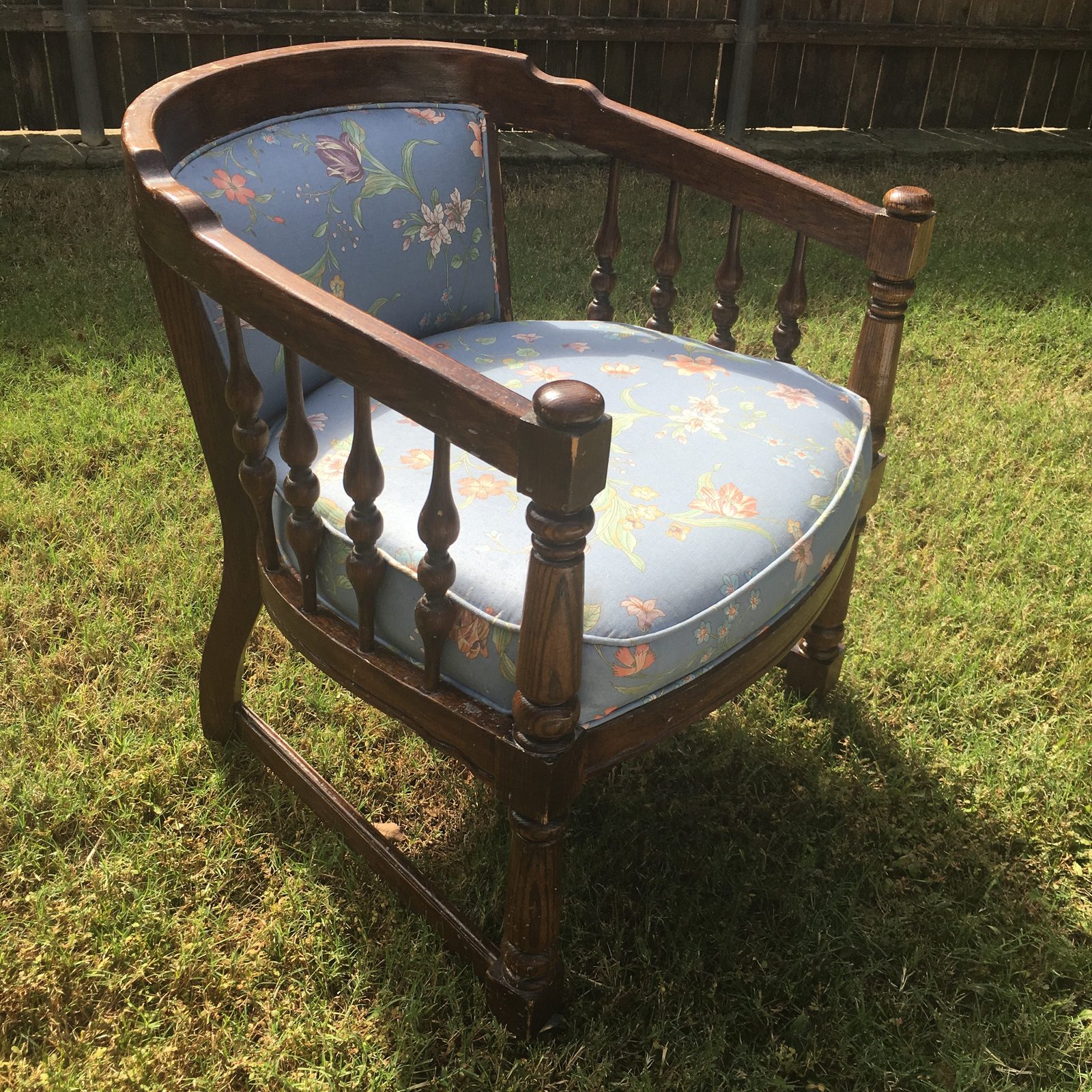 AFTER:
I was really happy with the way this turned out and had so much fun giving this little chair new life!
My first shutter project was even simpler.  I took one of the shutters, scrubbed it down and spray painted it with my same primer from above.  Then I used the rest of my white chalk paint and painted the shutter.  This paint job took a little more time because there are so many little nooks and crannies you have to make sure to cover.  When I purchased my plaid fabric at Hobby Lobby I also went to their section of knobs and pulls and got 2 pulls that I thought fit the size and style of my shutter to serve as handles.   I attached the pulls on either end of the shutter and bam!  My ugly orange shutter that looked like this…
BEFORE
AFTER
…is now a fun tray that can be used on a coffee table, dining room table or really anywhere in your home!  The best part is that the entire project cost less than $10.  Crazy, right?  My second shutter is getting a makeover too, but it is still a work in progress!  Hope you enjoyed this first Tuesday Transformation and will join me as I try to give more hidden gems new life!