It's time for another Tuesday Transformation, and this time I'm inviting you into my own home….try not to step on a Lego!  My hubby and I bought this home when we first got married to be close to the school where I taught.  We loved the neighborhood, the layout of the house and the previous owners even had the same first names as my inlaws….we took it as a sign that this was meant to be!  It was our first major purchase together, and we were so proud of how "adult" we were.  While we loved the house, it was built almost 20 years ago and well, you could tell!  Grape wall paper, splatter painted wallpaper,  builder grade carpet that had seen better days, dated light fixtures….the list goes on and on of projects and updates.  We have lived here eight years and that list continues to grow, but we have slowly conquered projects as time, budget and life has allowed!
Today I'm going to be showing you a project that was fairly simple, but I think made a huge impact…our staircase!  This staircase is the first thing you see when you walk in the door of our home.  We tackled this project two summers ago.  I had no idea I would be starting a blog, so bear with me on the before pics, but you'll get the idea!  Our staircase was like most built at the time, white wooden balusters and an orangey oak hand rail.  This area also had orangey oak-like laminate flooring and very brown walls.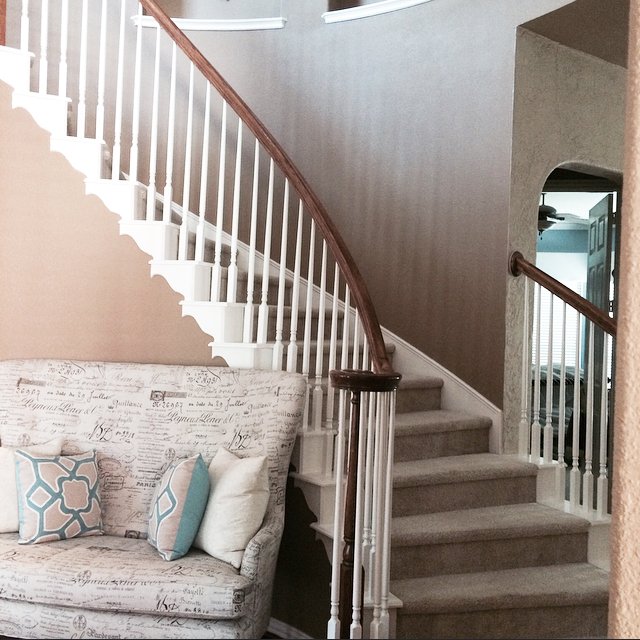 The orangey oak handrail was painted a bright white that was the same as the other trim throughout the house.  We replaced the white wooden balusters with simple black iron ones and repainted the walls a lighter shade.  If I had to do it again I would have picked a different wall paint color, but we wouldn't want to run out of future projects, right? We also bit the bullet and replaced all the flooring in our home.  It was all original, worn and had seen better days.  We did handscraped white oak stained in special walnut in all the main areas and carpet on the stairs and upstairs for the boys.  The staircase was simple, the flooring was a BEAST, but that is a story for another day!  SO,  here is the after of the staircase: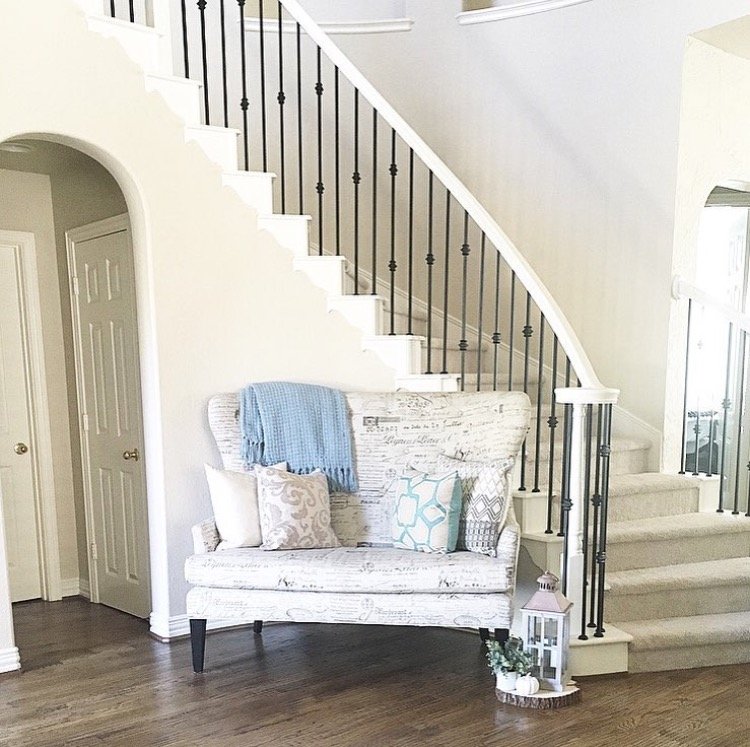 When we first looked at the house I immediately thought about how this little cove in front of the stairs would be the perfect spot for a Christmas tree!  These are the types of comments that make my husband roll his eyes as he's heavily weighing the ratings of the school district, taxes and resale value, but you know….I worry about the important stuff!  Here's a before of this area at Christmas:
Gotta love fuzzy dated camera phone pics too, right?  And our "big tree" this year in this space:
I feel like our home is always a work in progress, and I love seeing transformations in the spaces that need TLC.  I feel like my life is like that too….a constant work in progress.  I definitely have grape wallpaper and dated fixtures in areas of my life where God tries to lead me to transform into something better that serves His purpose…when I listen and follow.  So this is my prayer today:
"Create in me a clean heart, O God,  and renew a steadfast spirit within me." Psalm 51:10
And another of my favorite verses:
"Do not be conformed to this world, but be transformed by the renewing of your mind, so that you may prove what the will of God is, that which is good and acceptable and perfect."
I am thankful that He does not give up on the fixer-upper He has in me!  I want to also mention that today is Giving Tuesday!
It is an international day of giving!  I hope that you will consider donating to a charity that is meaningful to you!  And of course, I would love if you checked out Habitat for Humanity!  The work that they do to transform people's lives is amazing!