We got to spend the week of Thanksgiving spoiled by my mother-in-law's amazing cooking!  She is the type of person that when we find something we love at a restaurant a week later she has figured out how to re-create it, and somehow made it even better!  Every time she leaves I 1. Feel the need to apologize to my hubby that he grew up with her food and now eats mine and 2.  Feel inspired to step up my cooking game.  I actually like making meals and baking for my family most of the time, it just doesn't come naturally to me, and I often get in ruts of making the same things over and over.  With that being said, any recipes I share here will be fast, easy and doable because if I can make it, ANYONE can!
This Almond Coffee Cake is a recipe from my mother-in-law, and I only make it when people are coming over because I could seriously eat the whole thing by myself!  I love almond and this little cake is just perfect with a cup of coffee for breakfast or for dessert.  If you have upcoming holiday parties where you need to bring a dish, this one will not disappoint!  Plus you probably already have the ingredients in your pantry without going to the store!
Ingredients:
3/4 Cup Butter
1 1/2 Cup Sugar
2 Eggs
1 1/2 Cup Flour
Pinch of Salt
2 tsp. almond flavoring
Sliced almonds
Directions:
Cake:
Melt butter, add sugar, beat in eggs.  Stir in flour, 1 tsp or almond flavoring and pinch of salt.  Pour into a pie or cake pan.  I usually spray mine first with this so slices come out easier!
Topping:
Put 2nd tsp of almond flavoring in a small bowl with almonds and a small amount of sugar.  Stir well and brush over the entire top of your cake batter.
Bake 30-35 minutes at 350 degrees.  Let cool 10-20 minutes before cutting.
I made this before they arrived, but thought I should probably try a piece myself….just to be sure it was good!
And it was….
z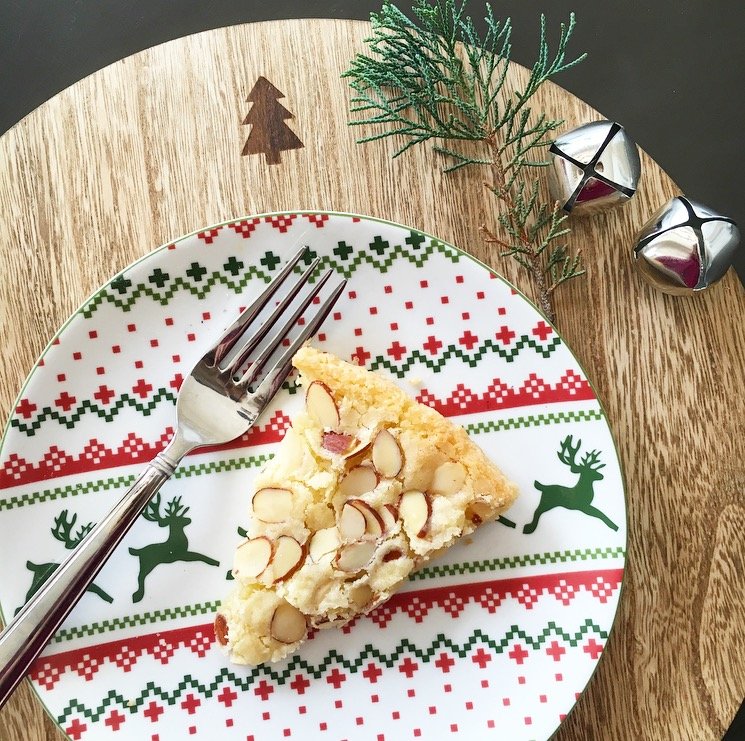 Kitchen Gift Ideas
And with Christmas coming up I rounded up a couple gift ideas for those people in your life that know their way around a kitchen….or maybe just try, like me!  I will be sharing LOTS of gift ideas on tomorrow's post!
Have you seen this or heard about the Instant Pot?  It's a 6-in-1 Multi-Functional Cooker–Pressure Cooker, Saute/Browning, Slow Cooker, Rice Cooker, Steamer & Warmer….I mean, this guy does it all!  Amazon has the 6 quart version for only $68.95 marked down from $219 as part of their Cyber Week sales.  We do a lot of slow cooker meals this time of year, and I think I just might need this bad boy!  I am HUGE on reading reviews and this has 3,714 reviews with an overall rating of 4.5 stars.  If any of you have this, I'd love to hear your thoughts!  This would make an awesome gift or you might just need one for yourself!
Aaand you might as well order this too from Amazon.  I am notorious for getting kitchen appliances and then never really using them.  This cookbook is only $9 and has over 100 recipes to use with the Instant Pot.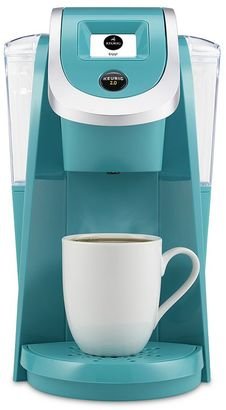 I also love this new sleeker Kuerig K250.  How fun is this color?  It also comes in red, plum gray, purple and red.  Kohl's has this for $129.99 marked down from $149.99 plus an extra 20% off with the code DEALSEEKER until 11/30 and FREE SHIPPING on purchases over $25.  That makes it just over $100!  This would be a fun gift for the kitchen, office or classroom.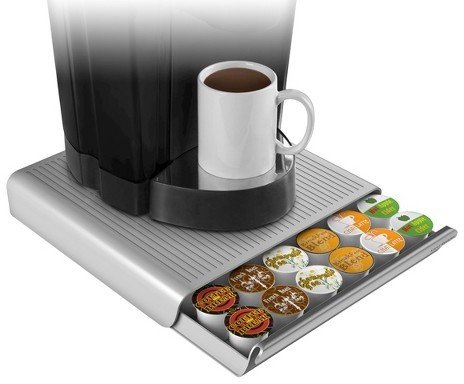 I don't have a ton of counter space in my kitchen…which I need for all that food prepping I'm doing (wink, wink!), so I love this drawer.  It holds 36 K-cups and goes right underneath your coffee maker.  This one is $16.99, comes in several colors and is also at Kohl's so you can get 20% off with the code DEALSEEKER.
I'll be sharing TONS of gift ideas tomorrow for everyone on your gift list!  For now, I'm going to grab a second cup of coffee….and probably a piece of cake!  Happy hump day!