Come on in!  Let me grab you a cup of coffee…I'm on my second (ok, ok third)!  "How the Grinch Stole Christmas" is probably playing in the background because my boys ask to watch it on repeat.  If it's not your favorite, no worries, they will be over it and off to the next thing in less than 3 minutes!  All the laundry has been carefully thrown in the bedroom  put away in it's proper place so that I can show you how we decorate our home for the holidays!  So sit back for the best pics my iPhone can provide….let's do this!
In my Tuesday Transformation of this staircase, I talked about how I envisioned our Christmas tree here from the first time we looked at this house.  This is the view when you first open the door, and it just makes me smile!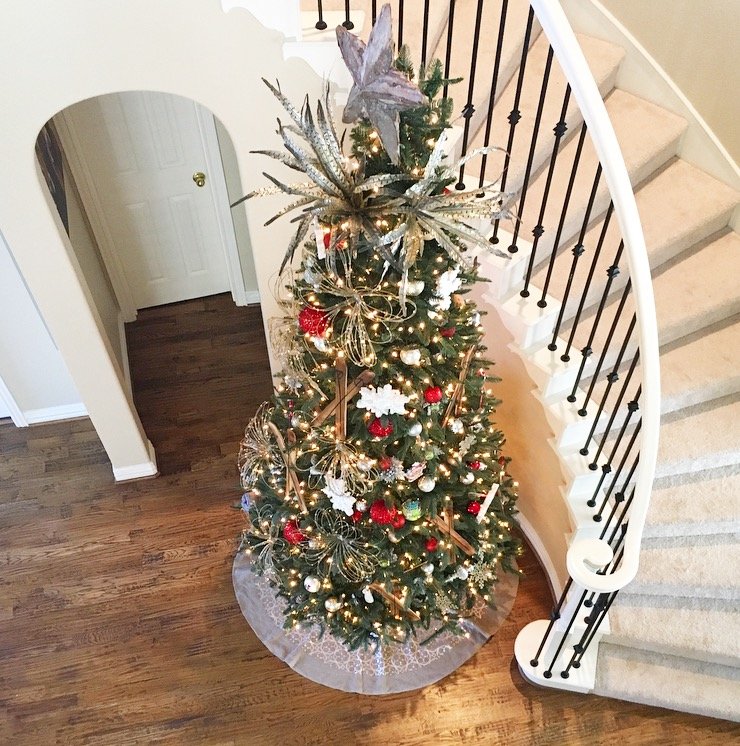 I bought this tree from Calloway's Nursery the first Christmas we lived here.  I think it is hilarious that a nursery had an artificial tree for sale, but it was just right for this spot!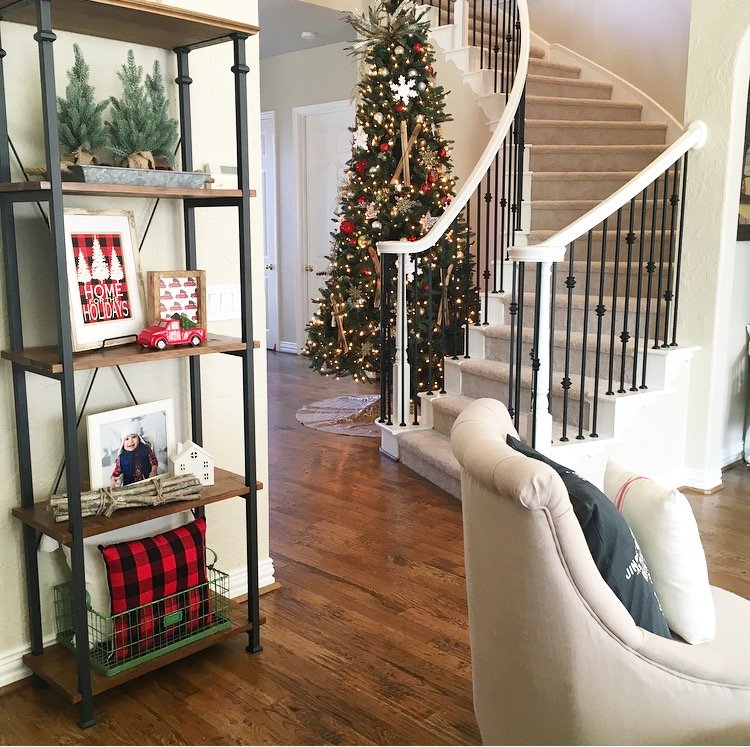 I searched for shelves for this spot forever and finally found these on Amazon!  I love decorating them for different seasons.  They are sturdy, easy to put together and a great deal too!
That Santa on the pantry door is my son's advent calendar he made at school.  We have had fun adding a cotton ball to Santa's beard each day leading up to Christmas.
Have I mentioned I like pillows?  These leather couches are a lifesaver with toddlers….cloth is so pretty, but would never survive with my crew!  So I cover them with pillows that are usually all over the floor or used for making forts, but I tried to arrange them for you here!  H&M and Target have great holiday pillows and pillow cover options this year!
I purchased this sign that is on my coffee table from Rustic Pig Designs, and I just love it!  Constant reminder of the reason for the season!
This 6 ft flocked tree was a $30 Walmart purchase this year…yup, Walmart!  I went to decorate it, and decided I just liked it simple with this garland. Oh, and I like a little cocoa with my marshmallows!
I also love decorating this tiered tray for each season.  Easy way to change things up! This little bird is from Target, and he just makes me giggle!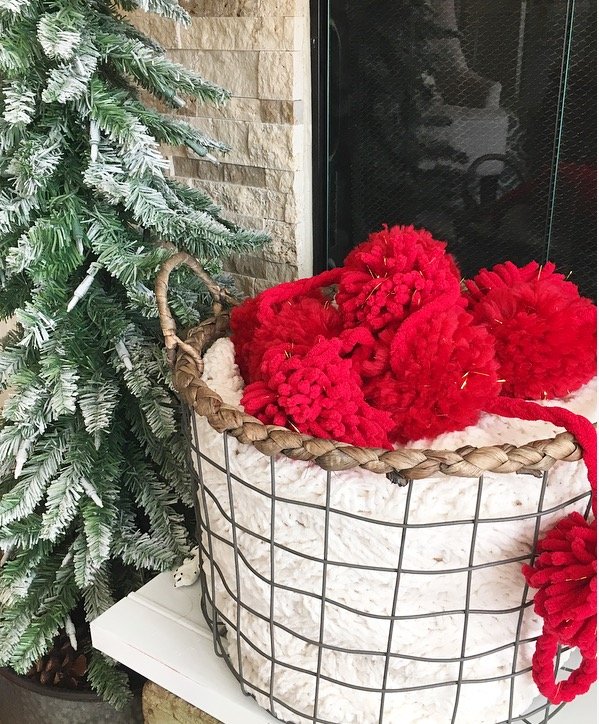 And across the room is our mantle where the stockings are hung with care for my favorite guys!
Thank you so much for stopping by!  Wishing you and yours all the joy this holiday season!