The bunnies will be put away for another year after Sunday, so I thought I would hop on and share my Easter tiered tray and table setting!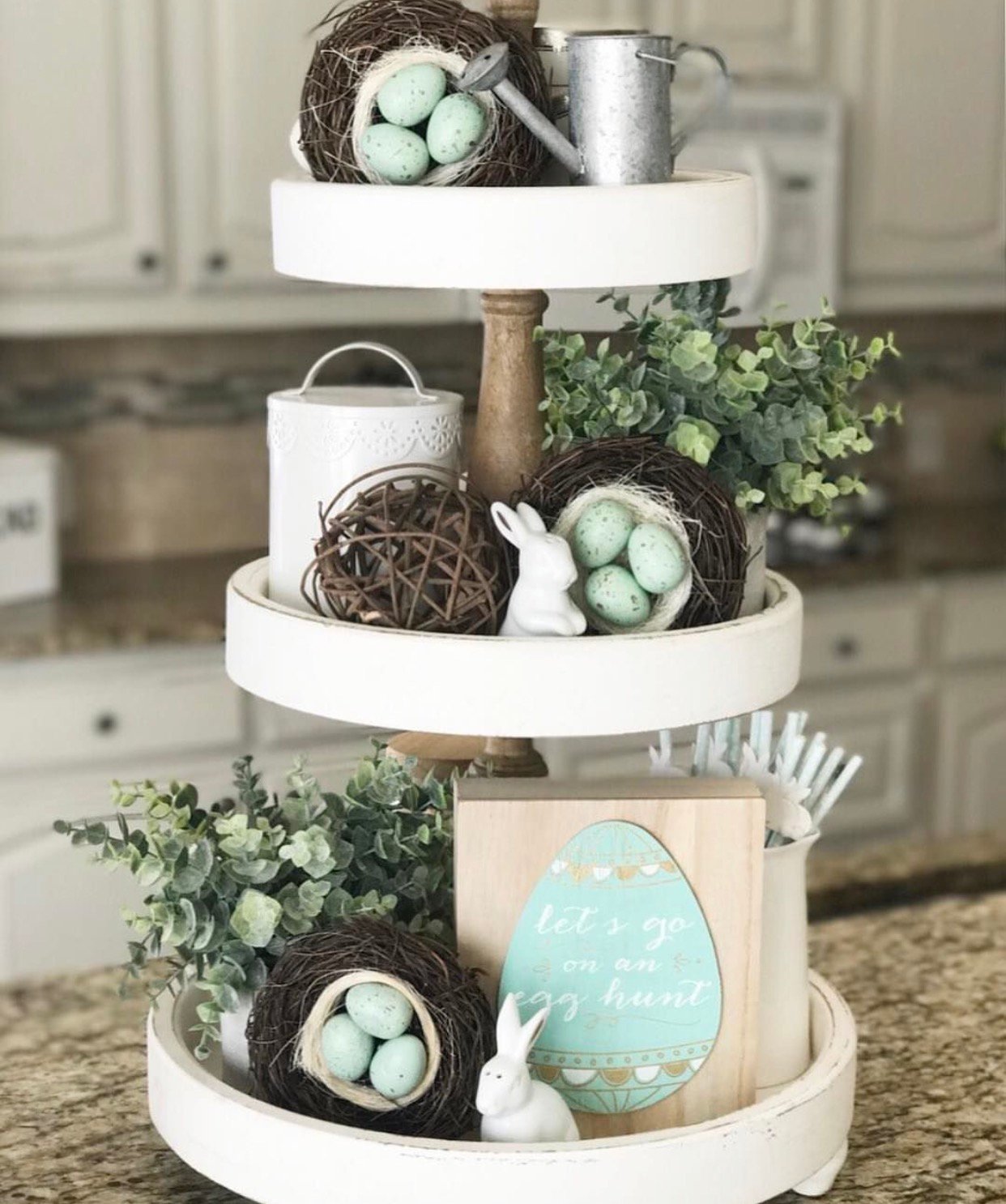 If you follow me on Instagram, you know that I LOVE this tiered tray!  It might be my favorite thing to decorate in my house.  It sits on the bar in our kitchen that overlooks the living room, so I look at it often, and it always makes me smile!  I usually keep the basic elements the same (greenery, coffee cups, cream pitcher) and switch out smaller items seasonally.
I recently sold my dining room table and chairs.  I bought that set when I was 22…..what 22 year old needs a dining room table with a leaf that seats 8 people and a hutch?!?  I was definitely not hosting fancy dinner parties, but it seemed like a very "adult" purchase that needed to be made at the time!  It served me well for many years, but I was ready to change it up, so I sold it and purchased this table instead.  I held on to the hutch, which may get a little makeover, and I am still on the hunt for the chairs.
All that to say, is it crazy that I have an Easter table setting, but don't even have chairs?!? Tooootally normal right?  Luckily my mom hosts everyone for Easter, so not to worry, we won't be having a picnic on the floor!  I was shopping for a client this week and popped into Pier One's Spring and Easter sale.  I get easily distracted by sales, so that is how this little setup came to be!
I don't go into Pier One very often, and was surprised at all I found, especially for the dining room!  SO, if you are hosting Easter this weekend, with chairs I hope, and you want to step up your table swag, I encourage you to pop into a Pier One and check out all their goodies!  Happy Hunting!
SHOP THIS POST
Boxwood Leaves Placemat, Shop all placemats here
Natural Fiber Round Placemats, set of 4
Carved White Charger Plate, Shop all chargers here
Mint Green Cotton Chambray Napkin
I found my egg's nests at Marshall's, but Pier One had these that would be super cute!
Three tiered tray- I found mine at Home Goods.  However, it is available on Amazon here and at National Furniture Supply here.  It is also occasionally available on Overstock….I get a LOT of questions about this tray, so I try to let people that are interested know when it is back in stock!