I plan to celebrate Cinco de Mayo with queso…more queso…and THIS margarita!
I am kicking off a new blog series today called Summer Sips.  Each Friday I'll be sharing a summer drink recipe in anticipation of all those days by the pool, beach trips and BBQs in the coming summer months!
Maybe it is the teacher in me, but I simply LOVE summer!  I live in Texas where the heat can almost be unbearable, but a cold drink definitely helps!  In honor of Cinco de Mayo, the first summer sip is this strawberry jalapeno margarita!  Strawberries are in season, so it is the perfect time to make this little cocktail, plus I love a drink with a little kick!  If spice is not your thing, you can definitely lay off the heat, but I think it's what makes this extra special!
This recipe yields 2 margaritas…because who wants to drink alone?!  But feel free to double or triple it for a crowd!
Ingredients:
2 cups fresh strawberries
2 cups ice
1-4 slices of jalapeno
Juice from 1 lime
1 1/2 oz. tequila
 1 oz. orange liquor, such as Cointreau
1/2 oz. honey simple syrup (see directions below) OR 1/2 oz agave nector
Blender
Directions:
To make honey simple syrup put 1/4 cup of honey and 1/4 cup of water in a medium saucepan.  Heat over medium-high heat until honey is dissolved.  Remove from heat and let cool.  This is great in tea also!
Put all ingredients in the blender.  Decide the number of jalepeno slices (remove seeds) based on the heat you or your guests prefer! Blend until smooth.  Pour in your glass and garnish with a slice of lime!
If you need a taco recipe to pair with your margarita, be sure to check out my Crockpot Chipotle Chicken Tacos!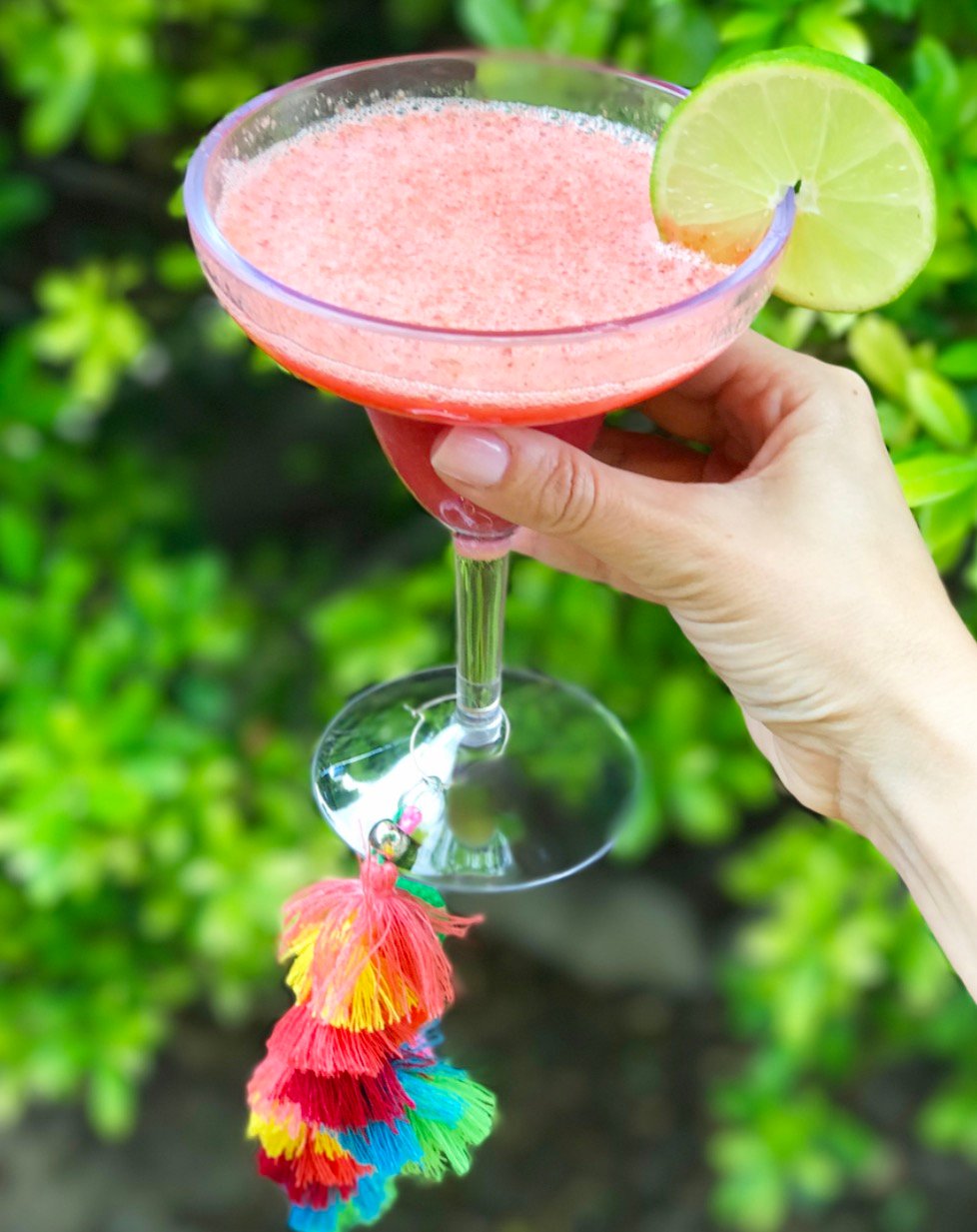 This tray of chips and dips is also a must!  Find it here.
Cheers friends!  I look forward to more Friday Happy Hours in our future!  I hope it's a great weekend!