With Father's Day quickly approaching, I wanted to share some practical, fun ideas for your husbands and fathers.  I find shopping for myself, my girlfriends and my kids to be pretty effortless (shocking I know!), but shopping for men can sometimes be a challenge.  Today I am sharing some tried and true gifts that are SURE to win you some mega gift-giving points with the men in your life!
Side note:  Dear Dad and Hubby, this is where you should stop reading if you want to be surprised!
Many of these options are available through Amazon Prime, which means you still have plenty of time to order and have them by Father's Day, June 18th.
SAXX Underwear  Ok, so this would probably be an awkward gift to give YOUR Dad, but is perfect for your hubby!  I have to credit my mother-in-law with this find.  She bought these for my husband one Christmas, and he called them a "game changer"…really?  I was skeptical.  I told some girlfriends about them, they all purchased them for their husbands and they all raved too.  In fact, one husband said, "Other than our four children, this is the BEST gift you've ever given me!"  I do not claim to understand the magic behind these undies…maybe they are the male equivalent of Hanky Panky underwear for women?  Regardless, they might make a unique gift for your man!  Reviews say they tend to run big, so if you are deciding between sizes, size down.
REEF Sandals  As we head into summer, new sandals would be perfect for Dad!  My hubby has these REEF sandals in 3 colors and has worn them for YEARS!  He is a comfort over style guy, and says he can wear these all day without any pain.  And just for good measure, maybe throw in a gift card for a pedicure!
Last year for Father's Day I bought my husband this Yeti Hopper.
I was so excited to give it to him, and he loved it.  HOWEVER, I have to tell you…we rarely used it.  The zipper on this one is very hard to open and the opening is so small it makes it hard to tell what is actually in the cooler.  I'm sad that I spent so much on something we don't use.  SO, he has mentioned that this design is much better.
This is the Yeti Hopper Flip.  It unzips all the way around and flips open so your can see what is inside.  I love this size for roadtrips, soccer games, and the golf course.  This will probably be my hubby's gift this year!
RTIC is another brand with very similar technology as far as the ice not melting for 5 days.  This is their version, which is also very nice for a lower price point!
A magazine subscription might also be a fun, inexpensive gift that Dad can enjoy all year!  I know many of us get all our news through apps or online, but I know my hubby still likes to flip through magazines at home.  Sports Illustrated, Men's Health , or the Men's Journal might all be subscriptions Dad would enjoy!
These Men's UGG Slippers are 40% off, making them just under $60.  My hubby is too warm-natured for Uggs, but I have a pair that I absolutely LIVE in!  So soft and comfy!
Whether they like to admit or not, most men enjoy nice product for their skin and hair just like women.  I love everything Kiehl's makes, so this Kiehl's Men's Starter Kit is a great way to let Dad try travel sizes of so many of their products!
Along those same lines, many of you are probably familiar with Birchbox, the monthly subscription where you get a mix of five personalized hair, makeup, skin or fragrance samples for $10 a month.  I had a subscription for awhile and loved it!  It is a great way to try out high end products without the price tag of the full sized version!  Now they have a men's version!  It is $20 a month and includes 4 grooming samples and 1 full sized lifestyle item, like a gadget or manly accessory.  You can pay for this month to month to try it out.  I think it's a great concept and a fun surprise each month when the goodies arrive! You can read more here.
This FITBIT Flex 2 is a great all around fitness tracker at a great price point.  40% off right now!
Any golfer would also appreciate these monogrammed golf balls that come with their own personalized case.
Any Dad, especially those that travel often, would appreciate these BOSE noise cancelling headphones.  They are pretty pricy, but thousands of raving reviews can't be wrong, and Dad can use these for years and years!
This shirt is from a brand called Untuckit.  My hubby is 6'4, has broad shoulders, and a smaller waist.  He likes to wear button downs untucked when we go out with friends or for date night, but often for a shirt to fit his shoulders, it looks like a big tent around his waist and is too long.  He has tried "athletic cut" from some brands, which are cut to be bigger at the shoulders and smaller at the waist, but untucked they are often still too long and look sloppy.  SO, this style is specifically made to be worn untucked with a more athletic cut.  All the styles are clean and classic and my hubby has about 7 of them in his closet.  If this describes your hubby or Dad's body type, I HIGHLY recommend! There are lots of styles available on Amazon or you can shop their website here.
They say the way to a man's heart is food, so one of my favorite gifts to give my hubby is a roundup of his favorite foods with the promise that they are just for him!  Maybe fill this cute drink caddy with unusual craft beers to try? My husband is obsessed with Whataburger ketchup, so last year I ordered a few bottles and put them in his Yeti.  Hot sauces, chips, grilling marinades/spices, BBQ sauce, bourbon, whiskey…all fun ideas for the foodie Dad.
I always think experiences make great gifts, so a round of golf, tickets to a baseball game, concert tickets, a brew tour, a fun date night….all great gifts that won't just sit in the back of his closet!
My dad is retired and honestly doesn't need much in terms of "stuff", so I often get him adventures to take with the grandkids.  LEGOLAND, Zoo trips, trampoline parks, the aquarium…all priceless memories we get to make with Poppy.
I also created a Pinterest board of Father's Day Ideas.  Kid's crafts, printables, recipes, menu ideas….lots of great inspiration to prepare you to celebrate Dad in style!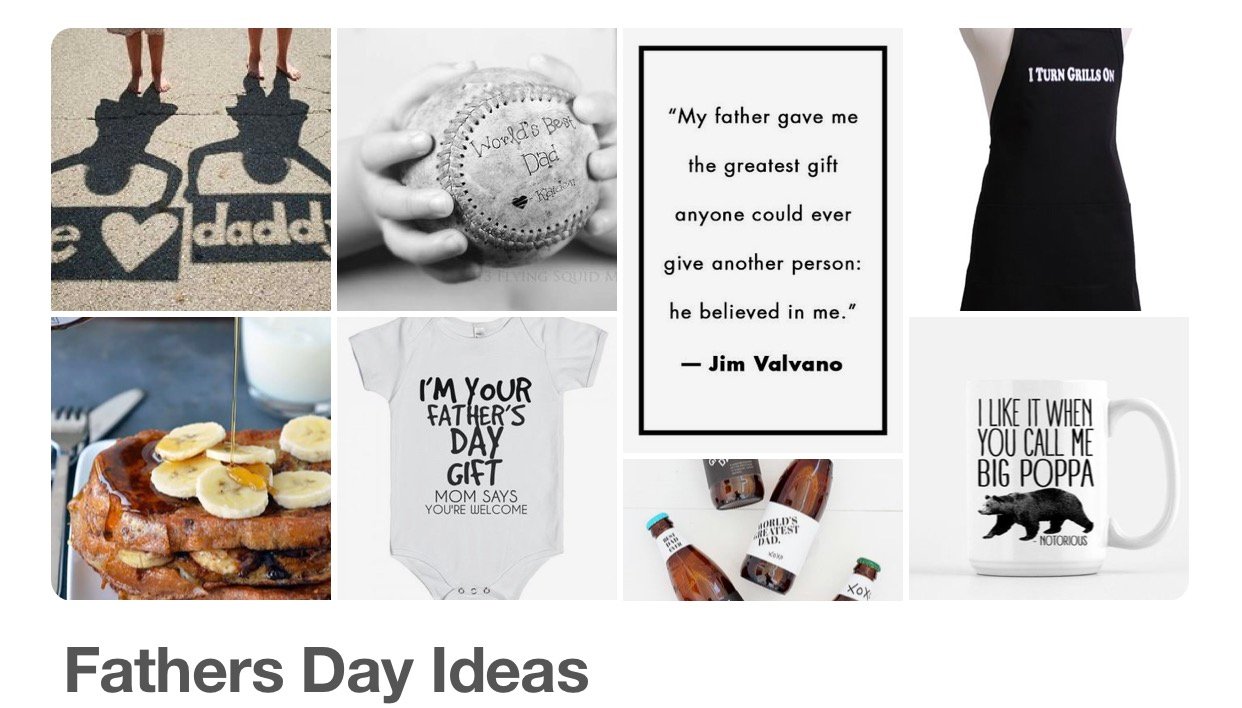 I'm just getting my Pinterest account going and would LOVE for you to follow along here.
Hopefully these ideas will help you find a special way to honor those Dads in your life!  Shopping for guys can be tough, so if you have some great gift ideas, I'd LOVE to hear them!  Happy Father's Day to all you amazing Dads!