Happy July!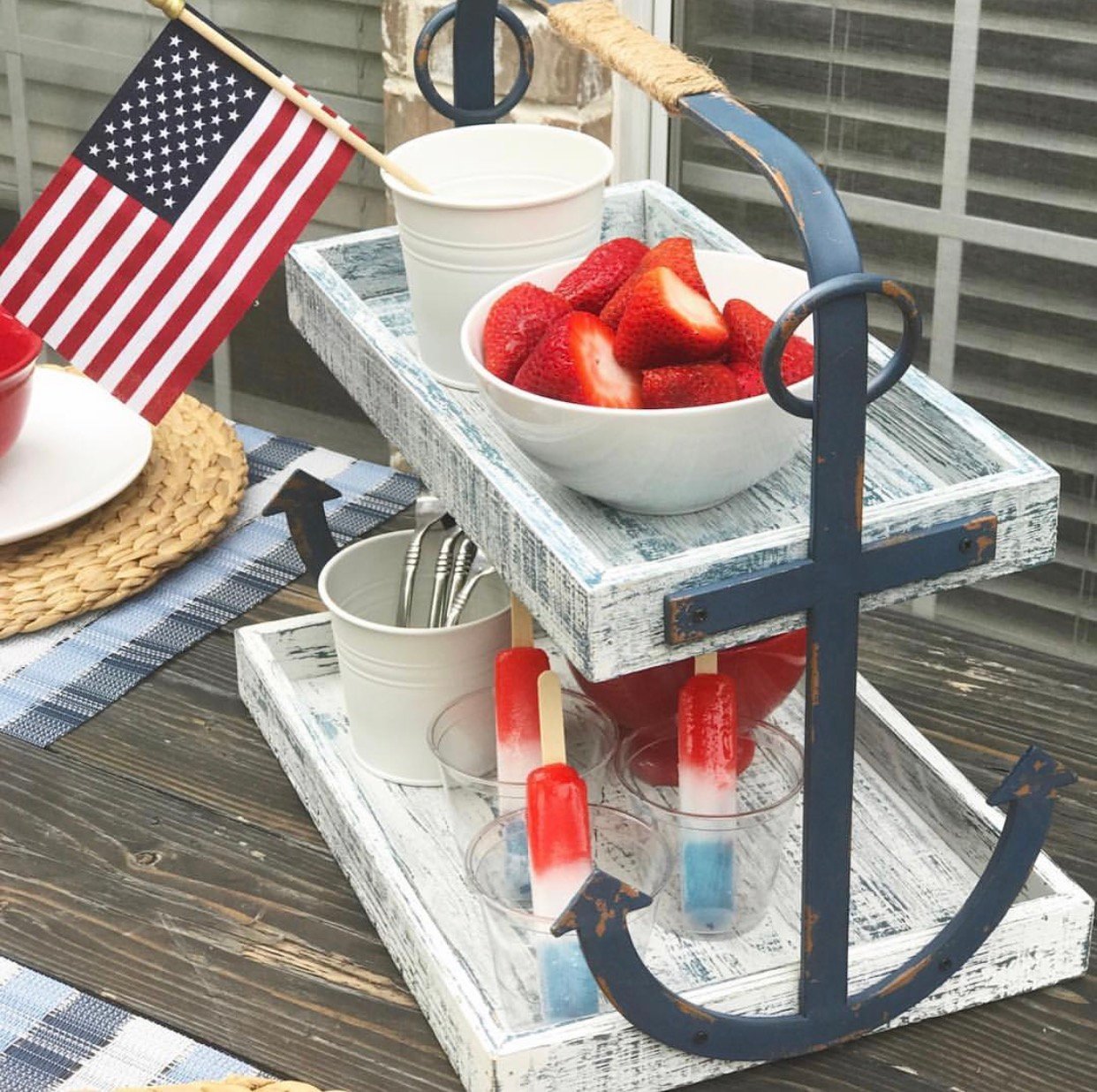 In just a few days we'll be cooking out, watching fireworks and partying like it's 1776, so I thought I'd share some food, fashion and a free printable to make your fourth just a little more festive!
Flag Fruit Tray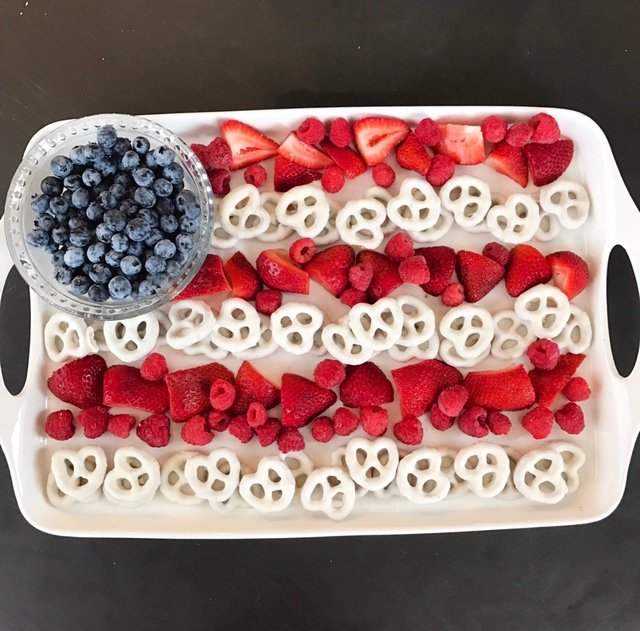 I made this flag tray for our neighborhood's Memorial Day Pig Roast, and it was gone in a flash!  It seriously took five minutes to put together and everyone commented about how cute it was…before they ate it all of course! Blueberries, strawberries and/or rasberries and yogurt covered pretzels…easy and fun for your fourth get togethers!
Patriotic Popcorn
Another super fast and easy snack for munching while you watch the fireworks!
Ingredients
2 cups of white chocolate chips
2 cups of popcorn
2 cups or red, white and blue M&Ms
1 cup of almonds or peanuts
Wax paper and 1 Ziploc bag
Directions:
 Spread popcorn, M&Ms and nuts out on your wax paper.   Put your white chocolate chips in a Ziploc bag and melt in the microwave, squeezing the bag every 30 seconds so the chocolate all gets melted.  Once it is melted (1.5-2 minutes) cut the corner of the Ziploc bag and drizzle melted chocolate over your mixture.  Let chocolate cool and eat it up!
All-American Sangria
This little drink would be perfect for the fourth!  You can get the recipe here.
3 Outfit Options
Most days you can find me in my "momiform" of workout clothes or shorts and a tee, but I like to be a little more festive for holidays, so here are 3 outfit ideas from my own closet!
Many pieces are from stores you might be hitting up this weekend anyway…
Option #1:
This little USA tank is super soft and just $12.99,
Bow Slides (on sale), Sunglasses, Shorts (on sale), Hat-Target One Spot
Option #2:
I bought this fun off the shoulder top from Loft is 50%, along with EVERYTHING in store and online with the code SPARKLER!
Shorts-fave J. Crew chinos, also on sale, Crossbody Bag, Sunglasses
Option #3:
I snagged this little dress at the beginning of the summer, and I love it because it is fully lined and you can dress it up with wedges or make it casual with flip flops or converse.
Earrings, Similar straw clutch, Essie polish
Free Printable
And to make your home a little more festive, here's a free printable with one of my favorite verses!
"We have this hope as an anchor, firm and secure." Hebrews 6:19
A little throwback to last fourth of July…
when my sweet boys realized you better eat your bomb pop fast if you live in Texas!
How I miss my Will in his bandana bibs!
Hope your weekend is full of family, fun and a celebration of the awesome FREEDOMS we enjoy!