I loved this Korean Beef Broccoli bowl in the slow cooker so much, I decided to make a similar dish:  slow cooker honey ginger chicken!
I love slow cooker meals this time of year!  They just make life easier!  And the honey and ginger give this chicken such great flavor!
Ingredients:
1-2 lbs of boneless chicken breasts
1/2 cup soy sauce
1/2 cup honey
1/4 cup rice wine vinegar
1 teaspoon minced garlic
1 teaspoon ground ginger
3/4 cup water
1/2 cup of cornstarch
Green onions and sesame seeds to garnish (optional)
Slow cooker liner for easy cleanup and 1 ziplock bag
I asked on my Instagram last week for your favorites from Trader Joe's and hundreds of you gave me suggestions…your passion for TJ's made me smile!!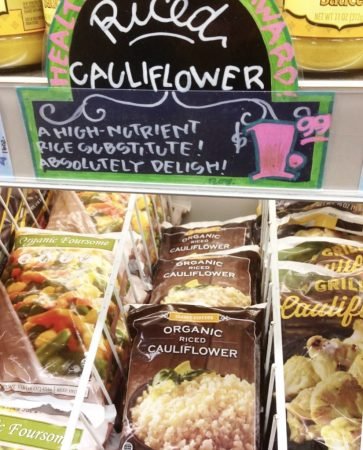 One of the most suggested items was this organic riced cauliflower!  We decided to give it a try under our chicken.  As I shared in the Korean beef recipe,  I would normally buy this easy rice.
But I have to say, the riced cauliflower was really good!!  It also has 20 calories and 4 carbs, as opposed to the 210 calories and 38 carbs in this rice….sheesh!  I like easy, healthy switches like this where I really don't feel like I'm missing out on taste.  And I'm pretty sure my butt is already smaller…..
I'll be sharing more of my Trader Joe's finds from your suggestions soon!  SO much goodness!  But for now, back to the honey ginger chicken!
Directions:
Line slow cooker with liner.  Put soy sauce, honey, vinegar, garlic, ginger, and water in the slow cooker and stir.
Cut chicken into bite sized pieces.  Put in your Ziploc baggie with cornstarch and shake until chicken is coated.
Add in coated chicken and stir again.  Place lid on top and cook on high 2-3 hours or low 4-6 hours until cooked.
Once finished spoon chicken and sauce over your rice, cauliflower or quinoa…whatever sounds best to you…and top with chopped green onions and sesame seeds!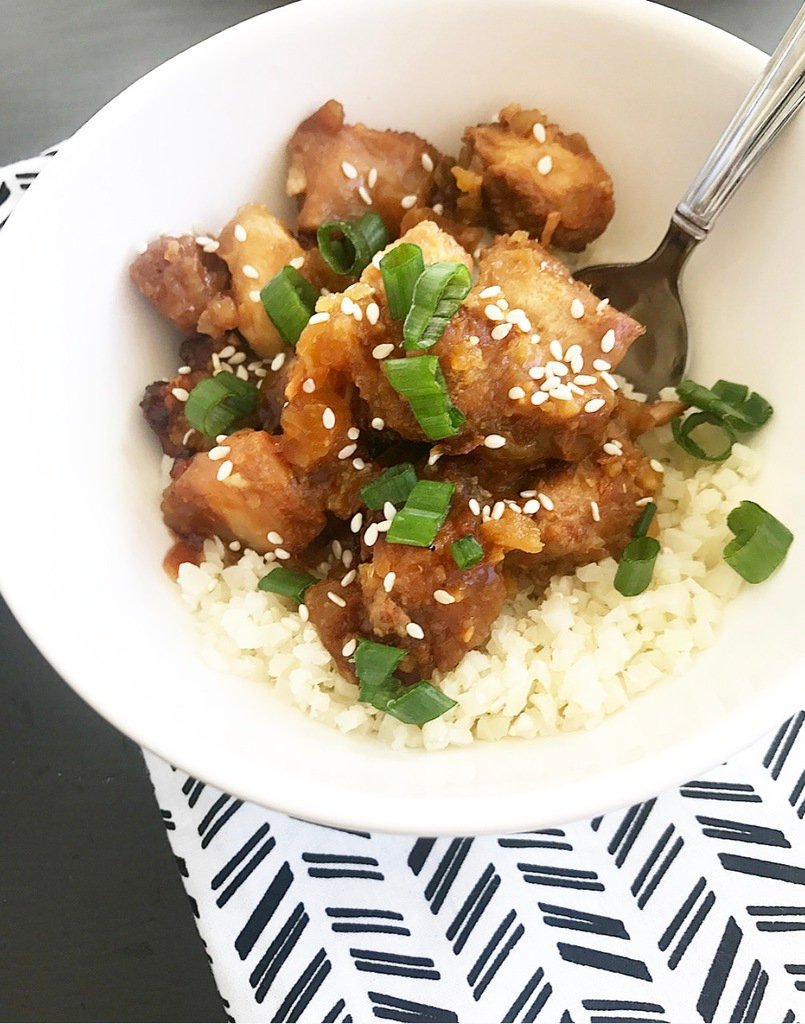 Enjoy!