The closest Trader Joe's is about 45 minutes from our house, so despite my love for cookie butter, I don't make the trek often!
A couple of weeks ago I had an appointment right by TJ's, so I decided to ask my friends on Instagram their favorite staples before heading out.  The response was overwhelming!!  People are passionate about Trader Joe's!  There were so many gems I had never tried…I listed the top ten recommendations I heard over and over at the bottom of this post!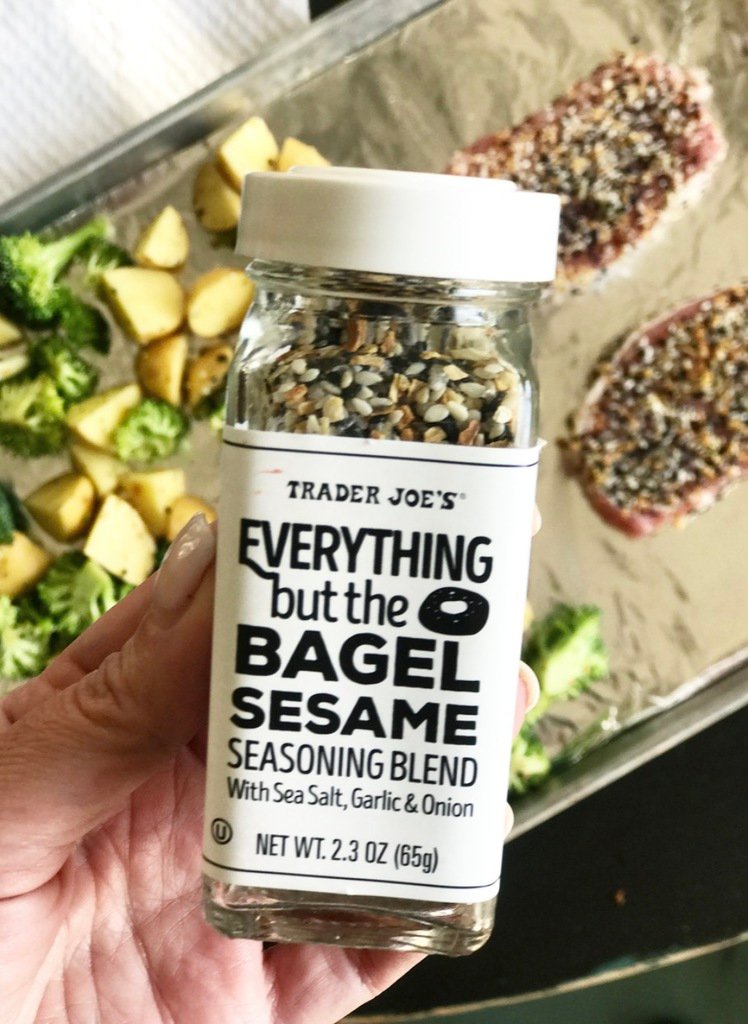 One of the favorites was this Everything But the Bagel seseme seasoning!  People said they use it on eggs, avocado toast, popcorn…..all sorts of things!  And that's how this recipes came to be!
I was trying to think of a different way to season my one pan pork and veggies, and this was a tasty twist!
I like this recipe because it is quick, easy and all the ingredients roast together on one baking sheet!  On the night I made this my hubby was out of town for work, so I could easily adjust to cook just enough for me and the boys and the clean up took minutes!
Ingredients:
Pork Chops- I used boneless center cut chops that were about 1/4 of an inch thick
New potatoes or yellow potatoes cut into fourths
Veggies of your choice- I used broccoli
Extra virgin olive oil
Everything but the bagel sesame seasoning
Salt and pepper
Foil lined baking sheet
Directions:
Preheat your oven to 400 degrees.  Lightly brush your chops with olive oil and cover both sides with Everything but the Bagel seasoning.  I seasoned mine in this glass dish just to contain the mess.  Place on foil lined baking sheet.
Spread potatoes and veggies out on baking sheet and lightly drizzle with olive oil and sprinkle Everything seasoning, salt and pepper.  Use your hands to move veggies and potatoes around to ensure they are lightly coated with oil and seasoning, then spread them back out into a single layer.
Place in the oven for 10-12 minutes (depending on the thickness of pork chop) and then flip the pork chops and cook for 10-12 more minutes.
And that's it!  And the clean up couldn't be easier!
Now, as for that list!  Here were the Trader Joe's recs I heard again and again:
Honorable mentions also included:
Hummus
21 Seasoning Salute
Spinach dip
Lemon Pepper Seasoning
The three ingredients needed to make this dip
Chili lime chicken burgers
Fig and olive crackers
And for the sake of research…I bought at least one of each!  I was missing out on SO much TJ gold before!!
If you don't live anywhere near a Trader Joe's, but are dying to try some of these, they are available online…just at a higher price than what you find in store!
I linked a few here: