A steak dinner, especially filet mignon,  just always seems special!
And if you're like me, I know my way around a kitchen (for the most part!), but my hubby is the master of the grill!  So this time of year, if it's still too cold or you just want to whip up a juicy steak on your own, but lack grill skills, this method is PERFECT!
This method combines searing the outside stovetop in a cast iron skillet, and then transferring that skillet directly into the oven to finish.  It gives the outside of the steak that grilled, slightly charred taste, while the inside is still juicy.  The garlic herb butter is also a yummy touch that makes it feel just a little more special!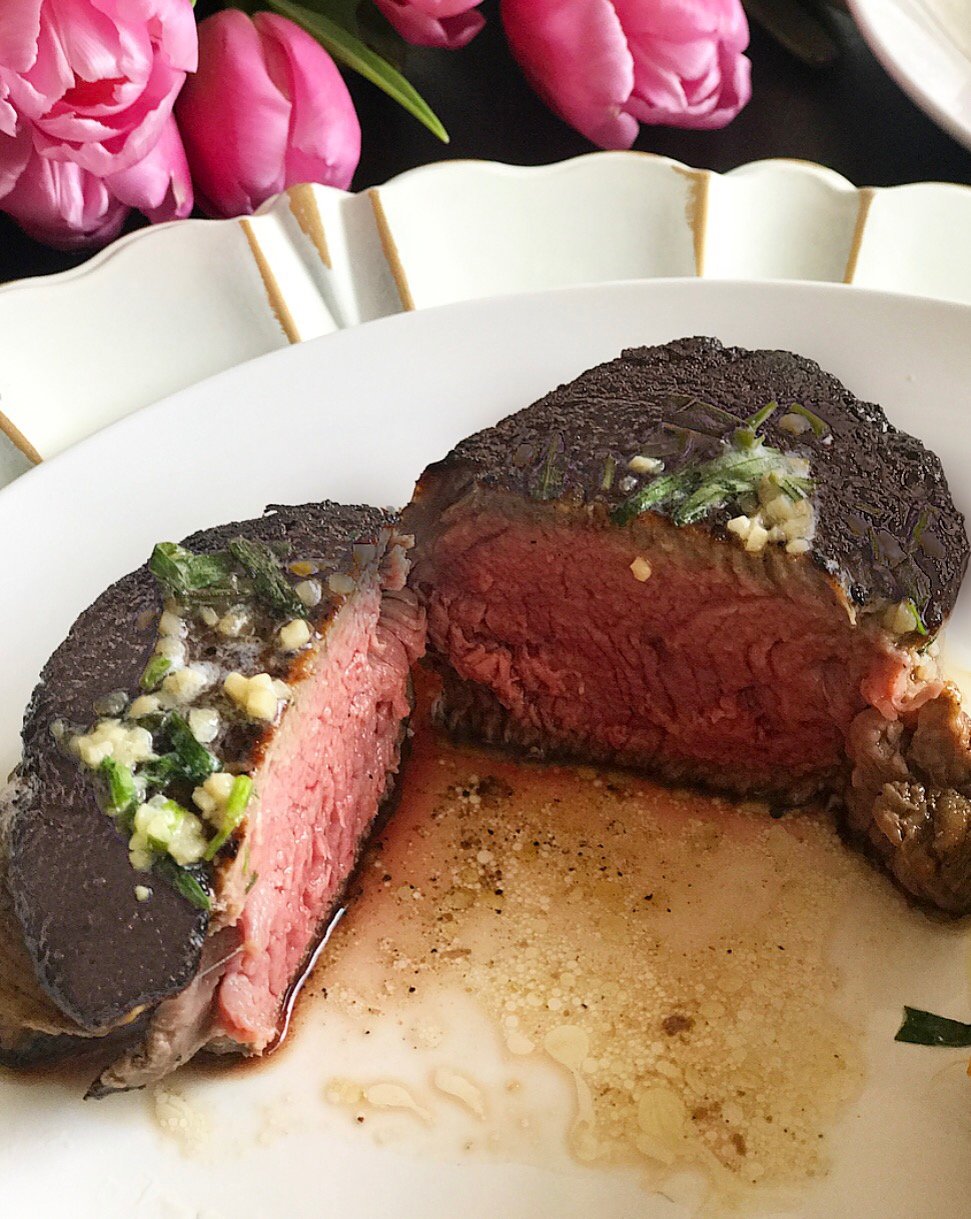 Ingredients:
For the garlic herb butter:
1 stick of butter
1 tablespoon chopped fresh rosemary
1 tablespoon chopped fresh tarragon
1 tablespoon minced garlic
Aluminum Foil
Directions for Garlic Herb Butter
Place the stick of butter in a microwave safe dish and heat in microwave to soften, 10-15 seconds.  Mix herbs and garlic in a separate bowl.  Remove the stick of butter from microwave and coat it completely with the mixture of garlic and herbs.  Wrap your stick of butter in aluminum foil and place in the fridge to harden until needed.
Filet Ingredients:
1 or more 5-7 ounce thick tenderloin beef filets-If you choose thicker steaks, just note time differences below!
2-3 tablespoons of butter
1-2 tablespoons of olive oil
Salt and pepper to taste
Meat Thermometer (optional)
Directions for Filet:
Preheat Oven to 415 degrees.  Be sure steak is room temperature before you start by setting it out about 30 minutes before cooking.  Season both sides generously with salt and pepper.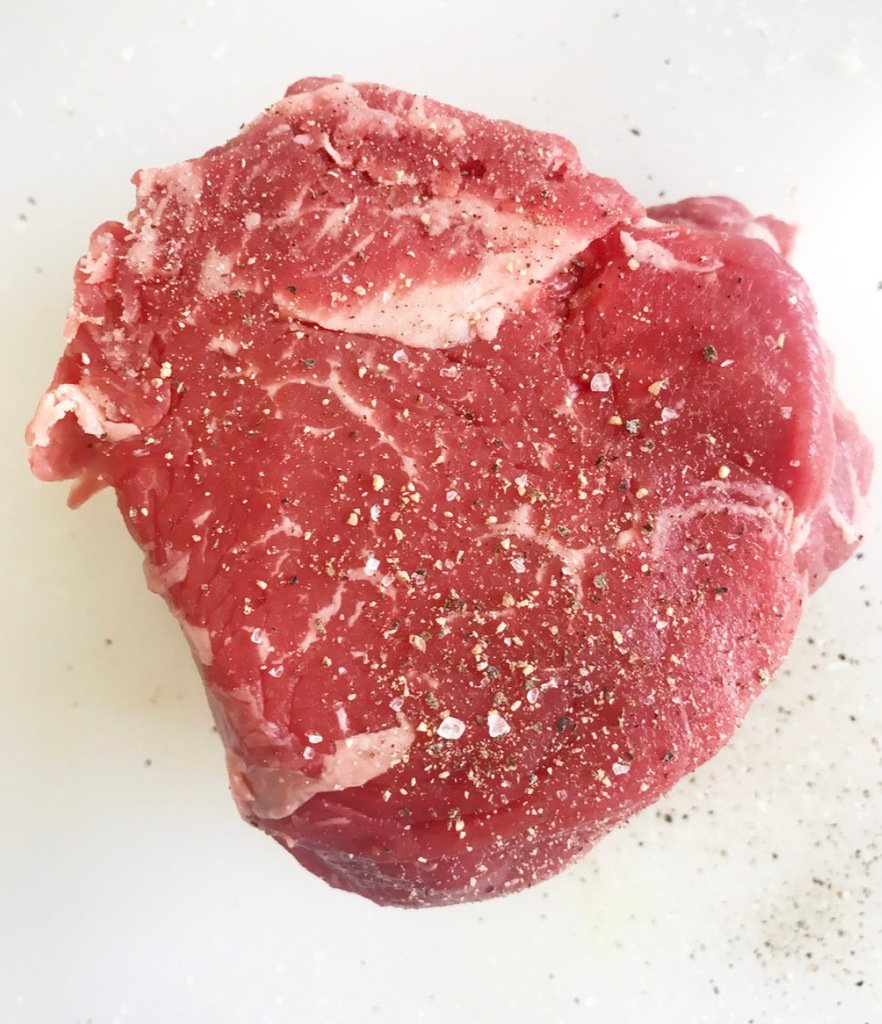 Add olive oil and plain butter to the oven safe cast iron skillet and place on the stove at high heat.  Your skillet needs to be scorching hot before you begin.  Once hot, place your filet in the skillet and let it sear without touching it for  1-2 minutes.  Flip the filet and sear for an additional 1-2 minutes.  You may need to adjust based on the size of your filet.  Just watch it…you want it slightly charred, but not burnt.  Generally speaking I would not sear more than 2 minutes.  And just a warning, it will create some smoke…don't panic…says the girl that started multiple fires in her parents kitchen growing up!  haha!
Questioning my skills now?  We often learn best from mistakes….
Back to the steak!  After searing both sides, transfer your skillet to the oven.  Use heavy oven mitts…it will be HOT! Consider the size of your steak and the temperature you prefer.  For a 5-7 oz cook 1-2 minutes for rare, 3-4 minutes for medium rare, 5-6 minutes for medium.  Add a minute or two to those times for 8-10 ounce thickness.  Err on the side of caution…you can always cook it more, but you'll be disappointed if you overcook.
If you are using a meat thermometer (optional), here are temps for steaks:
Rare: 130-135 degreed farenheit
Medium Rare:  140-145
Medium:  155-160
Well Done: 165-170
Remove skillet from the oven and move your filet to a plate immediately.  Lightly cover with tin foil and let it rest for 5 minutes before serving.  Top with a slice of your garlic herb butter and serve!
Amazing steak from a skillet…so easy!!