Not sure I've ever met a grilled cheese sandwich I didn't like!
It's such a yummy comfort food and pairs so well with soup, which I've made a lot lately with all the cold, rainy weather we've had!
While there's no wrong way to make a grilled cheese, this little twist is definitely a favorite!  Bacon, avocado (you're sold already aren't you? haha), mozzarella, tomato and basil all grilled to gooey goodness on your favorite bread!
Ingredients:
Bacon – this is our favorite
Avocado
Bread – I grabbed a fresh loaf from the bakery
Butter
Mozzarella
Tomato
Basil
Directions:
You want to first cook your bacon.  You can make it in a pan, but my favorite method is to line a cookie sheet with foil and set a cooling rack on top.  Place bacon on top of the cooling rack and place in the oven for 15-20 minutes at 400 degrees.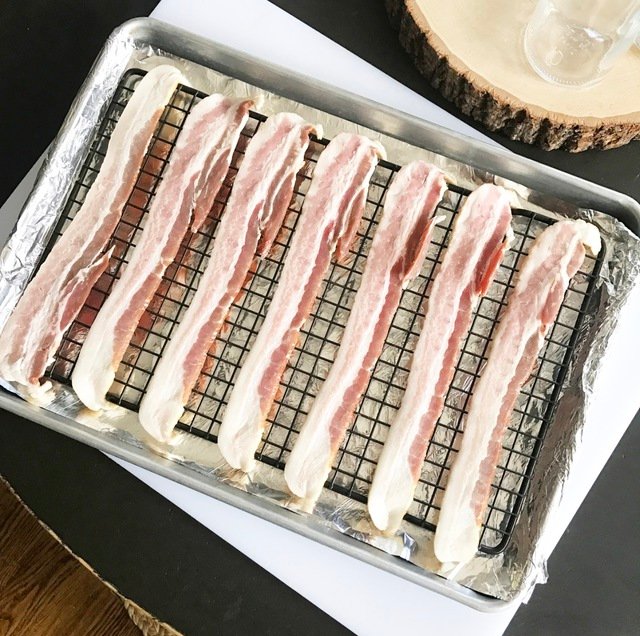 The grease drops down onto the foil, making for easy cleanup, and you don't have to stand at the stove the whole time!  I learned this from my mother-in-law, who might just be a genius!
Once your bacon is done, you can put your sandwiches together.  If I'm making more than one or two, I use our griddle, but this time I just made them in a pan over medium heat.
Butter one side of your bread and put the butter side down in your pan.  Pile on the cheese, bacon, basil, tomato and avocado.  Put another slice of bread on top, butter side up.
Flip and cook until golden and gooey!
This pairs well with soup!  We love this Instant Pot broccoli cheese, slow cooker tomato basil and slow cooker chicken enchilada!