Lettuce wraps are always one of my favorite dishes to order at P.F. Chang's or Pei Wei.
While this is not a copycat recipe, it does have the same great flavor in the chicken mixture, and the lettuce makes it feel light and refreshing!
These were easy enough to make on a weeknight, but somehow felt a little special!
Ingredients:
1-1.5 lbs of boneless chicken breasts, cut into bite sized pieces
1 cup chicken broth
2 tablespoons low sodium soy sauce
1 teaspoon freshly grated ginger
1/4 cup hoisin sauce
2 tablespoons of cornstarch
2 tablespoons minced garlic
2 tablespoons sesame or canola oil
1-2 teaspoons Sriracha hot sauce to taste (optional)
3/4 cup unsalted cashews
1 head or romaine, bib or butter lettuce…I used butter!
5 green onions, chopped, divided
salt and pepper to taste
Directions:
Season chicken pieces with salt and pepper and mix in a small bowl with chicken stock, soy sauce, ginger, hoisin sauce, and cornstarch.
Heat oil in a large skillet over medium heat.  Using a slotted spoon, remove chicken from the bowl and place in the skillet.  Cook until cooked through (about 5 minutes), flipping as needed.
Add garlic and cook for 30 seconds to a minute.
Reduce heat to low, and pour the remaining liquid from your bowl into the skillet.  Continue to cook on low and stir until thickened.
Add hot sauce to taste, cashews and 3/4 of your green onions.
Tear off individual leaves of lettuce to serve as your "shells." Serve cashew chicken mixture in each cold leaf, garnishing with remaining green onions as desired!
  SO good and something a little different for your weeknight rotation!
We love these lettuce wraps so much!
If you like this recipe, be sure to check out this post with six simple recipes using chicken!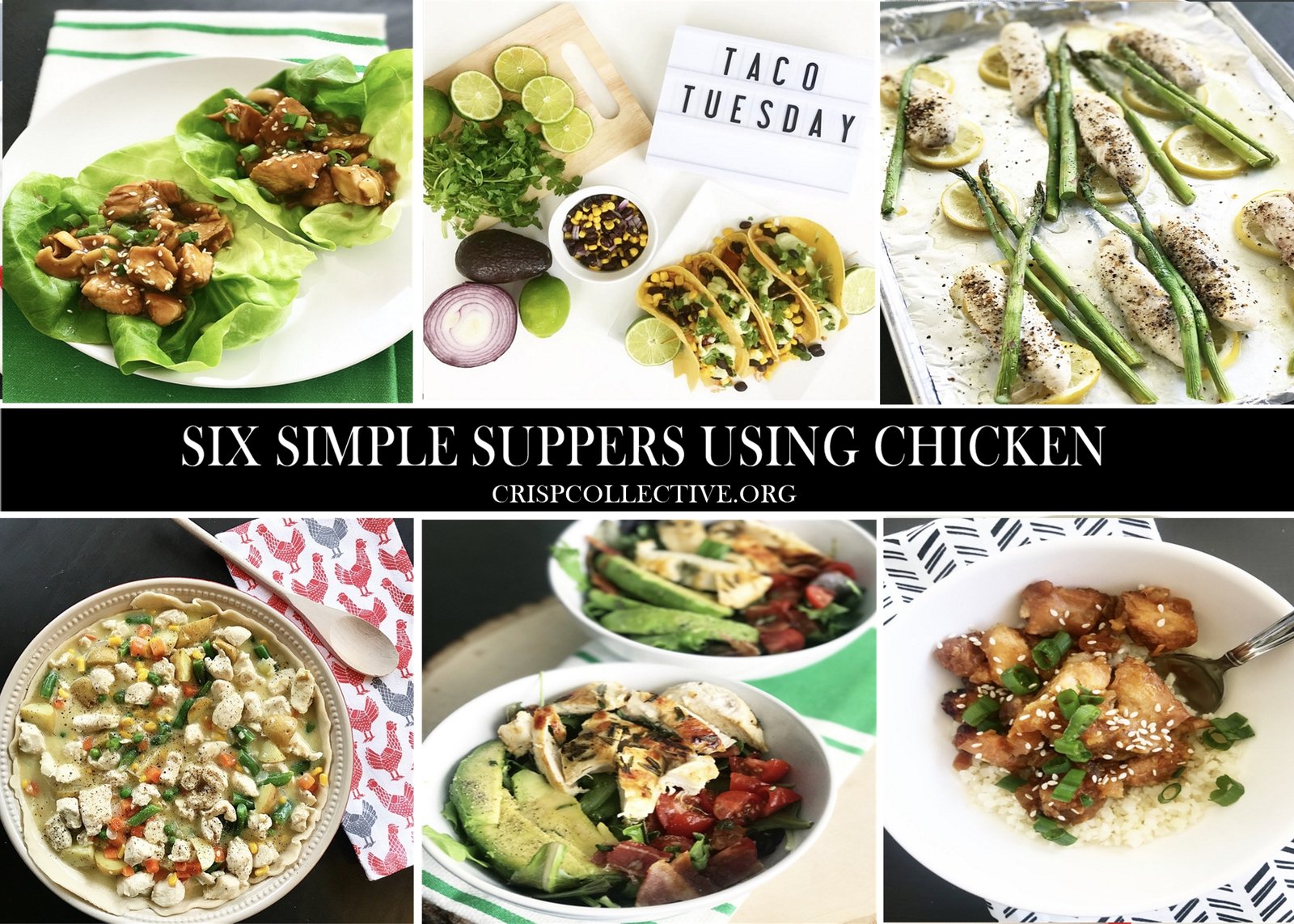 Find it HERE. 
Pin it!