Today I'm excited to share some simple kitchen decor ideas if your counters could use a little cuteness!
I was recently hired to decorate this GORGEOUS kitchen!  The beams, the lighting, the layout….I love it all!  My client, Julie, however, was not loving that her island and counters were just bare, so she asked me to come in and add decor to this already beautiful space!  It was so fun to play!
So today I thought I would share what I put together in hopes that it will help give you ideas for your own kitchen!
The Island
We originally talked about doing a tiered tray on this island because you guys KNOW I love to style a tiered tray!  BUT the more Julie and I talked about it, the more I decided against it!  She described this island as the center of their home….where their family eats most of their meals, works on homework, hangs out….and I just imagined Julie cussing me every time she had to move a tiered tray out of the way!
So I decided to go with this large vase with eucalyptus stems.  It is simple, yet effective.  Julie can easily move it out of the way when they need the space and set it on the counter.  She can also change the stems out seasonally if she wants to change the look, but leaving it this way year round works too!
I linked this exact vase and stems below from Pier1, along with a few other similar ones!  I also recommend checking Hobby Lobby, Home Goods, Kirklands, or Michaels!  Target also has large pretty vases from time to time!
Pretty, but Practical
It was important to Julie that the decor be pretty but also practical!  I tried to achieve this in the vignettes I put together by making sure that there was a balance of just decorative pieces, as well as functional pieces in each spot!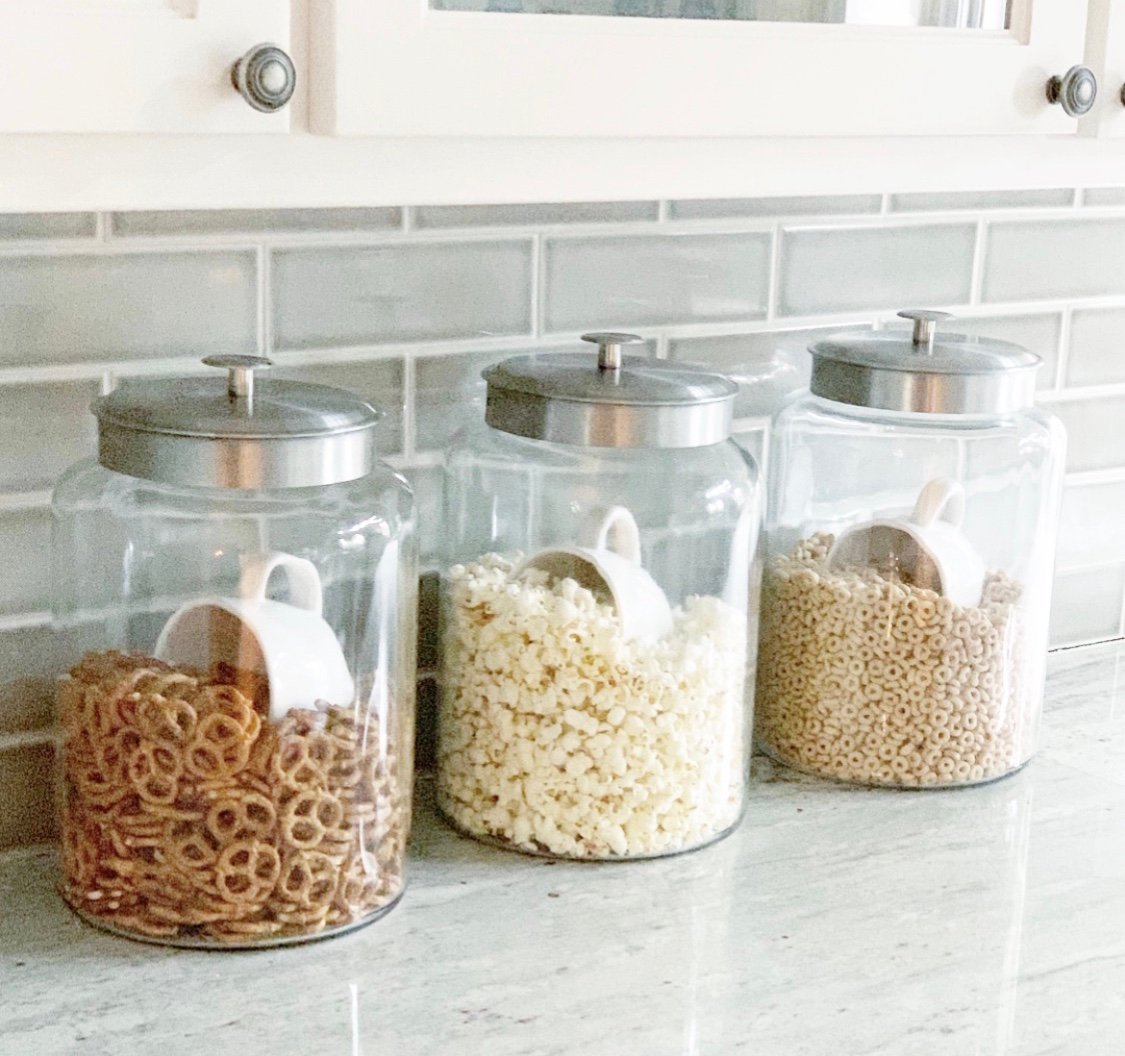 It's hard to tell scale in this photo, but these canisters are huge! They make a statement, but also serve a purpose, and I thought the coffee mugs as scoops was a fun idea!  Julie has tons of storage, but my kitchen at home does not, so I have these sitting out in my kitchen to save space in my pantry!  My kids can easily access them when they want a snack!  I also keep k-cup coffee pods in one of mine so I can clearly see when I'm almost out……a morning without coffee at my house is CRISIS!  Kidding….sort of!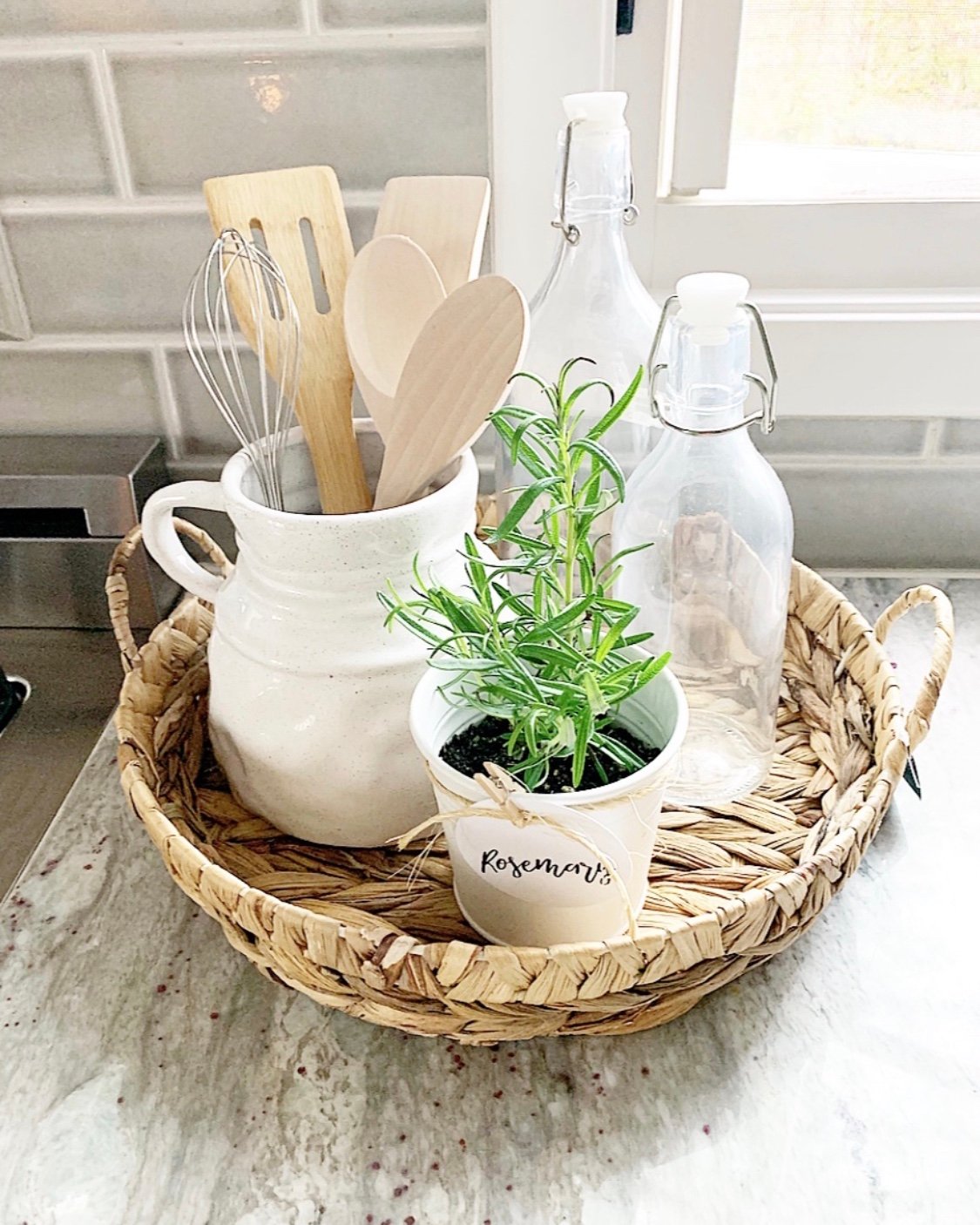 This vignette sits just to the right of Julie's stove.  Putting all the items in a shallow basket keeps them together and makes it feel cohesive.
The bottles can be filled with oils for cooking, the utensils can be used on the stove and the rosemary smells amazing and can be used for cooking!  Julie also already had a cookbook stand, so we opened up to a pretty, seasonal page in one of her cookbooks!  Many cookbooks follow the seasons of the year and have beautiful pictures you can have displayed when you are not using it for recipes!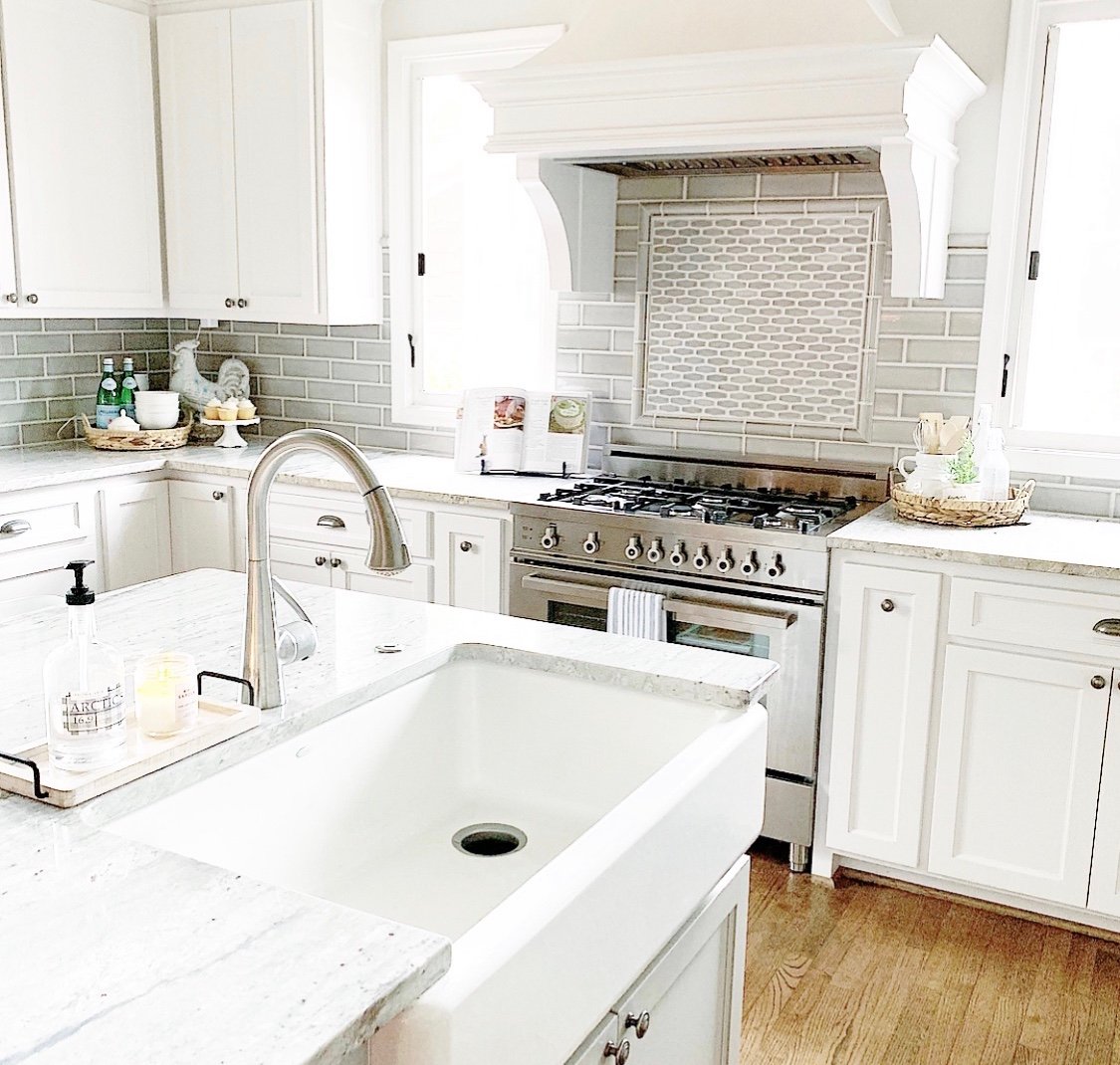 Simply placing Julie's sink soap and candle on a long tray near the sink also made this a more cohesive spot.  Soaps and candles with pretty labels are another easy way to spruce up your sink!
Grocery Store Decor
Sometimes adding some fun pops to your kitchen is as easy as a trip to the grocery store!
I grabbed these large vases on my trip to the original Magnolia on Bosque in Waco.  That shop is now a clearance outlet for the Silos, which made these WAY more affordable! (Regularly $80 and $90 each, marked down to $20 and $22!).  They would be beautiful with stems, but since we already had those on the island, I filled them with fruit.  I think the fruit adds a pretty pop of color, is affordable and of course, you can eat it!
I got a set of 4 small cutting boards at Home Goods and layered these napkins and bowls she already had to create a vignette in this corner.
A lot of this vignette (the rooster, creamer bowl, plates, etc.) came from shopping Julie's home.  Adding bottles with pretty packaging, like these San Pallegrino bottles, is another easy grocery store buy!  I especially love the packaging on lemonade and grapefruit beverages this time of year…a pretty, inexpensive pop of color!  Adding baked goods, like these cupcakes, to your decor also makes your kitchen a happy place, and I doubt your family will complain about eating them!
Plants with a Purpose
Julie also has a large window on one side of the kitchen that was just screaming for plants!  I picked plants that smell amazing and can also be used for cooking.  These vases, bases and containers all came from Home Goods and Hobby Lobby, and I arranged them to create levels.  The plants came from Trader Joe's, but can easily be found at any garden center!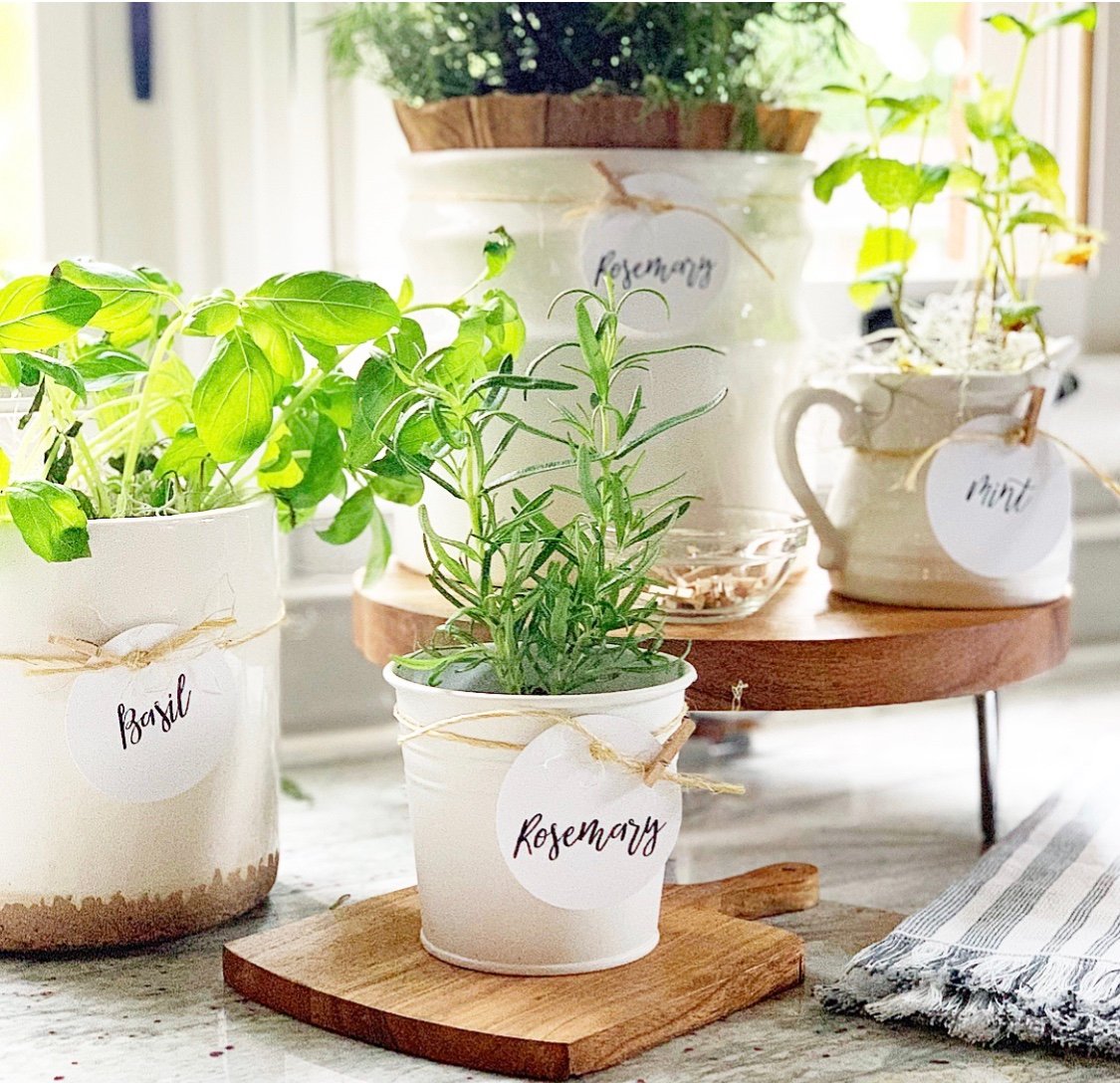 I also created these little labels for each plant.  I tied string around the vase and clipped the label on with a tiny clothespin.
If you don't have good natural light in your kitchen, cacti, succulents or faux plants are also a good idea, just for adding a little life to the space!
Coffee Bar
Whether you have space for a full on coffee bar or just a little corner, your coffee setup is an easy place to add some fun!
Places like the Target dollar spot often have seasonal travel cups, straws and stirrers that can add some whimsy!  Displaying some of your favorite mugs or a cute coffee sign is also a way to let your personality shine through!
I grabbed the cannisters above at Home Goods, but I'm linking some other cute options and coffee bar accessories below!
Thank you Julie for the opportunity to "play" in your beautiful home!  I hope some of these ideas inspire you to add some practical, pretty kitchen decor in your own home!