I LOVE personalized jewelry….pieces that tell a story… and this handwritten necklace from Eve's Addiction might be my FAVORITE piece to date!
Notes From Dad
As many of you know we lost my sweet Dad to cancer last year.  If you have ever lost someone you love, you know that the process of finding a "new normal" without them is tough to say the least.  It has been a hard year of firsts.  I have tried to focus on the positives and the realization that I am lucky to have had a Dad worth missing SO very much.  No one could have loved his children and his family more.  We were ALWAYS first, and for that, I am forever grateful.
I found this card from him in my closet recently.  It was a birthday card…the last one he wrote me before he passed.  I just loved what he wrote, and I knew this was what I wanted to use for the necklace.  I took a picture of this with my phone and downloaded it on the Eve's Addiction site.  I thought several of the words would make for a great necklace, but I decided to go with cherish because
1.  I loved the reminder to cherish the memories I have of my Dad, but also to fully be present with all the good in my life right now and
2.  I loved that my Dad messed up the h.  He didn't have the best handwriting anyway, but that h just made me giggle.
Cherish
Not to get too mushy, but it also just reminds me that life doesn't have to be perfect to be amazing!  Sure it is great to reach for more and constantly be improving, but waiting until you get that perfect job, lose those last 10 lbs, or move to your forever home to be happy is no way to live.  You can easily lose sight of what is important and amazing RIGHT now, RIGHT where you are.  There are always reasons to be grateful, and you will never regret putting those you love first.  I want to cherish the sweet gifts God has given me, and focus more on the good.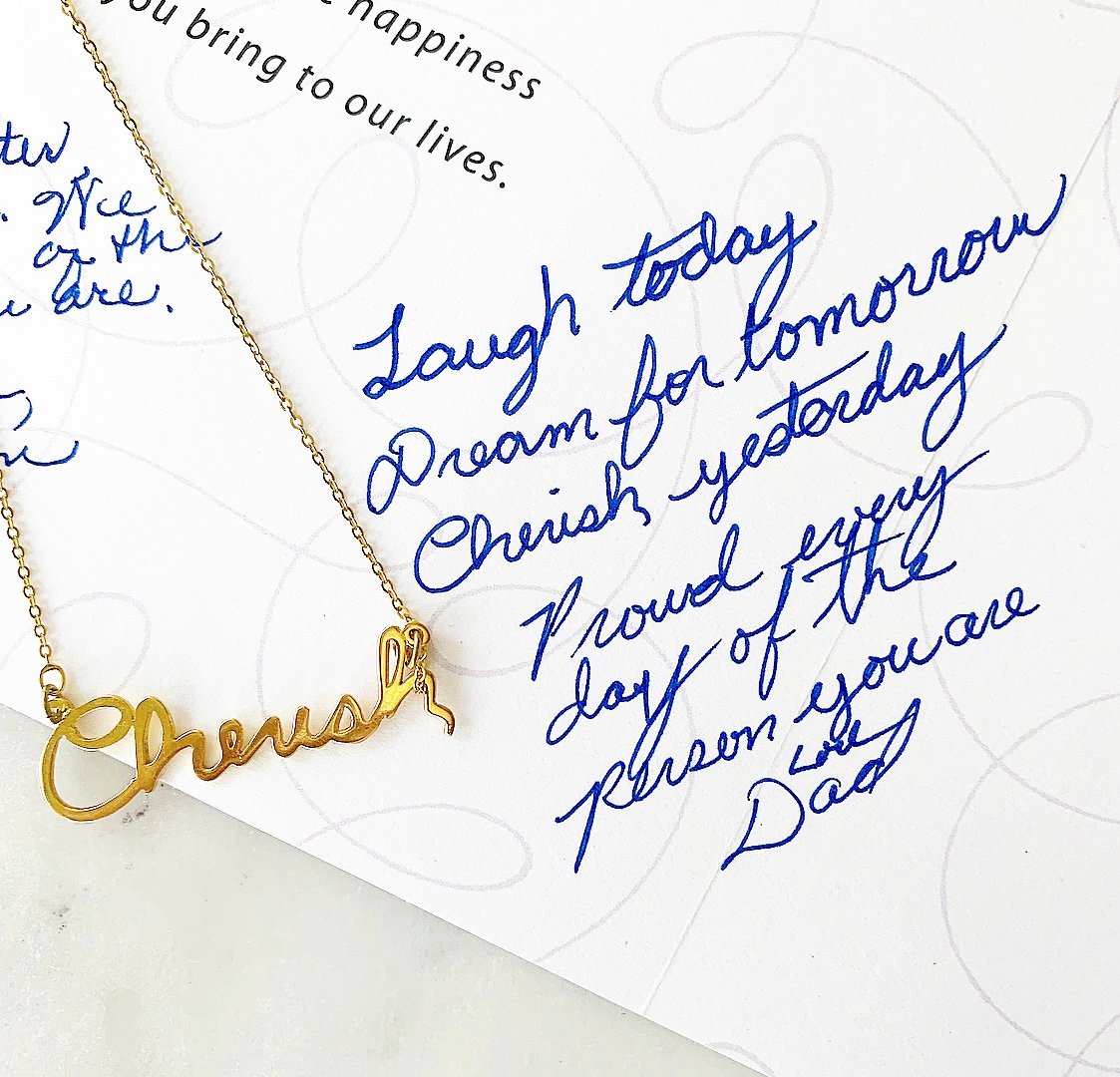 I got the necklace in the mail and I have to say, they NAILED IT…messed up h and all!  I was kind of blown away by how exactly they replicated his handwriting from an iphone pic!
I am excited to wear a little piece of my Dad close to my heart and try to live out his words:
Laugh today
Dream for tomorrow
Cherish yesterday
I love you Dad!
How to Order:
I think these necklaces make a beautiful gift for yourself or someone you love!  They are perfect for wedding party gifts (mother of the bride, the bride, etc.), birthdays, Christmas or Mother's Day!
For the handwriting, it works best if the letters are all connected and written in black or blue on white paper.   Don't stress though!  Again, I just took a pic of this card with my iphone and it worked perfectly!  Pretty much everything on their site is available in gold, silver and rose gold too, depending on your preference!
Use code STYLISH for 30% off and FREE shipping at checkout!
  You can find my handwritten necklace here.
I also linked a few other personalized favorites from their site below.