I'm excited to share some easy tips to organize your pantry!
Before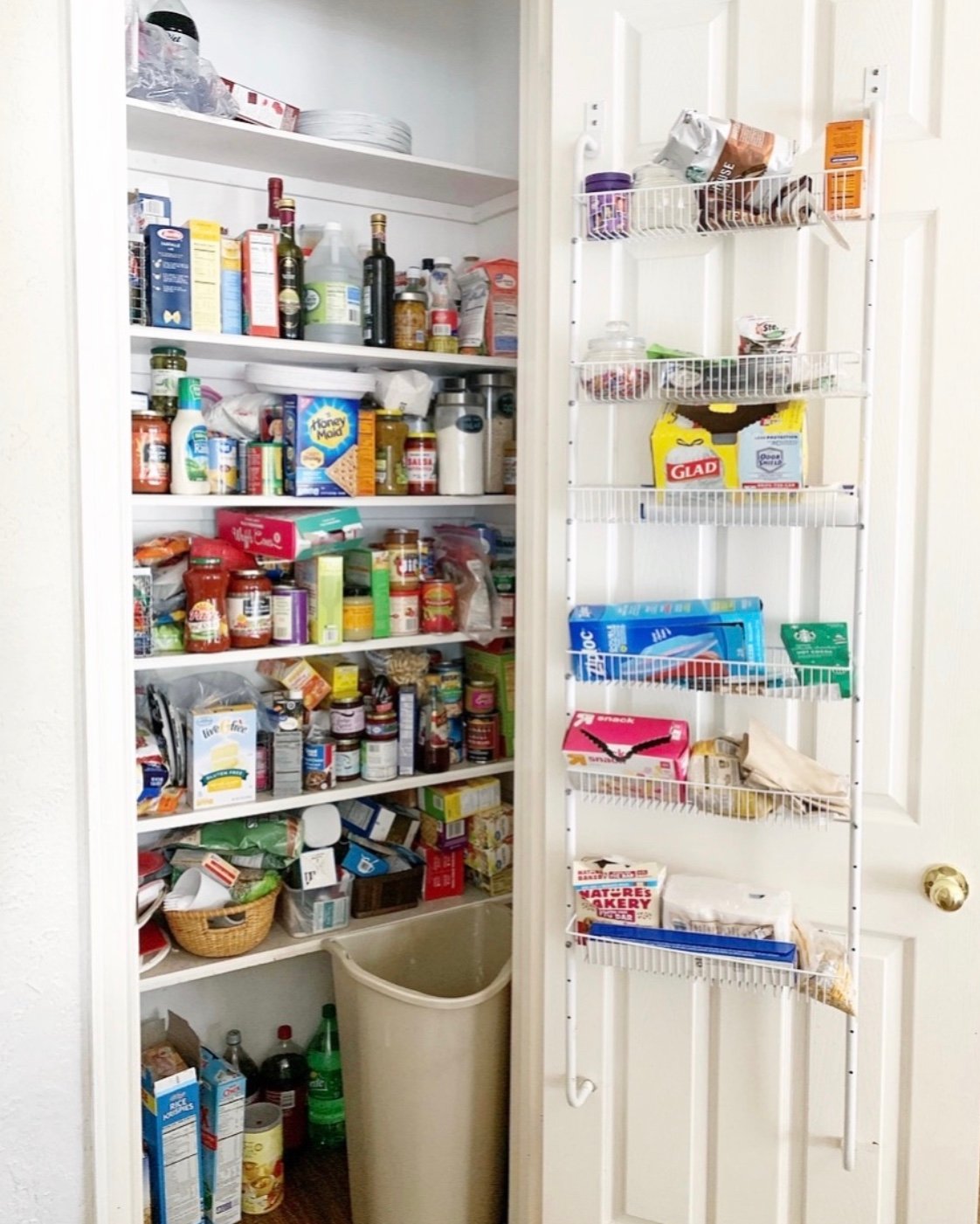 This was mine about a week ago….yikes! Hello anxiety.
Part of the issue is that our pantry is not very large, but the bigger issue is that I was not utilizing the space very well.
I feel like I started out with having a place for everything, and then somewhere along the way I just started cramming things in wherever they would fit. I could not find things I needed or would buy multiples of items, not realizing I already had them!
If this sounds familiar, I hope today is helpful!
Tip 1: Start with a Clean Slate
My first tip is to take everything out of your pantry, YES EVERYTHING. It takes up space and time, but I really think it's necessary to do the job right!
Throw out anything that has expired and give your pantry a good scrub down.
I actually decided to remove our existing contact paper and give my entire pantry a fresh coat of paint! It needed it. I used Sherwin Williams Alabaster.
I then covered the back wall with this peel and stick wallpaper from Target. I stuck wallpaper to the back wall, Will stuck wallpaper to me! It took a little time, but I love how it turned out!
Once all the clutter was out, I felt like I could make a plan as to what I needed and how items should be arranged.
Tip 2: Find Affordable Storage Solutions
Once everything was out of the pantry I could really see what I had and could group items to figure out what kind of storage I needed!
I had so much fun shopping!
I tried to find cost effective pieces because filling up a pantry, even one as small as mine, can add up quick!!
One of my best finds were these 1/2 gallon Ball jars! They come as a set of 6 for just $11, making them just under $2 each!! Similar sized jars are often between $7 and $12 a piece. They are a good size for storing pasta, pretzels, rice, nuts, baking supplies like flour and sugar….all the things!!!
Find them here.
For example, I purchased these half gallon jars with lids as well for $7. I like them, but they hold the exact same amount as the jars and take up more room in my already small pantry!
However, if you like these better, I found them here.
I put my mini moscow mule mugs in each jar that needed a scoop. It kind of made me giggle! My boys like to sip out of these and pretend they are giants!
I linked similar ones here.
These risers (found here) help me to see what I have so I'm not buying multiples I don't need,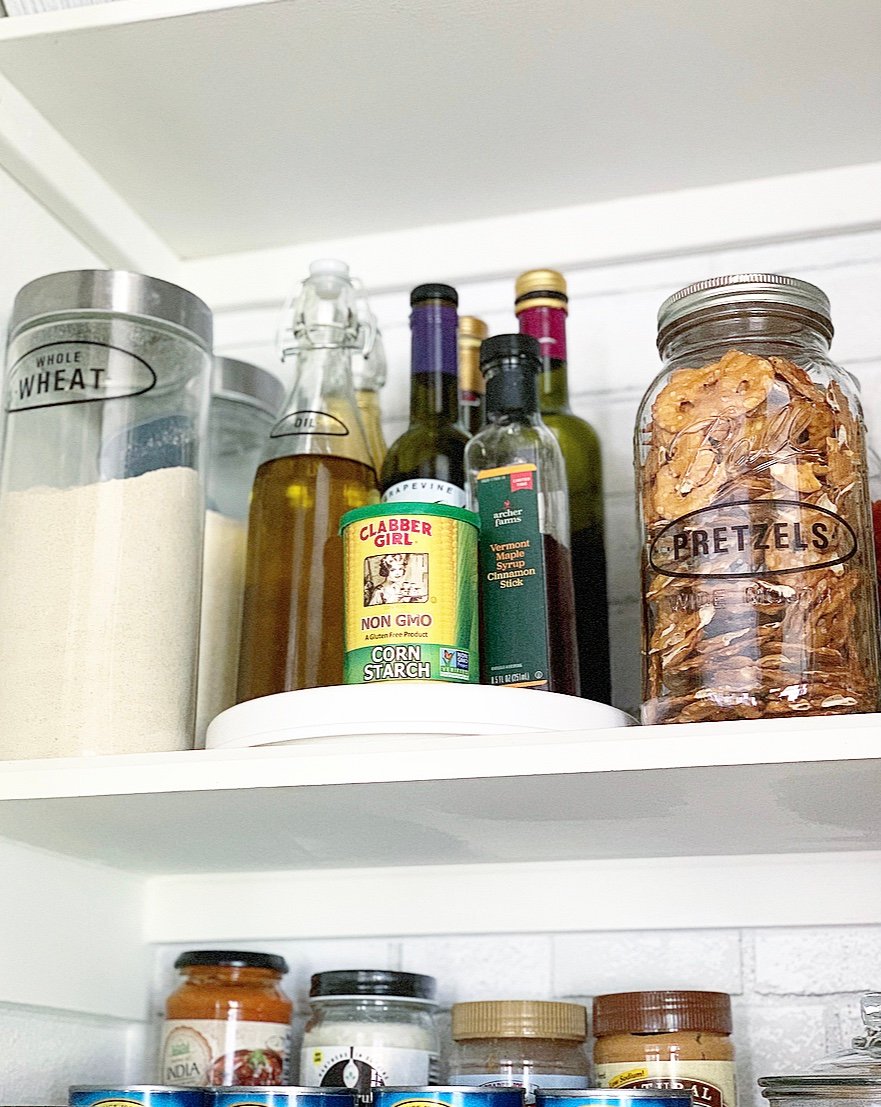 and this lazy Susan (found here) serves the same purpose!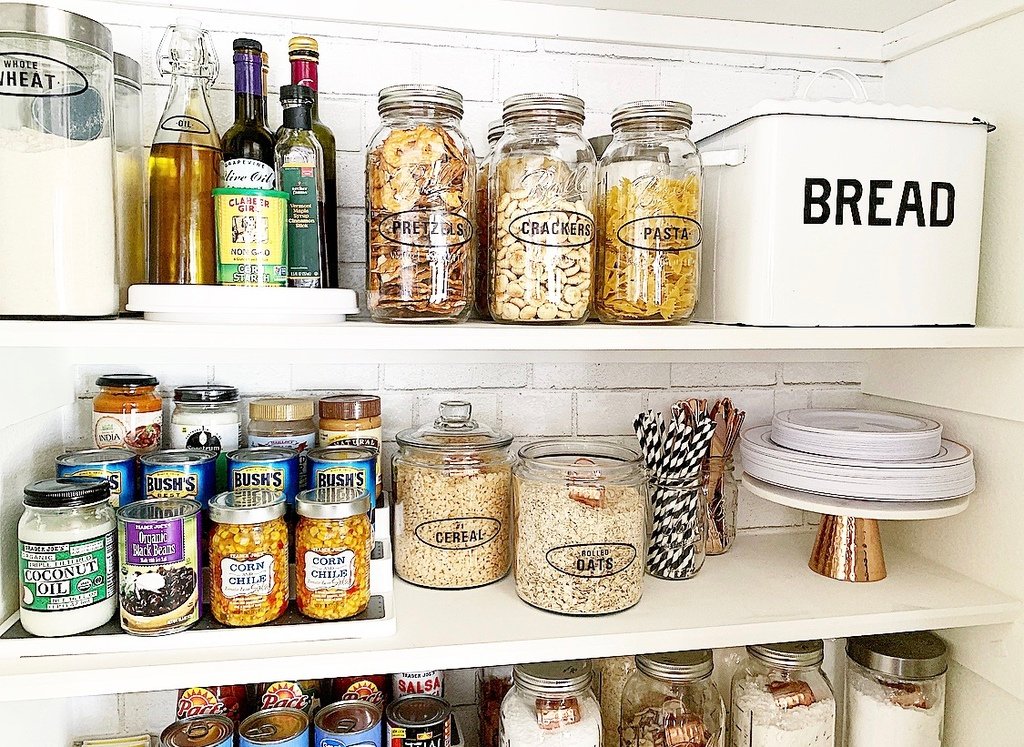 I had this bread box out on my counter, but moved it in here. I love that it is cute and functional! I found it for way less than I paid for it here.
Baskets are great for holding paper towels, I also moved our air fryer that was on top of the fridge to this top shelf.
TJ Maxx is one of my favorite spots to shop baskets! Shop their baskets here.
Tip 3: For smaller pantries, utilize the door
This door rack was actually already here when we moved in, and I am thankful for the extra storage it provides!
I just wasn't utilizing it before.
If you are needing one I found this one that is adjustable and very similar to mine here.
And this over the door hanging version here.
I headed to the Dollar Tree and grabbed these latch jars and these rounded jars with lids for $1 each. This was a cost effective way to get this space organized.
You can actually buy them in lots of 12 online and even pick up in store to avoid shipping. Find the latch jars here and the rounded ones here.
This door now holds so many ingredients that were taking up space in our crowded pantry.
Tip 4: Label all the Things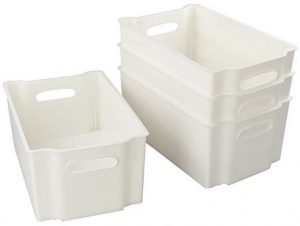 I opted to purchase these sturdy plastic bins for the bottom two shelves. I loved that they had a handle, could be wiped out easily if something spilled and were white so that the labels I purchased would be easy to read.
They are available here in sets of 4 here.
I found these labels from The Talented Kitchen and thought they would be perfect! They have several font/style options, but this one went with the clean look I was going for.
Labeling the bins and jars makes it very easy to quickly find things, and my seven year old is loving reading all the words….bonus!
The labels also helped me to focus on what I had when I was grouping the all the food!
Find these labels here.
Tip 5: Keep it This Way
Sounds easy, right? Now that everything has a place, I am going to do my very best to take the little bit of extra time to put things where they go, and make sure my boys do the same. Is it weird that looking at this pantry makes me smile now, instead of feel anxiety! There are many spaces left to conquer in my house, but giving everything a place and keeping it there really will make cooking, meal time, making lunches, etc. SO much easier!
Before and After Recap
Before: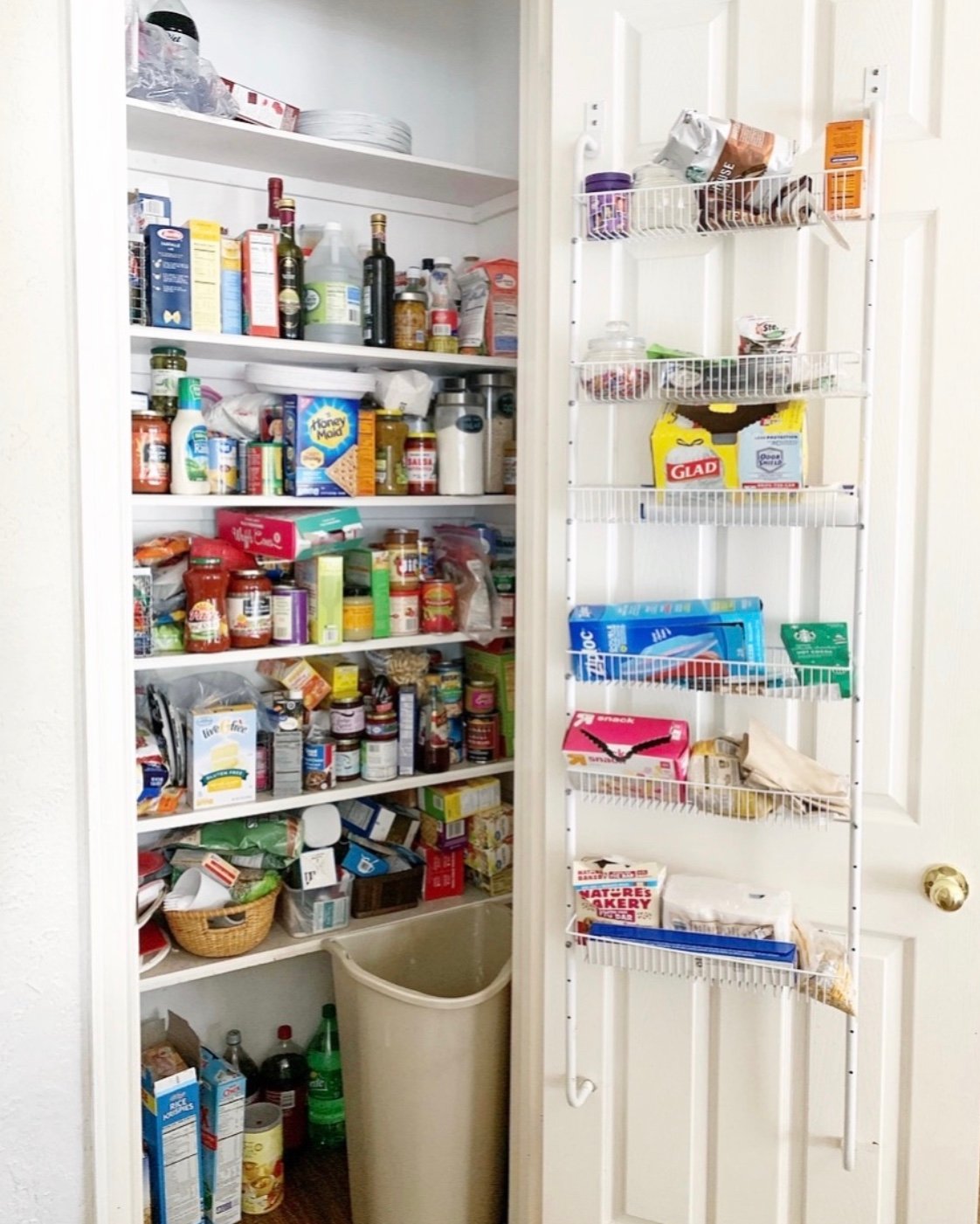 After: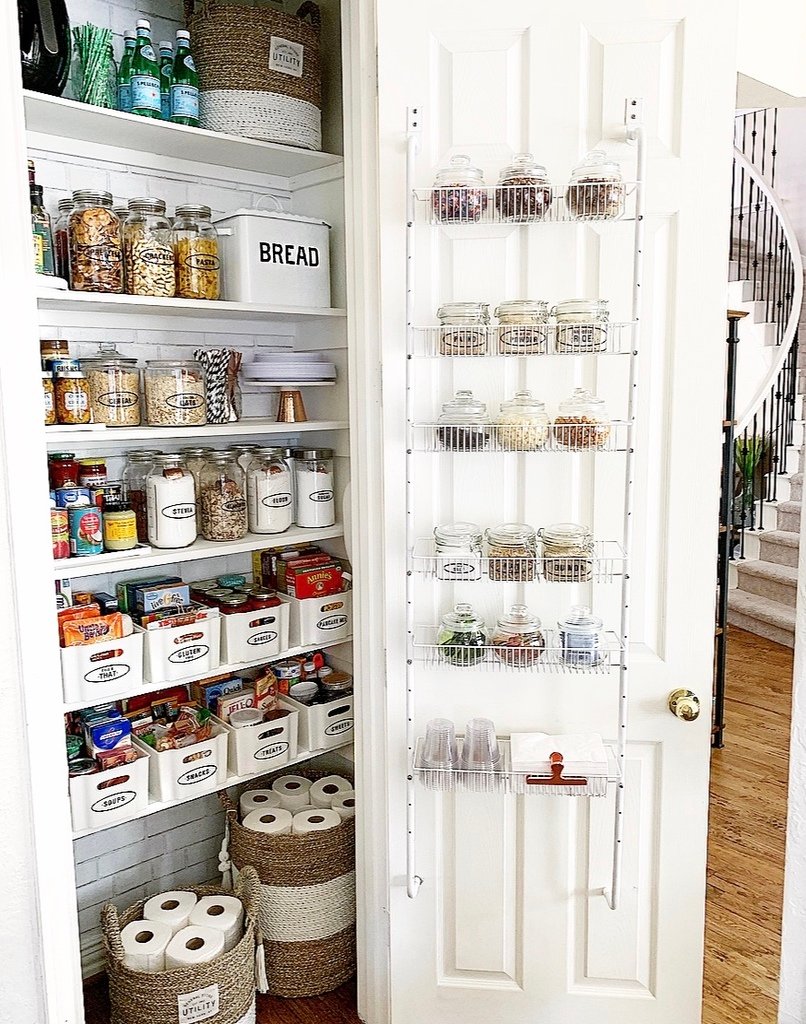 Before:
After:
I hope these tips have been helpful and if nothing else, that my mess made you feel better about yours! This project took a little longer than I anticipated, mainly because of the painting and wallpaper, but I feel SO accomplished having done it and I hope it encourages you to tackle that closet, pantry or drawer that is driving you crazy!
You got this!
Shop the Post: