We're starting a master bathroom renovation, and I am SO excited….a little nervous…..but mainly EXCITED!!
The Bathroom Time Forgot…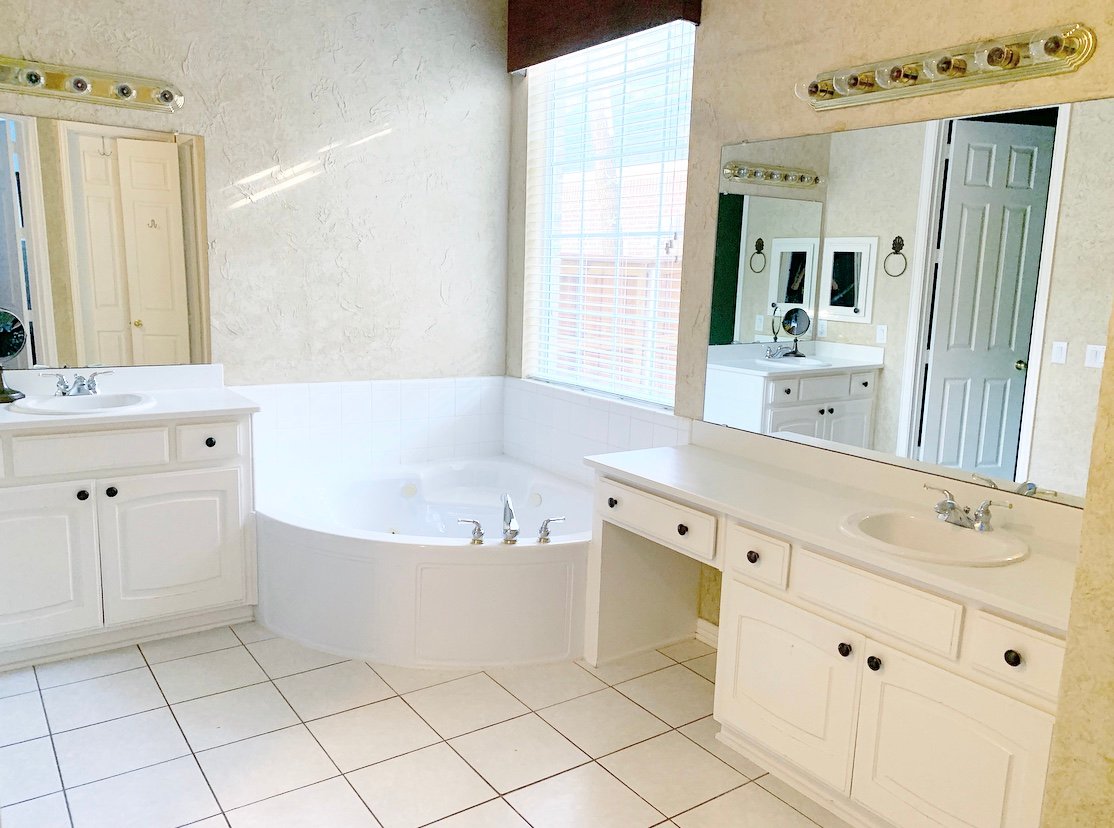 Who's ready to party like it's 1999?!?  The current state of our master bath is straight out of the 90's.  We are the second owners of our builder grade home in the 'burbs that was built over twenty years ago.
When we moved in eleven years ago this bathroom had grape wallpaper, as in the fruit, covering every wall.  GRAPE wallpaper…..in a bathroom.  While I am not opposed to a little wine with a bubble bath, the grapes had to go.  We ripped it down and applied heavy texture, paint and a glaze.  This was on trend at the time, but that was the last, and only, "update" this bathroom has ever seen.
We intended to update sooner, but…life.  So here we are ready to take on this challenge!
The Jeffrey Court Renovation Challenge
I am also SO excited to be completing this project as a part of the Fall Jeffrey Court Renovation Challenge.  I am joining 10 designers all tackling projects in their homes using Jeffrey Court's beautiful selection of tile that you can find at Home Depot.  Check out the other designers here. 
This is a six week challenge, so I will be sharing the ups and downs of this project over the next six weeks, and hopefully some tangible tips if you are also hoping to renovate a bathroom, install new tile or just make a space in your home more functional and organized.
The Plan
If everything is ok as far as plumbing (fingers crossed!) we do not plan to change the layout of this bathroom.  We do, however, plan to change pretty much every aspect of it from a cosmetic standpoint.  At around 350 sq feet, it is a fairly large bathroom, and one that we will be pushing to finish within the six week timeframe!
We plan to:
-Replace the shower tile, floor pan, fixtures, and shower door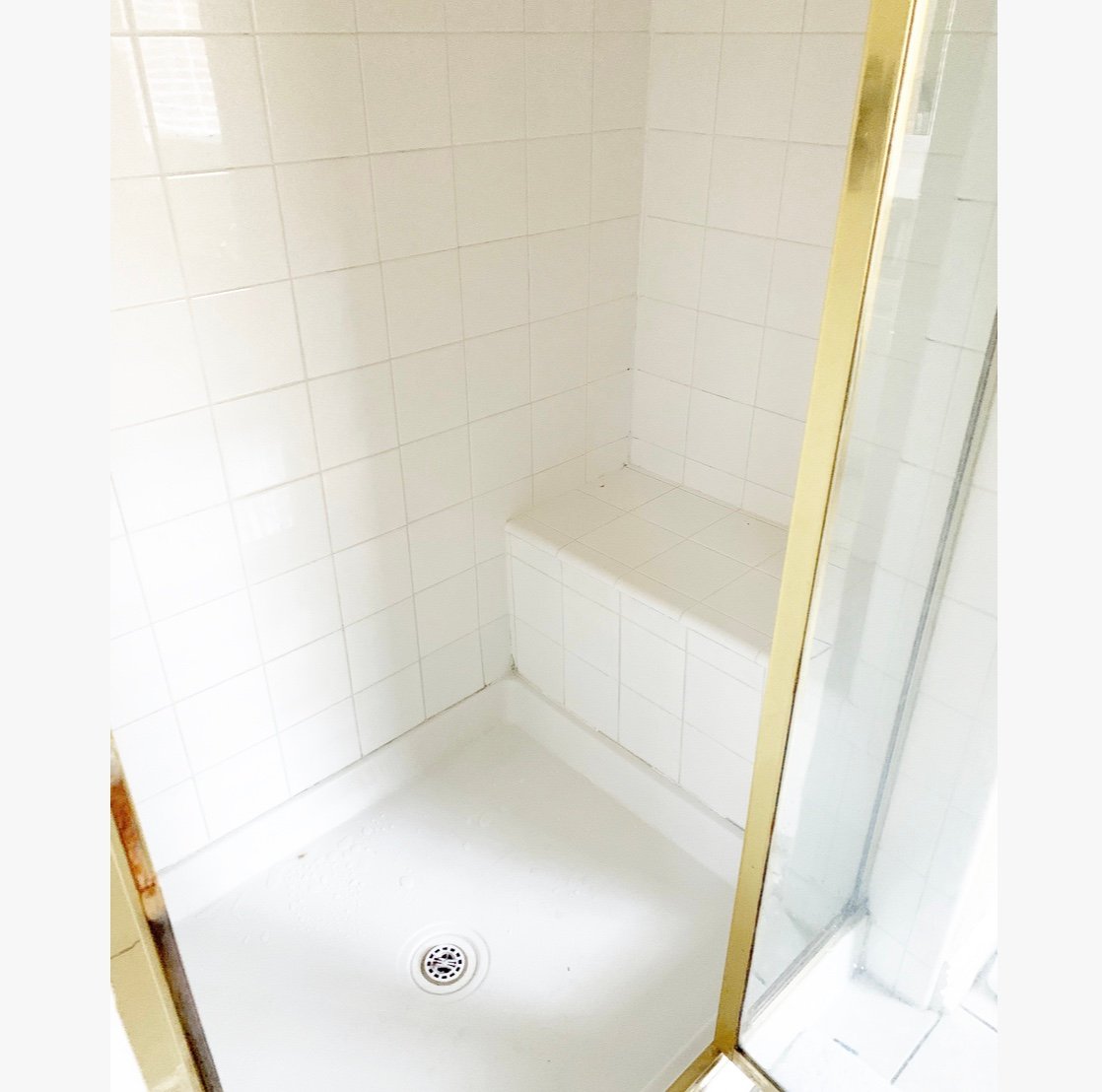 -Replace the floor tile throughout
-Replace the tub surround tile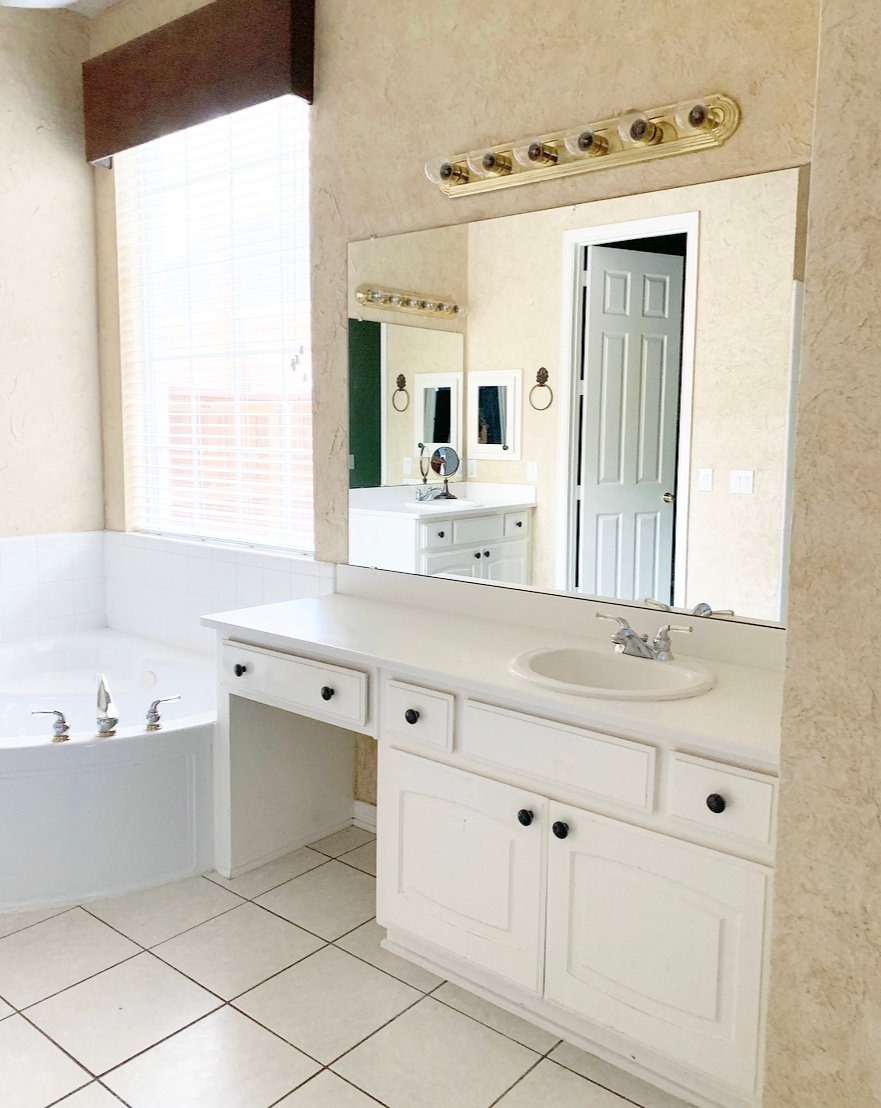 -Repaint the vanities and install new countertops, fixtures, sinks and hardware
-Remove the heavy wall texture and repaint
-Replace the mirrors, towel hangers and all light fixtures
-Replace window coverings
-Add open shelving or artwork on the blank wall above the tub
-Organize all cabinets, drawers and the linen closet within the bathroom.
-Create a space that feels fresh and practical
This is our master bedroom that connects to this bathroom.  I love the tranquil vibes of this room and hope to bring that same feeling to our master bath.
The Six Week Countdown Starts Now!
I will be sharing weekly updates, and I hope you will follow along with our master bathroom renovation!  I am so thankful to Jeffrey Court for this opportunity and the accountability it will provide to make all of this happen in a relatively short time period!  We are ready!!
If you want to check out the other designers participating in the challenge, you can find them here.