I hope you LOVE your Crisp Cringle elf kit!
These are the day by day instructions for the 12-day kit!
If you have any questions feel free to dm me @crispcollectiveig or email me at info@crispcollective.org.
Day 1:
Arrival Day!!
Supplies: The special delivery 5×7 and the "Look Who's Back" sign
Instructions:
Write your child's (or children's) name(s) on the 5×7 under the words Ship To:
Carefully slide your elf into the slit provided, feet first, so that only the arms, torso and head are out.
Place the, "Look who's back !" sign next to your elf and position his arm.
Day 2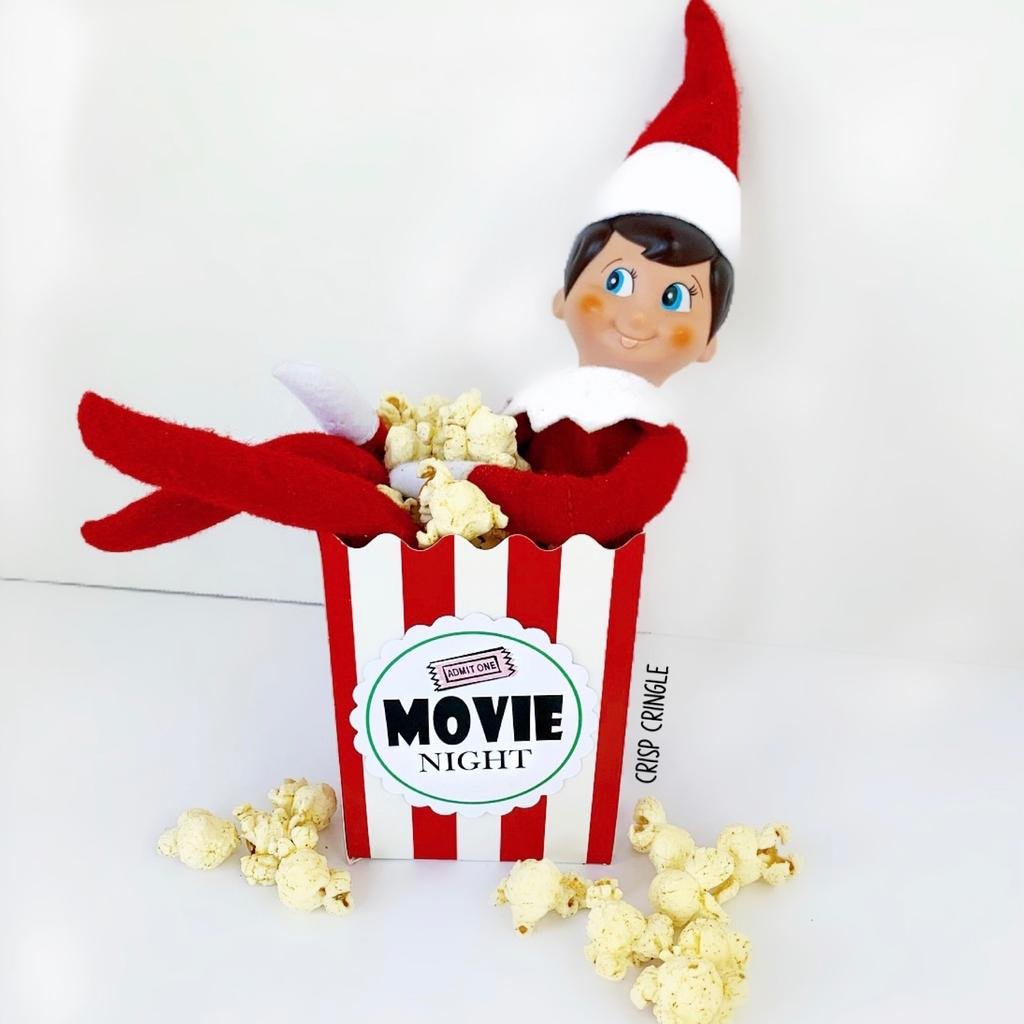 Supplies: Popcorn holder, popcorn (optional)
Instructions: Pop out the folded popcorn box and place your elf inside. Scatter popcorn on and around him.
Note: You might choose to use this on a day that you have time to watch your favorite Christmas movies as a family!
Day 3:
Supplies: Snowman card, bag of "snowman parts" from the bag marked "Days 1-5", small bowl and water (you provide)
Instructions: Place your snowman parts in water to represent the melted snowman your elf brought from the North Pole! You can write your elf's name under the heart at the bottom of the card. Place the card on the easel.
Note: Snowman parts may vary.
Day 4: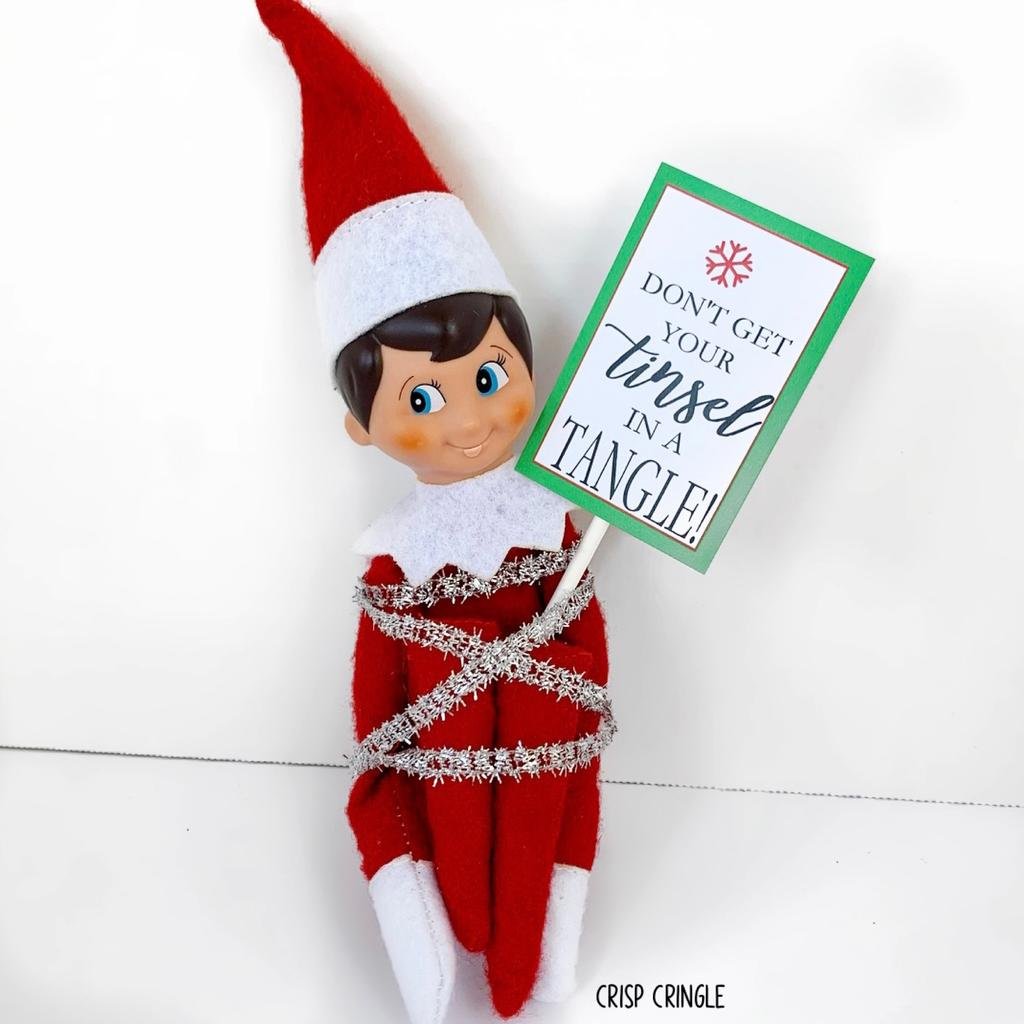 Supplies: Tinsel and tinsel in a tangle sign
Instructions: Wrap the wired tinsel around your elf and place the sign where it is easy to read.
Day 5:
Supplies: Mini foam finger, Team Santa card, easel
Instructions: Place mini foam finger on your elf's hand. Place card on the easel.
Note: This would be fun to use on a Sunday or Monday when your favorite football team is playing!
Day 6:
Supplies: Cold as the North Pole sign from the bag marked, dish towel (optional)
Instructions: Wrap your elf in a dish towel and place him in the fridge. Have the sign sticking out so it is easy to read!
Day 7:
Supplies: Toasty card and easel, piece of bread (toasted)
Instructions: Toast a piece of bread. Stick your elf's arms through, so it looks like he's wearing the toast. Place the card on the easel.
Day 8: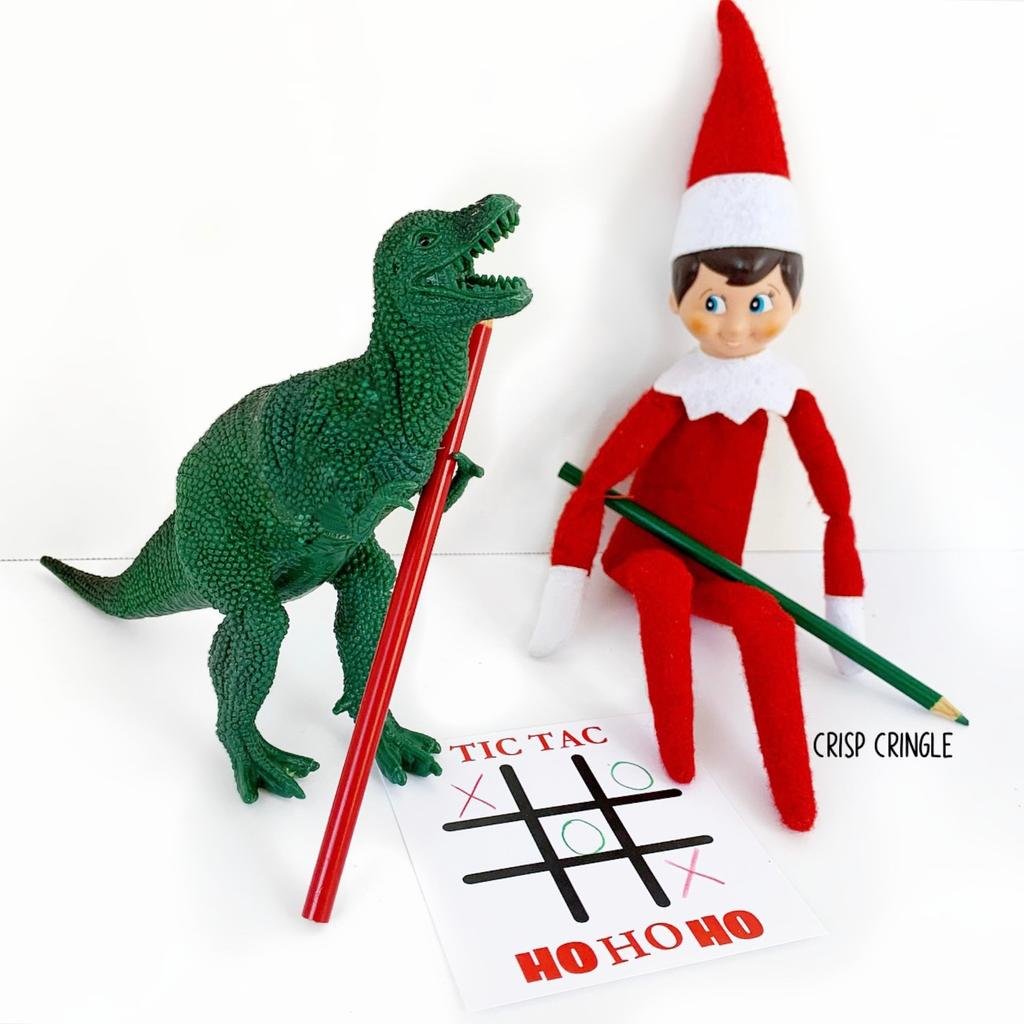 Supplies: Tic tac ho ho ho board, writing utensils
Instructions: If you have two elves, they can play the game together or you can grab a toy, like I did above. If you want to keep the game going, you can also have your child play tic tac toe with your elf. Your child and their elf can draw an x or o each day until someone wins!
Day 9: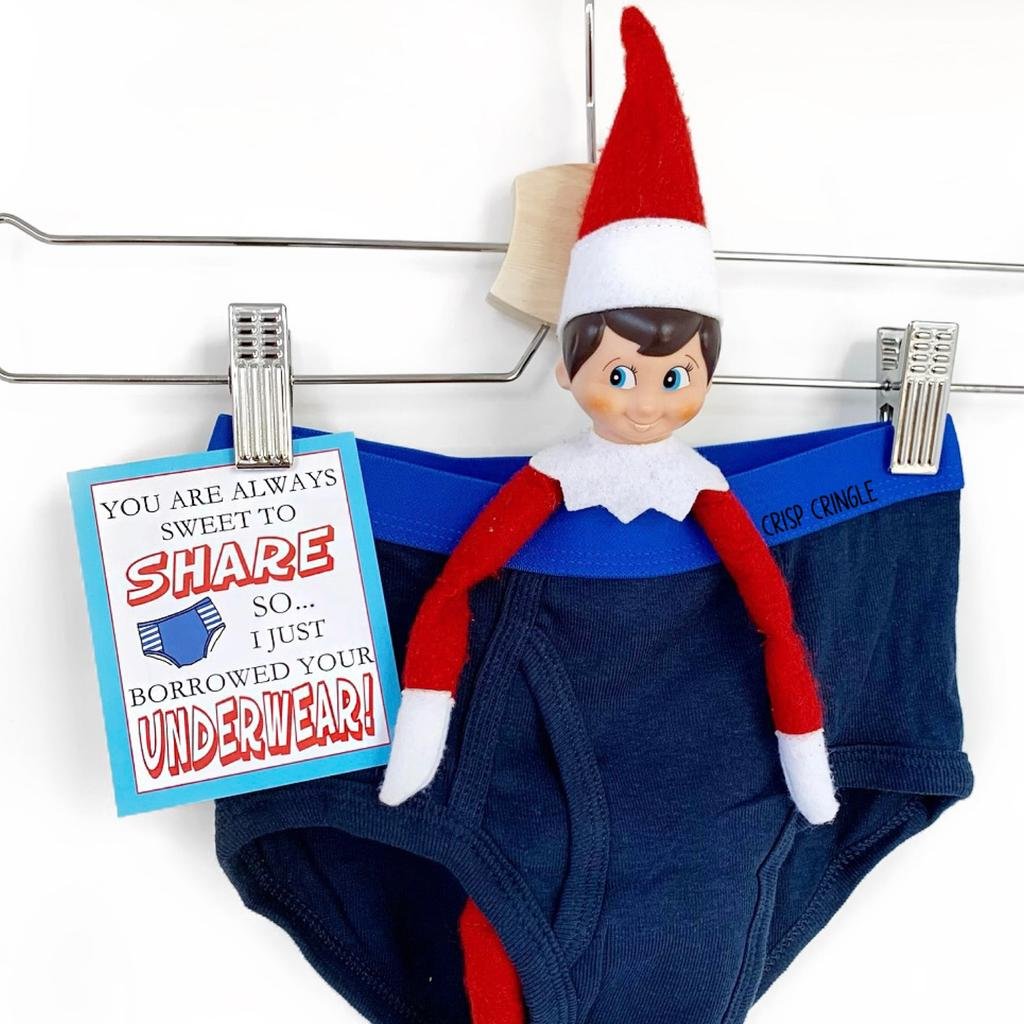 Supplies: Underwear card, a pair of your child's underwear, pants hanger (optional)
Instructions: Clip a pair of your child's underwear to a pants hanger and attach the card. Place your elf inside the underwear. If you do not have a pants hanger, you can hang the underwear from a door handle or knob on a dresser and place card nearby or scatter all your child's underwear all over their room and place the elf and card somewhere within the room.
Day 10:
Supplies: Dance party card, turntable card, easel
Instructions: Place the card on the easel. Fold the turntable so it stands up around your sitting elf. Feel free to jam your favorite Christmas tunes!
Day 11:
Supplies: Easel, 2 Rudolph's riddles cards, coin
Instructions: Place the riddle card in the easel. Set the scratch off and coin out. Let your child scratch off to find the answer to the riddle!
Day 12:
Supplies:
Christmas Eve checklist, something to write with
Instructions:
Mark off the list as you prepare for Santa's arrival!
MERRY CHRISTMAS!!!