This easy blackberry lemon cobbler was SO good!
A few weeks ago I traveled to East Texas, about three hours away, to teach choreography to one of my very favorite dance teams!  My two "assistants" ended up needing to accompany me, so we decided to make the most of it!
One of our stops along our roadtrip was Ham's Orchard.
This spot on the outskirts of DFW boasts a peach orchard, blackberry patch, BBQ, and the cutest country store with all kinds of homemade goodies!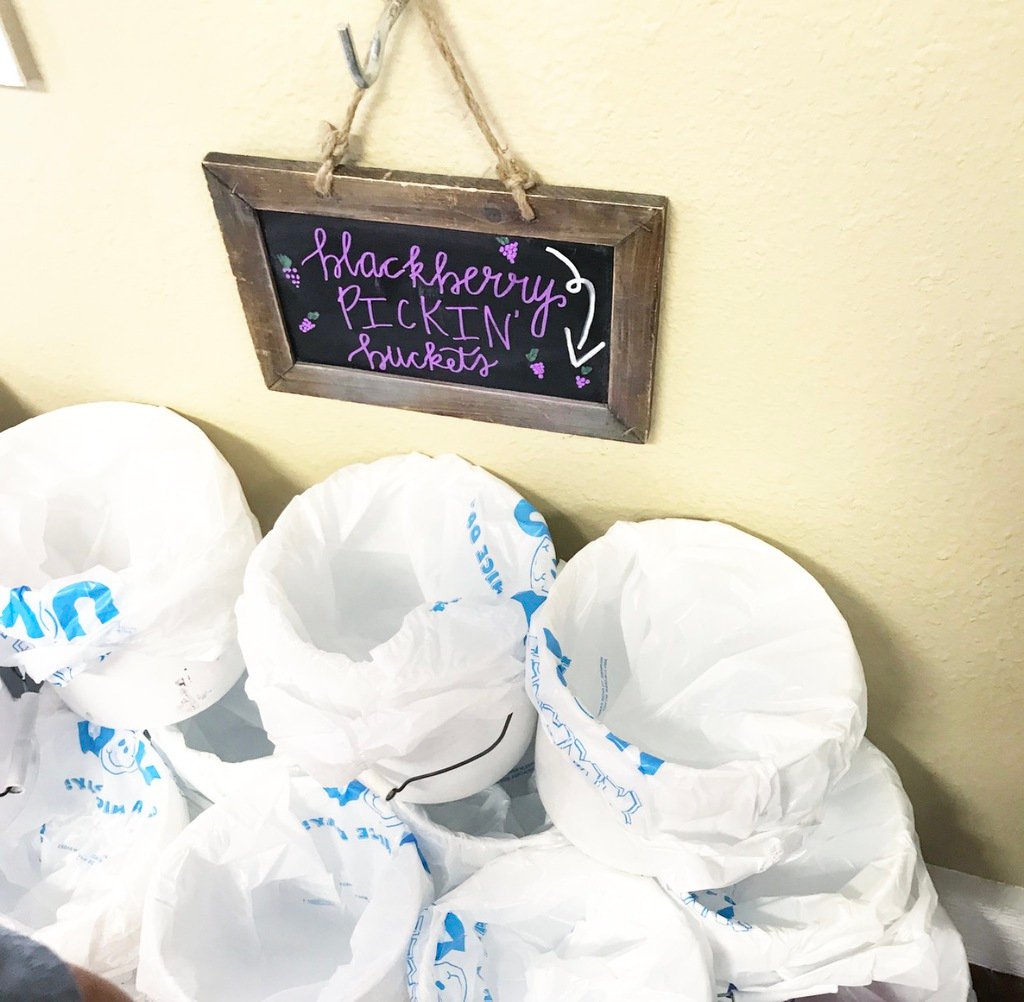 We came here with friends last year, but the blackberries were already picked over.  My boys were so excited that this year we made it in time!  They grabbed their buckets and went to work!
Only the black ones!
We picked about four pounds of blackberries and considered ourselves basically farmers!  Nevermind that we can barely keep a cactus alive!!
Thankfully our "harvest" survived the rest of of the road trip, and we were able to use our fresh blackberries for the easiest, yummiest blackberry cobbler we've ever had! My boys were so proud to say they picked the berries themselves!
This recipe is so easy and if blackberries aren't your favorite or aren't in season, you could easily replace them with the berries of your choice!
Cobbler Ingredients:
Topping:
1 1/3 cup old fashioned oats
3/4 all purpose flour
3/4 cups brown sugar
Pinch of salt
6 tablespoons of buttter
Fruit Filling:
4 cups fresh blackberries, washed and drained
1/3 cup granulated sugar
1/3 cup all-purpose flour
Juice from 1/2 a lemon
Ice cream or whipped cream on top (optional….but come on…it's really a MUST!)
Directions:
Preheat oven to 350 degrees.
Whisk together the oats, flour, brown sugar and salt in a medium bowl.
Cut the butter into small pieces and mix even into the mixture until it is crumbly and evenly distributed.  Set aside.
In another bowl combine the blackberries, sugar, flour and lemon juice.  Gently stir until combined.
Lightly grease an 8×8 pan and spread the fruit filling on the bottom.
Sprinkle the dry mixture evenly over the top.
Bake 25-30 minutes, until the fruit is bubbly and the topping is crisp.
Remove from the oven and allow the dish to rest 10-15 minutes.  Serve warm with ice cream or whipped cream on top.
Such an easy dessert that is sure to be a favorite at any get together!!