I'm excited to share some fun gift ideas with you today!  My goal is to provide you with some fun, unique gifts throughout the holiday season, some with coupon codes exclusively for y'all!!! I hope it is helpful!  Never hesitate to contact me with questions!
Panacea Jewelry
I love Panacea and right now EVERYTHING on their site is 50% off!  Shop it all HERE. 
Hot pink tassel earrings ($12.50!!)// Bow earrings//  Layered horn necklace// Sparkly statement earrings 
It's a great time to grab a little sparkle for you to wear to holiday parties or gifts for girlfriends, your mom, sister, etc.
Use code DAZZLE2019 at checkout for 50% off.
Personalized Stationary Gifts
I have created these types of gifts for years for my boys' teachers and friends, and thought I would offer them to you all as a gift option this year!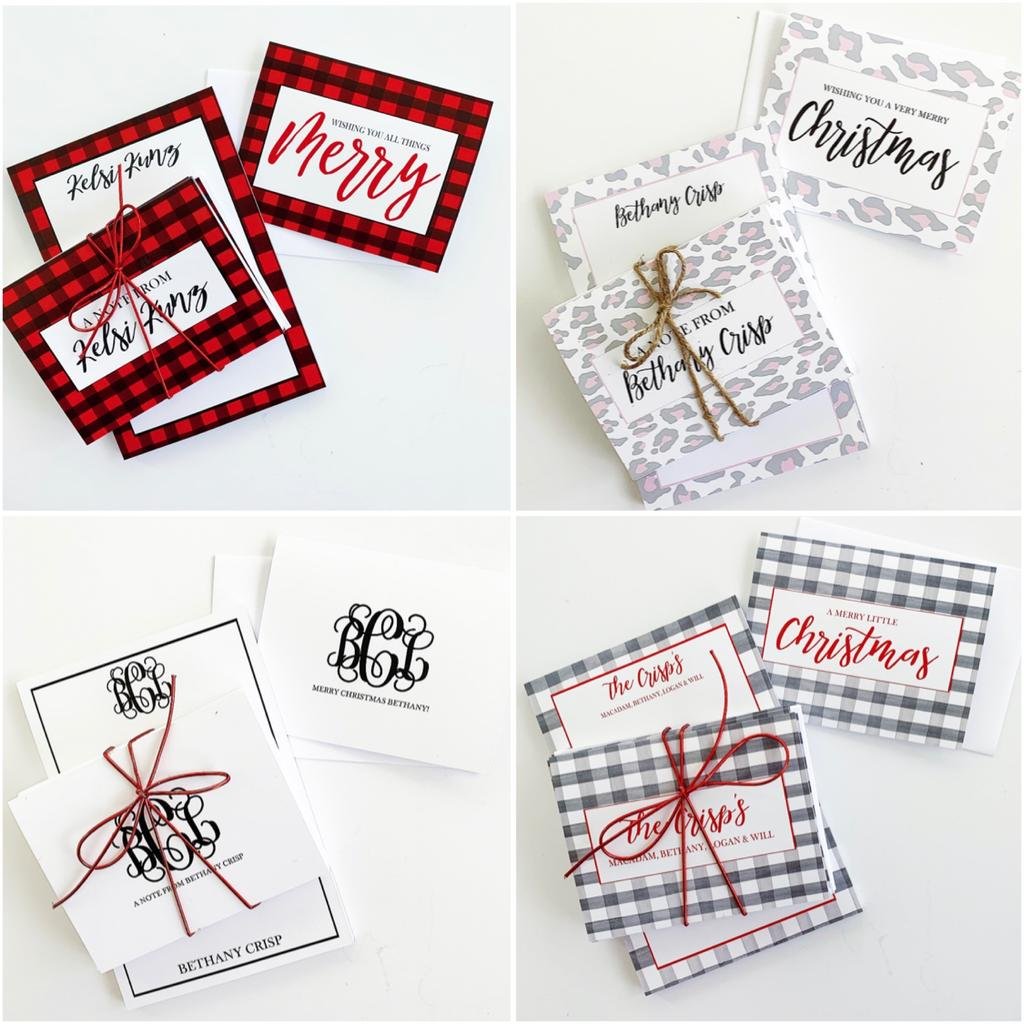 There are four patterns that can be personalized with a name, family names or a monogram.  There are three purchasing options described below!
These make THE perfect teacher gift!!
Find them all HERE.  
Personalized Notecards
These come in packs of ten, professionally printed on heavy cardstock, with ten envelopes.  They are blank inside and come bundled and tied with a ribbon.
These are $15 with FREE shipping.
Find them HERE.
Personalized Notepads
These notepads are 8×5 and come professionally printed with 52 pages each.
They are $15 with FREE shipping.
Find them HERE.
The Personalized Bundle
The bundle includes 10 personalized note cards with envelopes, an 8×5 notepad and a coordinating Christmas card.
An affordable, personal gift all ready to go!  The bundle is $25 with FREE shipping.
Find it HERE.   
Personal Artwork!
I first saw my friend Courtney's work because her Love Story Maps kept popping up at a lot of bridal shower and weddings I attended!  They are basically a couple's love story in pictures.
You can find out more about Love Story Maps HERE.
So I asked Courtney about creating an option for you guys that might be an affordable, personal gift that you could gift for Christmas, and we decided on a ONE location/photo artwork digital file!
You will receive the digital artwork that you can use to print on paper, an ornament, a coffee mug, a t-shirt…whatever you want!  She also has printing options HERE.
Some Examples:
For example, my hubby grew up going to this beach house.  It belonged to his grandparents and now his parents live there.  He met his cousins, aunts and uncles there every summer, and he even proposed to me on this porch…with a donut!  He knows the way to my heart!!
I sent Courtney the address and this is the image from Google maps.  I told her the paint colors are a little different now and we did a couple of drafts until it was perfect!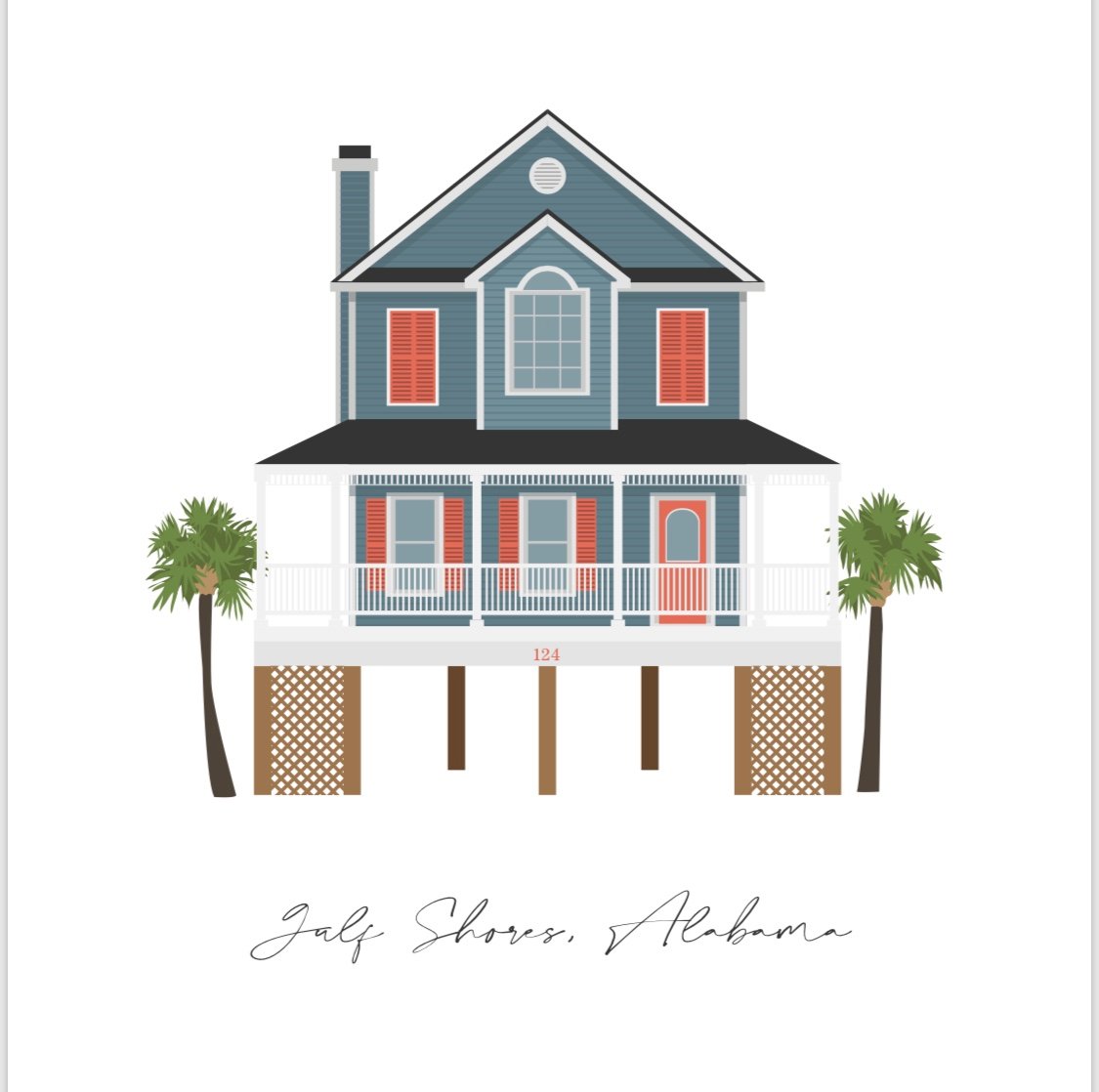 This is EXACTLY what is looks like, and I can't wait to frame it in our home, and send to his cousins.  So many memories have been made here!
She can also make your photos into artwork!  Here is a sweet one she did of my boys!
And another she did of my friend Jen and her daughter!
Her attention to detail is awesome!
You could have artwork made of someone's wedding photo, a new baby, a pet, a childhood home, a college campus. a city, a family vacation spot…the sky is the limit!  Courtney is SO easy to work with and will work with you until it is exactly what you want!
You can check out more details HERE.
Barefoot Dreams Blankets
These Barefoot Dreams blankets are a GO TO gift for me!  They are normally $100, but are marked down to just $50 with FREE shipping.  Snag one now…they are hard to find at this price closer to Christmas.
Find them here. 
14K Gold Initial Necklaces
These necklaces are currently available in almost every letter and are just $20!  A sweet, affordable gift for any of the women in your life!
Find them here. 
Michael Kors Down Coats
If you are in need of a warm winter coat or want to gift one this Christmas, these are SO nice and on MAJOR sale!
They have these styles, as well as one without a hood and a longer version.  Down, great quality, very affordable and will last for years!
Find all the styles on sale HERE.
Sorel Boots
These SUPER warm Sorel boots are half off (under $100) and would also make a great gift!
Two color options and FREE shipping.
Find them HERE. 
Gratitude Journal
Gratitude Journal– I started using this gratitude journal last year and stopping to write down things you are grateful for really does set your mind right for the day! It makes a sweet gift and is just $6.
Find it HERE.