I'll be sharing my current Walmart favorites here:
Pajamas, Thermals and Slippers…oh my!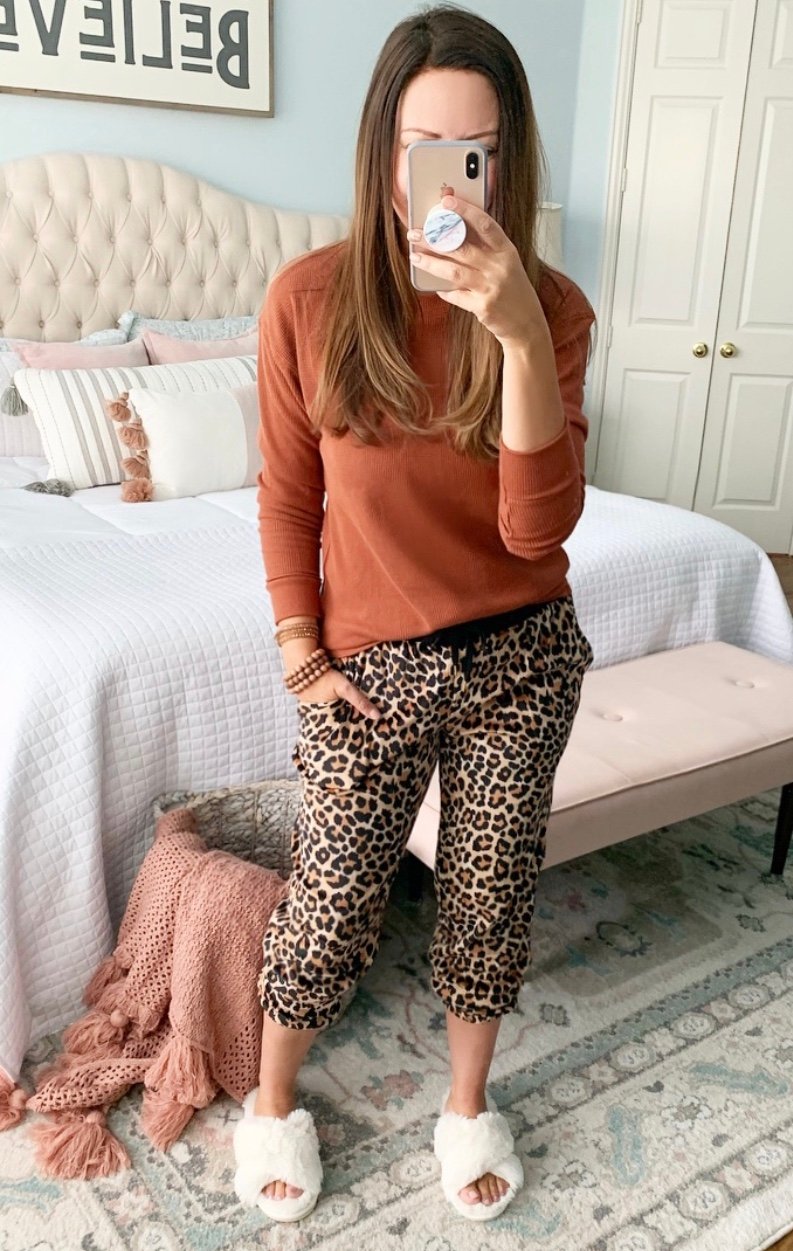 Semi-fitted thermal shirt// Leopard joggers// Slippers
These velour pajamas are SO soft! They come as seperates or in sets, and I want to live in them! I am wearing a medium in this leopard pair. Find the joggers HERE or the matchig set HERE. Click the pics below to find more colors: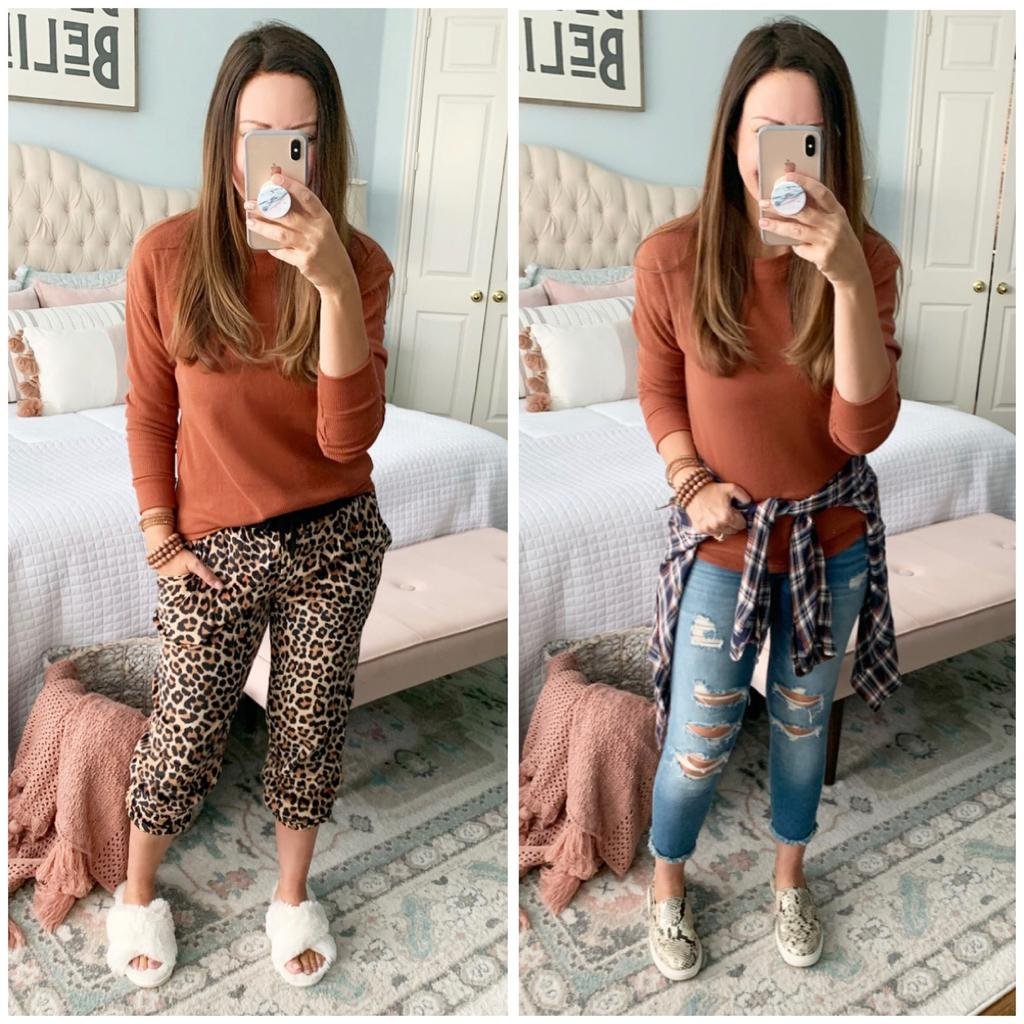 Semi-fitted thermal// Joggers// Jenas// Slippers// Sneakers
I love the fit of this thermal! They describe it as semi-fitted, not tight like a traditional thermal, with a little flowiness in the mid-section! It comes in LOTS of color options and patterns.
Find it HERE.
This set is also sold as seperates or a matching set. It's not velour like the leopard above, but still super comfy! Find the joggers HERE, top HERE, and the set HERE.
I had to stop myself from buying ALL the slippers! They have so many cute options right now! This crossband pair comes in white or leopard. They run TTS and are just $10.
Find them HERE.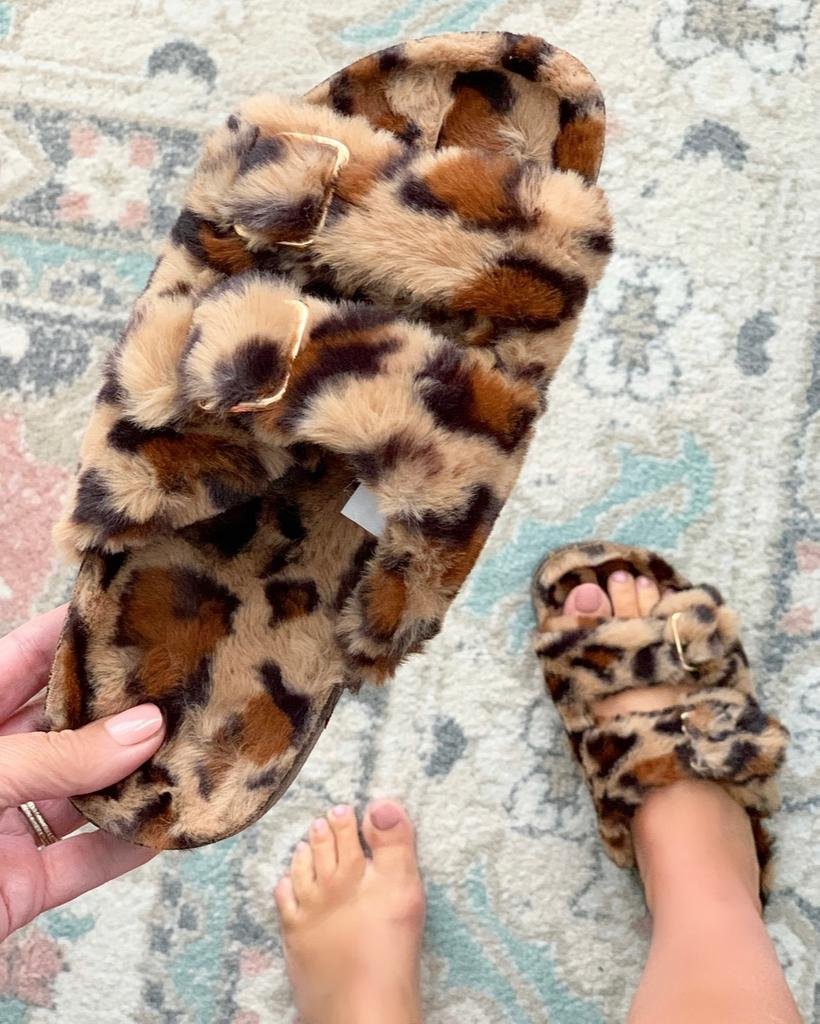 This two band slide slipper has a hard sole so they can be worn to run to the mailbox, etc. They also run TTS and are just $14. They come in this leopard, white and pink.
Find them HERE.
SUPER Soft Pullover
I loved this pullover so much I grabbed it in 3 styles! I sized up to a large so that it was long enough to wear with leggings. For some reason, the pics online are VERY dark, but the colors are very pretty in person!
Find all the available styles HERE.
Mock Turtleneck Hoodie
I am so glad they brought this top back in lots of fun new colors! I am wearing size small, and it is long enough for leggings. I also love the thumbholes!
Find it HERE.
Sneaks and Slippers
I love these two pairs of sneakers! I was pleasantly surprised with how comfortable they are! They run TTS.
Find the snakeskin sneakers HERE.
Find the black spotted sneakers HERE.
Find the criss cross slippers HERE.
Find the double band slippers HERE.
Find the sherpa slippers HERE.
Fall Decor
Click on the description below to find each item:
Basket set// Gingham pillow// Gingham pumpkin// Colorblock pillow// Wheat plant// Throw blanket// Plaid pillow// Home sweet home decor// Black metal house// Set of vases// Planter basket// Clock// Blessings tray// Black pumpkin bowl// Stool// Wood tray// Gingham pumpkin stack
I've had this tray for years and love decorating it each season!
Find it HERE.
You can also find a tutorial for how to decorate it HERE.
I thought this wheat plant was a cute fall acdent for just $7.
Find it HERE.
These pumpkin stacks are so cute and just $15. Would be sute as a centerpiece or on a porch!
Find them HERE.
Pouf// Pillow// Black Metal House// Stems// Vase
This black metal house is another fun Walmart find! I like to put a diffuser in it and light it up! It looks creepy for Halloween as the mist comes out the windows!
Find it HERE.
Cute Storage Solutions:
It is a constant work in progress to get organized, but who says it can't be cute? Click in the description of each item below, or click one the images to be taken to the item.
Set of woven baskets// 5 piece kitchen containers//Hobnail cannister// Wire basket// Laundry detergent holder// Laundry caddy// Glass Jar// Bread Box and coffee, tea, and sugar// Copper wire basket// Kitchen tins// Set of wire baskets with chalkboard label// Cube shelf// Faux leather storage cubes (set of 2)
School Supply Cart
While my boys were doing virtual school, I put together these school supply carts that so far, are working really well!
Find the post about it HERE.
Water Bottles:
I did a big water bottle review while on the hunt to find the best water bottles for my boys as we head back to school!
No surprise, the best bang for your buck was THIS water bottle from Walmart!!
Find the full review HERE.
Find our new favorite water bottles from Walmart HERE and the style my boys' prefer for sports HERE.
Maxi Dresses:
Mom perk: stealing a spoonful of your son's snow cone.
Mom Fail: Thinking you can eat a red snow cone and not get it on your white dress!
LOVE this strapless white dress with the eyelet layers and the tie at the waist! It is lined to the knee. Also comes in solid black and a fun print! I am wearing a medium, but small probably would have been fine too! Find it HERE.
This cobalt blue maxi is great quality and such a versatile dress! I feel like you could definitely dress it up or down! It is lined to the bottom ruffle and has a pretty draping detail in the back. Wearing size small. Find it, along with several other color options HERE.
This strapless printed maxi is SUPER comfortable. I am 5'5 and it hits at my ankle. Probably a midi dress for you taller girls, a true maxi with the shorties. I am wearing a size small. Find it in several prints HERE.
I loved the bold print of this hot pink ruffled wrap dress. The material is very soft and stretchy. While I love the print, it was a little to clingy in the booty and thighs for my personal preference (my problem area!) but I a great dress nonetheless! I am wearing size small. Find it in several prints HERE.
As I said above, this white dress might be my fave of the bunch! Find it in solid black and a print HERE.
I also grabbed this two pack of straw hats for just $16!! These are almost identical to the one I ordered from Amazon that was $22 for one! If you don't have this style of straw hat already, they are great to throw on for the beach or the pool!
Find them HERE.
Walmart Home Decor
These floor pillows have been a best seller on my Instagram! They are similar to the Hearth and Hand ones I keep under my coffee table, but less expensive and with more pattern options! Find them HERE.
Walmart has also been stepping up their game!
Click on any of the images below to be taken directly to the item:
or click the product description below:
Love your family canvas// Folding indoor/outdoor bar cart// tumblers// Wooden tray// galvanized tub// floor pillows// Gold bar cart// Skinny city limit sign (several cities available)// Larger city limit sign (several cities available)// Baskets// Floor lamp// Pillow// Pouf// Egg chair