I'm excited to share this early Fall Amazon haul with you!
Amazon fashion is often hit or miss, but after stalking reviews and trying on all my finds, I'm excited to share with you the winners!  All these choices are very affordable and prime, meaning free shipping and FAST delivery!  I love Amazon when you need something last minute!  Nothing is easier than adding to cart and having that Amazon package show up a day later!
Keep in find, I am FAR from a model, nor am I a fashion blogger, but I hope some of these finds help add some fun to your fall closet!   For reference on sizing, I am 5'5″, roughly 130 lbs (depending on weekly taco consumption!), pear shaped, and typically a small or medium in tops, 4 or 6 in pants.  Feel free to message me with any questions!
Fall Kimonos
       Kimono// Tee// Jeans// Wedge Sneakers// Earrings
I love this floral kimono with tassels on the sleeves and along the bottom!  I loved this maroon for the fall!  It is one size fits most.
It comes in 6 color options (shown above) and is just $12.99 with free shipping.
Find this kimono here.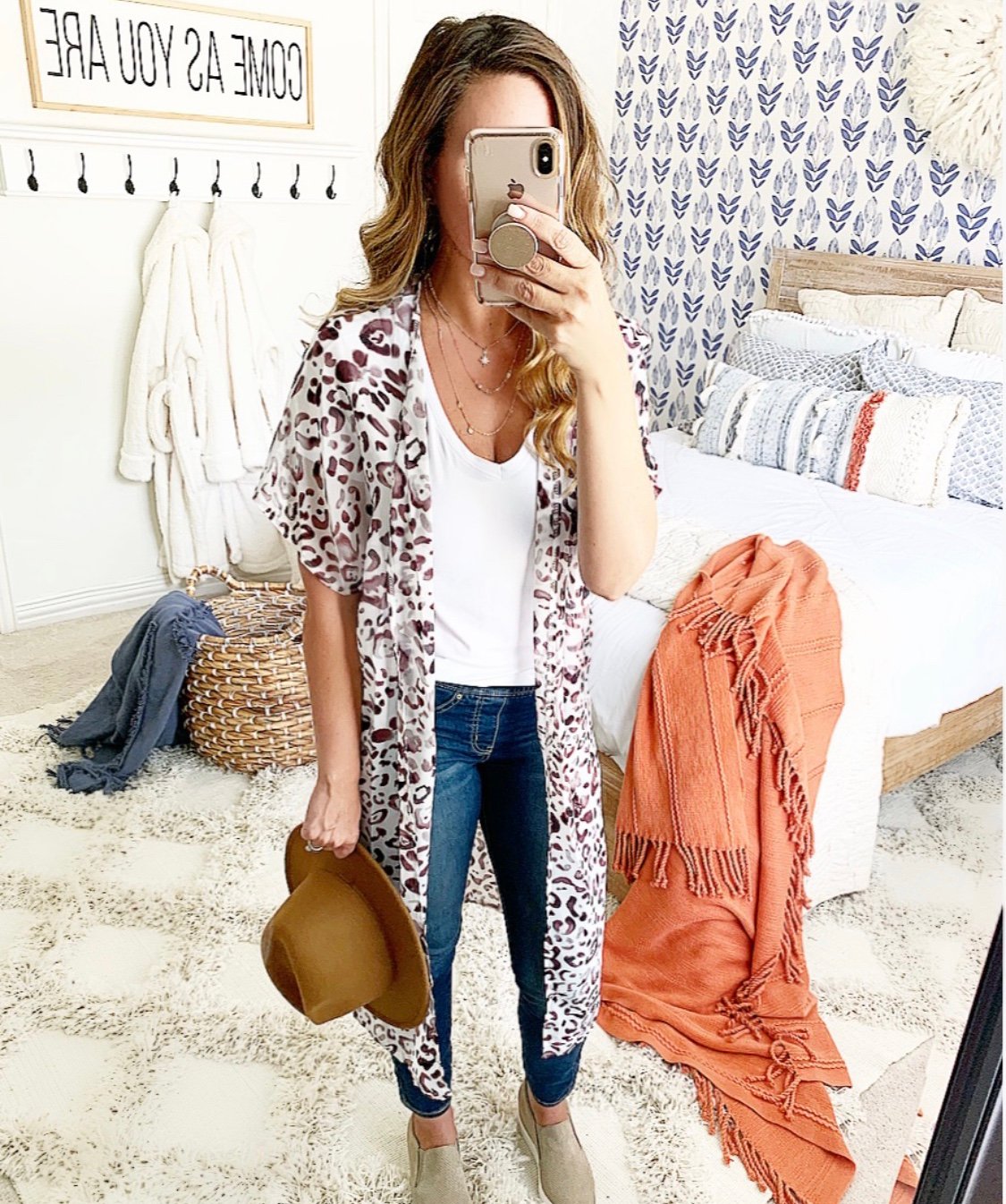 Kimono// Tee// Jeans// Sneakers// Hat// Layered Necklace
I always think duster length kimonos make such a statement!  This animal print one works as a swim coverup, with a tank and shorts, and into the fall with a tee and jeans.  I am wearing a small.
Under $20 with FREE shipping.  Find it here.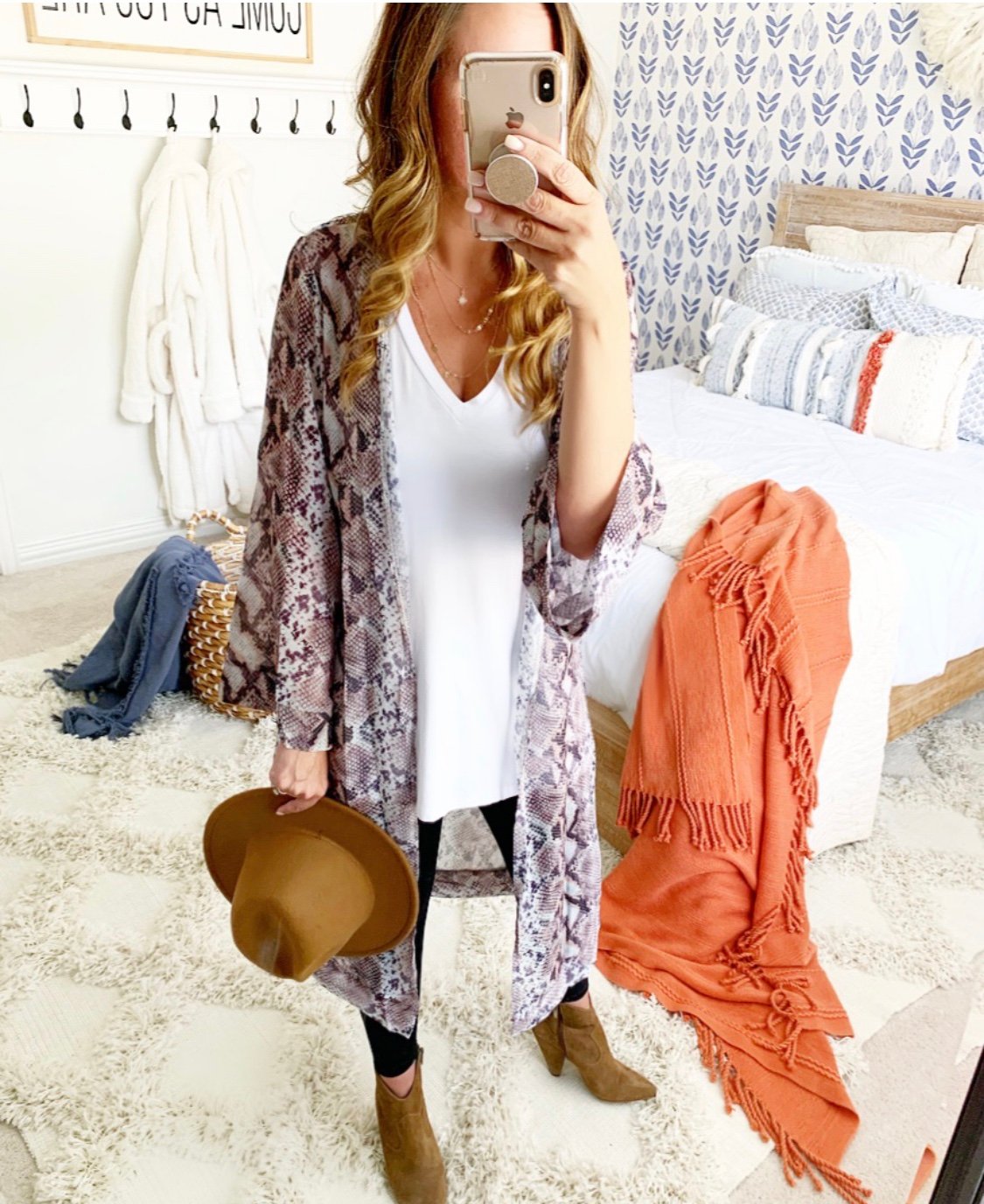 Kimono// Long layering tank// Leggings// Hat// Necklace
If you are loving the snakeskin trend, this kimono is also fun!  It has 3/4 sleeves that slightly bell at the end. I am wearing a small.
Under $20 and FREE shipping.  Find it here.
I also loved this long layering tank that is perfect to wear under kimonos and cardigans with leggings.  It is an oversized fit.  I am wearing the small. Find it here.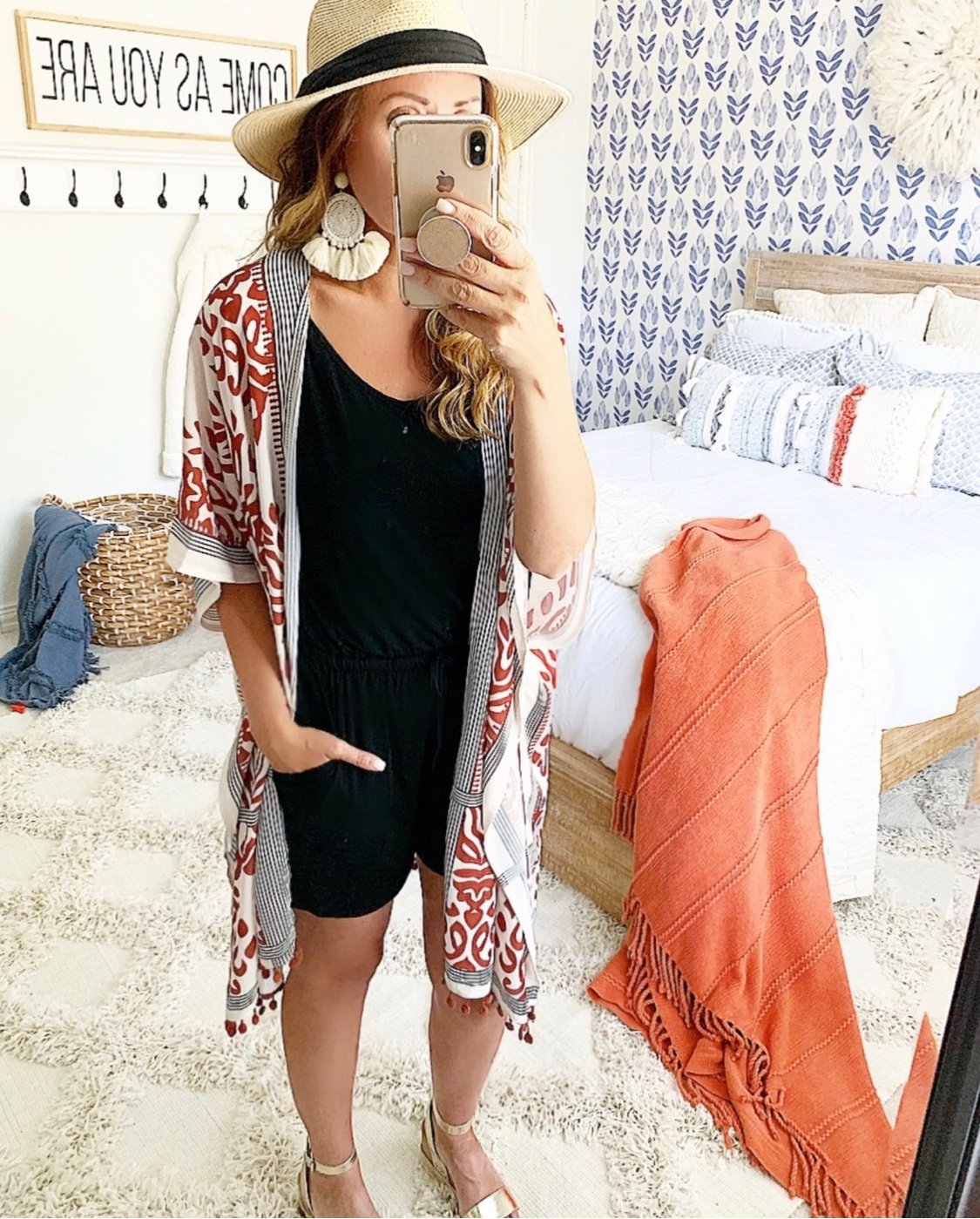 Kimono// Romper// Hat// Earrings
This rust colored kimono has adorable pom poms on the bottom and is one size fit all.  For some reason, the listing online shows it as all rust, without the black border, but mine came with this black border.  I like it either way!  Amazon is funny like that sometimes!
It also comes in green, black and blue! Under $20 and FREE shipping!
Find it here. 
Basic Romper
I LOVE this black romper!  It basically feels like pajamas and is such a versatile piece to have in your closet!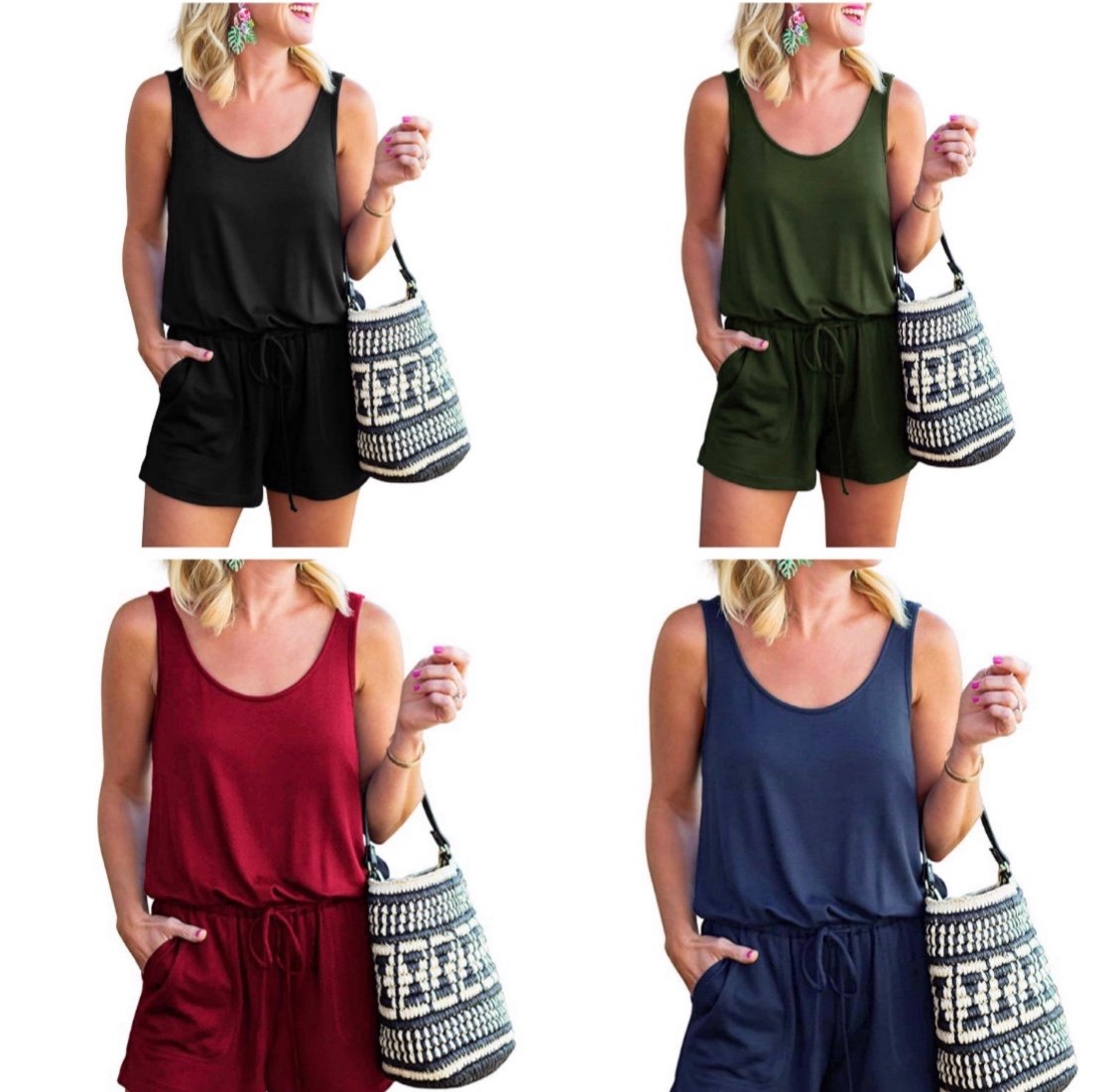 It comes in several colors, but I would stick to the darker colors.  I ordered the white with black stripes too, but it was a little too sheer.  I sized up to a medium.
This is a great piece to style into fall with pieces you probably already have in your closet!  Tie a button down shirt around your waist, add a denim or military jacket, or a cardigan to add warmth as the temps get cooler.
Under $20 and FREE shipping.  Find it here.
Cute Tees Under $20
I found several cutie tees that I know will be perfect to throw on and go all Fall.
Leopard Pocket tee// Jeans// Sneakers
I love this leopard pocket tee!  I sized up to a medium, but might even have preferred a large to make it a little longer for leggings.
It is under $20 and comes in these 6 color options.
Find it here.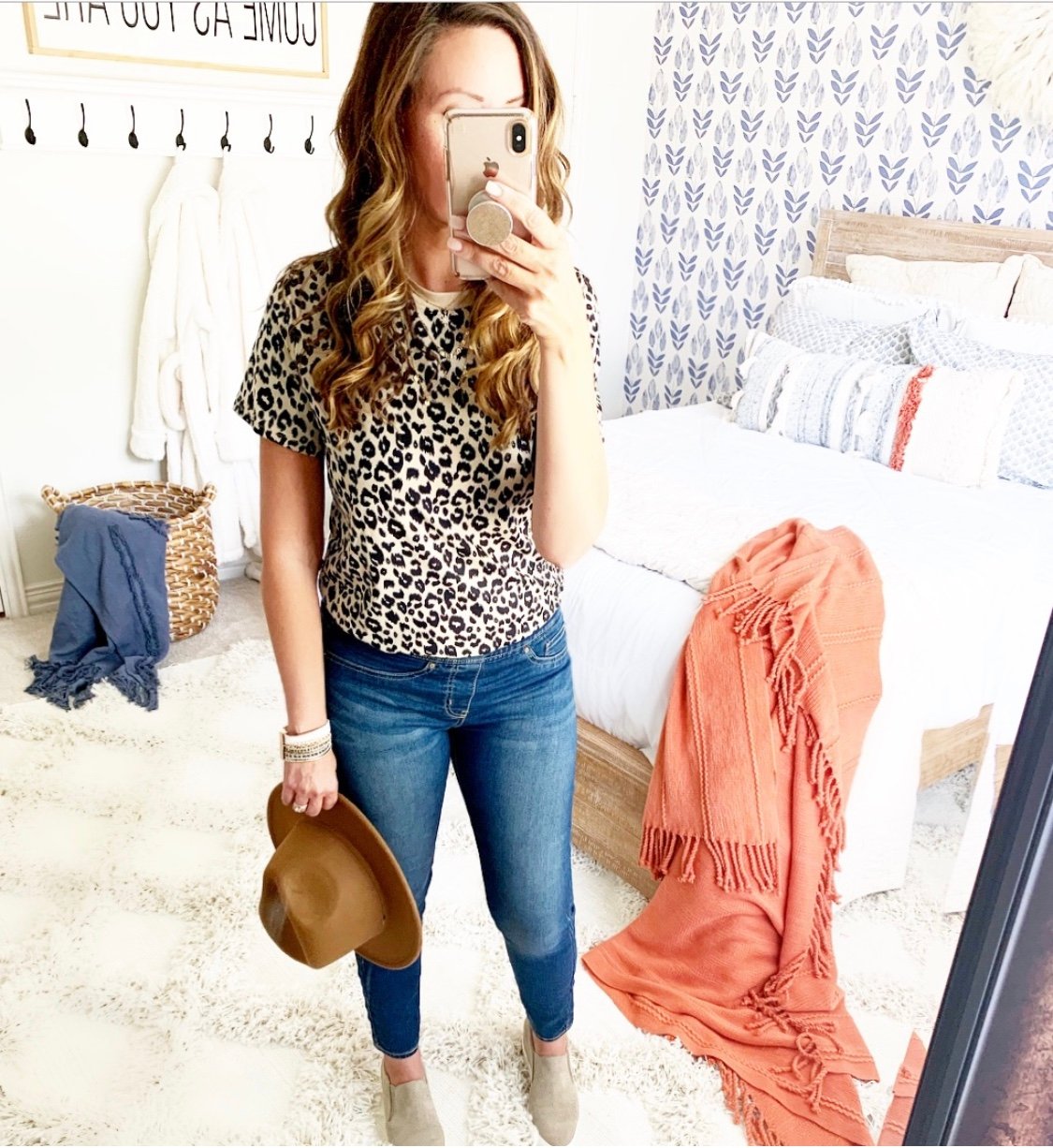 I am obviously loving the leopard print lately…haha!  This little tee also comes in several options.  I sized up to a medium.
Find it here.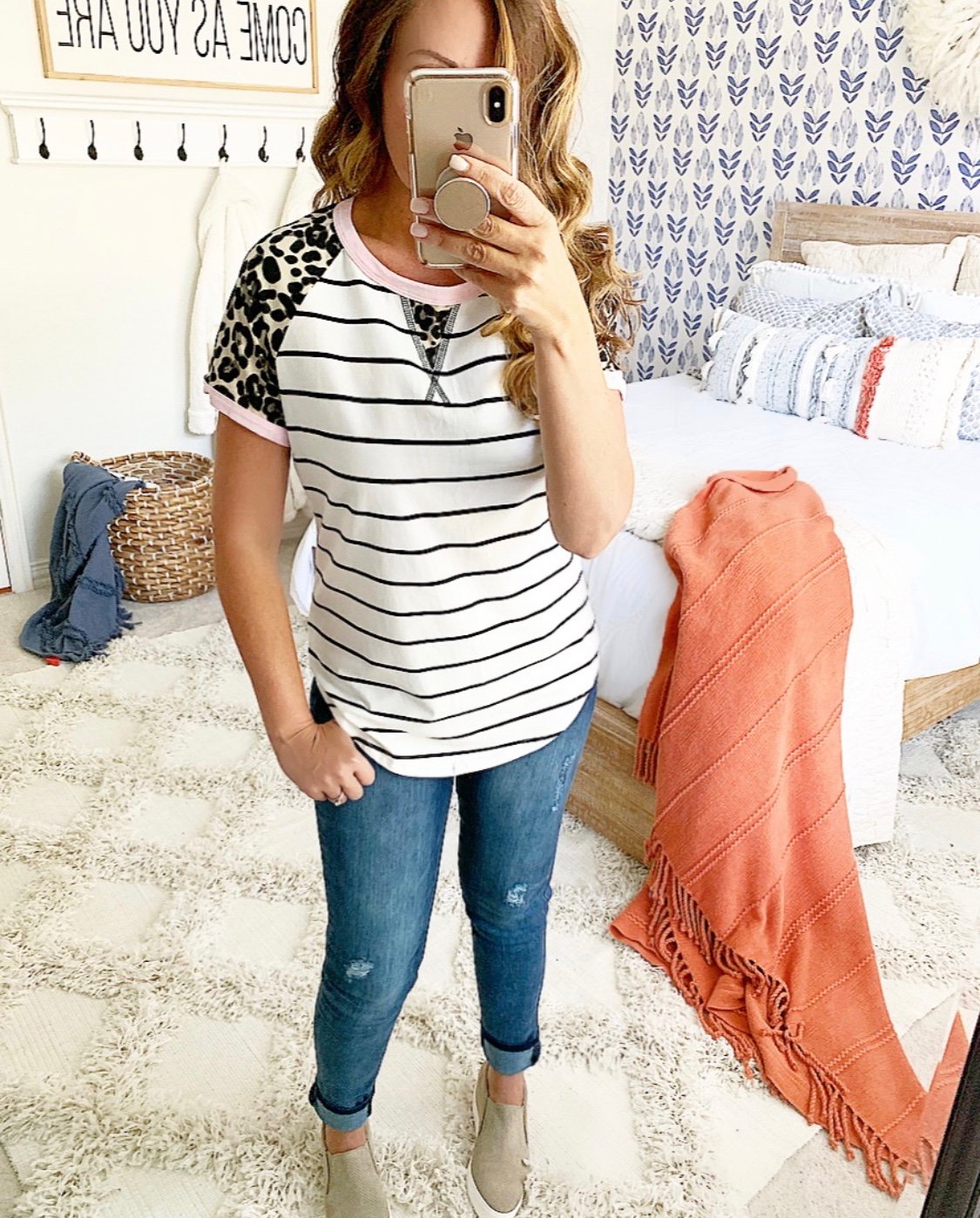 This tee combines two of my favorites: stripes and animal print!  I got a medium.
Find it here.
Dresses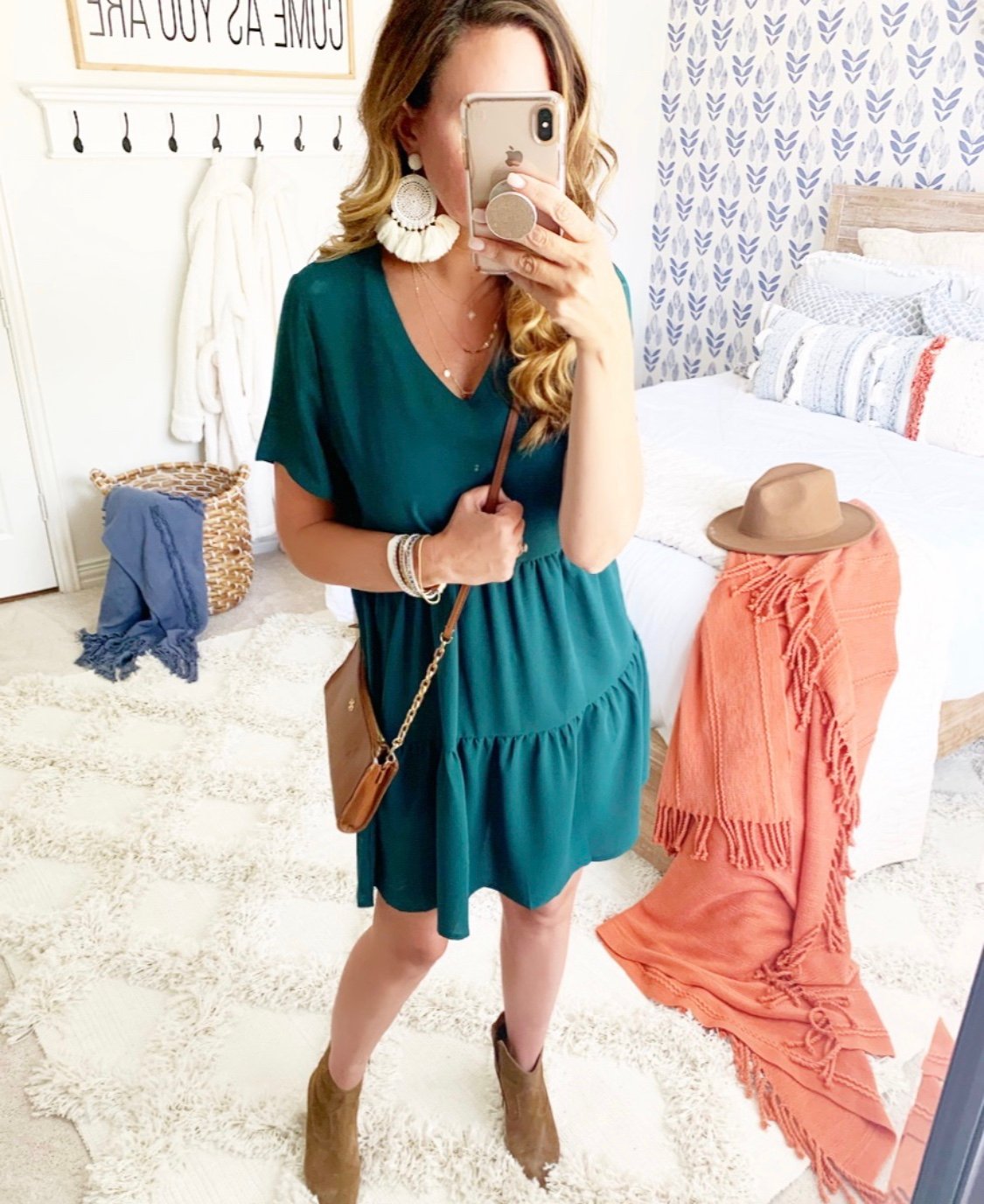 Dress// Bracelet// Earrings// Crossbody// Necklace
I love the oversized fit of this flowy dress.  I am wearing size small.
This comes in five colors and can be dressed up or dress down.  I think this would be a cute option for gameday or family pics.  I got the hunter green and the coffee color, which I would describe as rust.
$23 with FREE shipping.  Find it here.
I ordered this dress in the Spring in bright colors and loved it so much, I went back to order this one for Fall!  I love the boho vibe and the flowy fit.  I am wearing size small.
Find it in lots of fun colors here. 
Blouse
Suuuuper awkward pose, but wanted to show you the cute sleeve details on these blouses!
They come in tons of colors and options!  Front tie, no tie, 3/4 sleeve, full sleeve…..a basic top with fun details.
Find allthe options here.
Striped Tank and Cardigan
Tank// Jeans// Booties// Cardigan
This tank is actually not from Amazon, but I love it for under cardigans and jackets this fall.  It is more of a sweater type material, which makes it look a lot more expensive than it actually is.  It runs a little big.  I am wearing an XS.
Find it here.
I also love this nubby cardigan.  It is super cozy and comes in a number of colors.  It comes vacuum sealed, so don't be alarmed when it arrives!  The packaging is NOT cute, but I was pleasantly surprised how soft and nice it was.  Long enough to wear with leggings too!
Find it here. 
Jeggings
Black Jeggings// Blue Jeggings 
I ordered these black and blue jeggings from Levi's on Amazon that have AMAZING reviews….and I see why!  They have an elastic waistband, which makes them super comfortable.  It also makes them great if you are newly pregnant, postpartum, or just in between sizes!  The back pockets are real, the front pockets are faux.  The material is a thinner denim with no distressing, which is great for the workplace.  When I was a teacher we had days that we could wear jeans, but they could not have ANY holes or distressing and that was often HARD to find!
The other great thing about these is that they are $23 and $26!!  I know I will be wearing these a ton all Fall long.
Find the black ones here and the blue ones here. 
I hope this was helpful!  I LOVE finding gems on Amazon, and I hope a few of these find their way to your closet!