I'll be sharing ongoing Amazon finds here….prime is always to the rescue!
Amazon Summer Staples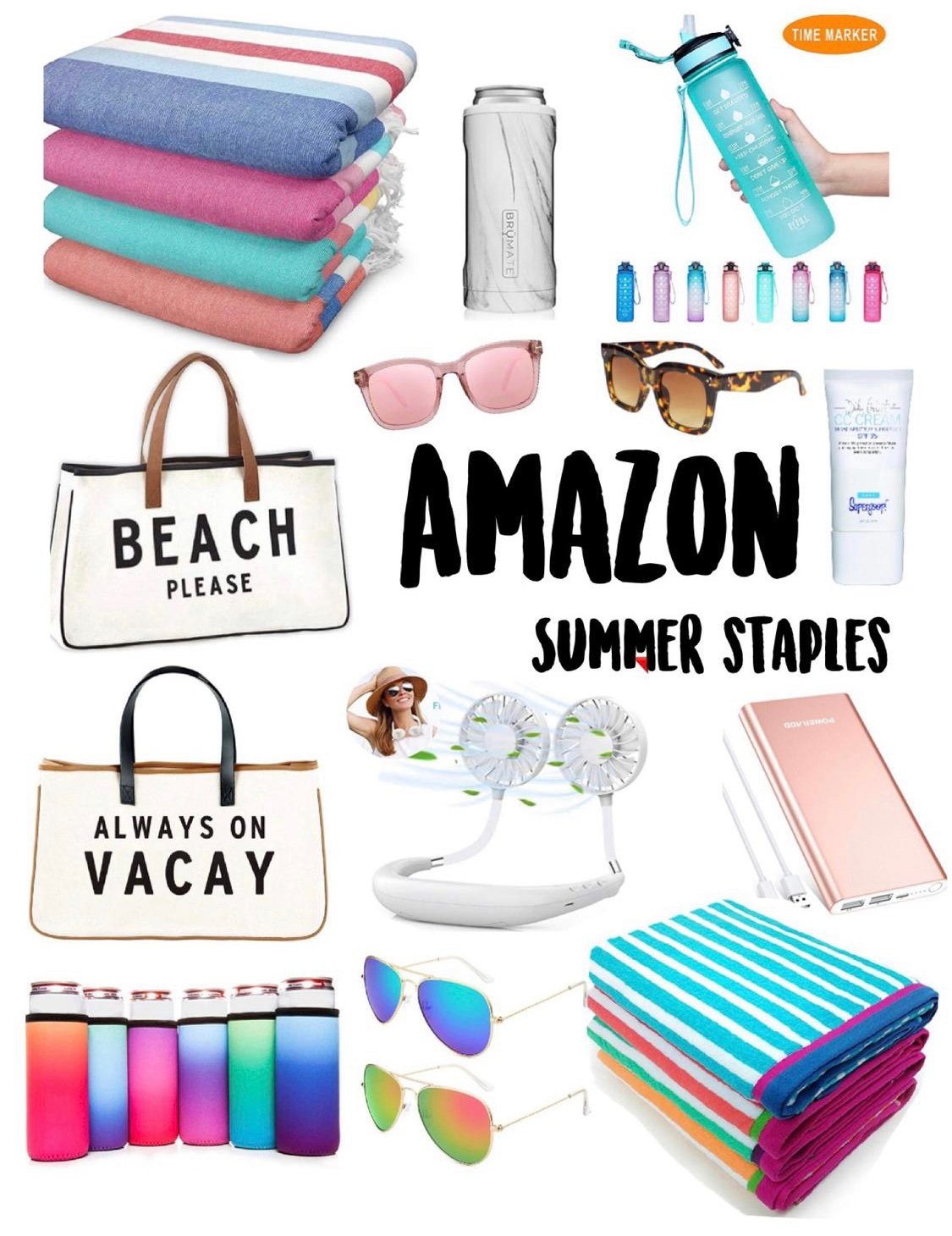 Click any of the pics below to be taken directly to the item:
Or click on the word description below:
Canvas tote//Skinny can koozies//Sunglass Duo// Personal, portable Fan//Bright beach towel set//Sand free beach towel set//Brumate skinny can koozie//Supergoop cc cream// Time Marker Water Bottle// Portable phone charger// Pink Sunglasses// Oversized tortoise sunglasses
This fan has been a favorite this month!! It charges via USB, has three settings and lights up! It might be a little extra, but so is this summer heat!!
Find it in several colors HERE.
Jumpsuit// Dress// Purse// Sandals
Are you more of a pants or dress girl? I love this listing because it has lots of cute patterns available as a dress or jumpsuit! They run big, so size down. I am wearing the small. Find all options HERE.
Dress– Comes in solid colors and patterns. Also runs large. I am wearing a small.
Find this hat HERE.
One of the many patterns available in this dress! Find it HERE.
Find the hat HERE.
Find the white booties HERE.
Jumpsuit HERE-wearing a medium
Dress HERE
Click on the description below to find each item:
Pantry labels// Large glass canister// Bread box// Rapid egg cooker// Mini waffle maker// Chopper// Mix n Chop// Storage Bins// Snap n Strainer
Palm print kimono//cami// shorts// hot pink two piece
This palm print kimono is just $12.99 with FREE shipping! Find it along with some other pattern options HERE.
Find all these Amazon swimsuits and cover ups HERE
Amazon April Favorites: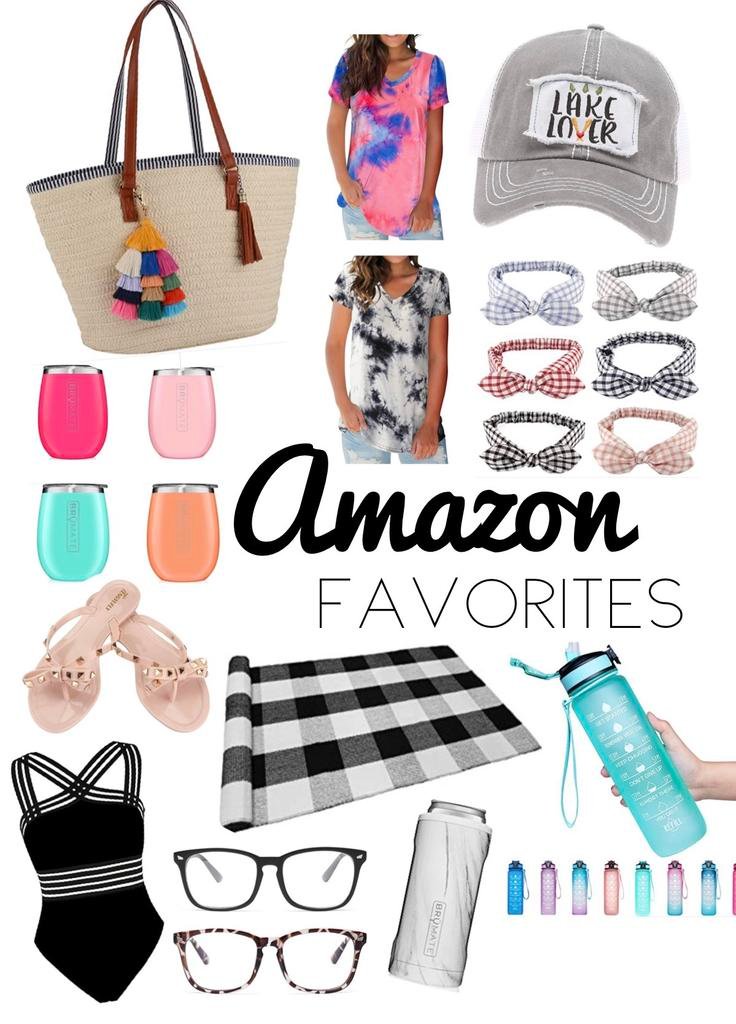 A few Amazon finds you guys loved last month! Click on the name of the item to be taken directly to the item on Amazon!
Straw bag// Tie dye Tees– I got a medium! SO soft and tons of styles and colors!// Lake Lover baseball cap-lots of different colors and sayings// 6 pack of headbands under $10// Brumate travel wine glasses-lots of fun colors for summer// Studded jelly sandals- run TTS// Buffalo check layering doormat// Time marker water bottle// Criss cross black swimsuit (see more Amazon suits HERE)// 2 pack of blue light blocking glasses// Brumate skinny can koozie
I grabbed this black jumpsuit that is SO comfy and can be dressed up or dressed down.
Find it HERE. It seriously feels like pajamas! I grabbed the medium.
I styled it several different ways above! Find all of the pieces worn in this pic HERE.
I also have the shorts version, found HERE, that I styled several ways as well! Wearing size medium.
Find all the pieces worn in this pic HERE.
Spring Decor Amazon Finds
Click any of the pics below to be taken to these adorable Amazon decor items or find them all HERE.
Top Row: Brumate HERE is the perfect always cold koozie for tall skinny cans, like Truly and White Claw. Find it in tons of colors HERE.
YETI coffee mug HERE. Comes in lots of colors and finally keeps me from microwaving my coffee a million times! Makes a great teacher gift too! Find it HERE.
This Himalayan Scrub HERE is SO good and has awesome reviews. Find it HERE.
Middle Row: This little keychain with a card holder and tassel HERE is just $12.99 with fast shipping! This would also make a cute teacher gift!
Comes in lots of colors and patterns HERE.
I got these little heart slippers HERE last week and LOVE them! SO soft with a hard sole, so you can step outside in them. If in between, size UP! Find them HERE.
This front and back bestie mug HERE is custom and SUCH a sweet gift for under $20. Find it HERE.
Bottom Row: These sweet jewelry trays HERE come with a variety of sayings that are all so sweet. Find them HERE.
This travel jewelry case HERE is practical and cute! Comes in several color options HERE.
These wine label HERE are too funny! Wine, you can be my valentine!! Find them HERE.
January Favorites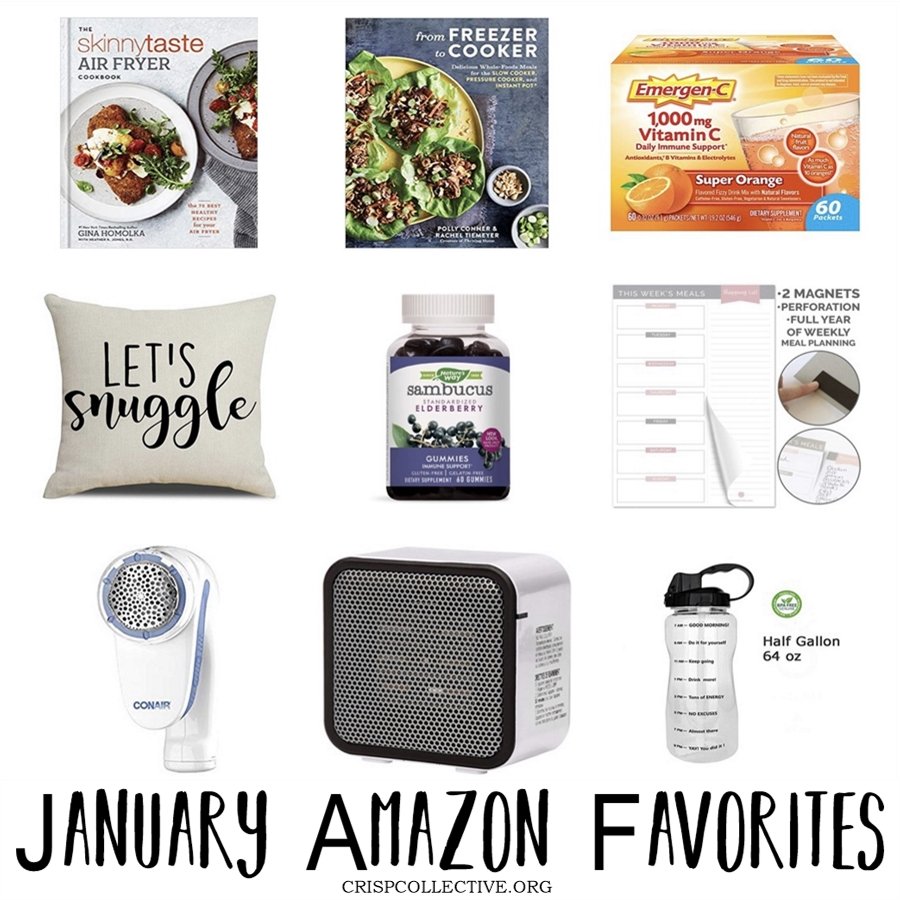 These are the finds you guys loved most from Amazon in January!!
Top row: Skinny Taste Airfryer Cookbook HERE. I am trying to use all my kitchen appliances more….if they are taking up space in my small kitchen, they need to be used! You can also find the air fryer I have on sale HERE.
From Freezer to Cooker HERE: This cookbook gives a slow cooker and Instant Pot method for EVERY single recipe, and gives you instructions on how to freeze it and how to prepare it from frozen! My friends at Thriving Home created this book and poured SO much time and love into it! Order it on Amazon HERE.
Emergen-C: It's flu and cold season, so vitamin C is a MUST! Order this HERE. I also like the Pink Lemonade flavor HERE.
Second Row: Let's Snuggle pillow cover HERE: This cutie is under $10 and expresses my thoughts for all these cold days perfectly! Find it HERE.
Elderberry Gummies: These immune boosting gummies are a MUST this time of year too! My boys and I take 2 every single day! Find them HERE.
Meal Planning Notepad HERE: Can you tell I tried to cook more this month? This little notepad helps you plan out your week and has a perforated section for your grocery list so you can tear it off to take to the store or over to the computer for your online order! Trying to plan better, so we DO better! Find this notepad HERE and other cute designs HERE and HERE.
Clothing Shaver HERE: I was BLOWN away by how well this little gadget works! As I cleaned out a few closets this month, this guy saved some sweaters and jackets from donation by effortlessly removing all the peeling fabric. Many of you said you use this on chairs, couches and pillows too! And it's just $12! Find it HERE.
Mini Space Heater HERE: I am ALWAYS cold, my hubby is always hot. This little guy has been worth every penny. It is perfect for a small space like a bathroom, cubicle or I often just put it by my feet when I work on my computer at our breakfast nook table. In fact, my toes are toasty right now! Find it HERE.
64oz Water Bottle HERE: I've had this water bottle for awhile now, but brought it back out this month in an effort to drink enough water! Find it HERE.
Amazon Servingware Finds

Simple, classic white serving ware is my favorite! Find all of these on Prime for the next time you host!
Click in each picture to be taken to the listing!
Amazon Deals
NYX Butter Gloss in Creme Brulee– My go to lip gloss! Regularly $5, $2,89 today HERE.
24K Gold Collagen Under Eye Patches– LOVE these! Helps with puffiness, dark circles under your eyes and more! Regularly $18.99, just $13.99 today for 20 pairs. Find them HERE.and another option HERE.
Fabric Shaver– This has saved lots of sweaters that were peeling from the donation pile lately! I was blown away by how well it works! It also works on pillows and furniture. Just $11.59 today HERE.
Rapid Egg Cooker– I've been considering this for awhile and saw that it is 30% off today. Comes in 5 color options HERE.
You can also find the smaller version HERE.
Long Sleeve Leopard Tee– This is on lighting deal, so it won't be discounted for long! I have the white in medium and love it! Select your size and color to see the discount HERE.
Emergen C– We go through these Vitamin C packets quickly at our house, especially right now during cold and flu season!! Grab this 6o count for 20% off HERE.
Sonicare toothbrush– My hubby and I both have this toothbrush and love it. It is just $19.99 marked down from $50! That's 60% off! Find it HERE.
Better Homes and Gardens– One year subscription for $12! FOR THE YEAR! I love to flip through this for home inspiration, recipes and easy tips. Find it HERE.
Folex– This is THE best stain remover! I've raved about it many times and today it's 23% off HERE.
Mini Space Heater
Not fashion related, but one of my favorite recent Amazon purchases has been this mini space heater.
My hubby is always hot, and I am always cold, so this has helped! It is very small, but puts out a good amount of heat! It is perfect for an office, cubicle or any small space and it was just $20.
Find it HERE.