Many of you have requested a swimsuit try on, and honestly, I began to immediately sweat at the thought of that! I had ACL replacement surgery in November and have spent a lot of time and energy the past few months being frustrated with my body….it not working the way I want it to, and the overall squishiness as a result of not working out!
But my friend shared this from scarymommy.com the other day and it really hit home with me! I need these reminders often:
So in an effort to encourage you to embrace the body you have, I'm getting over myself and putting on the suit! After all, these wrinkles are from lots of laughter, this belly has birthed two beautiful baby boys and this booty has done a lot of shakin'….although these days it seems to shake a lot longer than I intended it to. Not sure that is what they mean when they talk about an a$# that won't quit! Haha!
Target Swimsuits BOGO 50% FREE
Sharing some Target suits that are currently buy one, get one 50% FREE!! I also love that Target makes returns VERY easy if you try a suit and it doesn't work!
BOGO FREE also includes men and kids!
Shop men's suits HERE.
Shop girls' suite HERE.
Shop boys' suits HERE.
Floral Ruffle Swimsuit
Suit// Kimono// Jellies// Earrings// Hat
I love this suit! It has removable, adjustable straps, sewn in cups and full booty coverage. The rousching at the tummy is very forgiving, and I think the pattern is so fun! I am wearing a medium. It is currently BOGO 50% off HERE.
The details on this kimono are so pretty! Find it HERE. I also love these studded jelly sandals that come in lots of color options HERE.
Black Ruffle Swimsuit
Suit//Kimono//Jellies//Earrings//Hat
I LOVE a black suit…flattering and classic! This is the same style as the suit above with the removable, adjustable straps, sewn in cups and full booty coverage. There is crochet details at the bottom of the ruffle at the chest. I am wearing a medium. It is currently BOGO 50% off HERE.
This kimono is so soft and is definitely one that can be worn year-round! I love the colors!
Colorblock Wrap Suit
Suit//Hat//Leopard Kimono//Jellies
This suit is a little too busty for me personally to wear around my boys, but I think it's very flattering for an adult pool party or vacay! It has adjustable straps and full booty coverage. I am wearing a medium.
Find it HERE.
I bought this leopard kimono in the fall, but thought it made a great pool coverup too!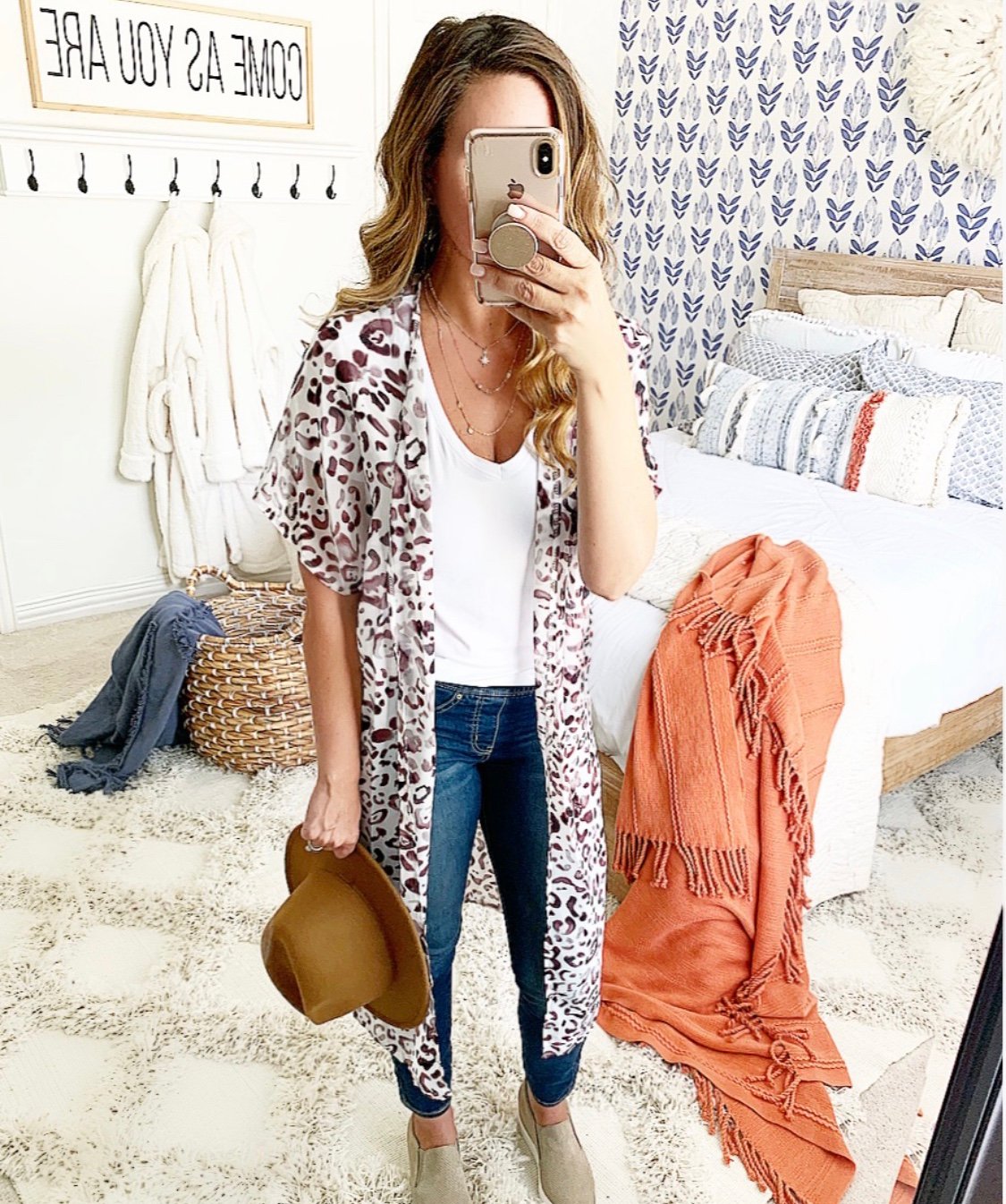 Find it HERE.
Flowy Tankini
Flowy Leopard Top// Briefs // Hat// Earrings //Jellies//Bag
This suit is great for a new baby bump, the postpartum mama or anyone that would like a little flowiness around their mid-section. It has removable straps that tie around the neck. It comes in lots of colors, patterns and plus size HERE.
Target also has tons of options for swim bottoms HERE. I went with a solid black high-waisted pair HERE. These are all BOGO 50% off, so if you buy both a top and bottom, one will be half off!
Swim Romper
Romper//Hat//Earrings//Bag//Bracelets//Jellies
I know this won't be for everyone, but I think it's genius! I grabbed it for the water park in the summer, where I love to do slides and swim with my boys, but HATE walking around all day in just my swimsuit. It comes in black and navy and has GREAT reviews! This would be an awesome option for water sports or anywhere you have to wear a bathing suit, but want a more modest option.
The straps are adjustable and it has removable cups at the chest. I am wearing a medium. Find it HERE.
Black and White Coverup
Cover up//Jellies//Hat//Earrings//Bracelets
I love this simple, chic coverup. The vertical stripes are very flattering, and it is cut higher on the sides. I am wearing a small.
Find it HERE.
Swim Pants
Suit//Pants//Jellies//Earrings//Hat//Bracelets
I loved these flowy pants that are slit on both sides! Comfy and cute for the beach or pool. I am wearing a medium, but they run big and long…wish I'd sized down.
Find them HERE.
This suit is pretty low cut, but very comfortable! I am wearing a medium and got it from Amazon HERE.
A Few Other Target Suits
Also loved these! Just weren't available in my size at my store!
Amazon Suits
All these suits are from Amazon prime, are affordable and I hope will be flattering on lots of different body types!
Swimsuit with Crochet Kimono
Suit // Kimono // Hat- Color: khaki // Bag // Earrings
This red suit comes in a TON of colors and patterns (29 of them!) and is just $25 with free shipping. It has adjustable straps, padding in the chest and beautiful rousching all on the tummy. The description calls it a "tummy control" suit. I got the medium to make sure it was large enough to cover my booty, and it does! This is definitely the most comfortable of all the suits I tried on! Some of the lighter colors may be see-thru in the back, so I'd stick to the darker colors!
The kimono has such pretty details and would work over any solid suit, as well as with a tank and shorts or jeans! It is under $20 with one day free shipping for Prime members.
Pinstripe Suit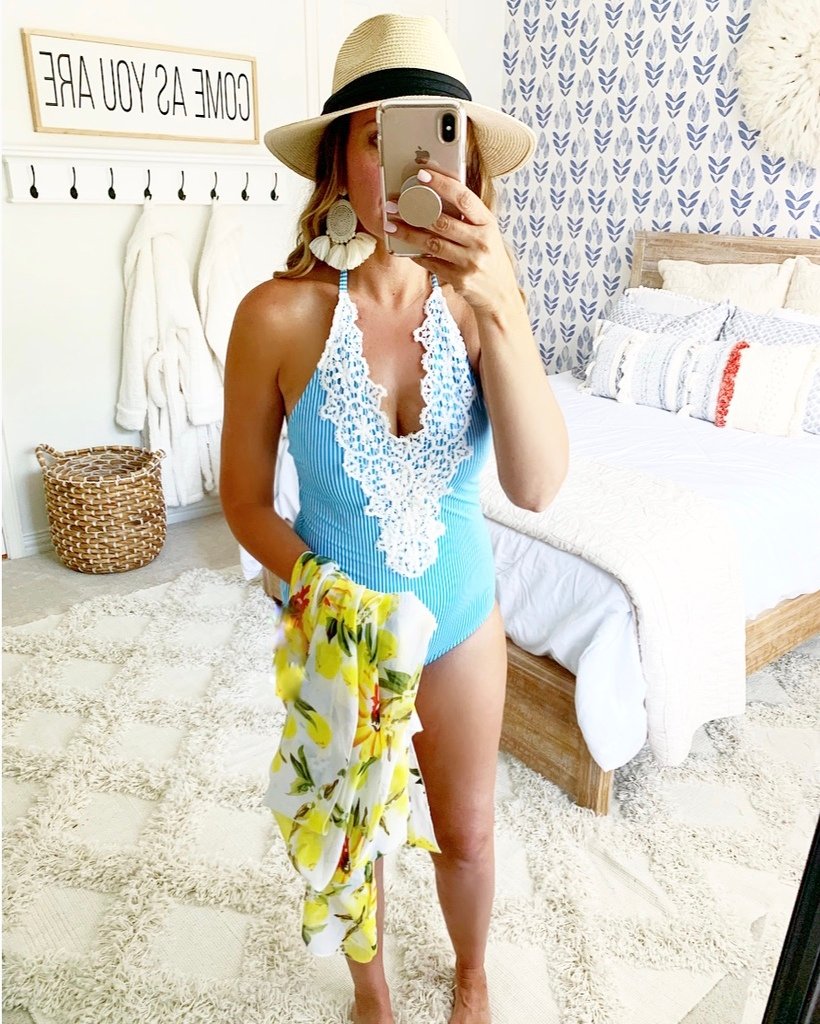 Pinstripe suit // Hat // Earrings
This pinstripe suit is also described as "tummy control" and has a tie halter top with some padding. The applique has such pretty details and there are 3 pinstripe color options and a solid black. I got the medium in this one as well and there is good booty coverage. Under $30 and free shipping!
Lemon Kimono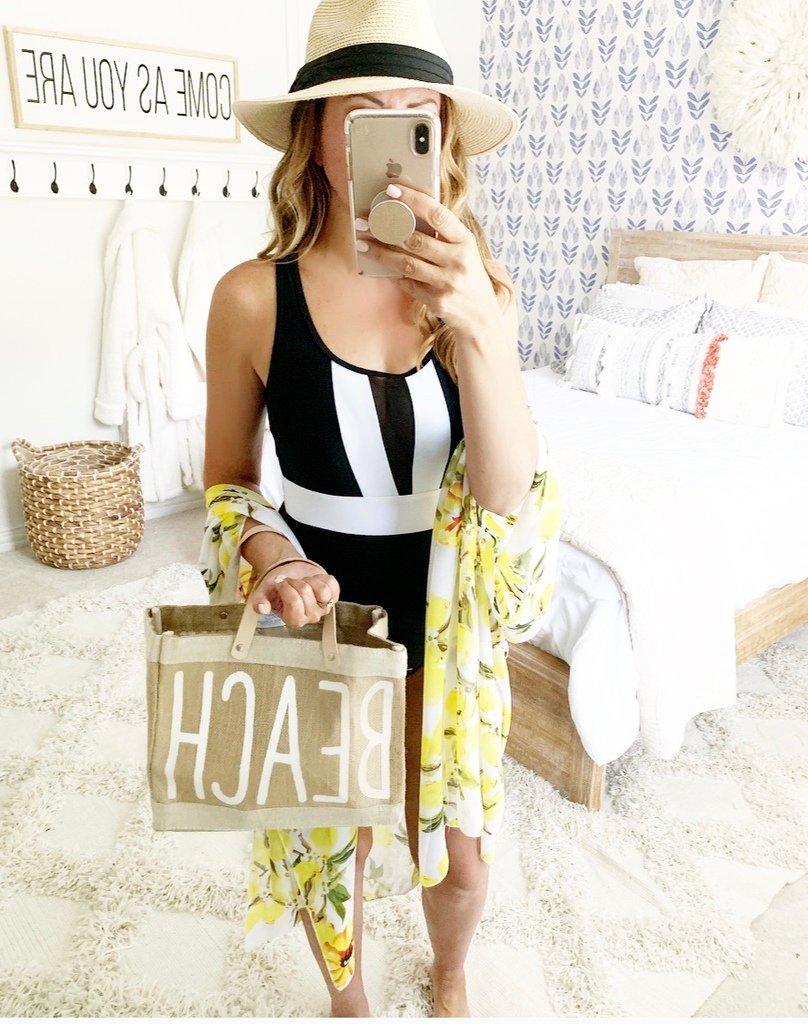 I thought I would love the lemon over the blue, but I liked it over this black and white better! This kimono is just $12 with free shipping! It is light, airy and fun for the beach or with a tank, shorts or jeans. If yellow or lemon is not your jam, it also comes in other patterns here.
Black and White Suit with Palm Kimono
Suit // Kimono // Bag // Earrings // Hat
I think this black and white suit would be flattering on so many body types! It is hard to tell from the picture, but the very center is a mesh detail and there is padding on either side. The back ties creating a cute cut out effect and the white lines give you a waist. I am wearing a medium in this to cover my booty.
It is $25 with free shipping.
This long palm kimono definitely makes a statement and is perfect for vacation, the pool, the beach, etc! It also comes in other patterns here.
Black Criss Cross Suit
Suit // Hat // Earrings // Kimono
I ordered this criss cross suit remembering how much my boys yanked and pulled on me in the pool when they were toddlers. This top is secure and will not budge! It comes in 12 color options, but the solid black was definitely my favorite. There is some padding at the top and full booty coverage. I ordered the medium. This suit is under $30 with free same day shipping. The only drawback to this suit is slightly funky tan lines….but that's where self tanner comes in! haha!
Two Piece Pattern Mixing
Suit // Hat // Bag // Earrings
I thought this two piece peplum suit was SO fun! The bottoms are high-waisted and cover the booty. The peplum top offers some coverage for a puffy tummy and you can wear the top with or without straps! HOWEVER, the placement of the straps on mine was very awkward, as several of the other reviewers said! It looked strange, so I opted to wear it strapless. Just note, this may not work for you if you are in the pool with littles or have a large chest. All things considered, for under $20 I feel like this is a super cute suit! There are also 2 other colors/patterns available! I am wearing the medium.
3 Cover Ups I LOVE!
Coverup//Jellies//Hat//Corkcicle Tumbler
As soon as I slipped this cover up on I felt like I should be sipping a fruity cocktail on a Mexican beach! Such fun colors and the pom poms are the cutest! It also comes in white and blue and is just $14 prime.
Find it HERE.
Cover Up // Hat // Earrings // Bag
This palm print tassel cover up is SO cute! I like that it goes down all the way on both sides instead of being split and the pattern is adorable. Did I mention it's also only $16 with free shipping?! It comes in solid colors and other patterns too! One size fits all.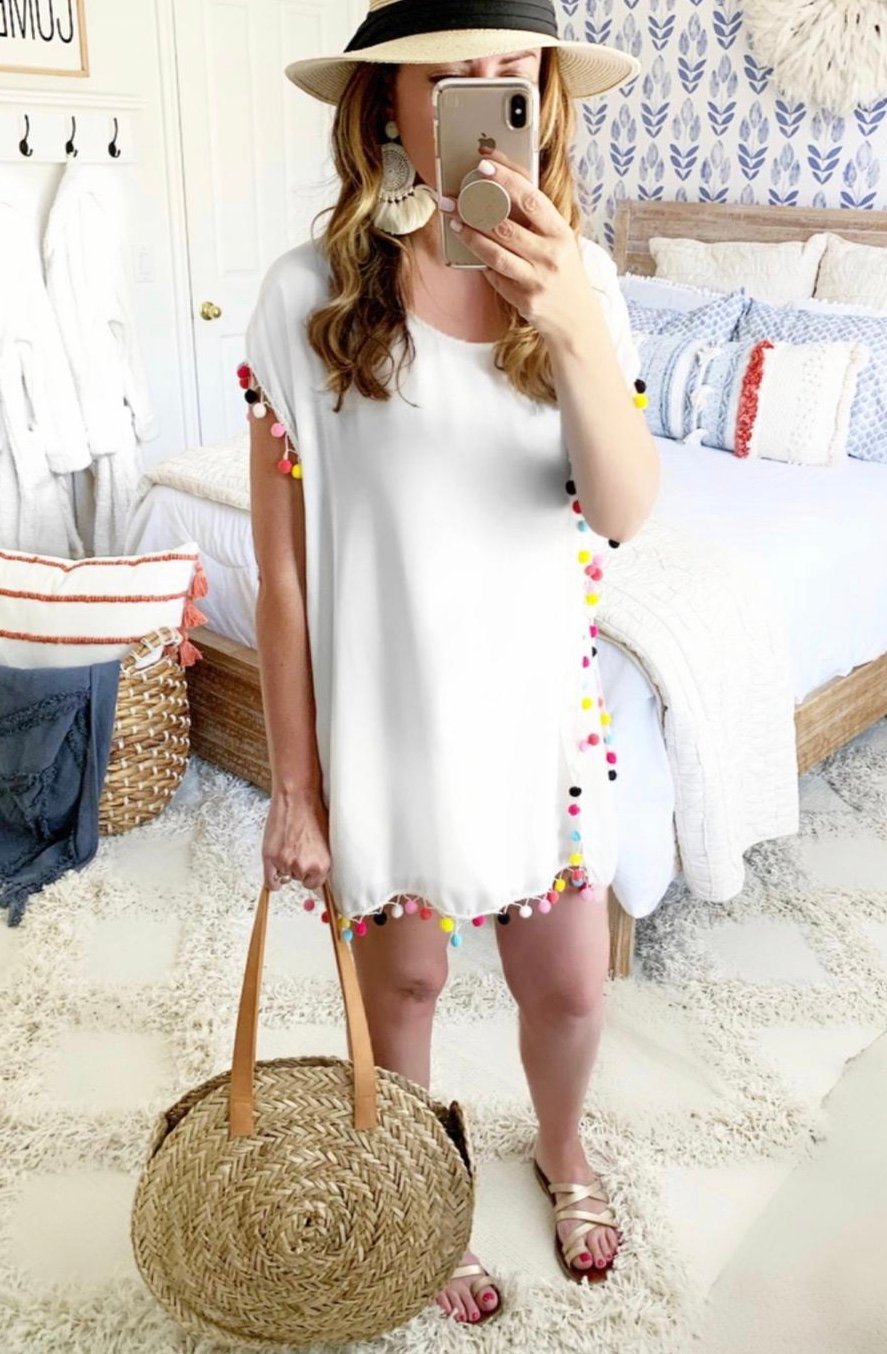 Cover up // Hat // Earrings // Bag
I also have this pom pom cover up in several colors! It is so fun! It comes in tons of color options with pom poms or tassels and is just $18 with free shipping! I bought this last summer and was sure it would fall apart in the wash. I washed it on delicate in the washing machine and hung it to dry. I have washed it multiple times and am yet to lose a pom pom! That's an Amazon win!
Favorite Self-Tanner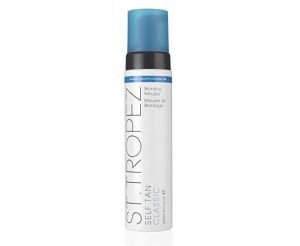 This St. Tropez mousse is my favorite! A little self tanner always makes me feel a little more confident!
More than anything I hope that whatever insecurities you have about your body, (we ALL have them!) you won't let them hold you back from making memories with your people this summer! Embrace the body you have! Go to the beach! Get in the water at the pool party! Make memories and even take pictures with your kids! We only have ONE chance at this life thing, and it is too precious to waste time worrying about our thighs! Preaching to myself here too ladies….
and last thing! When you see another woman, especially a new mama in that swimsuit at the splash pad, tell her she's rocking it! You never know the ripple effect of your kindness, and chances are, she needs to hear it!