I'm excited to share some of my favorite rugs, most of MAJOR sale!
Rugs in my Home
I love how rugs completely transform a space and add warmth and texture!  Below are a few rugs I currently have in my home and where to find them!
Living Room Rug: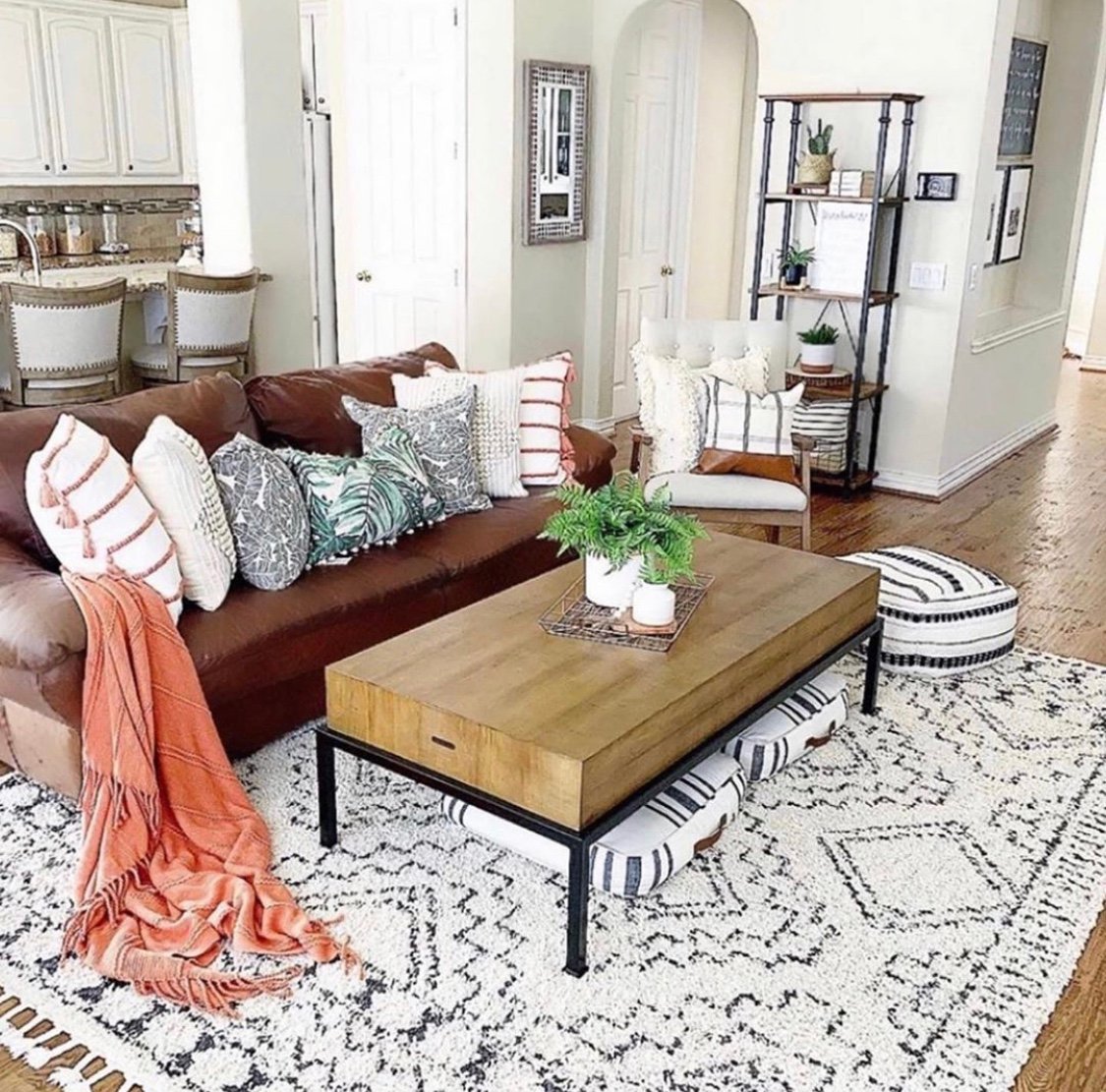 I love the cozy shag texture of this rug and the tassels!  We have had it a year and it has held up great!
Find it here. 
Bedroom Rug:
I loved the muted color palette of this rug in our master bedroom!  I like this room to stay calm and relaxing!
Find it here. 
Guest Bedroom Rug: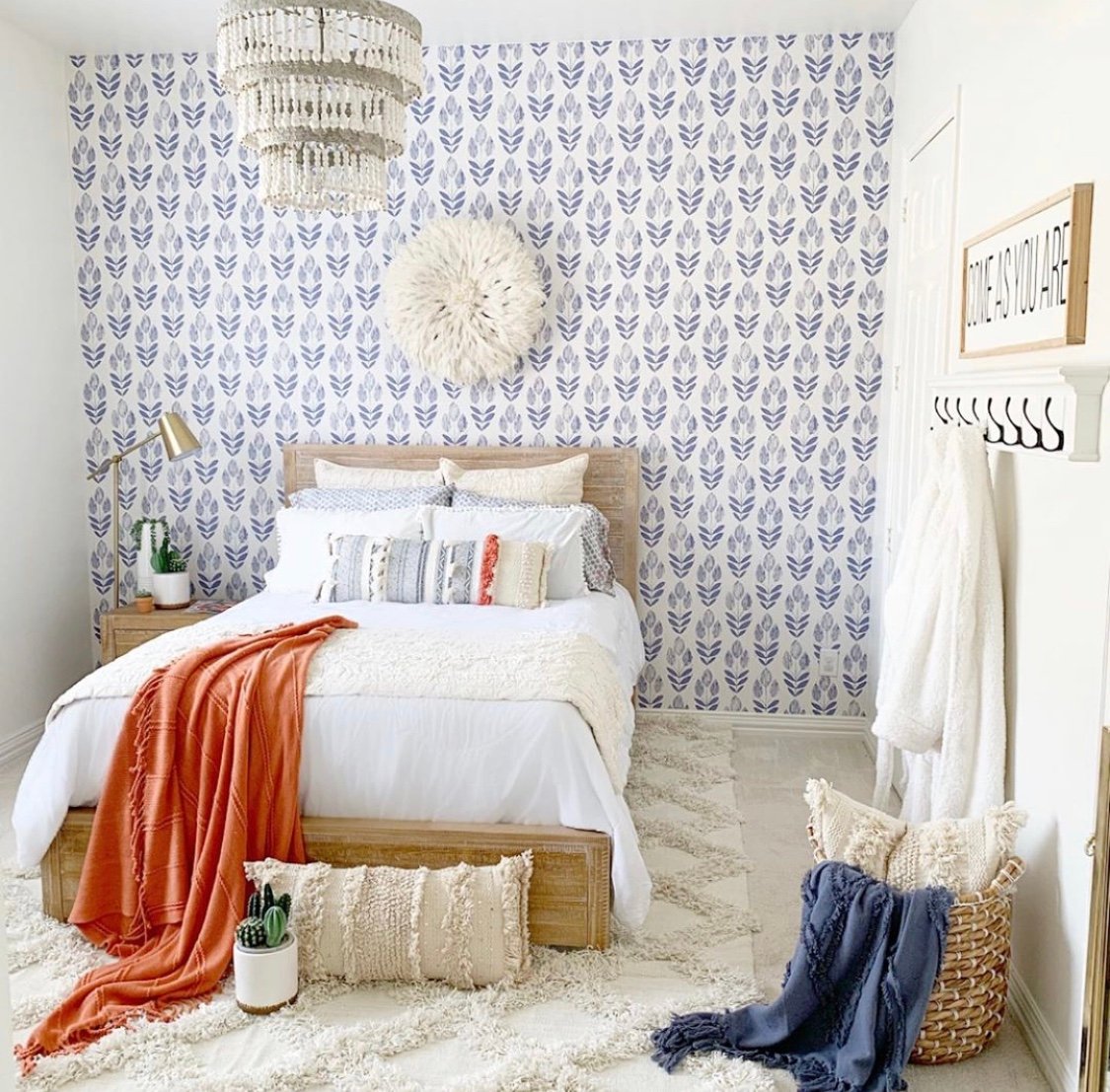 This rug adds so much texture to this room and is surprisingly soft!
Find it here. 
Playroom Rug:
This rug pulls this whole room together and gives the boys a soft space to play!
Find it here. 
Our Newest Rug
I received this rug from Boutique Rugs, and I just love it!  

It is more white than cream, very  soft and the quality is great!  I got the 6'7″x 9'6″ and plan to put it in our dining room, thought I think it would work well in a number of spaces!  I am actually giving this rug away in a 5×7 to one of you on my Instagram!  You can find the post here!
Since Boutique Rugs is having a big Black Friday: Summer Edition sale with 60% off and FREE shipping, I'd thought I'd share a few other rug favorites from their site!
You can visit their site here. 
A Few Things to Consider when Purchasing a Rug:
I tend to always lean toward more neutral rugs, so that pops of color can be changed out seasonally with decorative items like pillows and plants.  I like to change things up often, so brightly colored, bold rugs are often too much of a color commitment for me!
Think about the space and the type of traffic it sees.  I recommend a soft material or shag for spaces like the living room, nurseries and bedrooms.  You will be barefoot often in these spaces, and will want soft and cozy.  Flatter, more durable materials are needed for the dining room, so chairs can move easily.  Consider durable materials, or even indoor/outdoor  rugs, for spaces that see high traffic, like a kitchen, hallway or playroom.
Size- One mistake I see often is that people buy rugs that are too small for the space.  For example, in a living room, it looks best when all pieces of furniture are at least touching the rug.  For a dining room you want the entire table and all chairs (tucked in) to fit on the rug.  I found this guide and this guide helpful!
A Few More Favorites:
Just click on each image or link below to be taken directly to the listing on their site!
Love the texture of this one!
Find it here.
This cross rug would be fun in a kid's space or office!
Find it here.
This is the same as that first textured rug I loved, but with gray in the mix!
Find it here.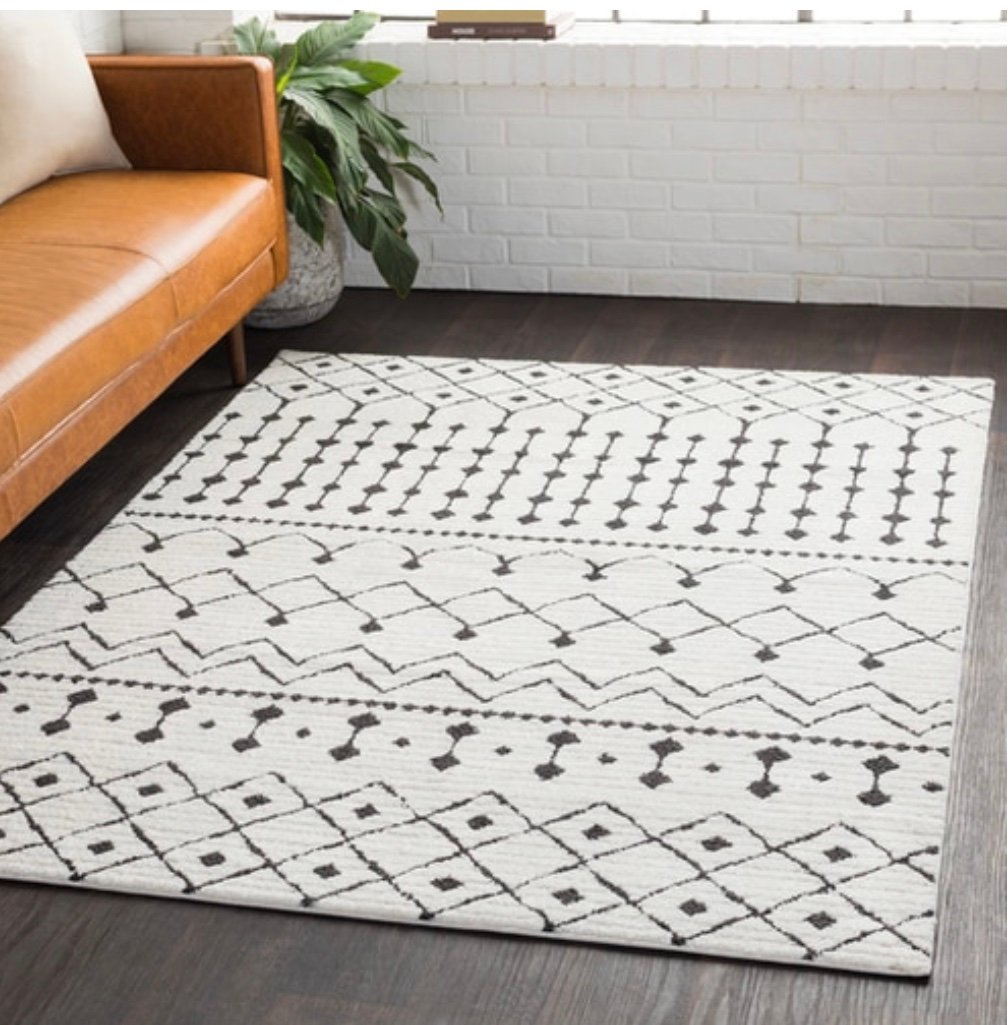 I have this rug in gray, but I love this black and white version!
Find it here.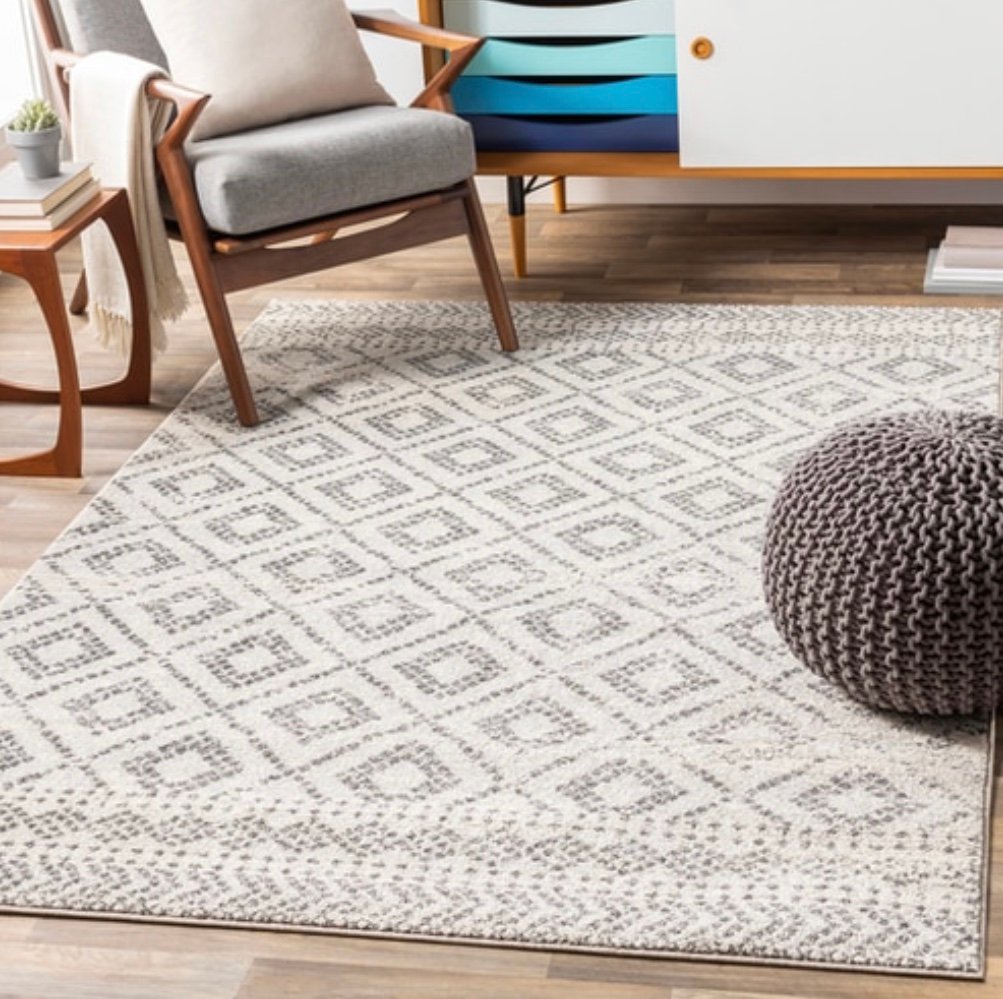 This is one of their newest arrivals that I think would be pretty in so many different rooms!
Find it here. 
I have this rug too….I might have a problem….it really is great!
Find it here. 
I love a shag rug, especially one with tassels, for the living room or bedroom!  Just soft, cozy and adds a lot of texture!
Find this one here. 
I think this black on just makes a statement!
Find it here. 
This is another new arrival I thought was really pretty!
Find it here.