You've Been Egged!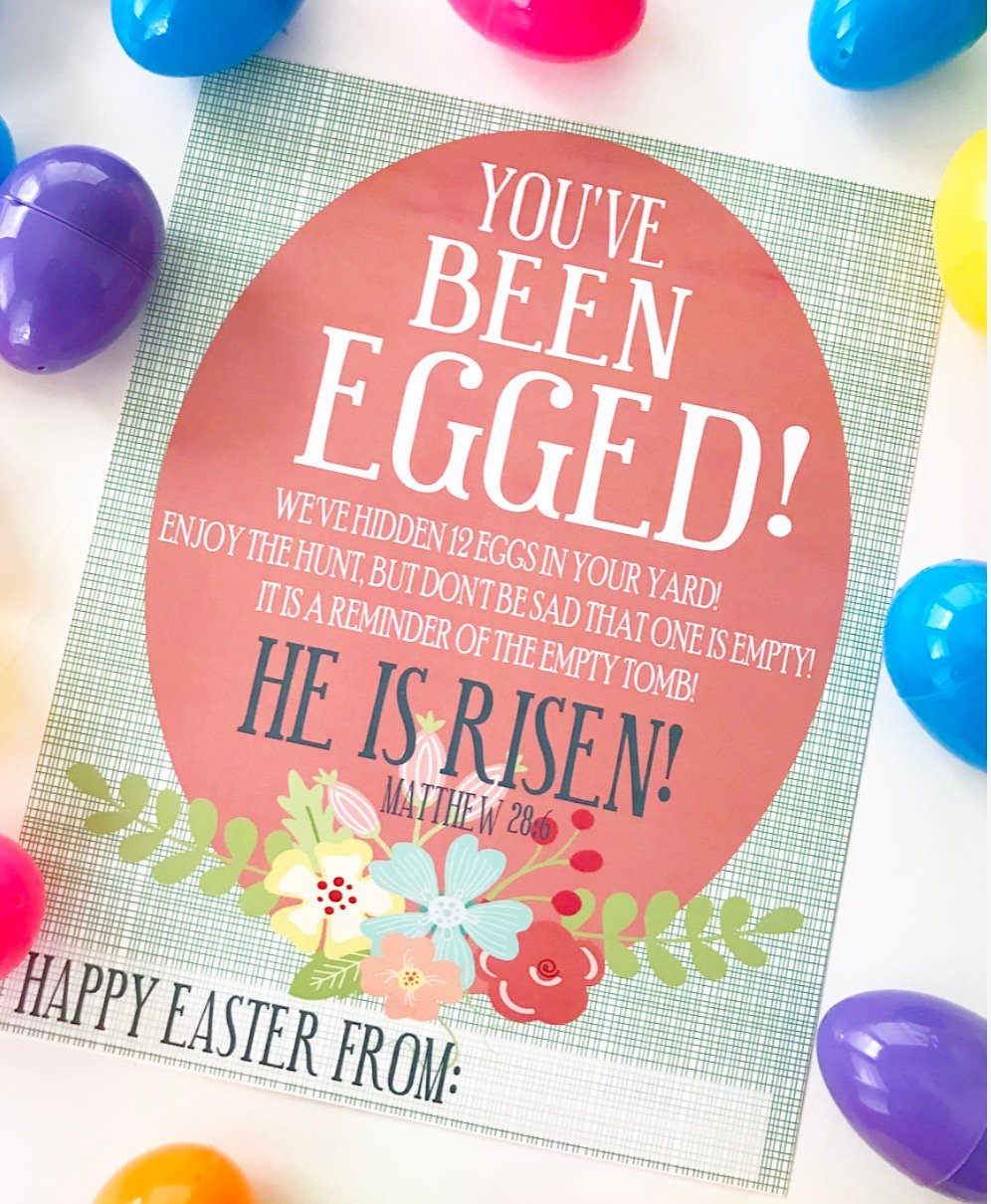 I wanted to share with you an Easter tradition that we started last year with the boys in hopes that your family will join in the fun!  Sometimes all the Easter baskets, egg hunts, chicks and bunnies can start to cloud the real meaning of Easter, especially for kids!  This is a great way to bring it back to the cross, and most importantly, the empty tomb!
SUPPLIES:
Plastic eggs
Treats-candy, little toys, tattoos, stickers, money, whatever would be fun!
You've Been Egged Printable
Download here:
Egged Print JPG
DIRECTIONS:
Pick up some plastic eggs at Target, Walmart, etc., a dozen for each family you want to "egg".  Fill 11 of the eggs in each dozen with your treats.  One egg should be left empty to represent the empty tomb!
Print this sheet and be ready to leave it somewhere for your friends to find once they've been egged.  There is a space for your kids to write their name(s) at the bottom!  Hide the eggs!
My boys think it is so fun to be sneaky!  We egged our first house of the season yesterday, and they whispered the whole time in the car, as if our friends (who were not even home) might hear them!  I love it too!  It takes me back to junior high sleepovers and toilet papering friends' houses as quickly and quietly as possibly to make sure their parents didn't catch us….do kids still do that?!?
We might need to brush up on our hiding skills as these eggs were "hidden" just like this!
Most of all it is a fun way to talk to your kids about the real meaning of Easter, and and easy way to share your beliefs with friends and neighbors.
HE is risen!