It's less than a week until Christmas and my girlfriend Heather and I are kicking off a brand new blog series called Tasty Tuesday!  I pretty much feel like this:
So, every third Tuesday of the month we will choose a theme for Tasty Tuesday and Heather and I will each share recipes on our blogs within that theme!  This is me on the left, Jennifer center and Heather is the sassy blonde on the right!  You will love her!
Heather's blog is called Blonde Twin Mom and she shares super fun, affordable fashion and adventures in her life as a wife and mommy to the cutest twins.   I have known Heather for years and one of the things I love most about her is that she keeps it real.  She and I are both busy moms and far from gourmet chefs, so the recipes we'll share are going to be easy, quick and family friendly.  If we can make it, you can make it!
So the first theme is a dish for Christmas morning!  In just a few days we'll be ripping through boxes and bows, sipping coffee and watching the Christmas magic unfold!  I can hardly wait!  I'm sharing with you a bacon and spinach quiche with a bit of an optional Southern twist.  I love this recipe because it can be put together the night before and makes 2 9 inch pies.  If that's more than you need, bake one now, freeze the other for later.  Boom!  1 prep, 2 meals!
My son calls quiche "egg pie," and I feel like that's a perfect 4 year old description!  My kids would also NEVER eat spinach by itself, but put it in an "egg pie" and they scarf it down!
Ingredients
2 9 inch pie crusts (homemade or frozen)
6 large eggs, beaten
1 cup heavy whipping cream
6-8 strips of bacon cooked (my hubby, the bacon snob, only likes Wright bacon)
1 1/2 cups fresh spinach, chopped
3/4 cup cheddar cheese
3/4 cup swiss cheese (or honestly, any cheese you like!)
1 can green chilis (optional)
Directions
Beat eggs and cream until blended.  Cut or tear bacon into bite-sized pieces and add to mixture.  Add chopped spinach, cheese, and chilis (optional).
Mix well and pour 1/2 of the mixture into each of your pie crusts.
Cover and keep in the fridge overnight or bake for 40-45 minutes at 375 degrees.  Once eggs are firm and the top is golden, it's ready!
Let sit 5-10 minutes before serving.
The first time I made this my husband pulled out the salsa and put it on top.  I thought it was strange, but once I tried it, I thought it totally made sense….at least to this Texas girl!  So now, we also make this pico to go on top.  If these flavors don't seem to blend for you, I don't blame you for being skeptical, but give it a try!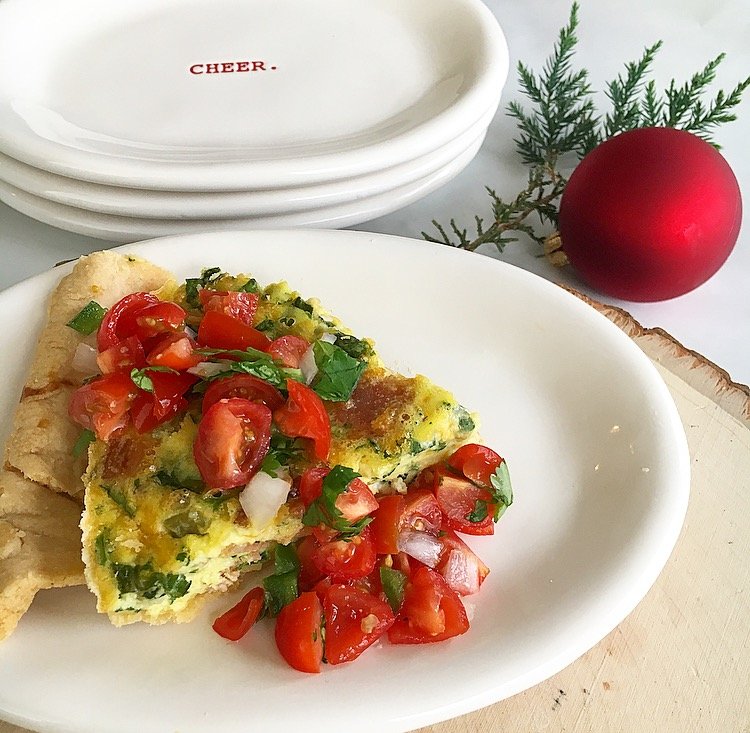 Pico Ingredients:
 1 cup Cherry tomatoes cut into fours
1/2 cup white onion, chopped
1/4 cup cilantro, chopped
1/2 of a jalepeno, chopped
1 teaspoon lime juice
Mix all ingredients and spoon on top of quiche.  Modify the quantities of this recipe to fit your taste.  If you like the spice, add more jalepeno.  Take it out completely if you don't.   Make this your own!
My mother-in-law's almond coffee cake would also be yummy on Christmas morning.  Recipe here.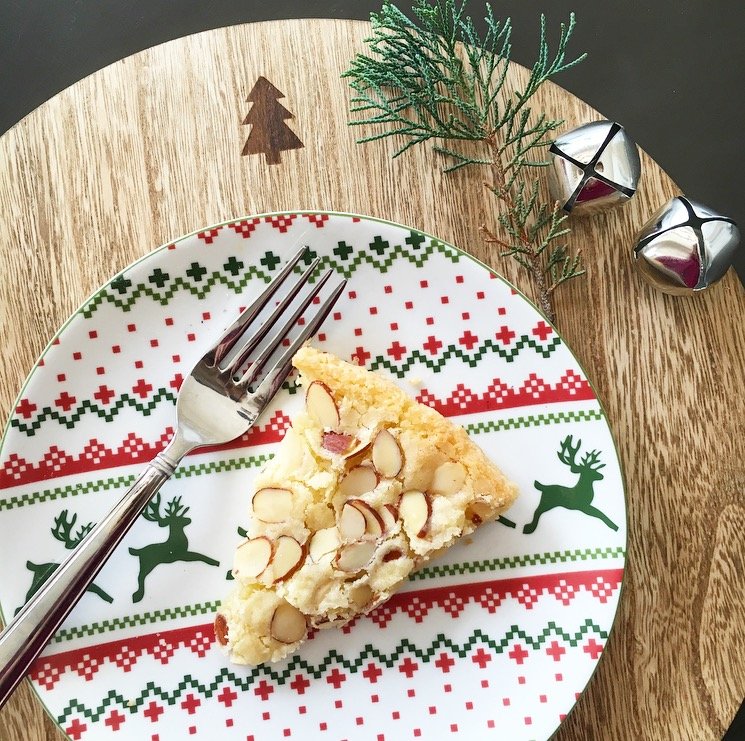 Or this Cranberry Orange Breakfast Bake!  Recipe here.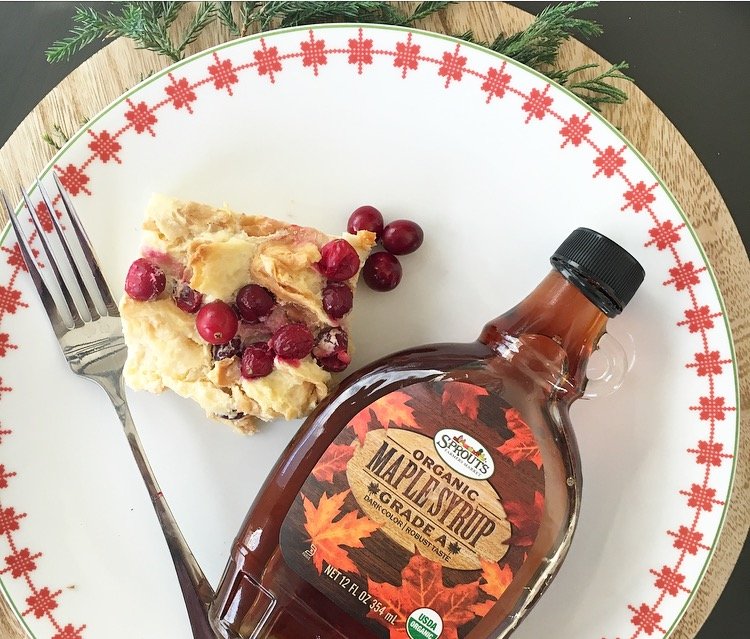 Or the Blueberry Breakfast Bake version.  Recipe here.
Be sure to head over to Heather's blog to check out her delicious Sausage Hash Brown Casserole!
No matter what you serve this Christmas, I hope you'll find your recipe for MERRY, love and joy!  Here's a little slice of mine!