As we head into the biggest birthday party of the year this weekend, it seems like the perfect time to talk about The Birthday Party Project.  I want to introduce you to my dear friend Shannon.
Shannon is the beauty on the left!
Shannon has the biggest, most giving heart and has worked extensively with The Birthday Party Project for the past four years.  Most of her work has been here in the Dallas area, but she has also launched chapters in Los Angeles, Houston, Atlanta and attended parties in New York City.  Her passion for this organization and these families shines through!  I have asked her to share her experiences today, and I know that you will be touched, and hopefully moved to action, by what she has to say!
Shannon McAnulty:
Last night was absolute magic! The Christmas tree was lit bright and beautiful. The "happy birthday" signs, streamers, balloons, and banners added festivity. The round tables were
covered with colorful tablecloths. Games, decorate your own cookies, face painters, gifts, and birthday cake! Christmas music floated through the air and the 30 or so kids were running
around, dancing to the music, and tossing balloons into the air in a makeshift game of keep away. Santa walked through the door and tears came to my eyes. The children lit up, huge smiles plastered on their little faces, and flocked to him. Calling them by name, my co-party
coordinator, Justin/Santa, graciously took photos with each and every one, while listening to their wish lists. Amongst all this joy, why did I cry?
These children are homeless.
I started to wonder. Have they ever gotten the opportunity to meet Santa Claus? Do their parents have cars to take them to the mall or are they working non-stop to keep them fed and
warm? Do they even have a Christmas?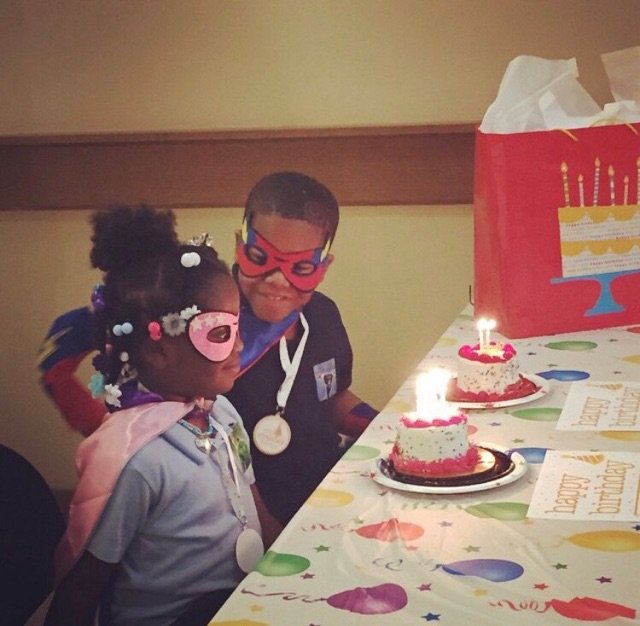 This special party was just one of the hundreds of parties we throw at The Birthday Party Project. Our mission is to bring JOY to homeless children through the magic of birthdays. What
started as a small North Texas-based organization has grown to 12 cities nationwide. To date, we have celebrated over 3,300 birthdays, with over 23,000 children in attendance, with 8,800
volunteers (or birthday enthusiasts, as we like to call them). Each birthday child receives a special birthday badge, their own cake, and a gift valued at $30. Papa John's graciously provides
pizza, Nothing Bundt Cakes provides delicious cakes for the birthday kids and party goers, Carter's donates fun goodie bags – our national partners are amazing!
The mission is not just the party, though. We strive to shower these kids with love and support that lasts long after we take down the streamers and send them on their way. We encourage them to dream BIG and
believe that anything is possible. If we can allow them the freedom to be a kid again, forgetting their situation at home, even if just for an hour, we have done our job.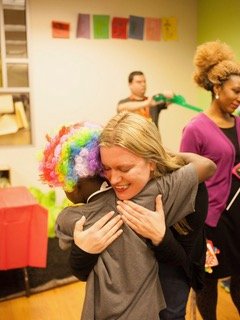 The kids aren't the only ones impacted by a TBPP party. We often have high school art students come paint faces because they genuinely enjoy it. I have an incredible young man named Sam
who comes and makes balloon animals in his precious free time.
Seeing young people get involved is one of the most rewarding parts of being a party coordinator. Just last week, I had a birthday enthusiast tell me "You know, this is the best volunteer opportunity I've ever had."
These moments matter. These kids matter!
I've been a party coordinator for TBPP for four years now, which means I volunteer time to organize the parties and volunteers for one of our agencies. While a majority of our agency
partners are homeless shelters and transitional living facilities, I work with a very special group of little ones through an amazing organization called New Friends New Life.
Per their website, New Friends New Life restores and empowers formerly trafficked teen girls and sexually exploited women and their children. The third Wednesday of each month, while the moms are receiving counseling, me and my gang of birthday enthusiasts create magic! We transform the sanctuary into a party by decorating with banners, balloons, and streamers. We set up craft stations and games, depending on the theme that month.
My favorite theme is county fair!
 I really love seeing the kids ask questions, learn, and muster up the courage to hold or pet the animals. Our parties build confidence! My 6-year olds, though, would probably tell you they love showing off their dance moves at our DJ dance parties!
"I DID IT!" this little one exclaimed at our county fair. Life is all about perspective. I hadn't ever considered that homeless children perhaps wouldn't have an opportunity to tell Santa what they wished to find under the tree on Christmas morning. It never crossed my mind that a 7-year old wouldn't know what to do with a candle lit birthday cake, looking up at me as if to say "what now?" after the singing fades.
Before TBPP Polaroid photo booths, most of these children never even had a photo of themselves. In January, we ask "what's your biggest wish for the upcoming year?" Children often write things like beds, homes, a job for my mommy, money.
Perspective.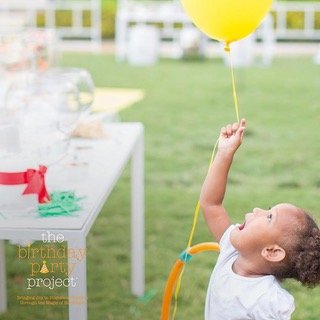 A new year is almost upon us. I challenge you to find a mission you love and TAKE ACTION. Get out in your community make a difference! If you love dogs, spend some time at a rescue taking pups on walks. If you have a musical talent, go play some music for senior citizens. If you like to party, come celebrate with us at The Birthday Party Project! Whatever fills your heart with joy, get out and do something about it!
Shannon with The Birthday Party Project's founder/CEO, Paige.
Check us out at www.thebirthdaypartyproject.org , on Facebook and Instagram @thebirthdaypartyproject or on Twitter @bdayenthusiast. #joychangeslives
With love,
Shannon McAnulty
scmcanulty@yahoo.com