Today I'm making some delicious chipolte chicken tacos that can be made in the Instant Pot or slow cooker!
  My love for tacos runs DEEP, so real talk….
If you'd choose tacos without hesitation, you're my people!  And if not, we can still be friends….you just may need to re-evaluate your priorities! Ha! Tacos just bring happiness!  SO, let's taco 'bout today's recipe because it is one of my FAVORITES!  It's a little spicy, but mild enough that my littles will still eat it, full of flavor and the chicken cooks in the crockpot which makes for fast, easy prep!
There are 3 components to this chicken taco recipe: Chipotle Chicken, Salsa, and Avocado Crema….all wrapped up in tortilla goodness!
Crockpot Chipotle Chicken
The chipotle adds just a hint of heat and spice!  If you are wimpy when it comes to heat, cut the number of chipotles in half for the flavor with less heat!
Ingredients:
1-1.5 lbs. Boneless Skinless Chicken Breast
1 7-12 oz can of chipotle chiles in adobe (do not drain)
Water or chicken stock
Slow Cooker liners for easy clean-up
Directions for Slow Cooker:
Line crockpot.  Put chicken breast at the bottom of the crockpot and pour chiles and water or stock on top until chicken is completely covered.  Cover and cook on high for 3-4 hours or low 6-8 hours.  Shred with a fork to serve.
Directions for Instant Pot:
Turn pot on and let it heat up.  Put chicken breast at the  bottom of the pot and pour chilis and water or stock on top until covered.  Secure lid and hit poultry setting.  Allow chicken to cook until timer goes off.  Perform quick release to release pressure.  Open the lid, remove chicken and shred with a fork to serve.
Cilantro, Corn and Black Bean Salsa
This recipe can be modified to your taste…add green chilis or rotel or omit any of the ingredients you don't like!  This is a tasty, colorful salsa for chips too!
Ingredients:
1 15 oz. can of yellow corn, drained
1 15 oz can of black beans, drained and rinsed
1 small red onion, finely chopped
1/2 cup of cilantro, finely chopped
Juice of 1 lime
Salt to season (optional)
Directions:
Mix first 4 ingredients in a bowl.  Add lime juice and salt (optional) and mix well
Avocado Crema
This topping is my favorite part!  It is cool and fresh and balances the heat from the chipotle!
Ingredients:
1 medium avocado, cut into pieces, peel and pit removed
1/2 cup chopped fresh cilantro
1/4 cup plain Greek yogurt
Juice of 1 lime
Salt to season (optional)
Directions:
Blend first 4 ingredients with a blender or food processor until creamy and smooth.  Add salt for flavor if desired.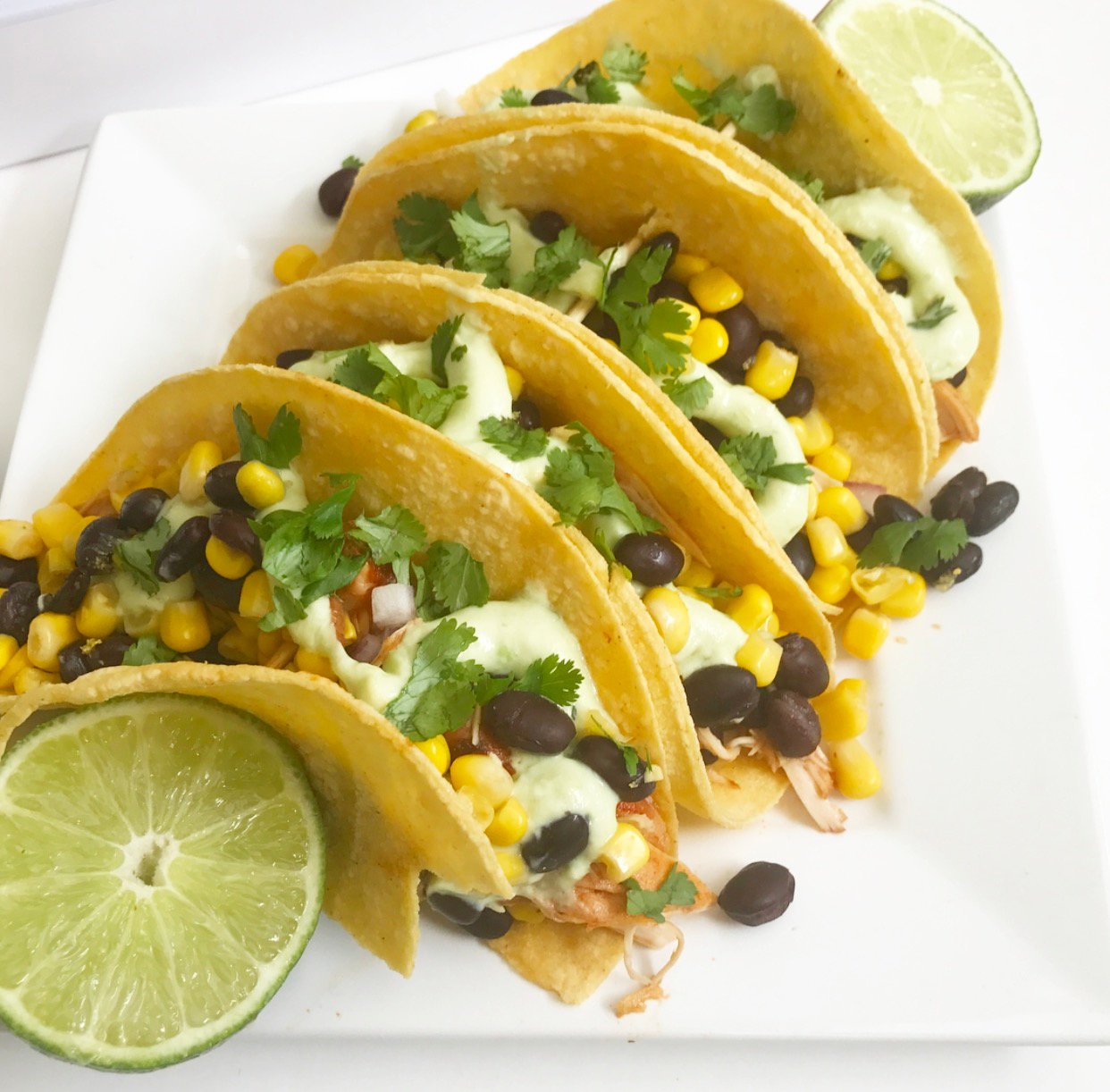 Chipolte Chicken Tacos:
Layer your chicken, salsa and crema in a corn or flour tortilla.  Top with cheese or extra cilantro if desired!  Stuff your face with all the tacos!  And yes, Will took a bite out of the corner of my tortilla before I snapped this pic…..what can I say, the tacos are THAT good people!
Hope these chipolte chicken tacos make their way into your next Taco Tuesday!