Lemon love!
I'm about to drop some decorating gold on you.  Are you ready for it??
Go buy some lemons.  Boom.
If you follow me on Instagram, you know that for the last few months I have been sprinkling lemons throughout my home.  It has definitely been an easy, inexpensive way to brighten up so many spaces !  Not only does the cheerful yellow hue just make you smile, but the smell is refreshing and has been proven to help reduce stress.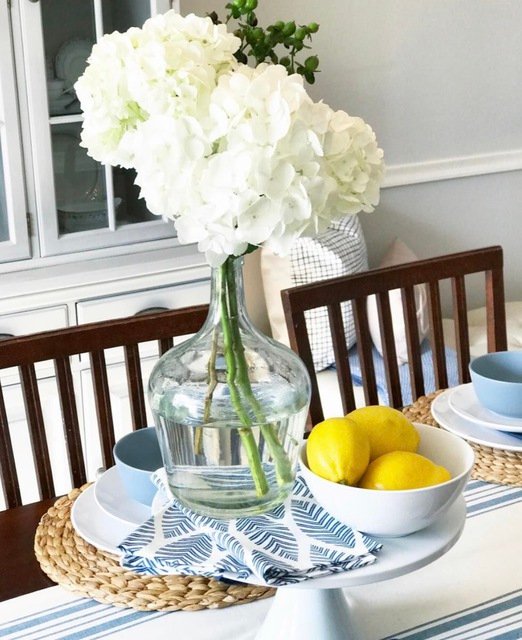 I think my love for lemons started this year with this dining room makeover I did for a client.  I popped some lemons in some bowls and the space instantly looked happier.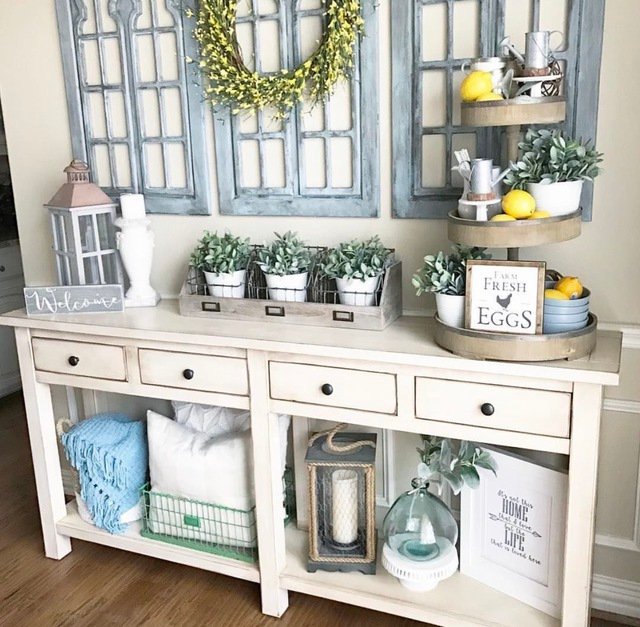 I went home and thought about where I could add some lemons in my own home.   I have this console table in my dining room, and thought it was a good place to start.  If you are on the search for a console table, I found this one at Home Goods.  I also love this one  (on sale!) and this one that would be so fun to style!
  This rustic wood tray was instantly happier with the simple addition of these lemons.
Farm Fresh Eggs Sign/Rustic Wooden tray/Yellow Wreath//Potted Plants//Similar Mini Watering Cans
I popped a few onto my dining room table…
By the chair in the dining room corner….
On my breakfast nook table….
And even a few in my bedroom!
Lemons….alllllll the lemons!
Lemon Recipes
I also started incorporating lemons into lots of recipes.  The flavor of lemon is so refreshing, and they have SO many wonderful health benefits!
Lemon Cheesecake Crescent Rolls
Strawberry Lemon Yogurt Bundt Cake
And I'm sure there will be many more lemon recipes to come before the summer is over!
It may sound funny, but I think I also love lemons because they remind me to take whatever frustrations I'm facing that day, and find the good.  You know, "when life gives you lemons, make lemonade"….or add some vodka and call up your girlfriends….depends what kind of bad day we're talking about!  But really, such a simple decorating addition you can grab from your grocery store to brighten your home!