A few weeks ago a couple of girlfriends and I took our boys to a local peach orchard.  We had such a fun day catching up, letting the boys run off some energy and eating some delicious peach pulled pork and peach ice cream!
I immediately started thinking how I could recreate this meal at home!  I loved the mix of the sweet and spicy BBQ!
This past month I made this twice, both in the slow cooker and Instant Pot, and it was a hit!  Easy, just a few ingredients and with peaches being in season, now is the PERFECT time to add this recipe to the rotation!
Ingredients:
1 pork shoulder/pork butt (3-4 lbs.)
1/2 cup apple cider vinegar
1/2 cup honey
3-4 peaches pitted, sliced and peeled
16 oz of your favorite BBQ sauce
I used this one!
Slow Cooker liner (if using a slow cooker)
Directions in Slow Cooker:
Line your slow cooker for easy cleanup.  Put all ingredients in slow cooker and add water until liquid is to the top of the pork.  Cover and cook 5-7 hours on high.  When meat is ready it should fall apart with a fork!
Directions in Instant Pot:
Put all ingredients in your Instant Pot and add water until liquid is to the top of the pork.  Secure lid and cook on manual meat setting for 60 minutes.
The first time we made this was we served them as sliders!
The second time I made cornbread waffles (jiffy cornbread mix per the box's instructions, cooked in the waffle maker!) and topped the pork with some extra BBQ sauce.
And if you're debating whether or not to purchase the Instant Pot, I highly recommend it!  I have only skimmed the surface of all it can do (it can serve as a pressure cooker, slow cooker, rice cooker, yogurt maker, steamer, warmer, and saute pan in one) but the cook time alone that it saves makes it worth it to me!  You can find it here. My family has the 6 quart size.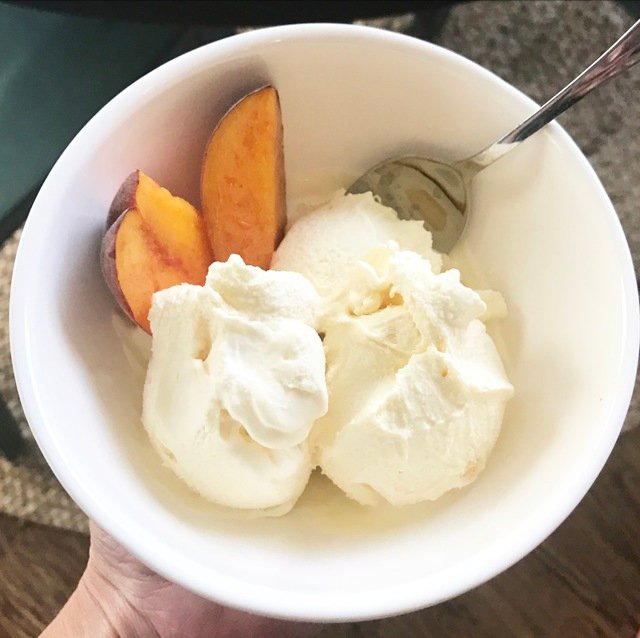 And our peach ice cream served as a great dessert!
We have had so much fun making our own ice cream this summer!
Thanks so much for stopping by!