The temps in Texas this time of year are near 100 degrees, so it makes it hard to remember those chilly fall and winter mornings, wrapped in a cozy blanket, when a bowl of piping hot oatmeal hits the spot!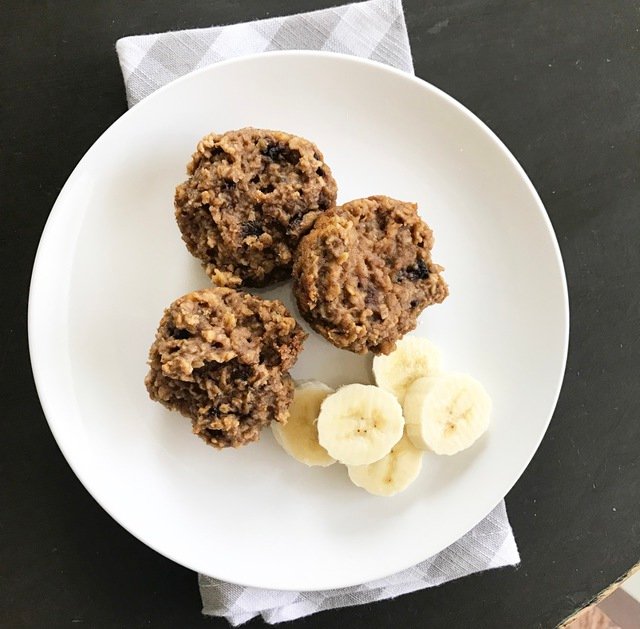 Luckily, these oatmeal cups taste just like that steamy bowl of oatmeal, without the heat, so they are perfect for any time of year!  This recipe makes 12-18 cups, depending on how full you fill your muffin tin, so one batch can last several days!  They are an awesome grab and go option on busy mornings, healthy and hearty!
I made this batch with peanut butter and banana, but you can easily replace those ingredients with flavors your family will enjoy! Below I list the base recipe, and then where to add your own ingredients!
Consider anything you like to add to your oatmeal… I look forward to making these with pumpkin, apples, and maybe even cranberries this fall!
Ingredients:
4 cups old fashioned oats
2 teaspoons ground cinnamon
2 1/2 cups unsweetened almond milk
1 teaspoon baking powder
1/2 teaspoon salt
1/2 cup brown sugar
1/2 cup honey
2 teaspoons vanilla extract
Above is the base recipe, then you can add whatever "flavor" ingredients you want!
For these I added:
2-3 bananas, mashed
3/4 cup peanut butter

Directions:
Preheat oven to 375.  Combine all ingredients into a bowl and mix well.  Spray a muffin tin with non-stick spray and divide mixture evenly into 12 cups for larger oatmeal cups, or save 1/3 of the mixture to make a second batch of 6, 18 total. Bake 15-20 minutes.  Let cool for 5-10 minutes before eating.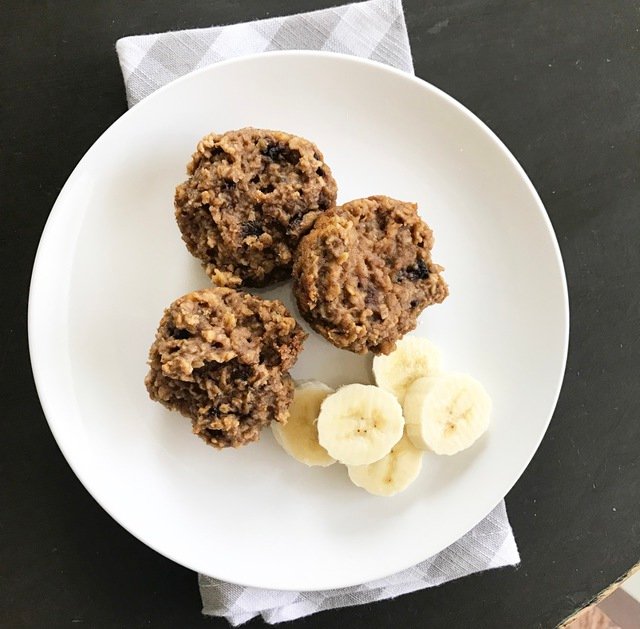 I love that there are so many different ways to mix these up with different flavors throughout the year! Grab and go breakfast at it's best!
Find more breakfast ideas here: