Breakfast. The most important meal of the day, right?  My littles don't start preschool for another week, but as I see SO many of your babes already heading back, I thought I'd share 6 hearty, healthy recipes to start our breakfast game out strong!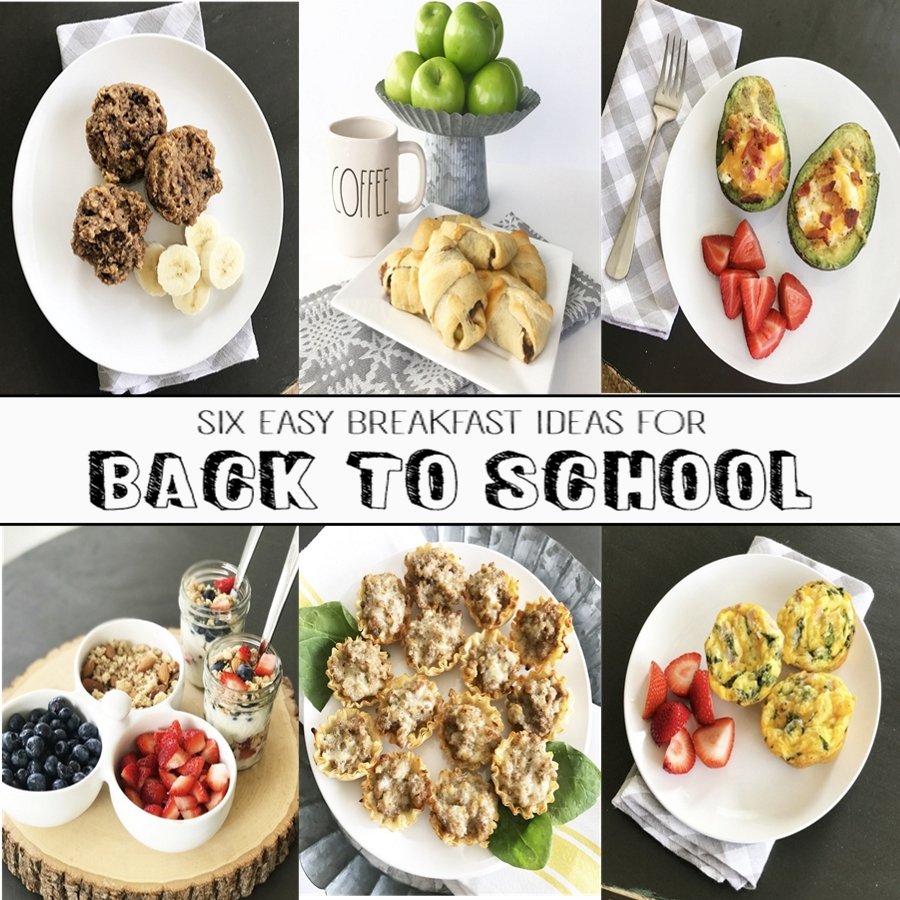 Some of these can be made ahead, others are just fast and simple.  ALL are perfect for those sometimes hectic school mornings where you are just trying to get your kids out the door, clothed and fed!

Mini Quiche Cups
My family loves quiche, or egg pie, as my son calls it!  I share my go-to traditional quiche recipe here.  However, these MINI quiche cups are perfect for busy weekday mornings because:
This recipe makes a dozen, so you can make them ahead of time and have a protein packed breakfast for several days.  It has a quick bake time and only four ingredients!  No forks (or plates really) required…..did someone say less dishes to wash? Yes please!
Find this healthy, grab and go recipe here.
Banana Peanut Butter Oatmeal Cups
Another great option that can be made ahead and last a few days!  This recipe is full of healthy, hearty ingredients that taste like a yummy bowl of oatmeal in muffin form!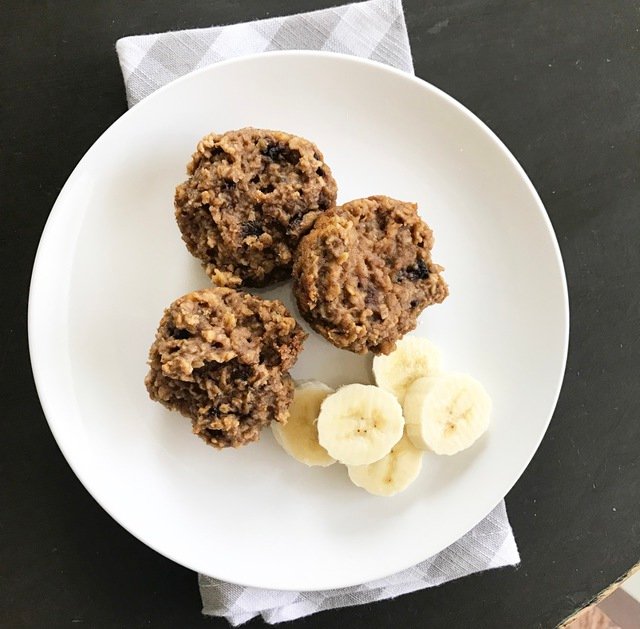 If banana peanut butter isn't your jam, you can absolutely mix it up with different flavors.  I look forward to trying these with apple, pumpkin, chocolate chips, and cranberries for fall!
Find this recipe here.
Yogurt Parfait
This is less of a recipe and more of just a breakfast idea! Parfaits are a fun, easy way to pack a lot of nutrition into your kids' morning.
You can prep ingredients the night before and let them make their own (hello fun mom!) or put it together for them, hand them a spoon and go!  We made these with greek yogurt, granola, almonds, blueberries and strawberries in mini mason jars.  You could use whatever you have on hand or that you know your kids will enjoy-bananas, peaches, oats, raisins…..you get the idea!
Avocado Egg Bake
I absolutely LOVE avocado, so this is definitely my favorite recipe of the bunch!
Half an avocado, an egg, bacon and cheese baked in the oven!
Lots of nutrition and oh so yummy!  Find the recipe here.
Ranch Sausage Cups
These little bites have been a favorite at our house for a couple years now!
Perfect for breakfast or as an appetizer, these never last long!  Sometimes I sneak some chopped spinach in too to make them a little healthier!
Find the recipe here.
Apple Nutella Crescent Rolls
This recipe is probably the least healthy on the list, but did I mention Nutella?!?  You could slather that stuff on cardboard, and I'd probably eat it!
This is a super simple recipe that your kids can help make!  Perfect for a morning treat!
It also makes a great dessert! Find the recipe here!
I hope some of these recipes will find their way into your morning rotation and make those hectic school mornings run just a little smoother!
Your Ideas:
If you follow me on Instagram, I asked for YOUR go-to back to school breakfast staples and here were ideas you shared:
Smoothies
Steel cut oats with dried fruit, peanut butter, honey or chocolate chips
Toast and Nutella
Grits
Overnight oats
Cottage cheese and fruit
Waffles with peanut butter
Blackberries with sausage
Bananas and peanut butter
Omelets
Avocado Toast
Great ideas ladies….aaaaaand now I'm hungry….
Thanks for stopping by!  Praying for a fun, successful school year as we help our babes grow and learn!