I love the fun, industrial farmhouse touch that galvanized pieces add to your home!  I feel like I have been seeing galvanized goodies everywhere as Fall approaches, so I thought I'd round up a few, 30 actually, all under $30!
Wire Lanterns//Galvanized and glass cake dome//Pumpkins//Milk Jug//Two tiered tray (see styled below)//Cake stand (available in 3 sizes)//Divided tray with handle//Harvest sign
This two tiered tray (far right in the collage above) is from Hobby Lobby in their Fall collection.  It is only $20.99, and is perfect as décor or for entertaining!  I love the size of it!
I used this divided tray with handle (above the harvest sign) last weekend to hold popcorn bags at my son's birthday party! Such a cute caddy and right now it is 50% off, making it just $15!!  Would be so cute for parties, office supplies, a bathroom, or playroom!  I may start using it for my son's legos!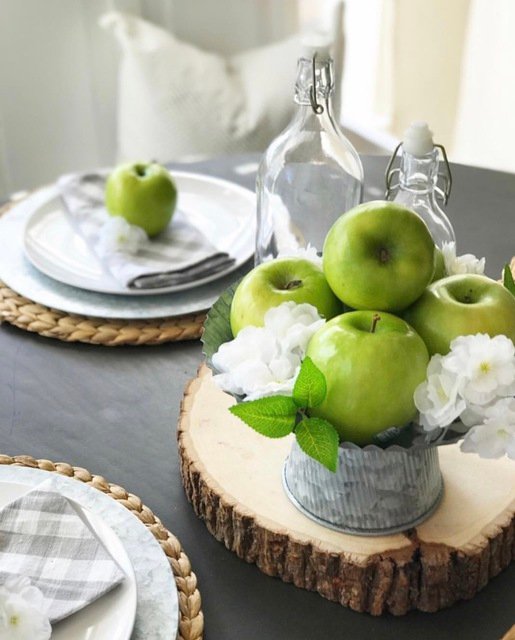 This cake stand is the medium size of the three options from World Market (bottom left above).  I used it here to display these granny smith apples on our breakfast table!  It is practical for cake, fruit, muffins or cupcakes in your kitchen, and would also be cute to display décor anywhere throughout your home!
Party tub//Cake stand//Wood and Metal scoop//Large Watering jug//3 tiered tray//Trays with jute handles (Set of 3)//Vented Tray//Pumpkin//Mason jar Candle Runner
This metal watering jug is pretty large (10 by 16 inches) and has been moved all over my house.  It's to the far left here on my console table.
I keep this little three tiered tray in our coffee nook in the kitchen!  It is pretty small in size and not as solid/sturdy as the tray in the previous collage.  I got this during a week when metal at Hobby Lobby was 50% off, making it just $15.  It is functional and super cute for that price, but I would not have paid $30 for the size and quality.
Wood and metal candlesticks//Wall Letter Holder//Clock//Gather Sign//Colander//hi sign//Florist Basket//Round Lantern//Olive Bucket//Pumpkin//Woven Basket
A couple of galvanized splurge vs. save comparisons…
The top left galvanized charger is from Pottery Barn, $12.50 each  The right is from Hobby Lobby, $2.99 each!
I bought the Hobby Lobby version and think the quality is great!  I appreciate that I can outfit my entire table for the cost of 1 or 2 chargers from Pottery Barn.
The three tiered tray on the left is $69 at Pottery Barn, the right is just $20 at Hobby Lobby!  I have the Hobby Lobby version and used it to make an ice cream sundae bar for my boys on the 4th! 
It is sturdy, adorable and the price can't be beat!
And another little comparison…
Number 1:  Pottery Barn with wood backing, $23.50 Number 2:  Target, $9.49  Number 3:  Magnolia, $16  Number 4:  Hobby Lobby, $6
I think these are just adorable for a home office, playroom, or family command center!   I bought 3 of the Hobby Lobby version and am still deciding where they will land in our home!
And that's a wrap, 30 (ok, 31), affordable galvanized goodies you just might need to add to your home for Fall!
Thanks for stopping by!
Sidenote:  Some of these items are from Hobby Lobby and metal décor was 50% at the time of posting.  If you shop Hobby Lobby often, you know that they repeat their sales every 2-3 weeks.  I highly recommend that you wait until all Hobby Lobby items are 50% off if they are not at the time you are reading this post!  They also have a weekly coupon for 40% off one item here that you can use anytime if you just can't wait!