We recently celebrated this guy turning five with a barnyard birthday bash!
For some reason five got me a little emotional…maybe because it feels like he's officially a boy and no longer a toddler…or maybe it's the fact that he'll start kindergarten in a year. (We decided on a pre-school victory lap with his late birthday).  Regardless the reason, we were excited to celebrate and soak it all in…except Will, who was in NO mood for pics…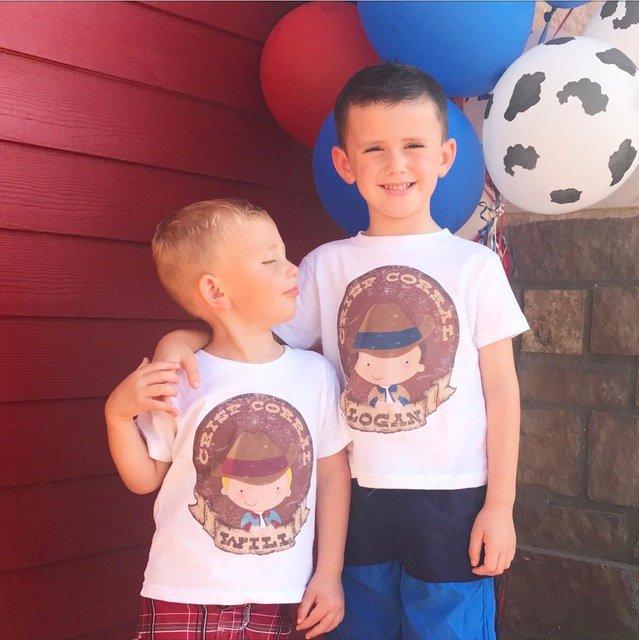 I love throwing parties, especially birthday parties for my boys!  This year, more than ever before, Logan was excited and wanted to help in the planning!  He told everyone about his party at "the farm."
This is not really a farm.  Our town opened a new splash pad and this is the party barn you can rent for special events.  Once we decided this was the location, a farm/barn theme just seemed right, the Crisp Corral!
The kids had fun splashing, running and playing in the water, and we headed into the barn for cake and snacks.  I am no party expert, but since this is a common theme, I thought I would share some sources, general party tips I've learned over the years, and free printables for your next farm/barn/cowbow/rodeo/picnic themed party!
Tip #1:  Be Flexible
The party was supposed to take place in the largest area of the barn.  It was a big open space with vaulted ceilings and huge sliding barn doors.  So fun!  HOWEVER, on the day of the party it was no less than 1000 degrees (but seriously, 98 degrees on my car temperature gauge on the drive over!) and the barn space was only cooled by large ceiling fans, no actual air conditioning.  While I had drawn up where everything  was to go and had a plan for the large space, 30 minutes before the party start time, we decided to move it all (tables, chairs, everything) into the smaller, AIR CONDITIONED room!
It was a bit of a squeeze and not all adults could sit, but I think it needed to happen so that no one melted into a puddle…thanks Texas heat!  At that point people just wanted to be cool, even if it meant we were a little crowded.
Tip #2:  Make serving easy
Our party was in the middle of the afternoon, so we didn't serve a meal.  However, with about 30 kids, going through a buffet style line to get snacks would have been a bit of a beating….not to mention once we changed rooms there was ZERO room for that!
SO, we packed each of these horse bags with a bottled water, a juice box, apple sauce pouch, goldfish, fruit snacks, and candy.  That way when they sat down they immediately had drinks and snacks, and if they didn't want it then, they could take it home in their bag.  We walked around with cupcakes and fruit skewers after singing to the birthday boy!
Each seat also had a coloring sheet, crayons, stickers, a cowboy hat and a bandana.  Kids have such a short attention span, so this gave them something to do while we set up the cake.  There were a few older kids who were too cool for the hats and bandanas, but they were great for 5 and under!
Tip #3:  Make a few things, buy the rest!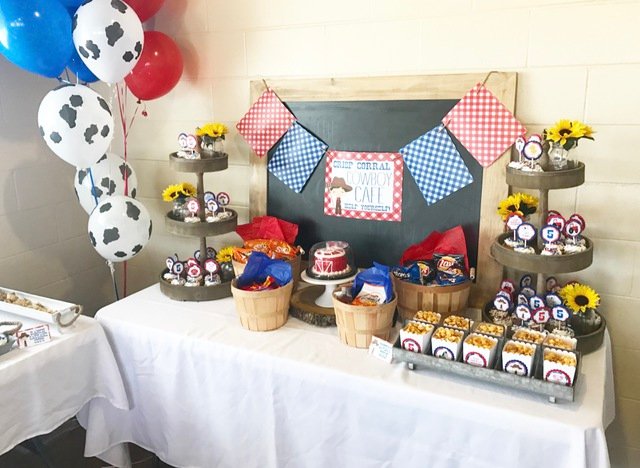 I made fruit skewers, ranch sausage cups, the printables and horse favors….the rest I bought!  Don't put too much on your plate to where you are stressed out, and can't manage it all.  Keep it simple!
Kids licked the icing off the store bought cupcakes with the same enthusiasm they would have if I had spent hours making them from scratch!  And if you don't enjoy making any of it, DON'T!  No one likes a stressed out hostess, and you want to be free to just focus on enjoying the day with family and friends!
Tip #4:  Ask for help
So, let me tell you about these pool noodle horses….
I found this idea on Pinterest and modified it to make it simpler.  You see how to make them here.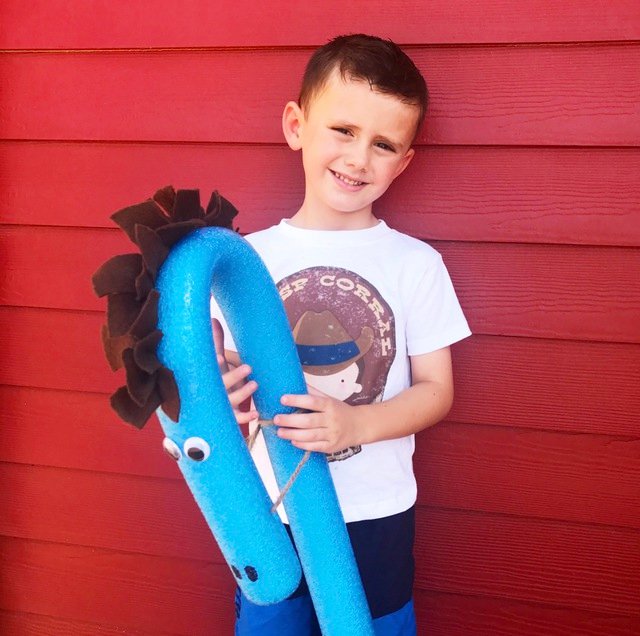 Normally my best friend Jonna or my in-laws come in town the weekend of Logan's party each year and help a TON with party prep!  My in-laws were traveling this year, and at the last minute, due to circumstances totally out of her control, Jonna was not able to make it…so I was the lone ranger on this little project!
When Jonna wasn't able to come I debated whether to make them, but I had already purchased all the supplies, and decided I could knock it out.  While they are super inexpensive and easy to make, I do not recommend making 35 of them the night before.  I had a couple of moments as I was glueing googly eyes onto pool noodles late onto the night that I questioned what I was doing with my life!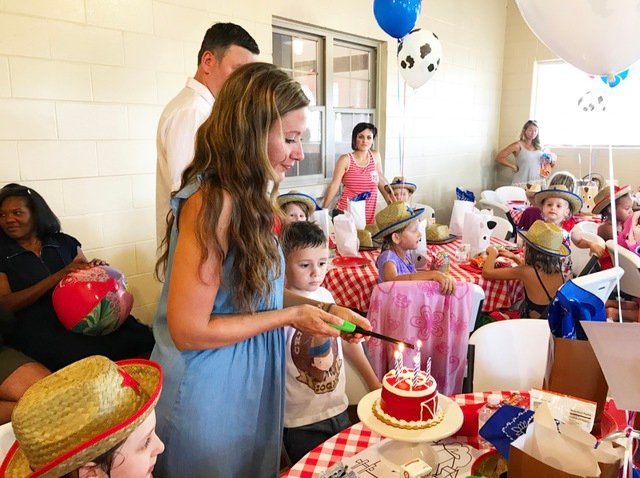 The things we do for our children, right?  BUT, Logan was so excited about them!  Kids were "riding" them through the barn, using them as swords, and having fun!  As with most party favors, I'm sure many have already found their way to the trash, but one little girl's mom told me she has fed her horse, read it a book and put it to bed each night since the party!  Priceless!
Luckily my sweet hubby, parents, family and friends were able to help with running errands, set up and clean up!  This was a group effort, and I'm so thankful for my people!
These are my sweet parents, and yes, that is a pants-less Will still refusing a photo op behind those balloons!
Thank you for stopping by the Crisp Corral!  We had fun celebrating our boy we love so much!  Bring on FIVE!
Party Supplies:
Gingham table cloths, available in 4 color options, makes clean up WAY easier!//Hats and Bandanas//Horse goodie bags  here or  here//Farm Crayon Packs//Galvanized pitchers/Cow Print Balloons
Galvanized caddy with handle // Tiered Tray // Basket here  or here //Wood Slice//Gingham napkins//White popcorn boxes//Cake Stand
Pool Noodles See all supplies needed for this DIY here.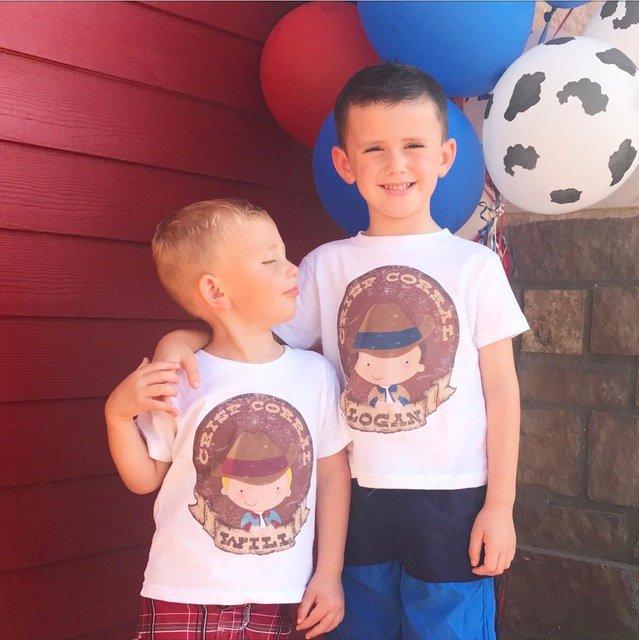 These shirts came from this Etsy shop.  She was SO easy to work with, customized these with the wording, names, and hair color and they were at my house 7 days after ordering.
They are actually printed, not a sticker or iron-on!
Free Printables:
Just download and print onto white heavy cardstock for your next barnyard bash!
8×10 Watering Hole-tape on top of your cooler or by your party drink station!
Watering Hole Jpeg
Watering Hole pdf.
Cupcake Topper- Punch or cut these out for your cupcakes or other treats!  I used a 2 inch circle punch, and then backed each 2 inch circle with a 2.5 inch circle or flower, stick glued in the middle for the cupcakes!  I also used these to decorate the popcorn boxes!
Blue Gingham Cupcake Toppers jpeg
Blue Gingham Cupcake Toppers pdf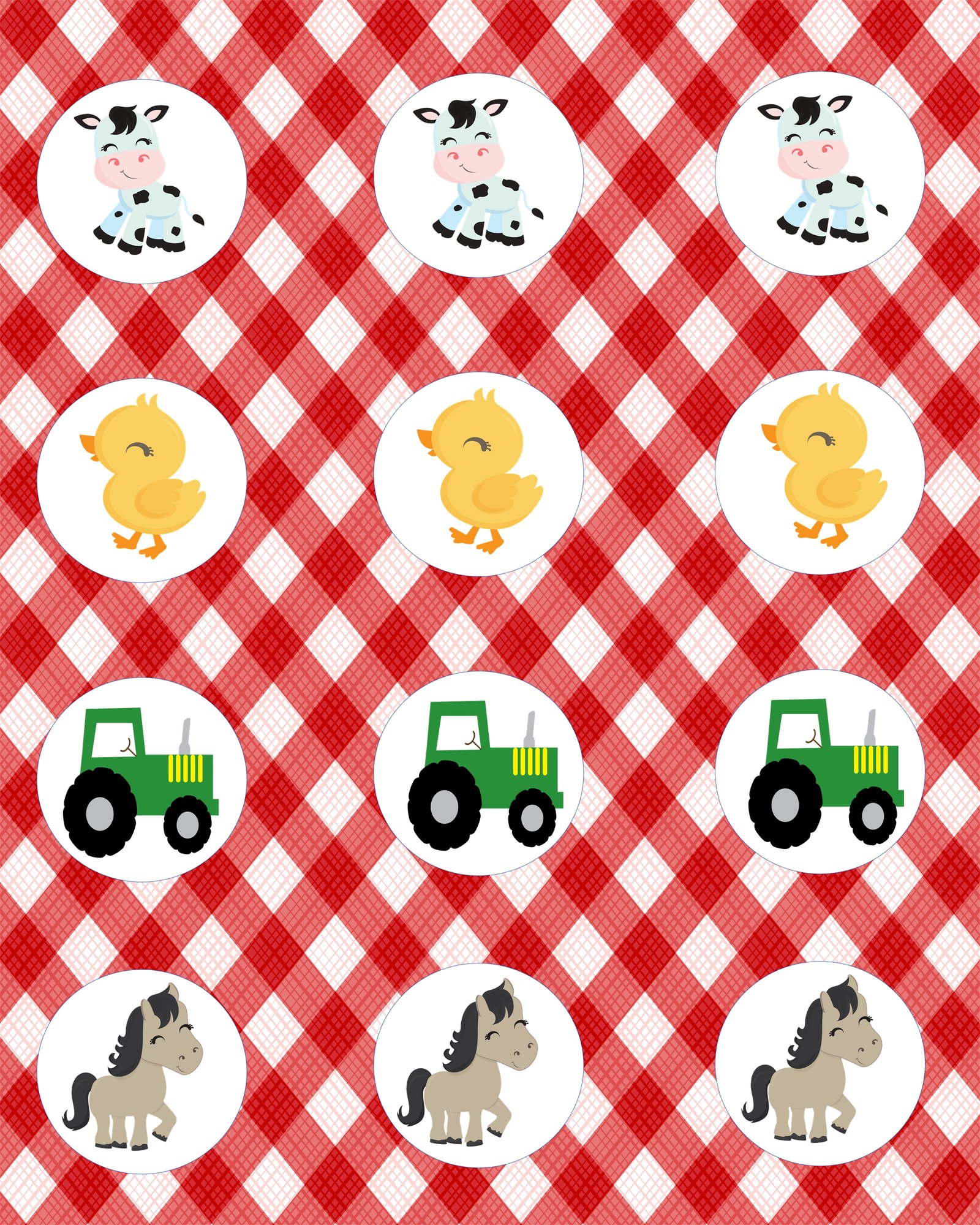 Red Gingham Cupcake Toppers jpeg
Red Gingham Cupcake Toppers pdf
Cowboy Cafe pdf
I used this Cowboy Café printable (above) and the plain red and blue gingham prints (linked below) to make this super easy/lazy banner with jute and a whole punch!
Red Gingham blank  Blue Gingham Blank
Cowboy Table Tents-Perfect for labeling all the food for your barnyard bash!
Cut along the lines to create the 4 squares, write food item in the white space, fold on the line and display!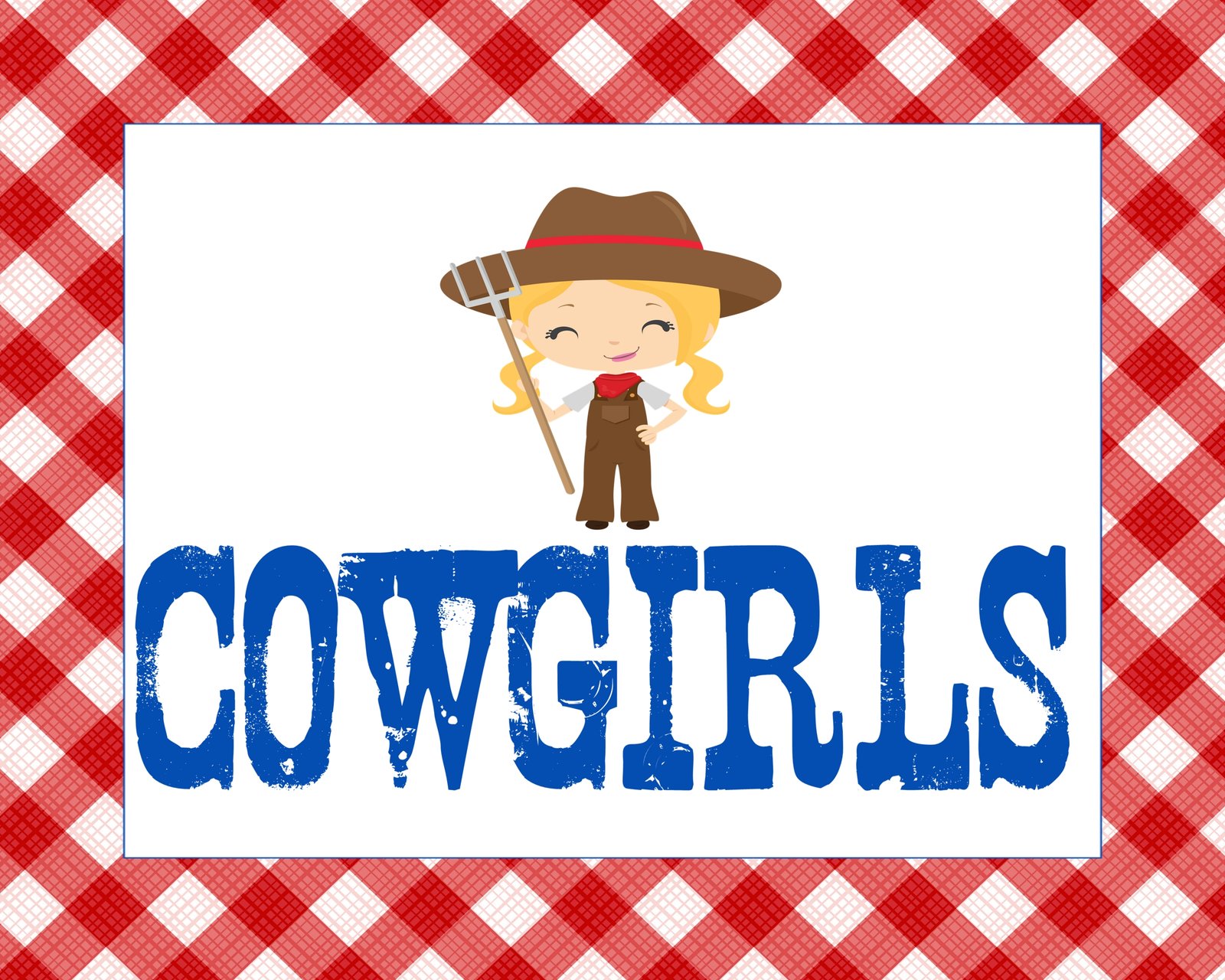 Thanks for stopping by!  Hope you enjoyed the Crisp Corral!