If you are like me, I am always in need of easy weeknight meals!  Our schedule is FULL and spending hours making dinner is just not part of the agenda!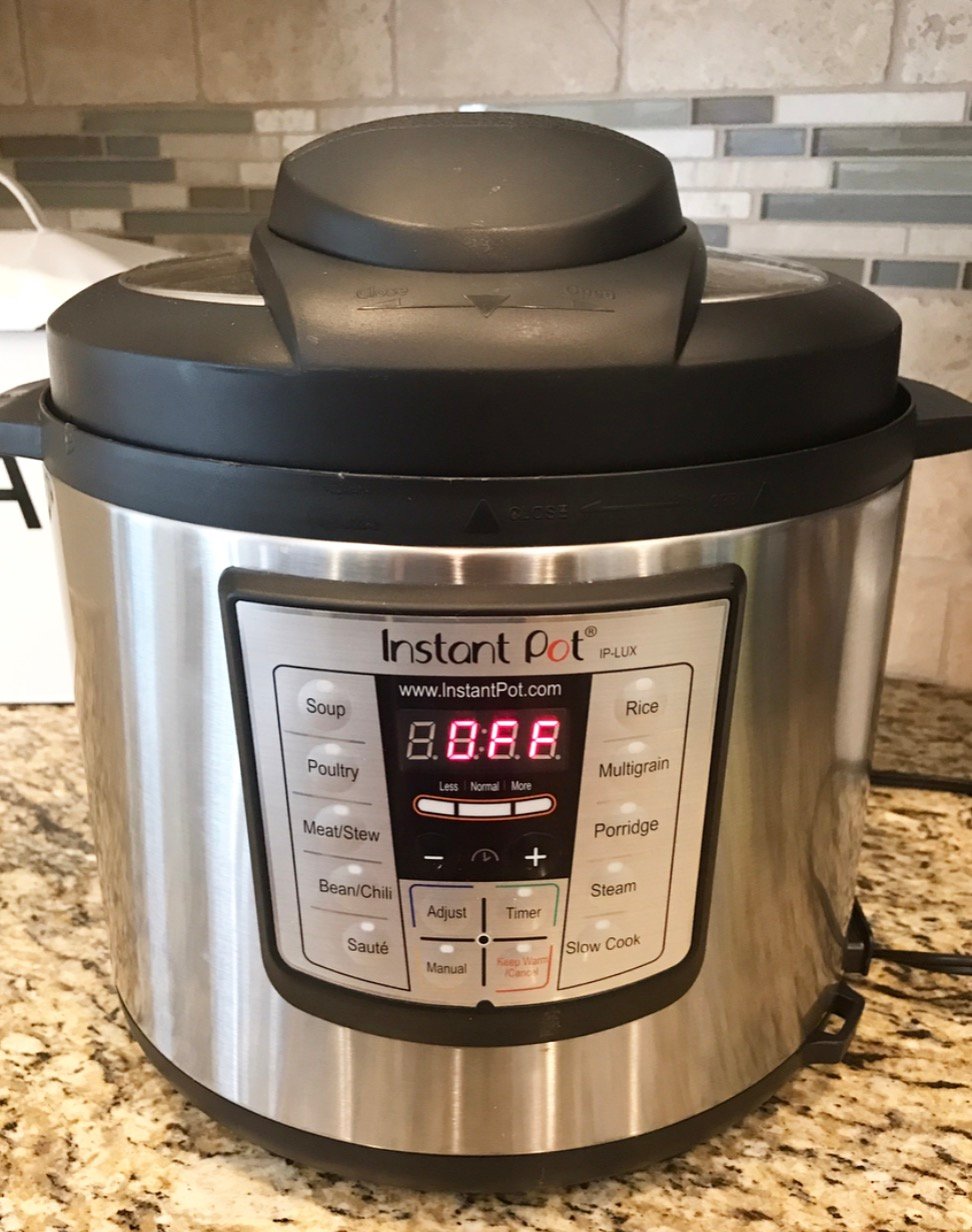 If you haven't purchased an Instant Pot yet, I highly recommend it!  This recipe can also be made in a slow cooker, but I'll be honest.  As easy as a slow cooker meal is, it still requires planning and thinking ahead and some days dinner is not a thought until I have missed that slow cooker window!
You can find an Instant Pot here.
The instant pot is the same concept at warp speed.  A little prep, put it all in the pot, set the time and walk away!  All the buttons/settings were a little intimidating at first, but I haven't blown our house up or caught anything on fire…yet…I actually started a fire (a very small fire) , but a fire nonetheless, in my parents' kitchen growing up.  There is a fire extinguisher with a small sign that that says "the Bethany memorial" in my parents' kitchen to this day…my Dad has jokes.
But I feel like I've grown from those early days in the kitchen, and am excited to share with you these apple pork chops that were super easy, flavorful and perfect for apple season!
Ingredients:
2-4 boneless pork chops
Salt and pepper to taste
Oil to saute (approx. 2-3 teaspoons)
1 small onion, chopped
2-3 apples, peeled and sliced- I used Granny Smith and red delicious
1/4 cup apple cider vinegar
1/4 cup water
1 teaspoon cinnamon
1 teaspoon brown sugar
Directions for Instant Pot
Turn Instant Pot on and let it heat up on the saute setting.  Salt and pepper pork chops to taste.  Once pot is hot add oil and saute chops until brown on both sides (1-2 minutes)  Remove and set aside.  Add extra oil if needed and saute onions, stirring continuously (1-2 minutes).  Sprinkle apples and pork chops with cinnamon and brown sugar and add to pot.  Add apple cider vinegar and water to pot.  Put the lid on and close the valve.  Turn to manual setting for 20 minutes.  Once time is up, let it natural release.  That's it!
Directions for Slow Cooker:
Salt and pepper pork chops to taste.  Add chops, onion, apples, vinegar, water, cinnamon, and brown sugar to slow cooker.  Cover and cook on low for 3-4 hours.
We enjoyed our pork chops with the apples on top, bacon wrapped asparagus and roasted sweet potatoes.  Such easy sides that could be made while the chops cook!
Enjoy!