November was a month of gratitude, and I was thankful for a great one!
A few favorites from the month…
Favorite TV Show:  Still riding that emotional Pearson train with, "This is Us." and looking forward to the mid-season finale of "The Walking Dead"….my hubby and I bond over guessing who is going to make it out alive each season!
And if you don't watch, Denny from Grey's Anatomy (Jeffrey Dean Morgan), the sweetest hospital patient EVER that used to make me swoon….
Is now the cruelest villain as Negan!
He will seriously make your skin crawl….somebody go find Izzy.  Make him stop killing people with bats!!
Favorite Book:  In an effort to practice daily gratitude, I purchased this cute little journal called, "Good Days Start with Gratitude."
It is super simple….spaces to write three things you are thankful for each day, a weekly inspirational quote and a few prompts for longer entries.  As easy as that sounds, I feel like it has made a BIG difference!!  There is something about starting your day focused on joy that just sets the tone for the rest of the day!  One of my favorite quotes so far…
"Gratitude makes sense of our past, brings peace for today, and creates a vision for tomorrow."
-Melody Beattie
You definitely don't need anything this official to practice gratitude, but having this journal has given me some accountability, and I love it!  You can find mine here and a couple of other cute ones here and here.
This would also make a sweet stocking stuffer!
Favorite Family Moments:
This nugget finished up both soccer and baseball this month!  For such a shy guy, I love how aggressive he can be playing sports!  He has learned so much, and I love his competitive spirit!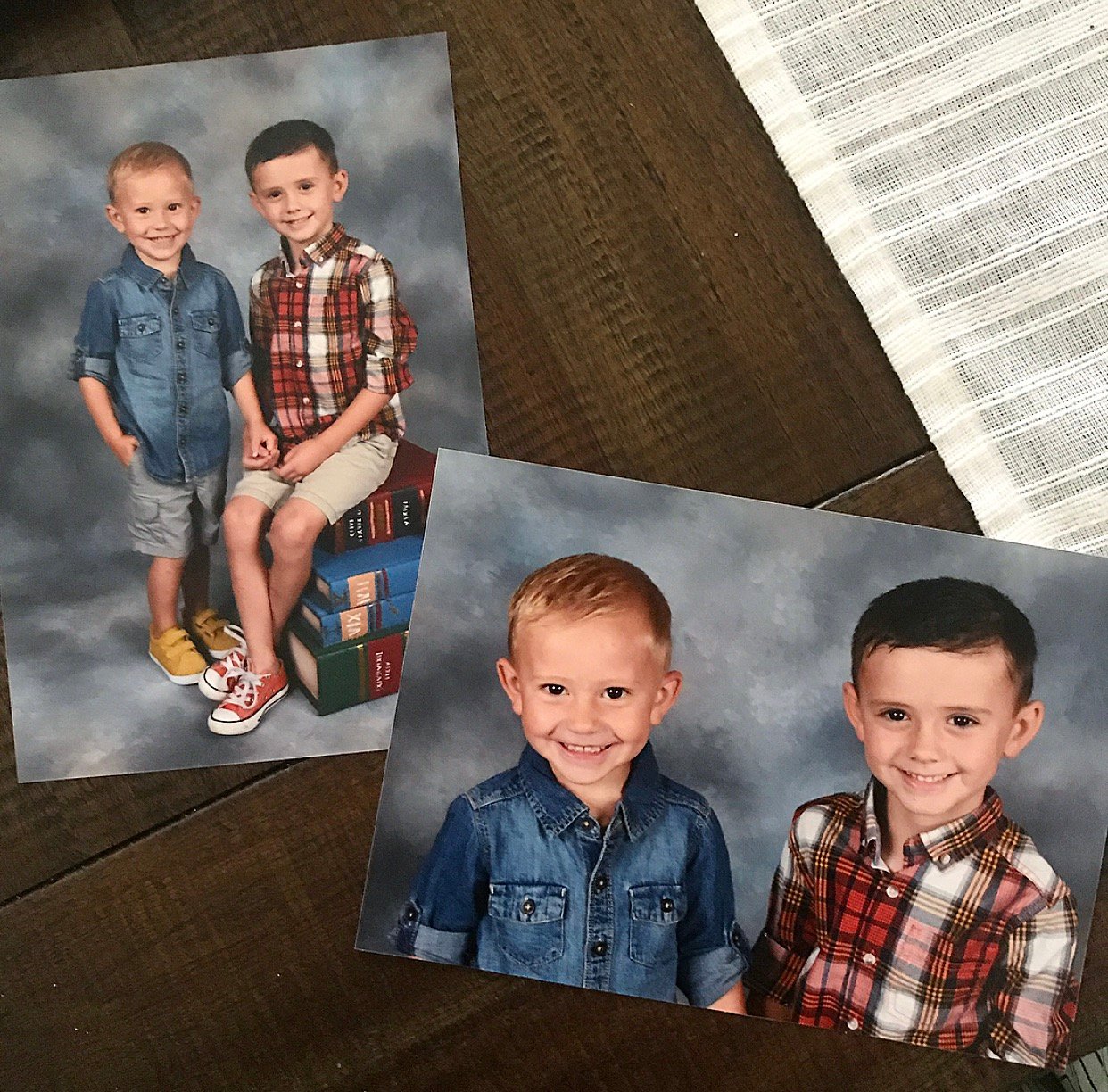 And these two took some pretty sweet school pics!  These faces melt me!
My amazing inlaws also came and stayed with my boys, so my hubby and I could sneak off to NYC with our friends for 5 jam-packed days!!
NYC is my favorite city to visit and this year's trip did not disappoint!!  3 shows, alllll the food, miles of walking, shopping, laughing and tons of memories!
I LOVE Broadway and was excited to see Kinky Boots, the Rockettes' Christmas Spectacular and Waitress this trip!  Radio City Music Hall at Christmas….I die!
We also had a great time at Friendsgiving with my girls and their sweet families!
A vistit to Abraham the Turkey at Will's teacher's farm just before eating the real thing…..sorry!
Favorite Recipe:  I loved this slow cooker butternut squash soup with carrots and sweet potatoes….lots of veggies, lots of flavor, easy to make!
Check, check, check.
You can find the recipe here. 
Favorite Meal:  This is tough because we ate SO many great meals in NYC!
Tavern on the Green is one of my very favorites…great atmosphere, yummy food and a view of Central Park…
But nothing beats eating my Mama's cooking at the house I grew up in, surrounded by these faces….so the turkey and Papa's dressing recipe is going to beat the Big Apple any day!
And getting 4 kids 6 and under to take a pic together….the struggle!
Reader's Favorite Blog Post:  Your favorite was this Grateful Gatherings Blog Hop where I shared ideas for Thanksgiving décor.
My Favorite Blog Post: I shared our Merry mantle here!
Favorite Home Project:  I flocked our Christmas tree using Aunt Cathy's recipe, and I LOVE the transformation!
You can read more about this simple DIY here.
Favorite Home Buy:  I picked up this advent calendar from the new Hearth and Hand line by Magnolia at Target.  We are doing a verse each day for the month of December, and I am excited about keeping our focus on Him this season!
You can get our verse of the day printables here.  We would LOVE for you to join us!  You can start anytime!
Favorite Closet Purchase:
I stocked up on some warmer pieces for our trip that I can wear on repeat this winter!  These over the knee boots and this sweater that comes in 6 colors are two of my favorites!  My sweater here is the rust color, but I grabbed the cream too!
You can also snag this snuggle season mug here and this fun nail color here. 
What I'm Looking Forward to in December:
Where to begin?!?
This is the most magical time of the year, and right now my boys are ALL IN on all of the holiday magic!!  We have a calendar full of festivities, and I pray it goes slowly so we can soak in all the sweetness of this season!  I wish you and your family a WONDERFUL month of December as we celebrate Santa, snuggles and most importantly, our Savior!
Thank you for stopping by!