ONE WEEK until Christmas and this is basically me….
I am SO excited to soak up this last bit of the Christmas season with these little elves!
Seeing the season through their eyes has been magical, and we have had a blast checking all the things of our Christmas bucket list!
   I LOVE seeing all the different ways people decorate for Christmas, so today I am teaming up with five talented blogger friends to give you a last look at our holiday homes!  I hope this gives you ideas if you are still finishing up some spaces, hosting friends and family or filing away ideas you want to incorporate next year!
If you are new here, welcome!  My name is Bethany, and I live in the Dallas 'burbs with my hubby and those two little nuggets pictured above!  This is the view when you walk in our front door.  Let me grab you a coffee, hot cocoa or peppermint mocha and maybe a cookies…no calories at Christmas, right?!?… and let's get to it!
DINING ROOM + ENTRY
To the right of the front door is our dining room!  When I first decorated this table I tried to stay pretty neutral in the color scheme…
But the color/Christmas loving girl in me just needed some pops of
RED!
When my hubby and I got married, I registered for these square plates in lime green, mustard, and red…
apparently I thought I was opening a Mexican food restaurant!  Casa de Crisp!  Haha!  While I love some Tex-Mex, (I will never turn down chips and queso!)  I eventually traded out the lime and mustard for white and held onto the red only for Christmas!  My sweet mother-in-law found me these wicker square placemats at an antique store, and I love them!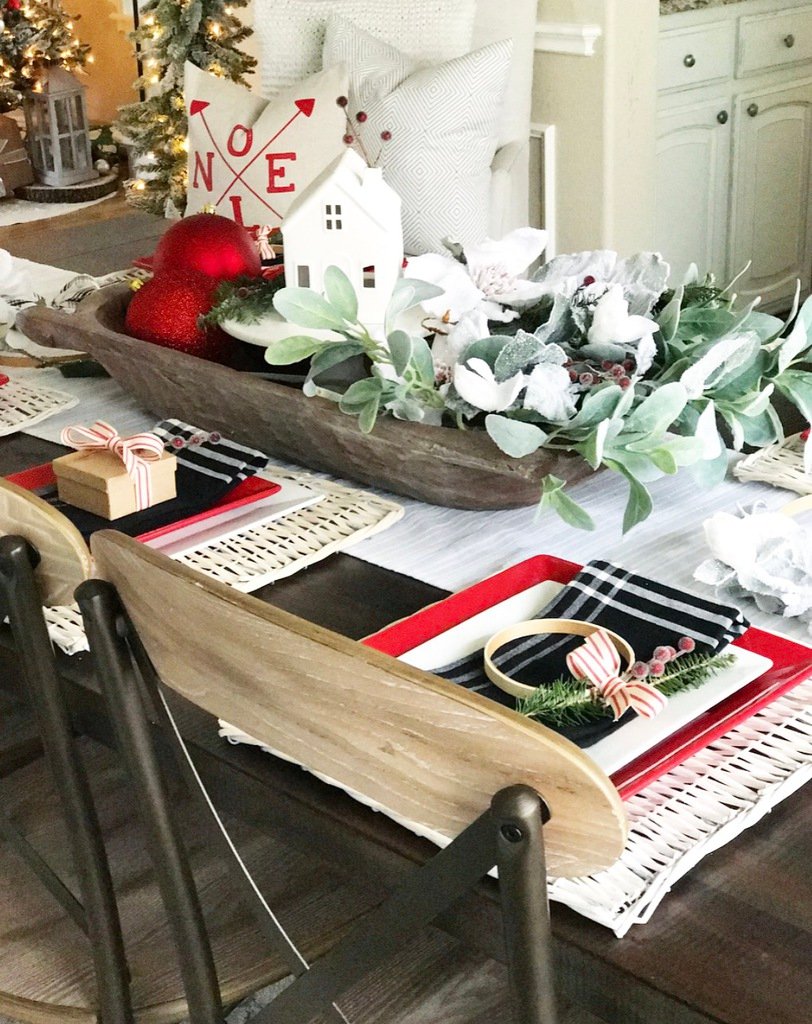 These little craft boxes wrapped with ribbon and a sprig of berries, and small embroidery hoops with fresh evergreen, berries, and ribbon make easy place setting decorations you can make for about 75 cents each and in minutes!
You could easily change the ribbon and greenery to match your décor, and to fit any season!  All the supplies can be found at Michaels, Hobby Lobby, or any craft store!
This dough bowl centerpiece is filled with lambs ear, frosted magnolias and sprigs of the same berries as the place settings!  A Target white house sits on a cake stand and large red ornaments fill the other side.
This console table sits on one side of the dining room, and this hutch is on the other!  I made the center embroidery hoop to match the two smaller ones that sit on either side of the dough bowl on the table, another simple DIY that can be changed seasonally!
I love decorating this tray each season and left this whole space "wintery" enough that only a few things will change after Christmas!
This little chair also sits in the corner of this room and is basically just a giant pillow holder!  Never too many pillows!  They are grown women's stuffed animals!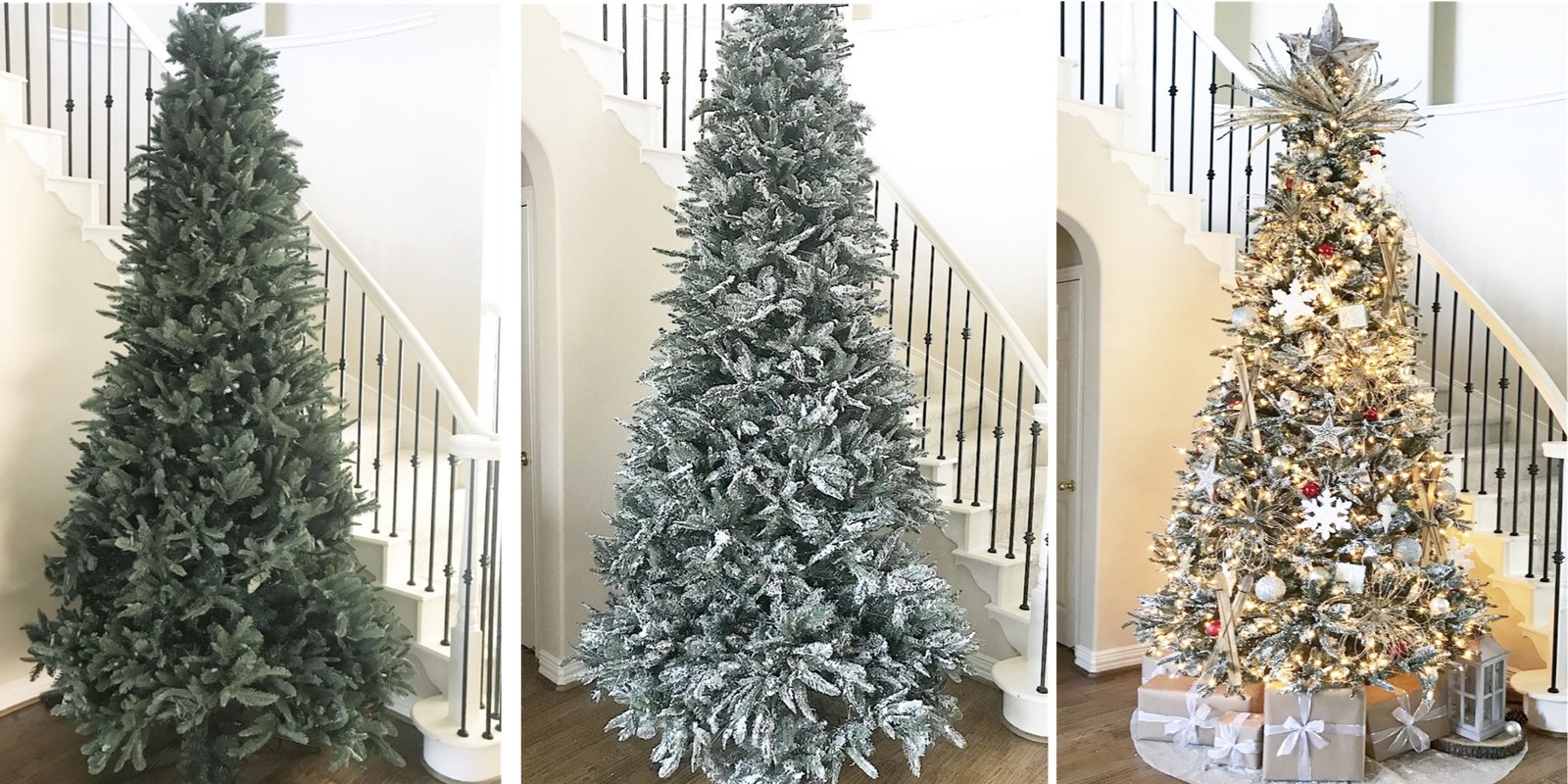 And that takes us back to the tree!  I flocked this tree myself this year using Aunt Cathy's recipe that I shared here!  I love that it just gave it a different look!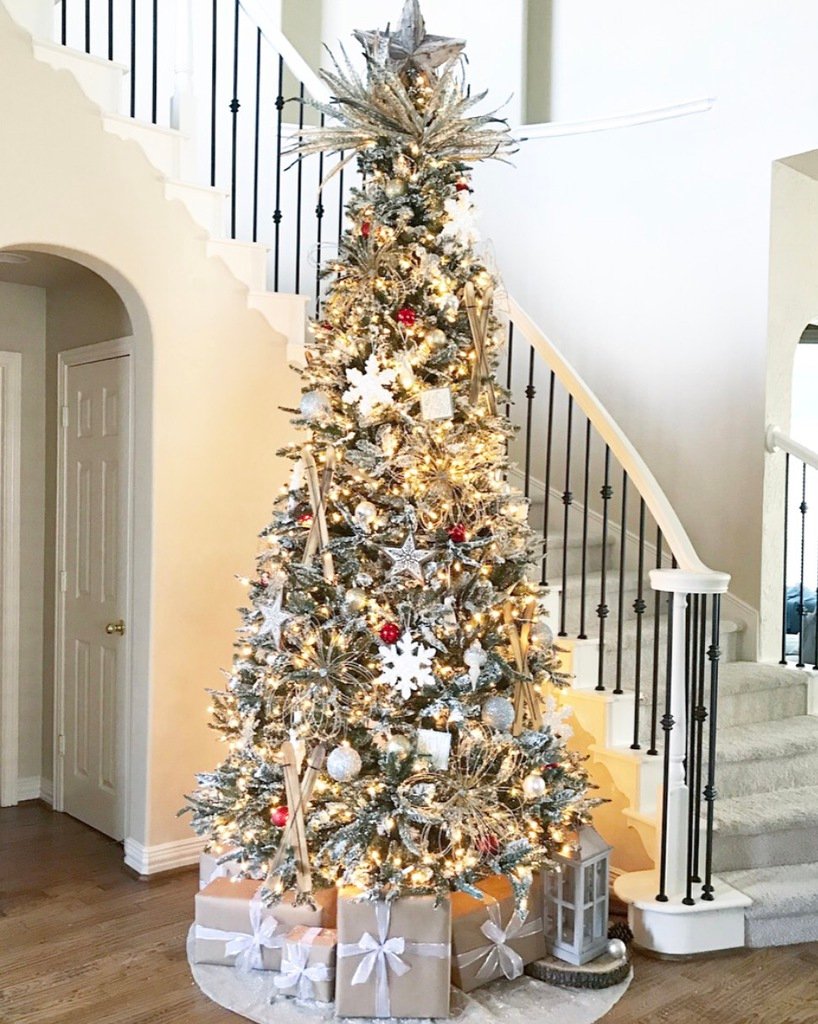 Is it weird that when we were looking at homes, the first thing I thought of when I saw this staircase (which was wooden white balusters and orangey wood railing at the time!) was how I would LOVE to put my Christmas tree here?!?  I envisioned our sweet babes excitedly running down the stairs on Christmas morning to see if Santa had come…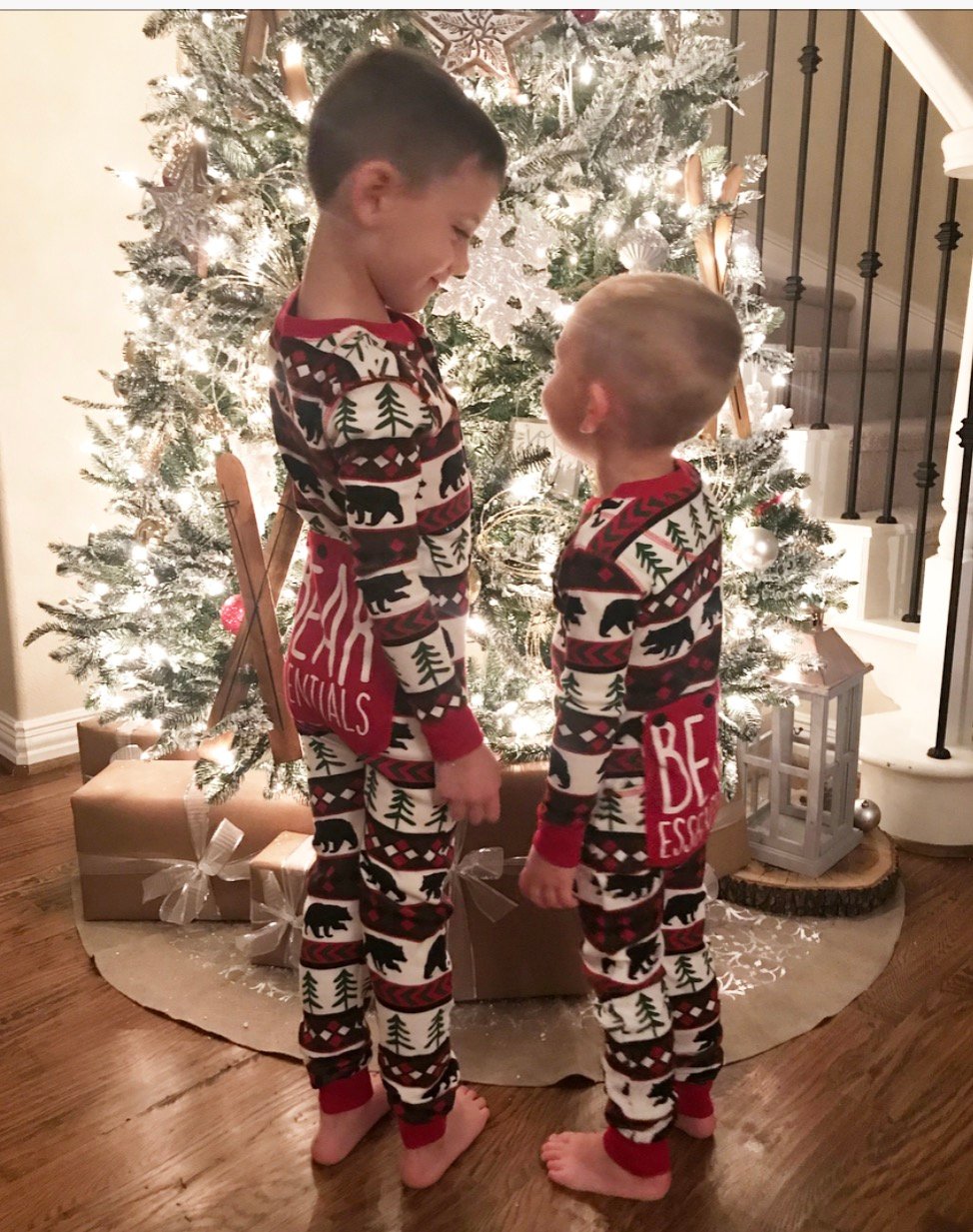 mind you….this was almost a decade ago…we didn't have a tree or children at the time, but I smile when I think back to moments like that!  We definitely don't deserve it, but GOD IS SO GOOD!!
Shop this Section
Living Room + Kitchen + Breakfast Nook
On the other side of the stairs you will find our living room that opens to the kitchen and breakfast nook!
This merry mantle was the first space I decorated for Christmas this year!
I shared it here, including how I made the large deer head piece at the top (so easy!)
This area is where we hang out the most!  On any given day you can find my littles making a fort out of all these pillows, helping me whip up a yummy mess in the kitchen, or chasing each other with swords!
These shelves are a favorite of mine to decorate each season!
As is this tray!  I see you giving me the wink Santa!
I always want this space to feel comfy, inviting, and put together, but above all, practical for our family!  Leather couches are our friends with two messy boys!  Just wipe them clean!
This breakfast nook table is where our family eats most of our meals, so the table stays cleared off most of the time!
 But it was the landing spot for the arrival of Aggie, our elf!
My boys LOVE this at their ages, and honestly, I think it's pretty fun too!
This advent calendar also floats around this space and has been a wonderful new tradition to help keep us focused on the reason for the season!  You can print our verses of the day here if you want to join us for this final stretch!
Shop this Section
Logan's Room
This year we also added some Christmas touches to Logan's room!  He is five. and is ALL ABOUT Christmas this year!  It is so fun!
We mainly used items we already had, with a few new additions!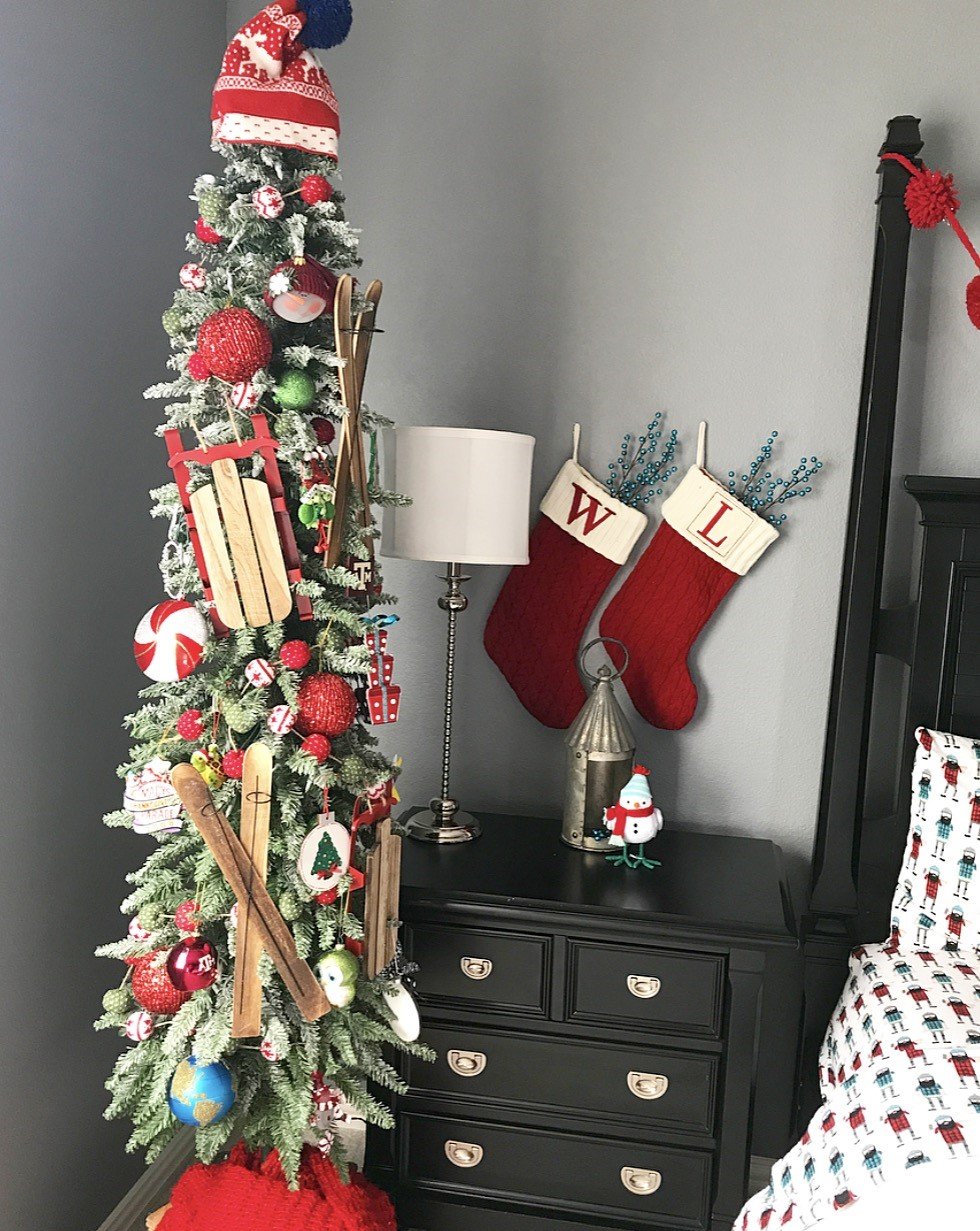 A skinny tree with sentimental and handmade ornaments, cozy bedding, and bright, joyful colors!
I shared a full post about this room here!
Shop this Section:
That concludes our tour for today, but I can't tell you how much it means to me that you stopped by!  I hope that these final days before Christmas are truly merry and bright, and that your holiday season has been filled with love, laughter and making memories with your people!  Above all, I hope you take a minute to reflect on the greatest gift of all….Jesus!  Grace, love and peace came down in the form of a baby, not just to Bethlehem 2000 years ago, but for us today!
Be sure to stop by my friends' beautiful homes for all the Christmas feels!
Sarah at Dreaming of Homemaking