I'm sharing some neutral winter home decor today!
If you're like me, the Christmas decor is cleared away…ok, confession:  there is still a tree up in my son's room, but we're off school today, and I swear it's coming down! #dontjudge
Once all that holiday sparkle is packed away for another year, I always crave simple, clean and cozy!  I added a few new winter touches to our living room that  I wanted to share with you today, so come on in and cozy up!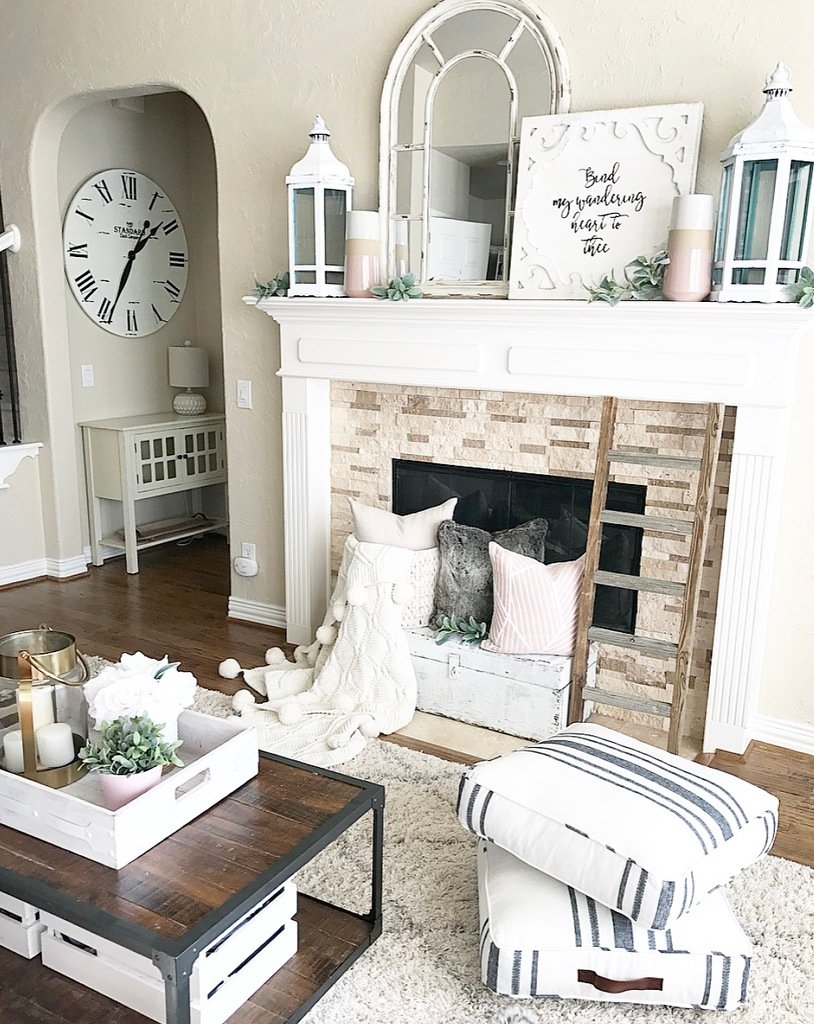 If you are here from Deborah's Hip & Humble blog, welcome!  I always love seeing how other people decorate their homes, so these blog hops leave me inspired!  You can see a list of all the talented ladies sharing their homes throughout the week at the bottom of this post!
Living in North Texas, we don't always have the coldest of winters.  In fact, in ten years, I'm not sure we have ever actually used this fireplace for a fire, BUT there is a possibility of snow this week (tonight actually, EEK!!), so we may just have to crank her up!
I am totally color crushing on blush this time of year!  It mixes well with all the neutrals, but also provides a fun, pretty pop, and while I don't really decorate for Valentine's Day, it feels a little festive for that as well!
I loved this sign!  The corbel-like corners and the sweet quote from the hymn, " Come Thou Fount of Every Blessing."  This hymn was written in 1757, and while some of the language is obviously from a different century, the words of this hymn completely ring true and hit home today.  If you are not familiar, you can read the full hymn here.  
And then, the pillows….guys, I might have a problem!  I am somewhat of a pillow hoarder, but I think they are such an easy, inexpensive way to freshen up a space….and I think this little nugget agrees!
I almost always buy pillow covers and then use down inserts.  This makes storing them so much easier when I change them out each season, and I love the squishiness (that is a word, yes?) of the down!
Probably my favorite source for pillow covers is H&M home because their quality for the price cannot be beat.  These on the couch are from a mix of retailers, and I love the textures together!  I also loved this cozy pom pom throw!  If you are need of a little pillow refresh, I linked all of these and some other affordable options here:
These floor pillows are also a fun addition.  I scotch guarded them, so hopefully they will survive the mayhem of having two boys!  I love the size and the handles!
This tray is also a favorite to decorate each season!  This is the extent of my Valentine's décor….an I love you more sign and easily accessible chocolate….crushing those new year's fitness goals!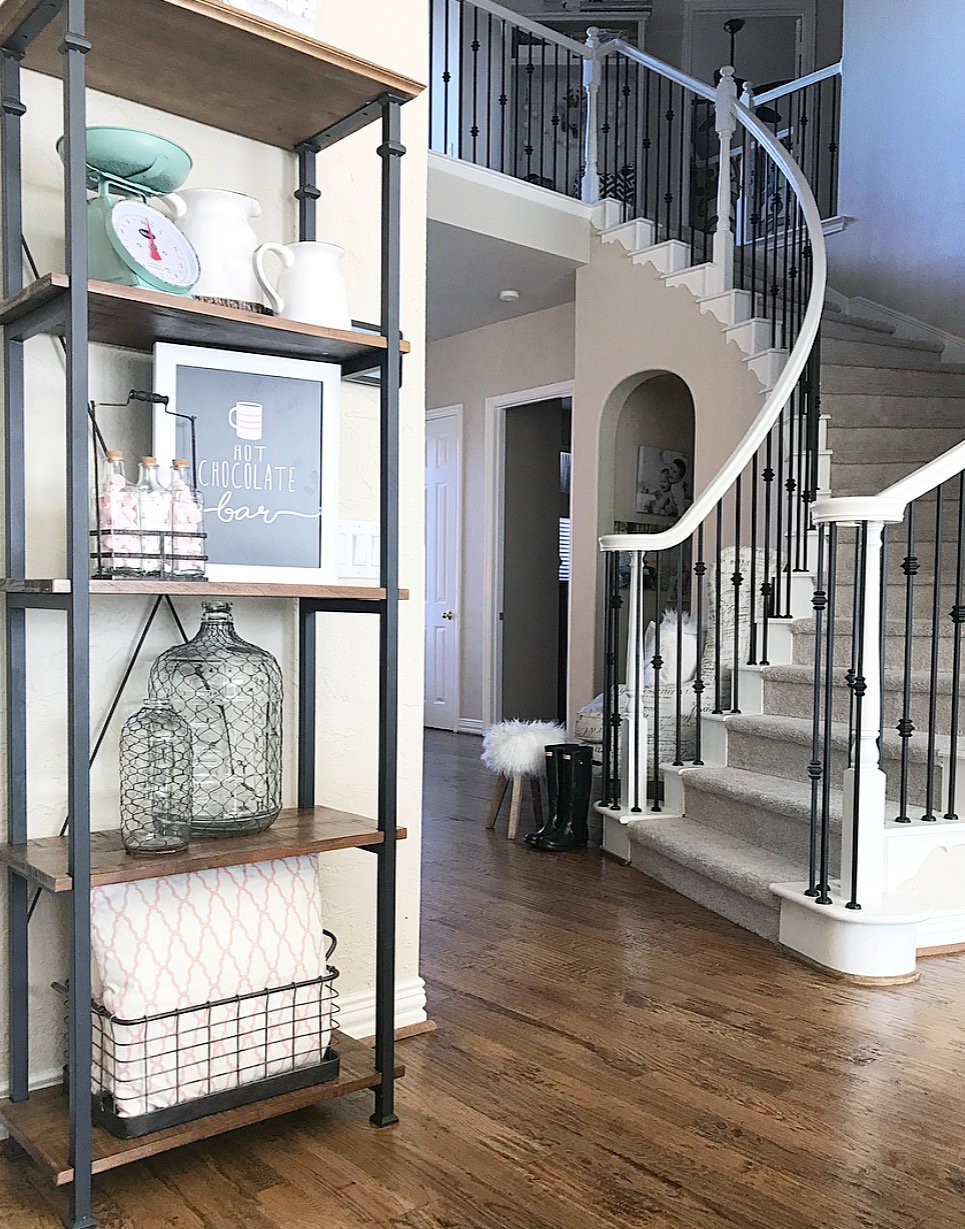 These shelves got a simplified winter makeover…
And I made this hot chocolate bar sign!  I'll be sharing a slow cooker hot chocolate recipe and this free printable with you in another post soon if you want to set up a little hot chocolate bar of your own!  Such a fun idea for parties and showers this time of year!
Overall, I just want this space to feel warm and inviting…and if the temps force us to be cuddled up on the couch with a cup of cocoa and a fuzzy blanket, I won't be mad about it!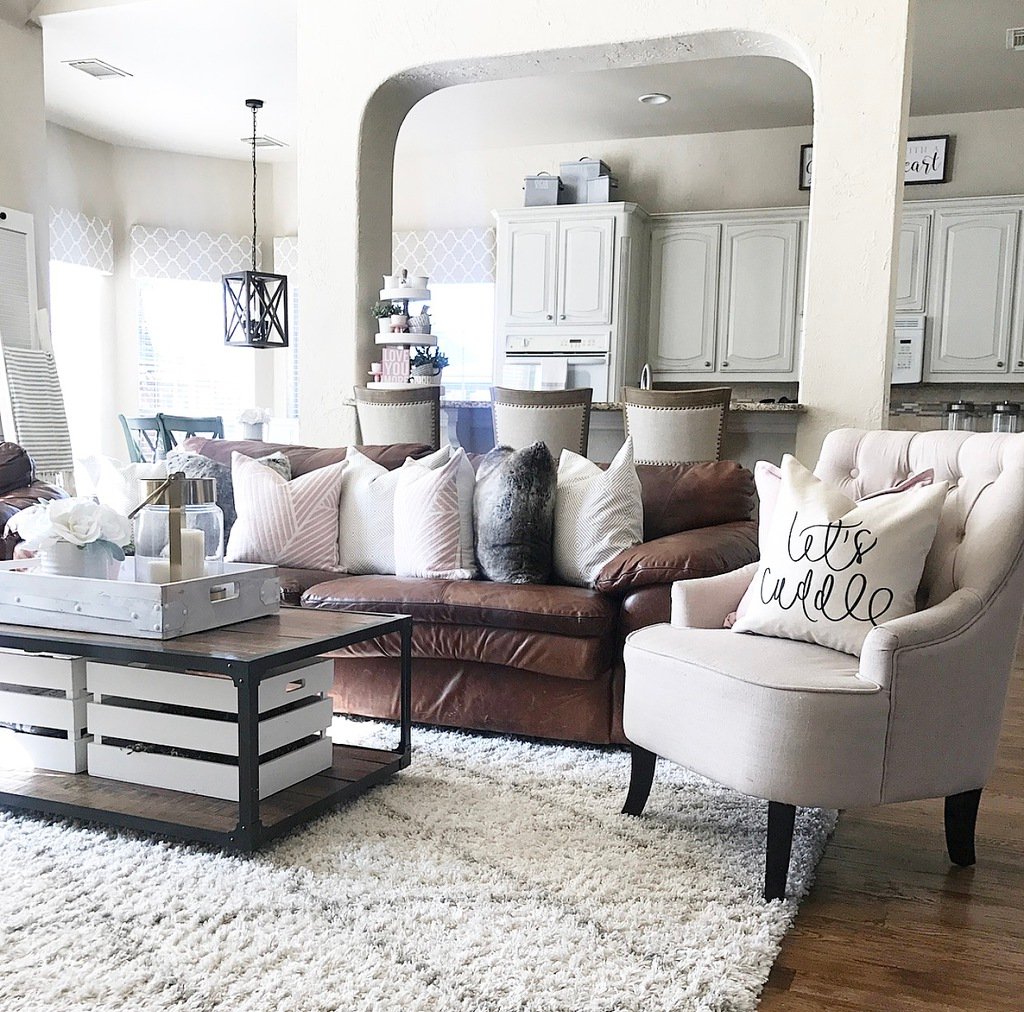 Thanks so much for stopping by!
Shop the Post
Be sure to head over to Kathy at A Delightsome Life next for beautiful inspiration!
And check out more neutral winter décor throughout the week from these talented bloggers:
Monday
A Delightsome Life
Hip and Humble Style
Crisp Collective- me!
Tuesday
White Arrows Home
Hallstrom Home
Pollie's Place
Wednesday
Fancy Pants Mommy Co
Common Ground
Follow The Yellow Brick Home
Thursday
Clare and Grace Designs
My Modern Farmhaus
Lemons to Lovelys
We will be hosting a Linky Party on Friday, January 20 for you to post your neutral winter home decor! Share with us how you transitioned from your Christmas decor to Winter decor!
"