Let me tell you a funny story about the first time I made this fruit salsa…
Our friends invited us over for dinner, along with some other families.  We decided to serve a taco bar where everyone could bring a few things.  One of my assignments was dessert, so I thought this would be easy, kid-friendly and not TOO much sugar, as far as desserts go!  We had never been to this friend's house before, so I plugged their address into my gps, and we took off!  When we arrived there were already several cars out front.  We went to the front door and knocked, but no one answered.  I could hear noise inside and the door was unlocked, so we just went on in.  We walked in the entryway, through the dining room, and to the kitchen to discover in horror that we were in the WRONG HOUSE!!!  I stared at the strangers in the kitchen and awkwardly said, "We're looking for the Smiths?"…names have been changed to protect the innocent who may or may not want to be our friends after this!
Turns out I put one wrong number in my  gps and the Smiths actually lived next door.  My husband, who was mortified, thanked them for not shooting us (we do live in Texas after all!), and we got out as quickly as possible.  Then, walking next door to the right house, my oldest DROPPED the bowl of fruit salsa!  The glass bowl shattered and fruit spewed everywhere.  So not only have we busted into your house uninvited…..we've also left a pile of diced fruit and glass all over your sidewalk!!  You're welcome.  We cleaned up the best we could, and tried to salvage the fruit salsa, but it was a lost cause!  After we got over our embarrassment, we all had a good laugh!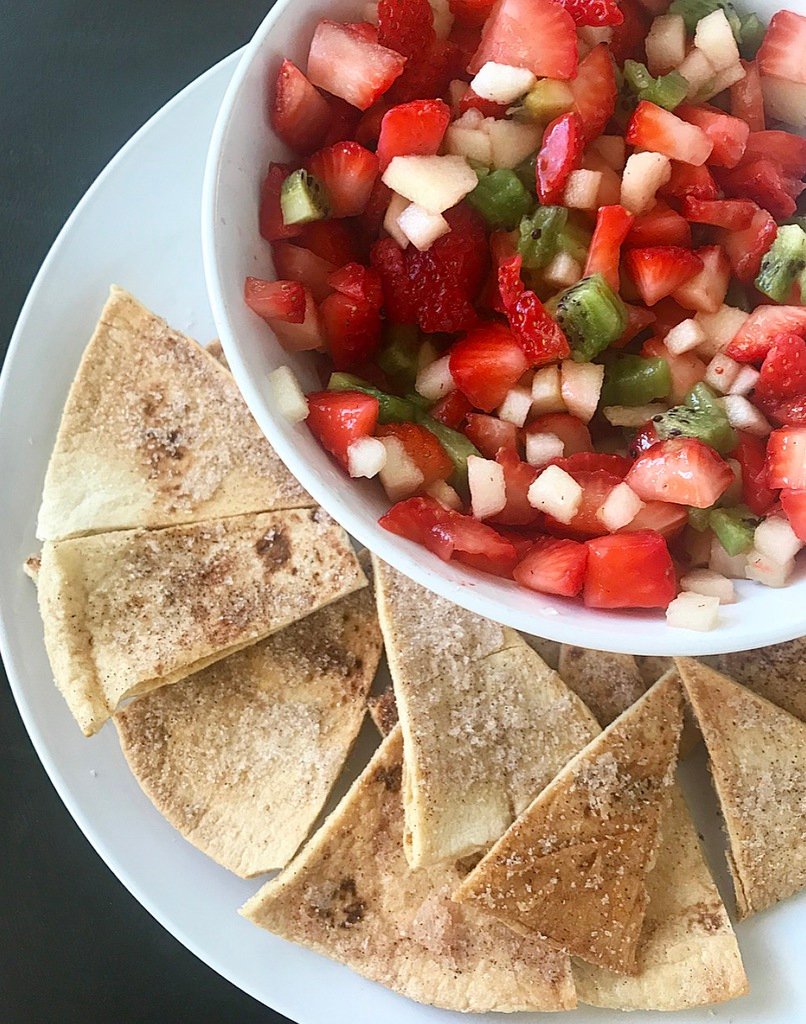 So needless to say, I did not really get to test this fruit salsa on an audience that night…unless they also wanted a side of glass!  I made it at home several more times, and the recipe I'm sharing today is what WE like best!  The great part about this though is that you can totally tweak it to what YOUR family likes!  Not a fan of kiwi?  Use rasberries instead!  Love the tang of the lemon, add more!  You get the idea!  This yummy (and pretty!) dish makes a great dessert or appetizer!
Ingredients for the Fruit Salsa:
1 lb of strawberries, washed, rinsed and diced
2 kiwis, peeled and diced
1 Granny Smith apple, peeled, cored and diced
the juice of 1 lemon
Directions:
Mix all ingredients in a bowl and stir well.  Chill until ready to serve.
Ingredients for Cinnamon and Sugar Tortilla Chips:
A dozen tortillas
Cooking spray
1 cup sugar
Cinnamon to taste
Directions for Cinnamon and Sugar Tortilla Chips:
Preheat oven to 350 degrees.  Line a baking sheet with parchment paper.  Spray each tortilla with cooking spray and stack them in stacks of 3.  Using a pizza cutter (easiest way!) or knife, cut the tortilla stacks into triangles.  Dip each triangle into a mixture of the sugar and cinnamon.  Once lightly coated, place triangles back on the baking sheet and spread out so they are not touching.  Bake for 10-12 minutes, until golden and crispy.  Allow to cool completely before eating!
Make these to eat at home or to take to a friend's…just make sure to double check that address first!