Today's post is all about tips and tricks for styling a tiered tray!
If you've been here for awhile, you know I have a several tiered trays in my home that I like to decorate each season!  Many of you have purchased the trays I have, or similar trays, and then messaged me to say, "Love this tray….now, what the heck do I do with it?!?"
So today I am going to break down some easy tips for styling your tiered trays, and the method I use almost every time!  There is no right or wrong way, but these are just some steps that have worked for me!  I will also be sharing a few ideas for using your tiered tray for entertaining and where to find one if you don't own one already!
You can also watch me style a tray in video form HERE.
I have several tiered trays in my home, but this one is my favorite!  If you want to snag one for yourself, you can find this one here.
I always clear my tray totally off before styling each time.
Step 1:  Start with an Anchor Piece: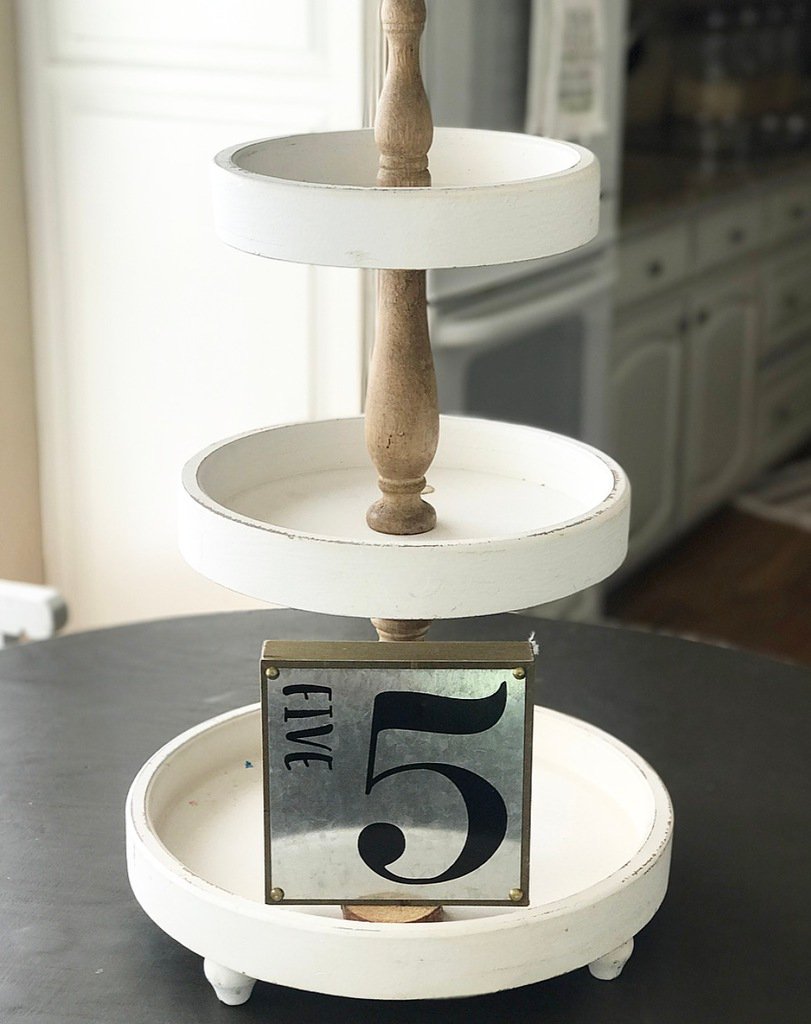 I almost always start with an anchor piece on the bottom level.  This might be a sign, a pitcher, canisters or a larger plant.
If your anchor piece is not exactly the right height, I often adjust it with these wood pieces I find here.  That way I can make items the right height, but the wood is hidden by the lip of the tray.  For signs, they are also good so that the bottom of the sign or wording is not hidden or cut off.
Step 2:  Use Greenery:  Real or Faux
I like to add greenery to my tray every time to give it a little life!  I usually have it repeating in opposition on each tier.
This little cutie is from Ikea.  I find most of my small greenery at Ikea, Marshall's, TJ Maxx or Hobby Lobby.  You can also use real greenery, but watering plants is not a strength of mine, so I usually opt for the faux!
Step 3:  Use Stackable Items and Play with Height
I like to use stackable items as a way to play with height.  In this tray I added these fun mugs, on opposing sides, and the small cupcake stands.   These stands are almost always available at the Target Dollar Spot, and I used my wood pieces to  make them just a little taller.
Step 4:  Add Minis For Fun
I always look for fun mini items to add to my trays!  These mini terra cotta pots come in a pack of six for a couple of dollars at Hobby Lobby and are stackable as well.  My five year old and I painted them white and distressed them a little.  These mini white pitchers are also a favorite I have used often.
I found these mini watering cans at Hobby Lobby.  They just make me giggle!  I have often caught my son using them to "water" my tray plants.  Hobby Lobby, Target Dollar Spot, Michaels, garden centers….all great places to keep your eye open for miniature items that add something creative and unique!
Step 5: Use Repeating Items in Opposition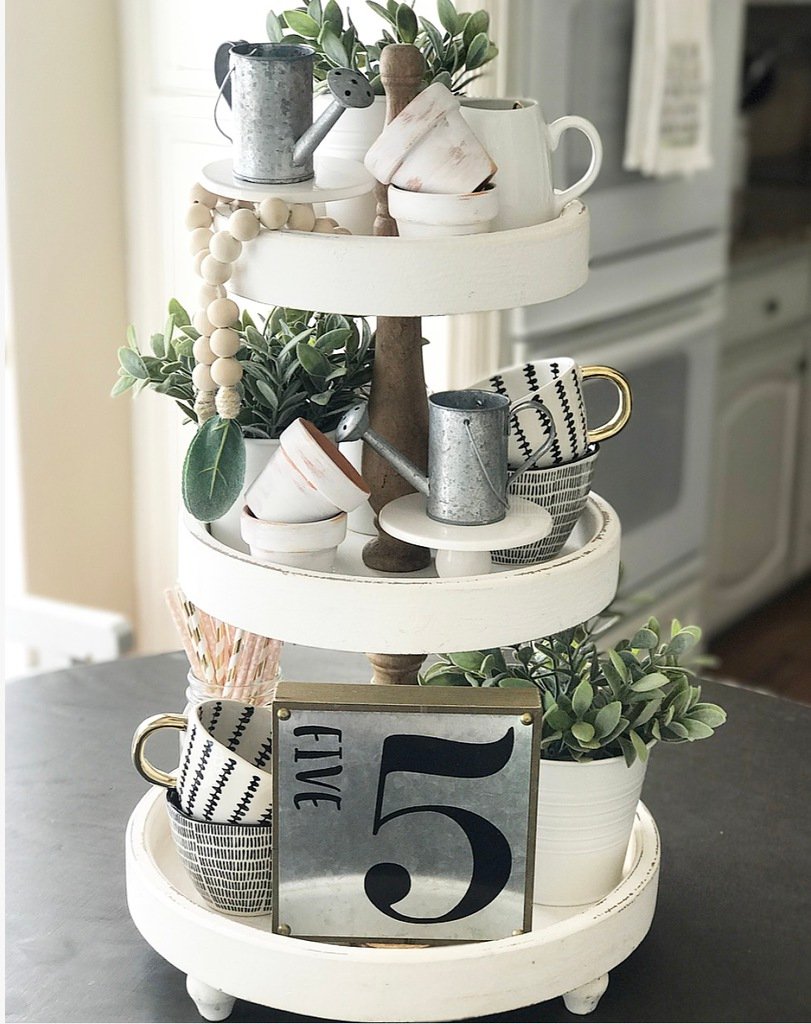 To me, what makes the tray most aesthetically pleasing is the repeating items on opposing sides and the overall balance of everything on the tray.  Having the same item, like the mugs or the watering cans or the greenery, on multiple tiers ties it all together for a more cohesive look instead of a bunch of randomness thrown on a tray.
Step back and look at the balance of all the items together.  Adjust heights if needed using your wood pieces, play, move things around and keep adjusting until it all works together.
As I said, this white tray is my favorite, so here are some ways I have decorated my tiered tray for each season!
Summer
Fall
Christmas
Spring
I also have this rustic wood tray.  It has mixed reviews here, but I have never had any problems with mine!
And again with the watering cans!  Fruit is also a favorite of mine to use in these trays!  Decor you can eat….yes please!
Trays for Entertaining
Aside from being decorative, these tiered trays are also great for entertaining!
I have used these wood trays for cupcakes at almost all of my kids' parties and for showers I have hosted!
I used this tray to make a little ice cream bar last fourth of July!
Displaying food or utensils on these trays saves table space, adds height to your table and is just more fun!
Functional Trays: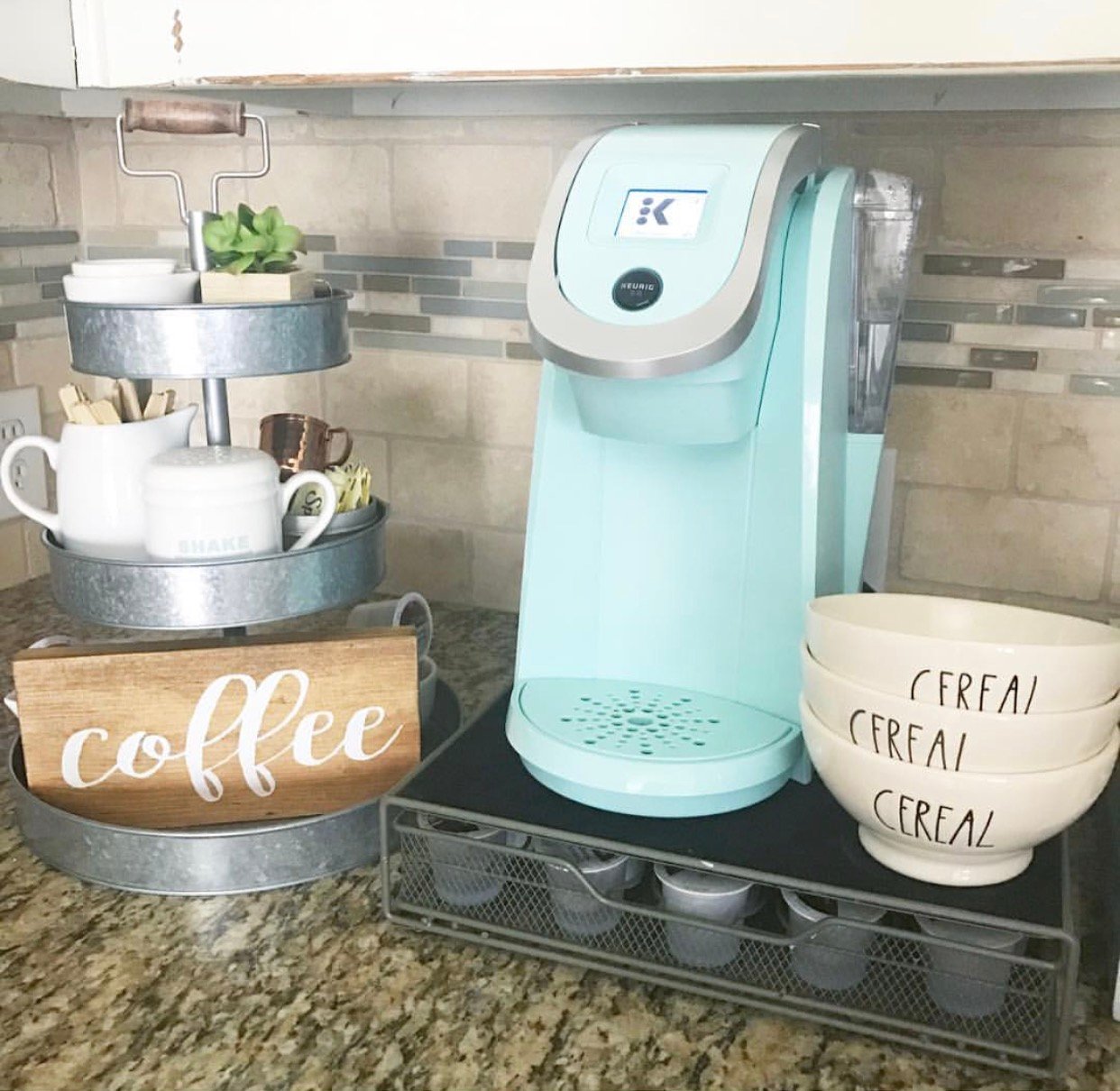 I keep this little tray by my coffee maker.  It holds sugar, marshmallows for hot cocoa in the winter, K cups, straws, etc. that are needed with coffee.
I have seen people use similar tiered trays to hold their essential oils, paint/art supplies, toiletries and makeup in the bathroom, soap and brushes by the kitchen sink….the list goes on and on of ways you can make these trays functional and save counter space!
Other Tray Tips:
My white tray sits on the bar in my kitchen, so I often put ingredients in mason jars on the opposite side of my tray:  sprinkles, chocolate chips, marshmallows, straws….you know, all those healthy essentials!  I also often store things we will use in the mini white pitchers, so that our tray is both decorative and functional.
If buying online, be sure to read the dimensions and check that the tray will work for your needed purpose.  For example, the tray by my coffee maker is VERY small!  It can hold K cups and essential oils, but it is not even large enough  to hold a coffee mug.  On the flip side, the rustic wood tray I have is VERY large!  I had a friend purchase it, and the base barely even fit on her counter.  Think about what you want to use it for and where you want to put it and measure before purchasing.  I know this sounds like common sense, but I can't tell you how many Amazon purchases I have returned over not carefully reading the dimensions!
Where To Find a Tiered Tray:
Below are the trays I have and a few additional ones I have found online that have great reviews!
I hope you've found these tiered tray tips to be helpful!  Always feel free to send me your tray pics!  I love seeing your style and creativity!