There is something about September that makes me want to bust out ALL the apple recipes!
These apple pie crumbly muffins have warm apple pie filling in the center, wrapped in yummy spice cake and topped with crumbly goodness!  The combination of these three things make these muffins seem really special, but this semi-homemade method is super simple and quick to make!
Give them a try!  They are sure to please!
Ingredients:
Cake:
1 box of spice cake mix-made according to package instructions, so check for additional ingredients needed!
3/4 cup greek yogurt
Center:
1 can of apple pie filling
Crumbly Topping:
1 cup flour
1/4 cup sugar
1/4 cup light brown sugar
1 teaspoon cinnamon
6 tablespoons melted butter
Glaze:
1 cup powdered sugar
2-3 teaspoons of milk
Directions:
Yields 18-24 muffins
Preheat oven to 375 degrees and line a muffin pan with liners or spray with non-stick spray.
Make spice cake in a bowl, according to package directions.  Add 3/4 cup greek yogurt…the secret ingredient that makes your muffins more dense and moist!  Set aside.
Open can of apple pie filling and cut apples into small pieces.  Set aside
Combine flour, sugar, cinnamon and melted butter in a bowl.  Mix well until crumbly and set aside.
Fill 2/3 or less of each liner in your muffin pan with the spice cake mix.  Tap the pan on your work space to set the batter.
Add a spoonful of apple pie filling and press it into the cake mix batter.
Top with crumbly topping.  The picture below shows each step.
Place muffins in the oven and bake 18-22 minutes, or until a toothpick inserted in the middle comes out clean.
Allow to cool 5-10 minutes.
For the glaze, mix the powdered sugar and milk well.  Drizzle over cooled muffins.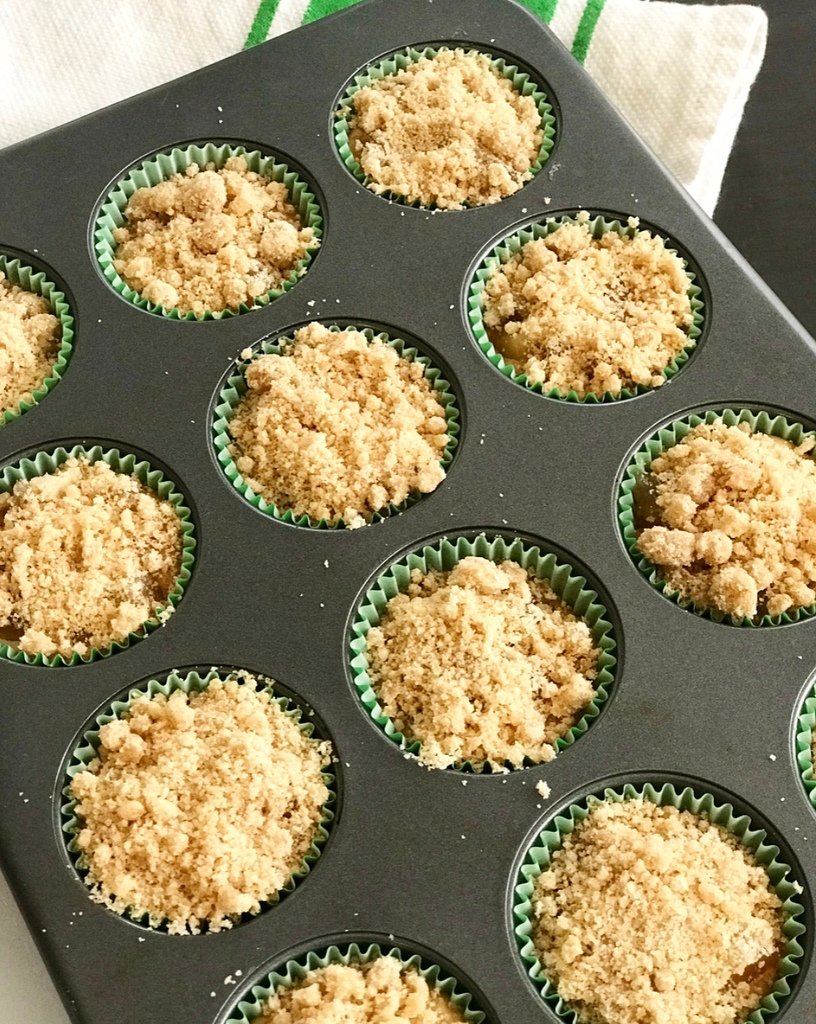 Fall perfection for all you apple lovers!