Tidings of cocoa and joy!  That's the way the song goes, right?
If not, it definitely could at our house because we are ALL ABOUT the cocoa now that the temps have dropped.  There is just something about a steamy mug of hot chocolate that feels like a hug in a mug!

If  you are hoping over here from Beyond the Butter, welcome! Today I am excited to be joining 25….yes 25!…talented bloggers that are sharing Christmas inspiration all throughout the week!  My friend Kendra hosts this event every year, and I always love to see what people share!  Today's theme is recipes, so you KNOW I jumped on that train!  Everyone's post is linked at the bottom, so be sure to check it out!  Thank you Kendra for all the work you do to put this together each year!
I am excited to share with you today an easy slow cooker hot cocoa recipe that's perfect for a crowd, as well as some ideas for setting up a hot cocoa bar or station in your home!  This is perfect for a party or to just leave out all winter!
Slow Cooker Hot Chocolate Recipe
This slow cooker hot chocolate recipe is creamy, chocolate heaven!  This method is great for a crowd because you can make it a couple of hours in advance,  guests can just ladle the cocoa into their mugs and it will stay warm all throughout your party!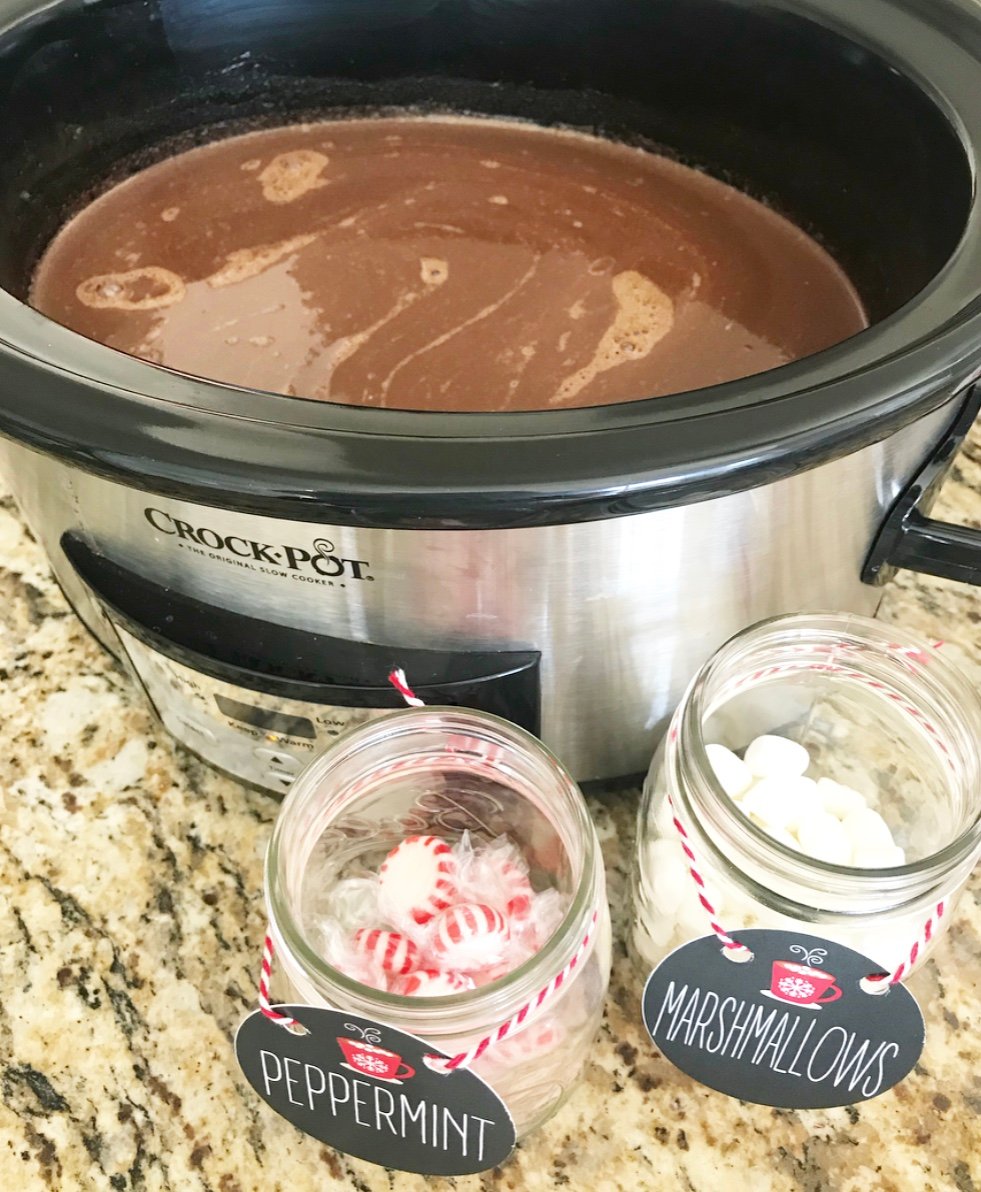 Ingredients:
1.5 cups heavy whipping cream
1 14 oz can of condensed milk
6 cups milk
2 teaspoons vanilla
2 cups of milk chocolate chips
Directions:
Add all ingredients to your slow cooker and stir.  Cover and cook on low for 2 hours.  Stir occasionally with a whisk to help mix the melting chocolate in with the liquid.  Once you see the chocolate chips are fully melted and mixed, switch your slow cooker to the warm setting.  Stir again before serving.
If for some reason your chocolate chips are not melting or if you need to make this faster, turn your slow cooker to high, stirring frequently, and then back down to warm once all chocolate is melted.
Hot Cocoa Printables
The toppings is where my family likes to have fun with their hot chocolate!  I created several printables that you can use to label your toppings and a sign to set out should you want to make a hot chocolate bar or station!  I have them in a festive red and white or a more subtle pink and white!
To use these, simply download, print and cut them out or use a 3 inch circle punch.  I recommend printing on white cardstock or sending the files to a local print shop.   Office Depot, Costco or even Walmart are all options too!  My local shop prints this size for 30 cents, and the quality and colors are so much better than my home printer!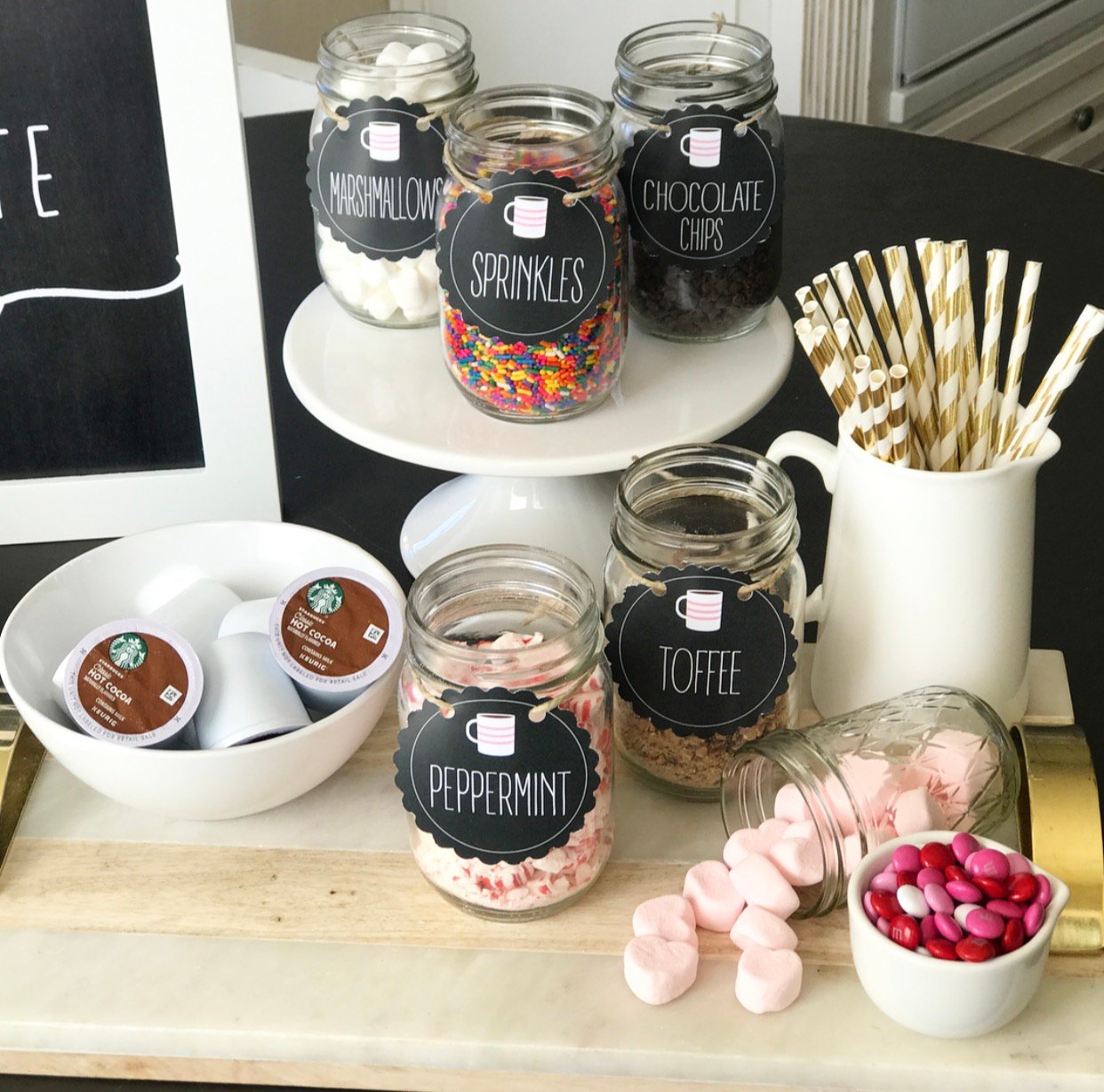 For these tags I punch a hole on each side, slide string though and tie them to mason jars.  You could also glue the tag to a lollipop craft stick and stick it in a bowl or container.
Red and White Version:
Pink and White Version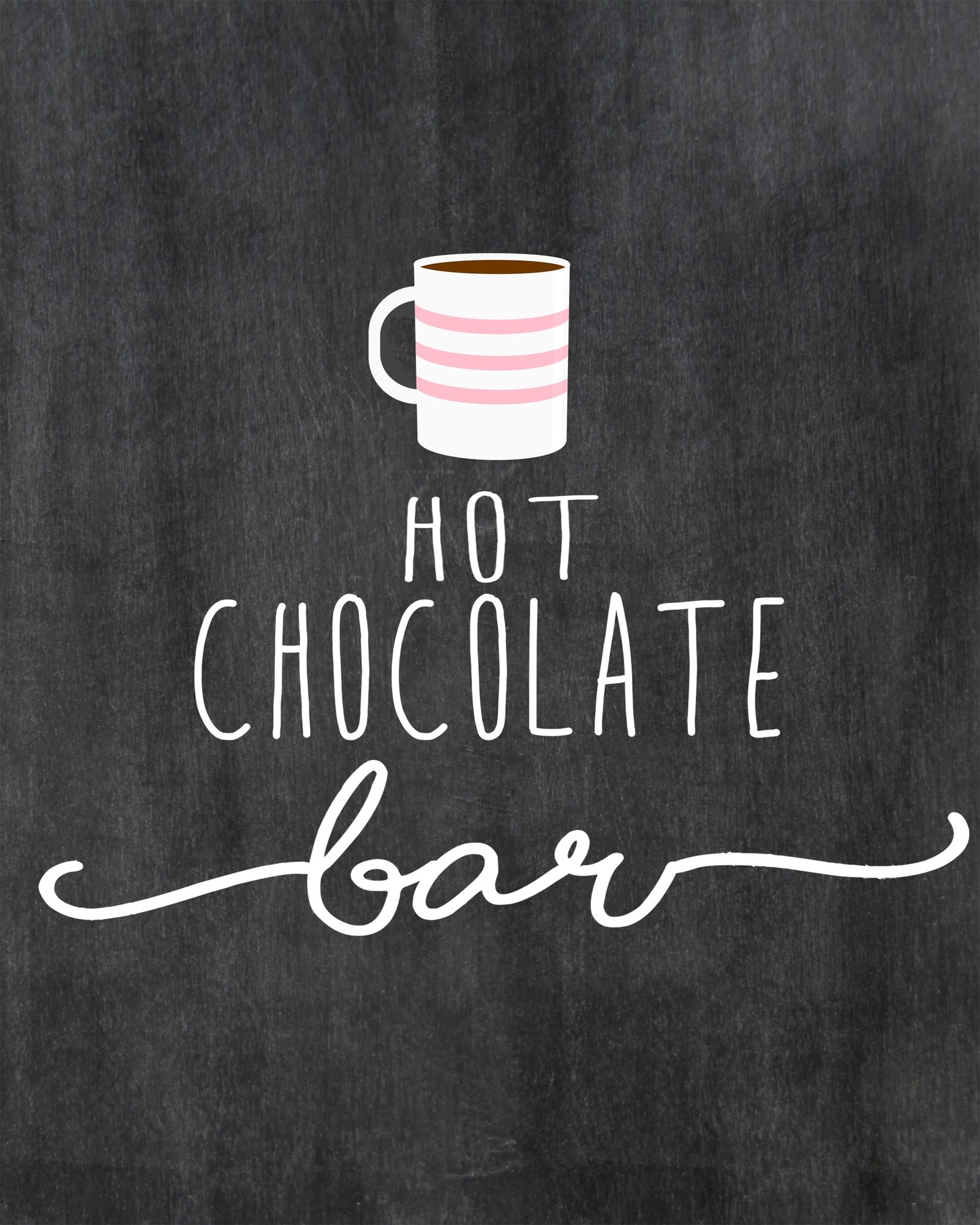 Blue Version
Add Some Fun
You have your slow cooker hot chocolate and you've printed your sign and tags….now what?  I few little extras to add some fun:
Glass Containers for Toppings: 
Mugs:
Basic white, themed or travel cups so guests can take their cocoa to go….whatever you provide can set the tone!
Straws and Stirrers:
Adding some festive straws and/or stirrers is an easy way to bring some color and fun to your cocoa bar!
Presentation:
Make sure everything is easily accessible.  Using trays, bowls and mason jars lets guests easily see what is available.
Seasonal Touches:
Add some seasonal touches to complete your look.  Target dollar spot, Hobby Lobby, and Michael's are always great places to find fun, inexpensive decor that will complete the look and theme you want for your Hot Cocoa bar!
There are often seasonal items available at your grocery store too, like these pink heart marshmallows for Valentine's day, and seasonal M&M's!  The color of your sprinkles is another easy switch!
All inexpensive, quick ways to add some fun!
Thank you so much for stopping by!  Be sure to head to Love in My Oven next for her mint chocolate candy cane cookies….YUM…and check out the other talented bloggers below!

Christmas DIYs on Monday

Joy In Our Home | 2 Bees In A Pod | My Creative Days
County Road 407 | Chatfield Court
Christmas Front Porches on Tuesday

The Tattered Pew | The Crowned Goat | Little Brags
Follow The Yellow Brick Home | The Painted Hinge
Christmas Recipes on Wednesday

Crisp Collective | Love In My Oven | Countryside Cravings
Walking On Sunshine Recipes | Beyond The Butter
Christmas Mantles on Thursday

anderson + grant | White Arrows Home | Elizabeth Joan Designs
  City Girl Meets Country Boy | Red Brick On The Lake
Christmas Tablescapes on Friday

The Inspired Hive | Curly Crafty Mom | Making It In The Mountains
Rain and Pine | Timeless Creations