Have you tried Trader Joe's cookie butter?
I think this might be what heaven tastes like….SO good you will want to just eat it straight out of the jar with a spoon!  Before I ever set foot in a Trader Joe's, so many people told me this jar of goodness was the reason I needed to go!  If you don't live near a Trader Joe's you can order their cookie butter here.  It is more expensive than in store, but an option….because you need this in your life!
My family loves to put cookie butter on bananas, so I started thinking about how we might incorporate that into a recipe and this is the result….well, actually there are several recipes that will be coming as a result, but this is the first!  Have I mentioned how tough it is doing all this taste testing/baking research for you guys?!?  Haha!
Ingredients for Cookie Butter Oatmeal Bake:
Non-stick cooking/baking spray
3/4 cups of butter, melted
3 cups of rolled oats
1 box of yellow cake mix
1 jar of Trader Joe's cookie butter
Ingredients for Banana Topping:
4 bananas- 2 for mashing (best if they are on the riper side), 2 to be sliced on top (optional)
1/2 cup powdered sugar
Splash of milk (I used 2%)
2 teaspoons plain Greek yogurt
Directions for Oatmeal Bake:
Preheat oven to 350 degrees.  Spray a 9×13 casserole dish with non-stick spray and set aside.
In a large mixing bowl, combine the cake mix, rolled oats and butter.  Stir well until well combined and crumbly.
Spread half of this mixture along the bottom of your dish to for a crust.
Spread your entire jar of cookie butter on top.  I heated mine up in the microwave for about 10 seconds to make it easier to spread.  If it doesn't evenly spread to all the edges, no worries! It will spread out as it bakes.
  The left side above is my cookie butter.  As you can see, not spread evenly or covering completely, but that's ok!
Cover the cookie butter with the rest of your cake batter/oats/butter mixture and pat it down.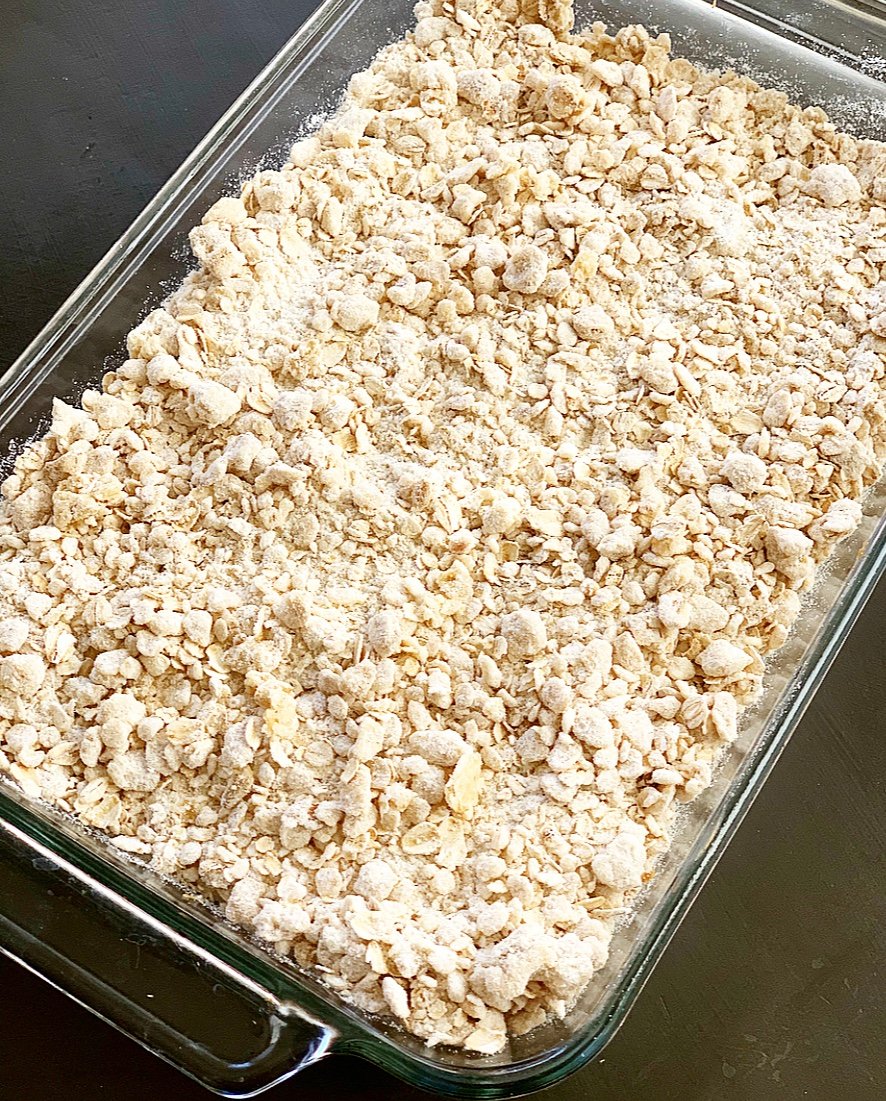 Ready for the oven!  Bake for 15-20 minutes, until top is slightly browned and center is warm.
Directions for the Banana Topping:
While it is baking, you can make your banana topping!  Mash your ripest 2 bananas of the 4 or use a hand mixer or food processor.  Mix in powdered sugar, milk and yogurt until smooth.  I used a hand mixer.  I like to put this topping in one of these bottles so it is easy to squirt on top once the baking is done.
Squirt banana topping on top and slice remaining 2 bananas to put on top or on the side!
 If you love cookie butter, do yourself a favor and make this ASAP!  Perfect for breakfast, brunch, or as a dessert!!
Shop the Post:

Be sure to check out a few more of my recipes using cookie butter below!