When it's cold outside, I find myself craving a cozy spot in my house to cuddle up!  Today I'm sharing a few simple tips for creating a cozy corner in your home!

This post is sponsored by Joss and Main, but all products were selected by me and opinions are my own.
I've been working on revamping my boys' playroom (can't wait to share!) and wanted to create a cozy, adult-sized corner in the room for reading, watching movies, and snuggles…not to mention those tiny, kid-sized chairs don't always make me feel great about my fitness.  Haha!
While this spot is in my playroom, these tips could apply to any space in your home!
Now, let's get cozy….
Oversized Chair and Pouf
I love how an oversized chair just swallows you up and feels like a big ole' hug!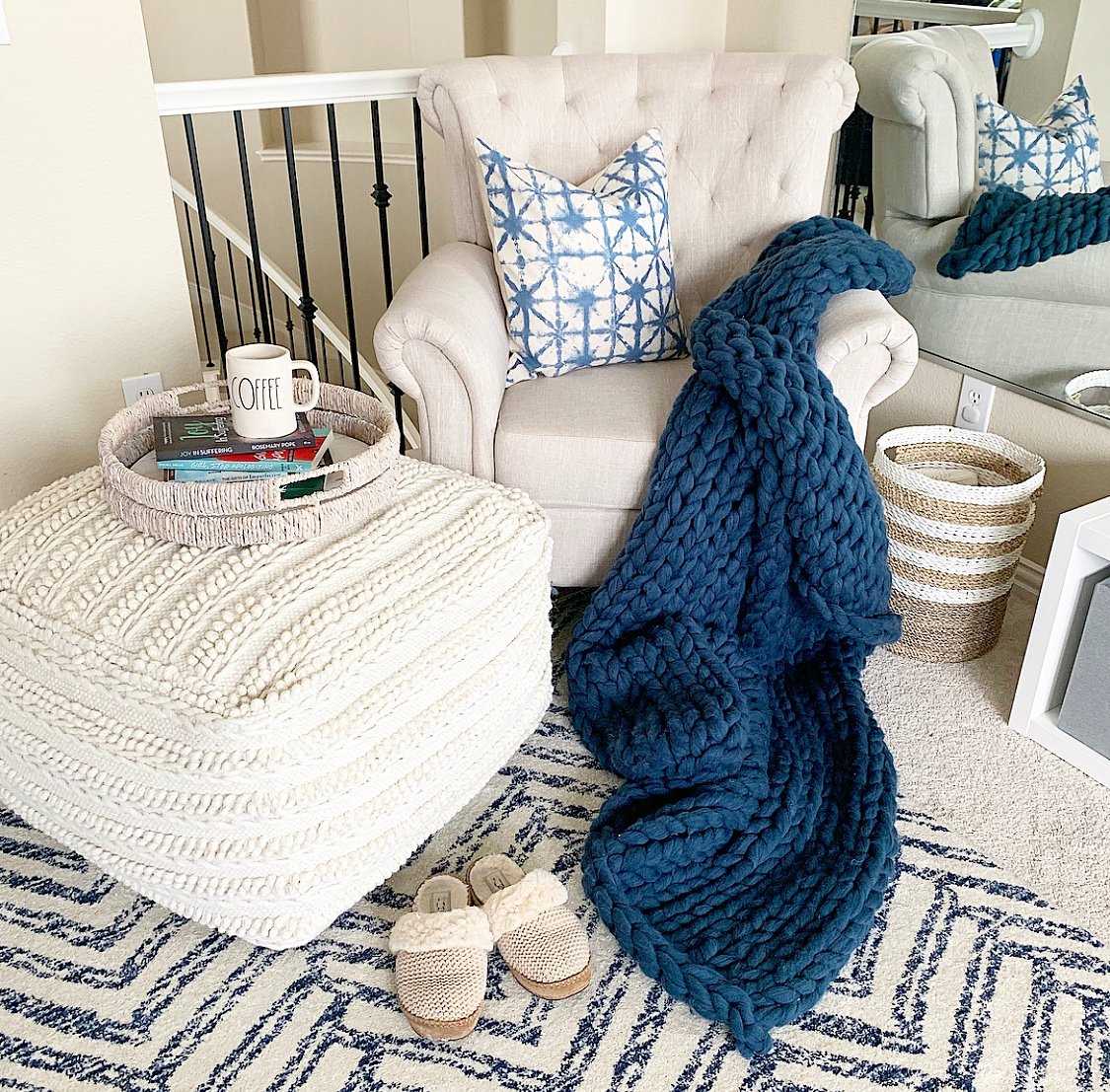 This chair was the perfect size, comes in three colors and was on major sale.  I love that this neutral shade would work in almost any corner of my home!
This cream colored pouf is HUGE and SO cute!  It doubles as an ottoman, side table or chair of it's own, and I LOVE the texture it adds to the space!
Blankets and Pillows
I mean, no brainer, right?!  But it still has to be said that blankets and pillows create instant cozy!
This chunky blanket is soft and cozy and just the pop of color I wanted.  It comes in five colors and is WAY more affordable than similar blankets that I have seen listed for $200-$300.   Our blankets just get loved on way too much to spend that kind of money!  This is the same look at a budget friendly price point, and I think it adds great texture (and cozy, of course!) to the corner!
Pillows also add to the comfort of a space and can be a fun way to show your personality!  I loved the tie dye look of this one and the mixture of patterns, but with a cohesive color palette.
The Cozy Extras
Now that your scene is set, you can add in some fun extras!  Your favorite furry slippers, a good book and a hot mug of coffee, tea or cocoa….or as my Will likes it….a mug of marshmallows with a splash of cocoa.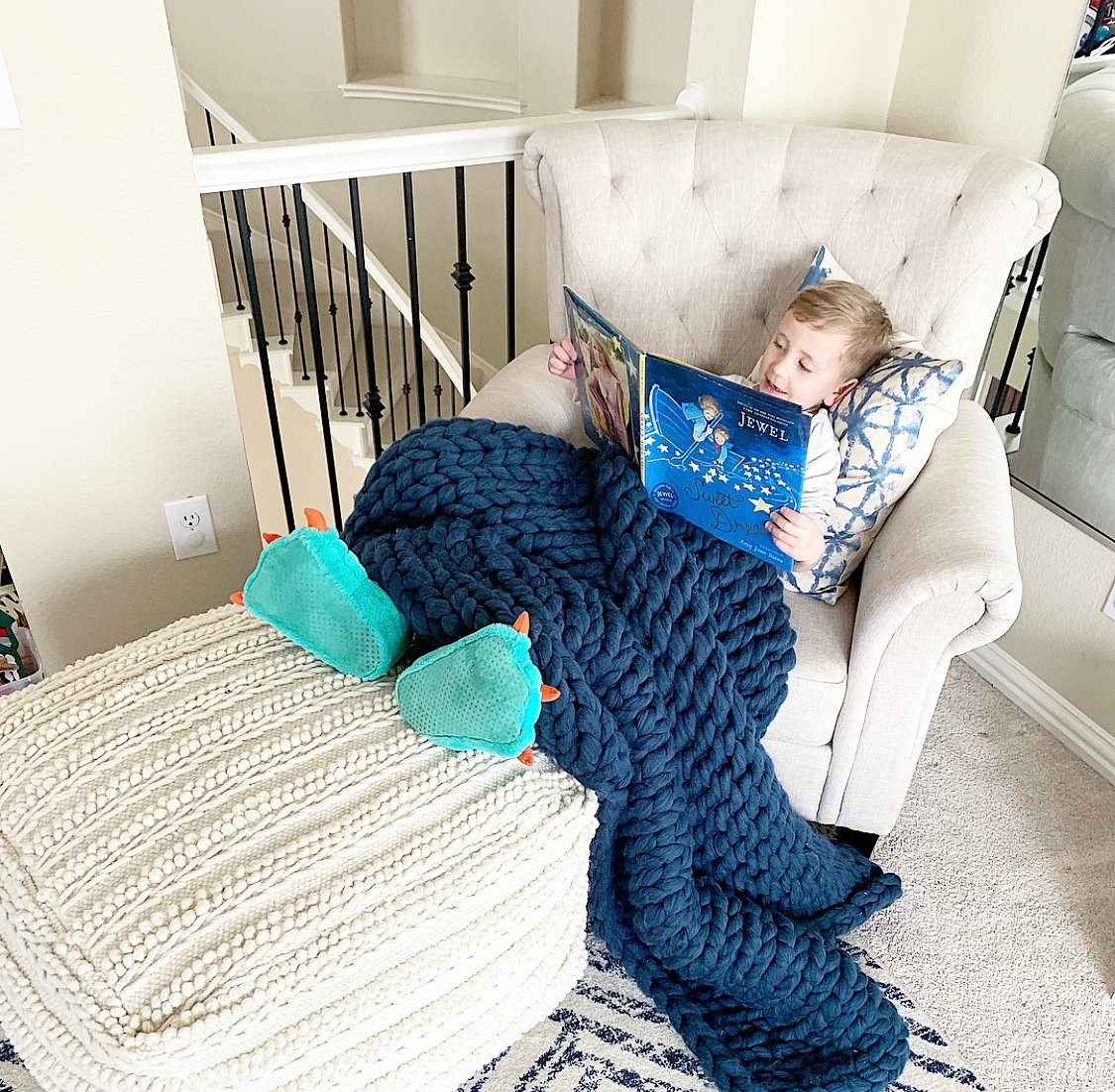 And I couldn't fully commit to this post without testing the full coziness of this space.  Will was a willing volunteer….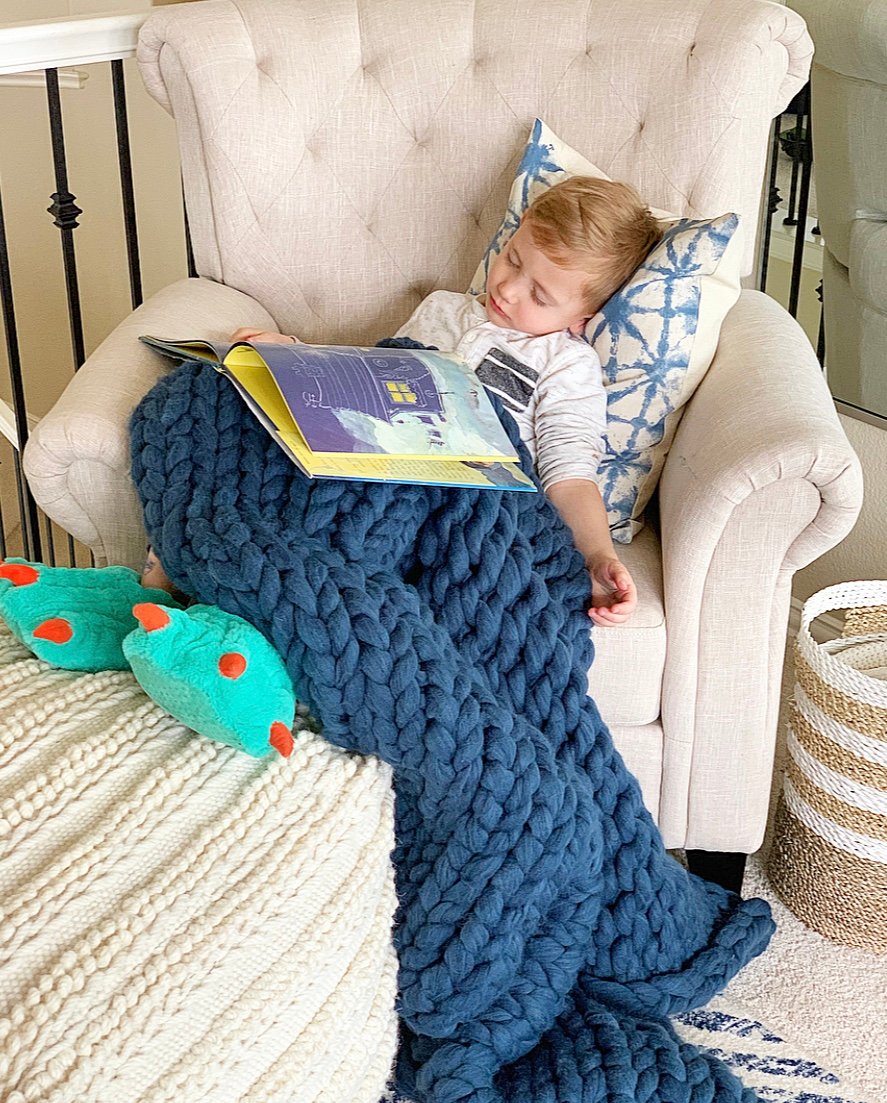 And it passed with flying colors!  My kind of cozy!  Sweet dreams little buddy, and thank you Joss and Main for making our cozy corner complete!