One of the first projects on my list for 2019 was organizing my boys' playroom, and today I am SUPER excited to be partnering with The Container Store to share our playroom reveal! If you are here from Amanda's blog, welcome! I loved her tips for organizing small spaces! Be sure to check out the other bloggers at the bottom of this post as we share how to organize different spaces throughout your homes!
THE PLAYROOM BEFORE
This post is sponsored by The Container Store, but all products were selected by me and opinions are my own.
A little over four years ago, when I found out I was pregnant with my second son, I put together a playroom for the two of them!
It made my heart SO happy to envision my two boys playing together in this space!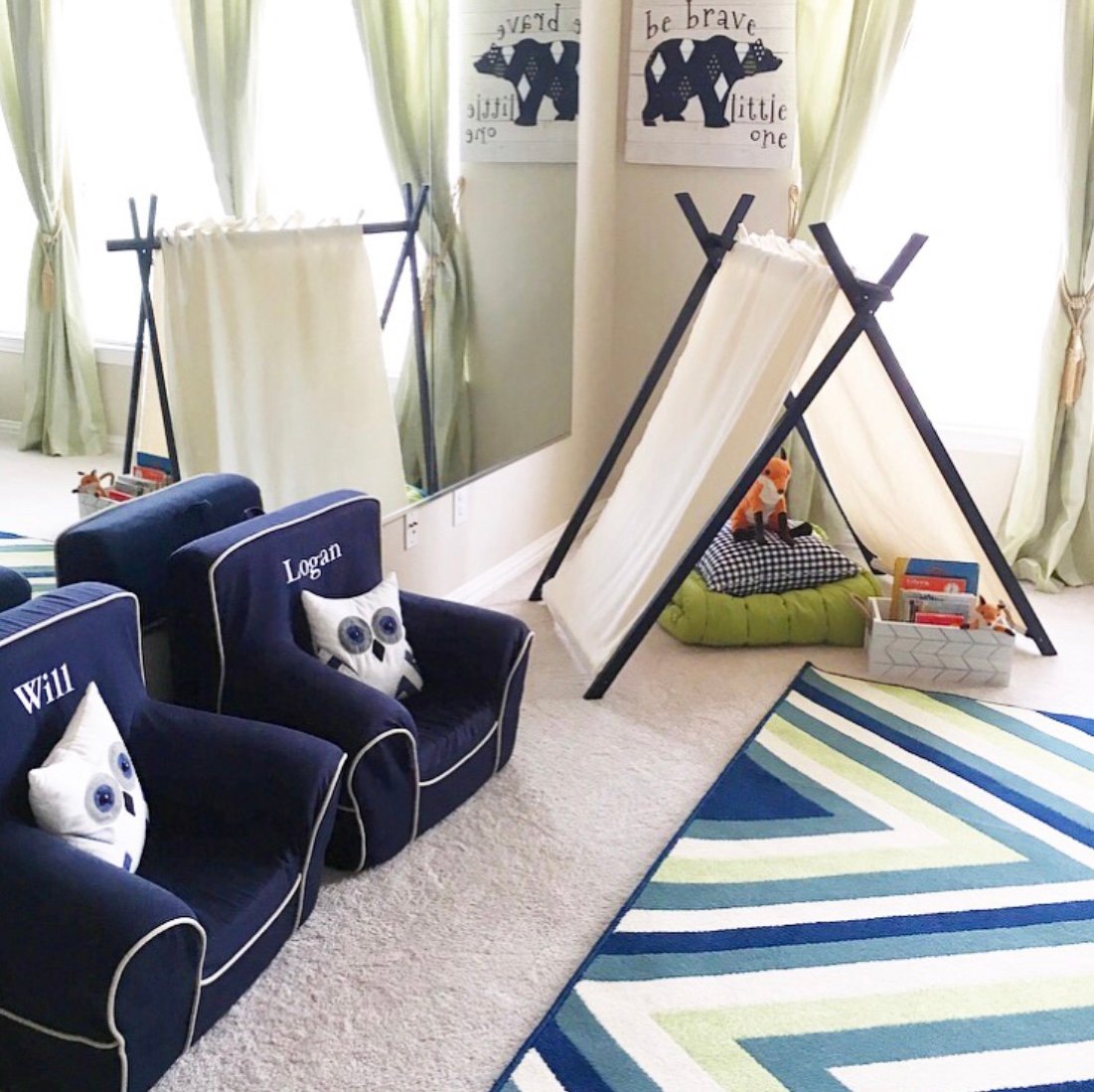 A sweet little tent my Dad made for my oldest son's first birthday!
A mini table for reading, playing and drawing….so sweet!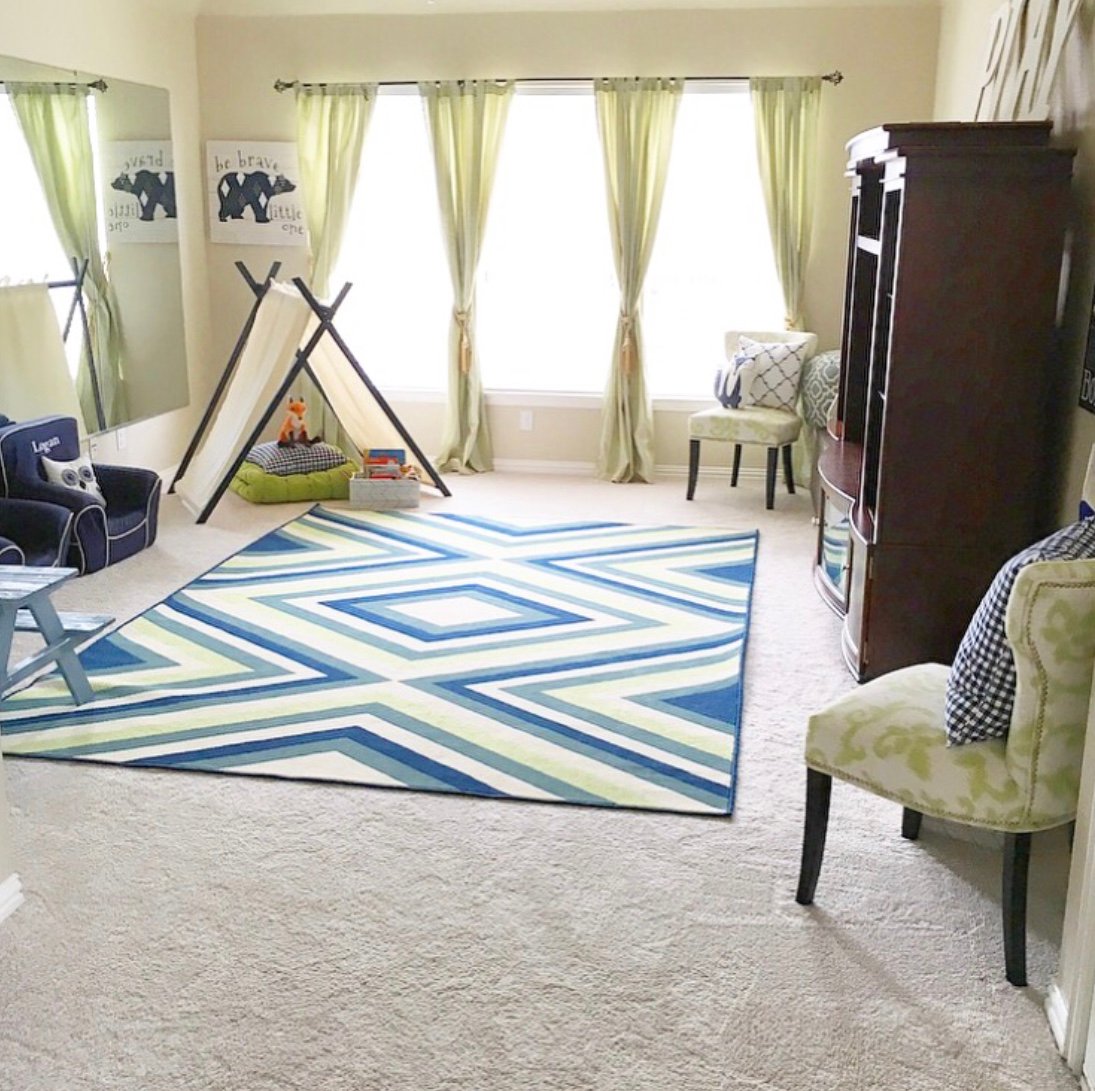 This may look fairly put together to you….and four years ago it was…
REAL LIFE
This is how you know we're friends…I'm about to show you the state of this playroom when this project began in January. Brace yourself friends…it's not pretty!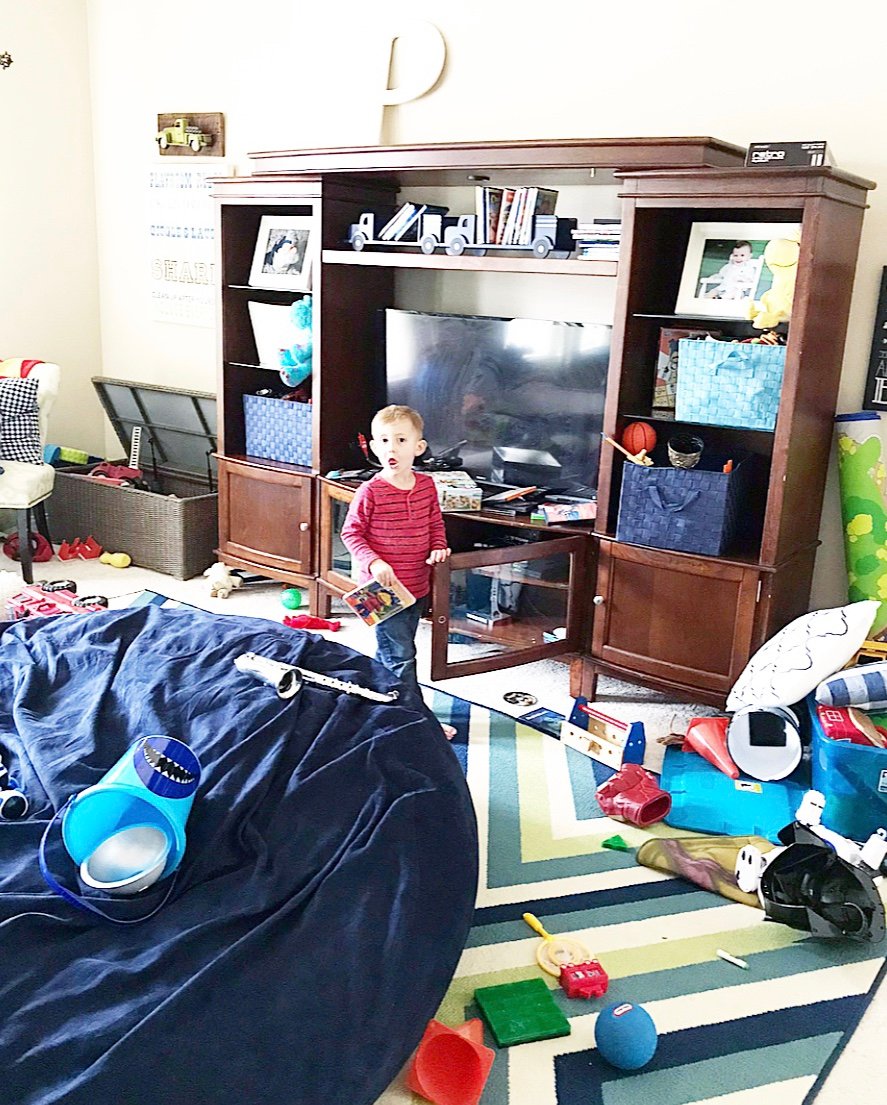 Notice the letters that once said PLAY….only the P stood the test of time. A moment of silence for the LAY that just didn't survive the two rowdy boys and their friends that frequent this room.
The sweet little tent was also destroyed, despite numerous repairs, and your eyes are not deceiving you…that curtain rod is bent thanks to one of my son's friends who hung on it….BOYS!
Oh, and clearly, there is ZERO organization happening here!
PLAYROOM PROBLEMS
This playroom was a constant source of frustration for me because it was always a wreck! However, when I looked around, it was not my boys' fault. When they were younger I wiped down every toy, every single day, and everything had a place. That had gotten lost along the way, and here is what I noticed:
– My boys had outgrown the seating and tiny table in this room and needed a "workspace"
-We needed to clean out all the broken toys and toys they had outgrown.
– The GIANT beanbag my hubby surprised us with at Christmas last year, while great for family movie nights, needed a new home. It was taking up all the play space.
– Everything needed a clear home. This room has no closet, so all the storage has to be out. My boys would "clean up" by just throwing things in buckets, but there was no rhyme or reason.
-There were not enough places to store toys
– I wanted to just update the look of the space to make it lighter, brighter and a little more mature as my boys are getting older.
THE PROCESS
Step 1: THE PURGE
My in-laws were here to visit when I started this project, and were a HUGE help in getting this playroom ready! We went through all the boys' toys and threw away or donated toys that were broken or had not been played with in a long time.
Step 2: SORTING
We then divided everything into piles by category. I needed to visually look at what we were keeping and figure out the best ways to store them.
Step 3: SHOPPING
The fun part!! I headed to The Container Store to look for storage solutions.
THE PLAYROOM AFTER
Room to play and TONS of storage! This playroom makes me happy now!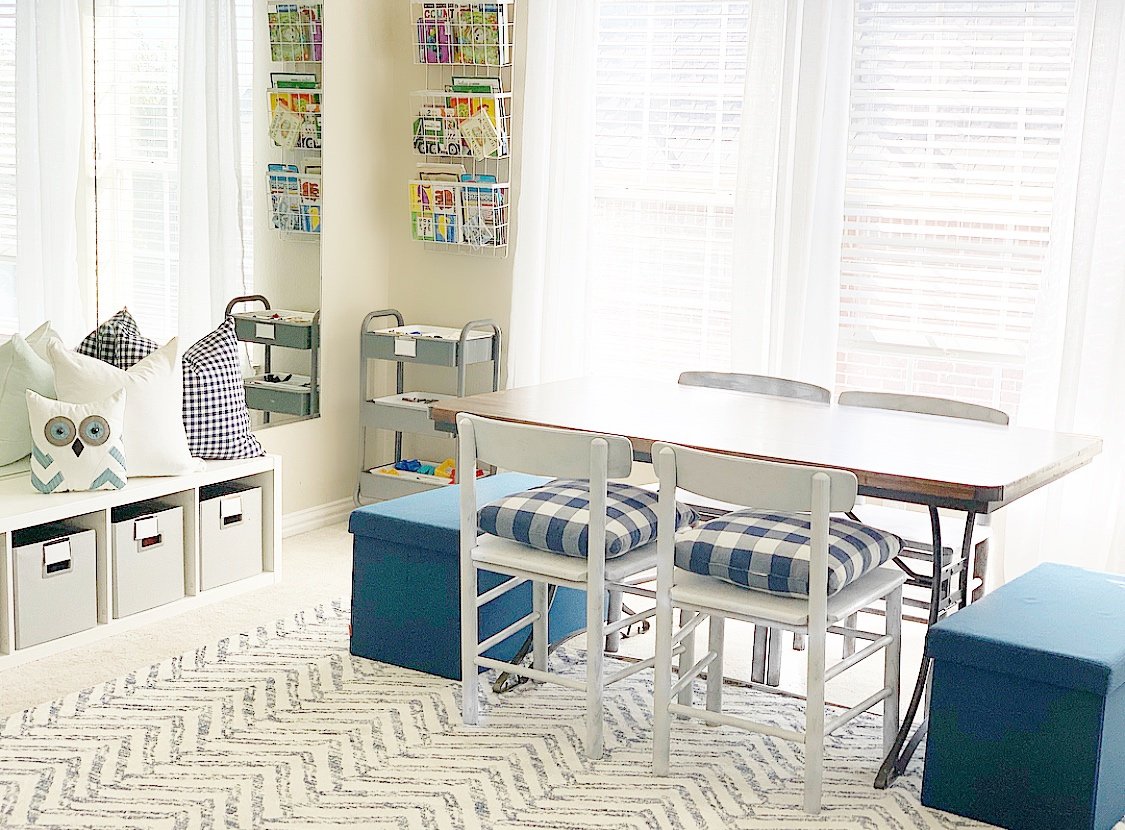 We replaced the tiny picnic table with this larger table that I found on a garage sale site…so it won't bother me one bit if it gets banged up a little. The boys now have space to build, draw and create, and there is plenty of seating for friends.
This was one of my FAVORITE FINDS…these storage box benches on either end of the table are super sturdy and act a seating.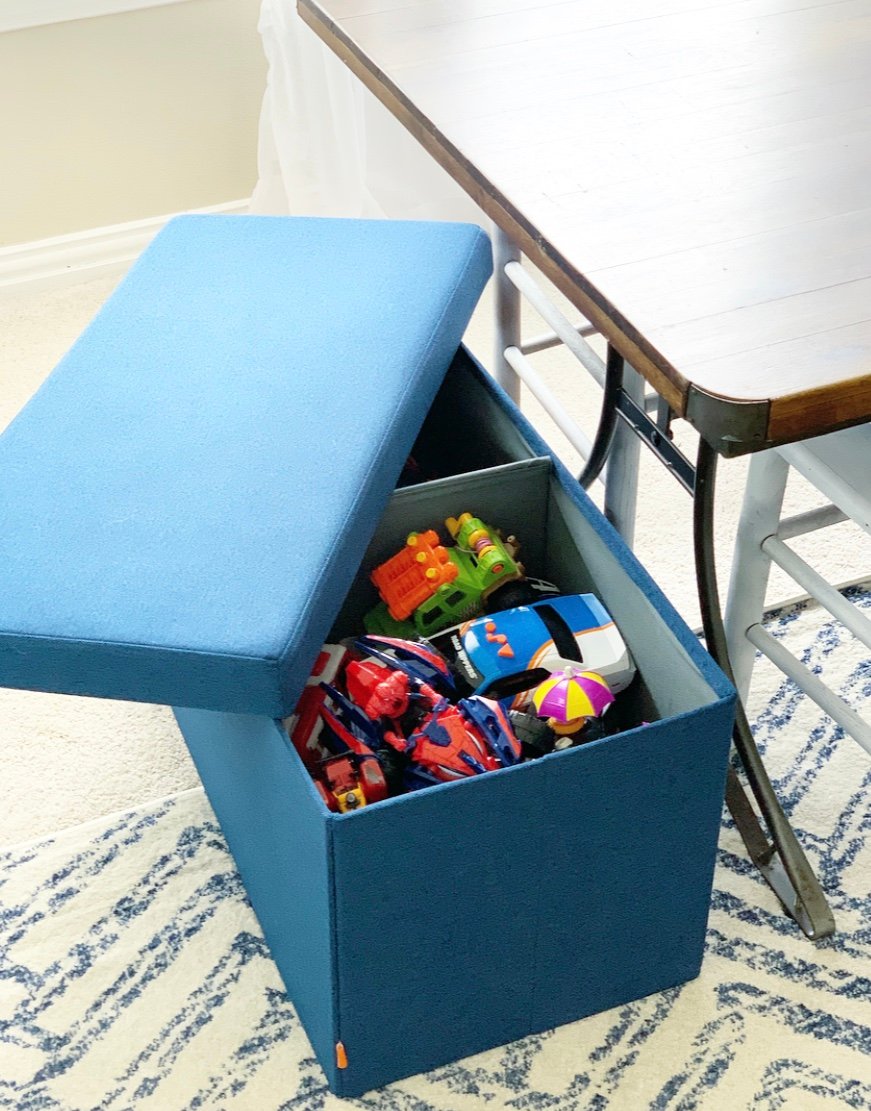 Remove the lid and they also house larger toys. There is a division in the middle that is removable. I LOVE pieces that serve a dual purpose. They come in three colors, but the navy was just perfect for us! You can find them here.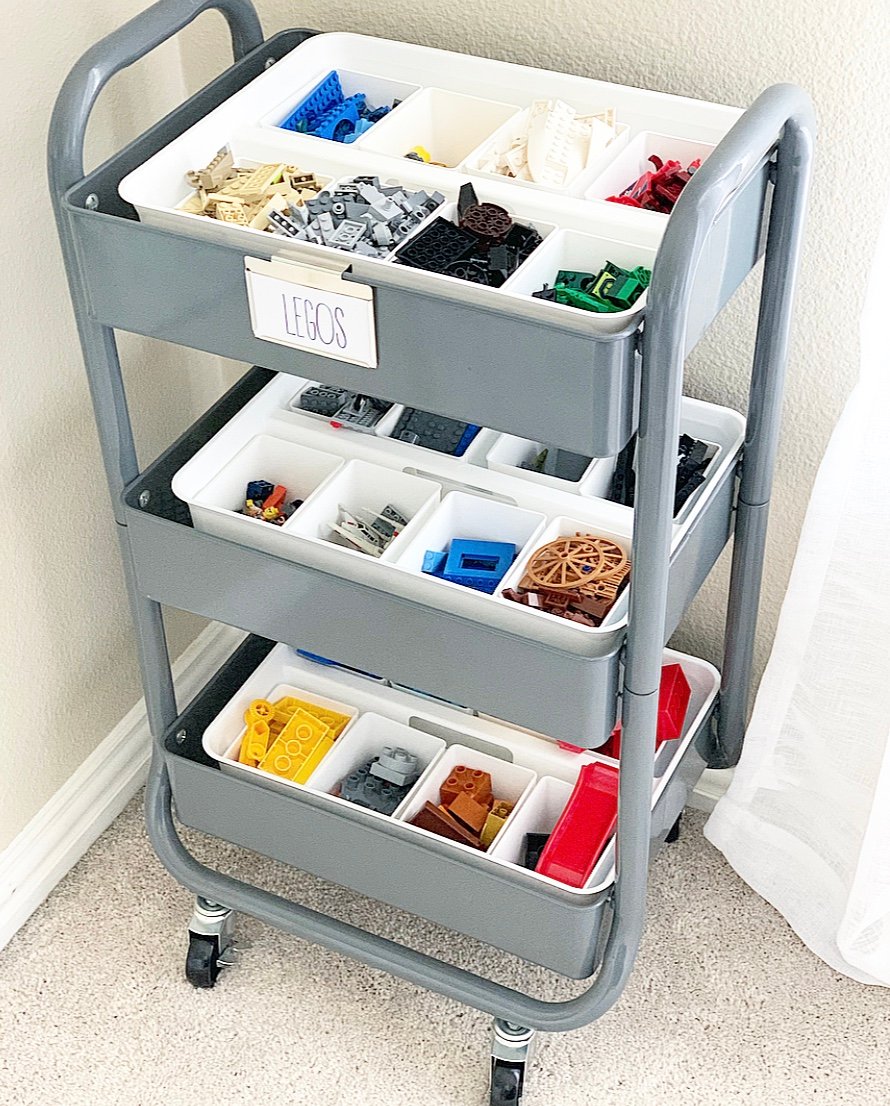 My boys love to build with Legos. They typically want to follow the instructions once, and then just create things on their own. This three tiered rolling cart was the perfect storage solution. It comes in four colors and rolls easily, so the boys can just pull it over to the table! These handled storage trays are perfect so they can just lift them out to play, and the small inserts keep all the colors divided to make building easier! GAME CHANGER!
The back wall is lined with these sturdy handled storage cubes . Everything has a place!! And these bin clip label holders just slide right on any container to name what is in each cube. If your kids cannot read yet you can always include pictures on these as well! My six year old was SO excited to read each one!
This large piece got a little makeover with paint and new knobs! You can read my Beginner's Guide to Painting Furniture here.
My mother-in-law and I also hung removeable wall paper to brighten up the space.
These sturdy plastic woven storage bins house toys that are too large for the cubes. They are also all labeled with the bin clip label holders!
Most of my boys' books are in their bedrooms, but I did add these hanging wall folders to this space for a few books and art supplies! This large navy woven basket and the white and navy basket hold more toys.
I also added a little sitting area that is large enough for adults…perfect spot to read or snuggle up to watch a movie. You can see more details about this cozy corner here.
Crazy the difference the right storage and a little hard work can make! I think my boys will enjoy playing here for years to come and their mama won't lose her mind with all the mess!!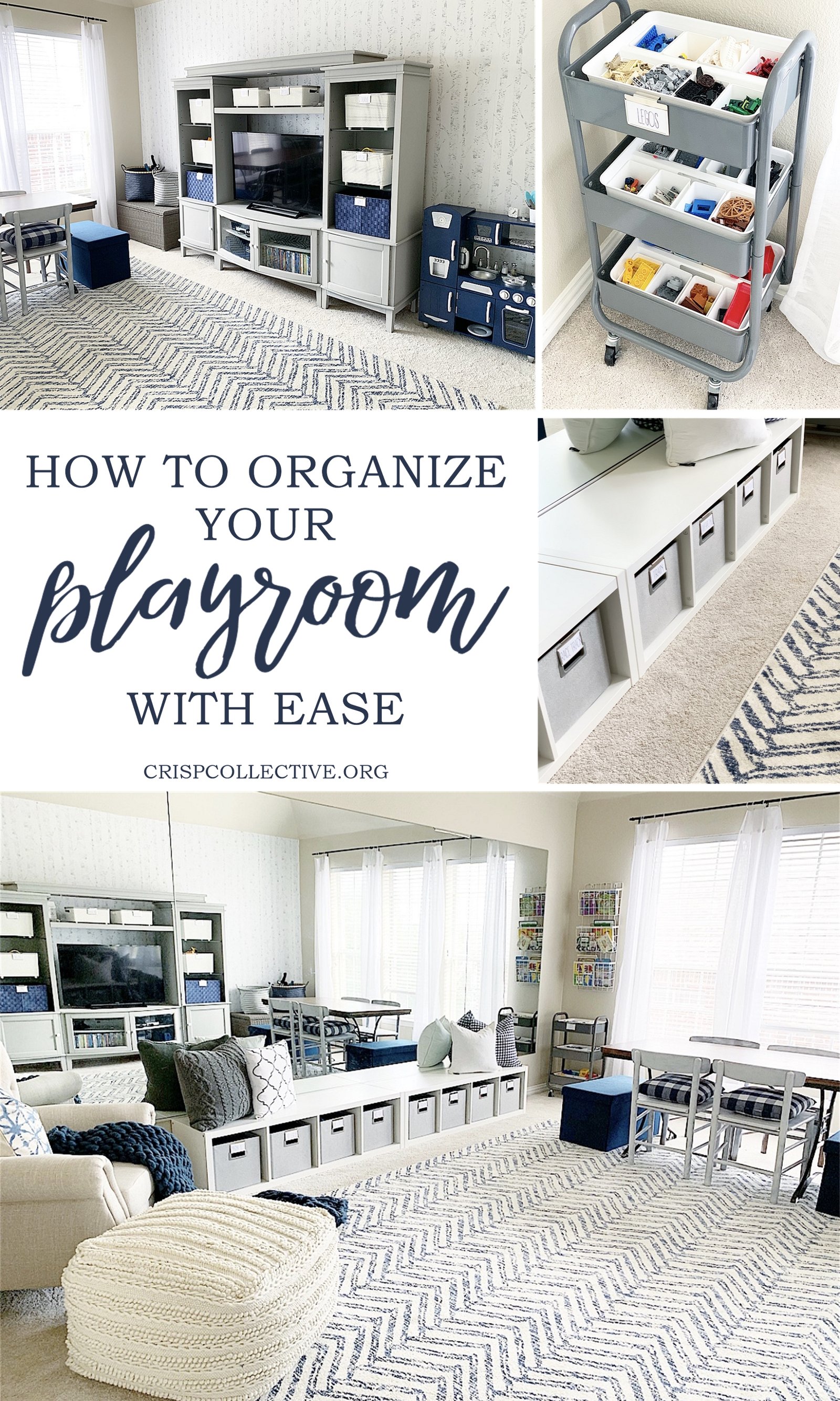 A HUGE thank you to The Container Store for partnering with me for this project! It was SO much fun!
Shop the Post:
You can find this playroom rug here.
Check Out More!
Be sure to head to Brendt's blog at She Gave it a Go next to check out her newly organized pantry! Mine needs as all the help it can get!
The talented bloggers below are all sharing some tangible tips to clean and organize every area of your home!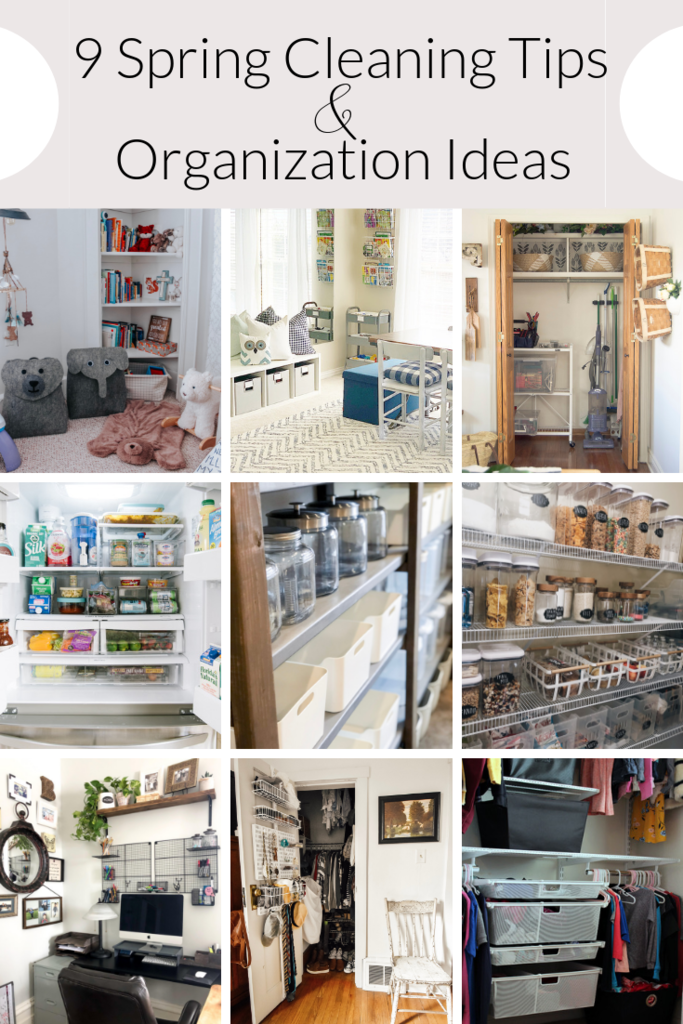 Grace In My Space | Mid County Journal | Crisp Collective | She Gave It A Go | Jenna Kate At Home | Designs By Karan City | Girl Meets Farm Boy | The Tattered Pew | Aratari At Home