Today I'm sharing a super simple scramble made from ingredients that can be found at Trader Joe's!
If you follow me on Instagram, you know I have a series called Trader Joe's Tuesday where I share easy Trader Joe's recipes every Tuesday!  This simple scramble is great because it works for a slow weekend morning or for dinner on a busy weeknight!  Breakfast for dinner is always a hit at our house!  Feel free to remix these ingredients to fit what your family likes!
The Ingredients:
1 bag of shredded hash browns- found in the frozen section
Funny side note:  My bag of hash browns is not twisted it's actually printed wrong…is there some sort of prize for that?  Haha!
1 package of pancetta
1 bag of Mexican style cheese blend
1 bag or carton of sliced mushrooms
6 eggs
Teeny tiny avocadoes
Pico de gallo
Directions:
Cook the hash browns on the stovetop per the package directions.  This will serve as the bottom layer of our dish.
Spray a large skillet with cooking oil and cook the mushrooms on medium-high heat for 3-4 minutes by themselves.
Add in pancetta and cook the two for an additional 4-5 minutes, or until pancetta is 3/4 of the way done.
Crack 6 eggs in a bowl and whisk.
Add them into the skillet and scramble along with the pancetta and mushrooms.
When the eggs are almost done, turn off the heat.  Sprinkle the cheese  over the mixture and cover with a lid for a few minutes until cheese it melty.
On a plate or in a bowl, layer the hashbrowns on the bottom and top with the egg mixture.  Slice an avocado and grab a scoop pico de gallo for the side.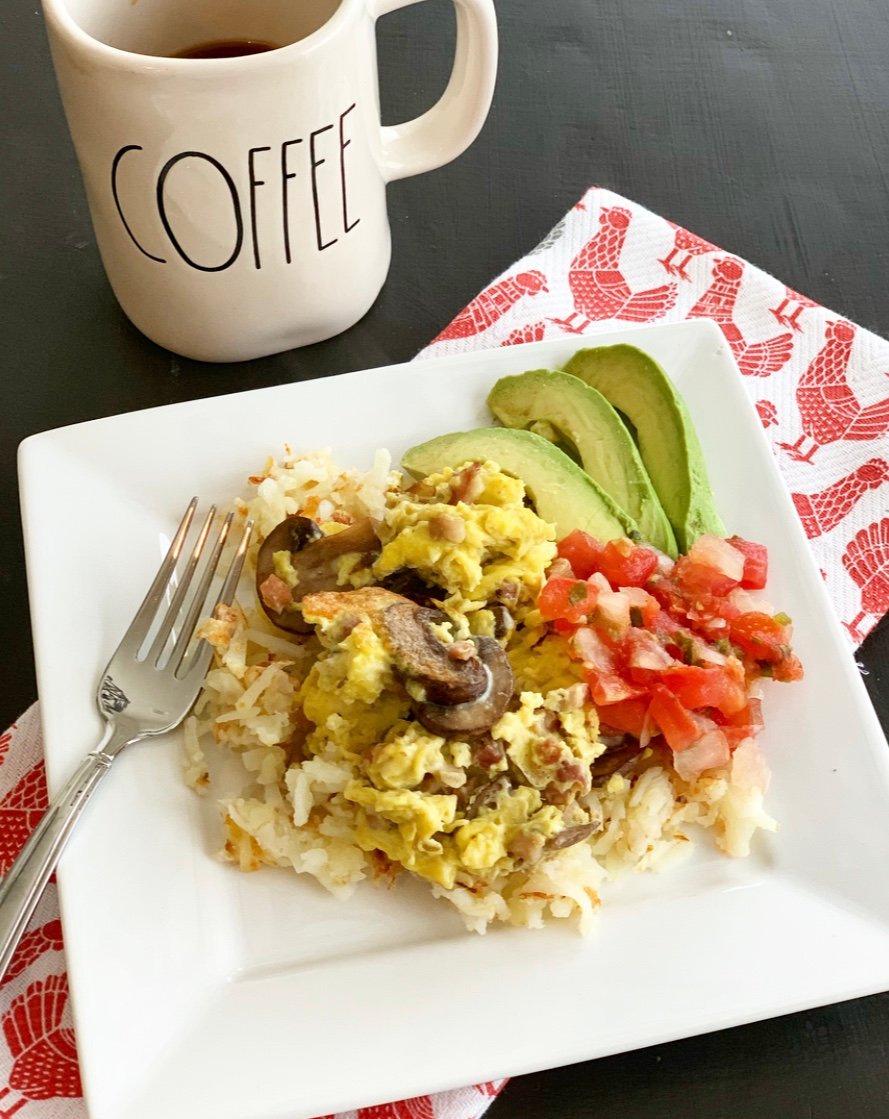 Season with salt and pepper if desired and breakfast/brunch/lunch/linner/dinner is served!  Eat this any time of day, and it's sure to be a hit!
You can also remix it by adding anything your family loves or items that need to be used from your fridge….spinach, peppers, guac, bacon….the sky's the limit!
If you love Trader Joe's, be sure to check out these simple recipes here.