Because we go so often, I get lots of questions about things to do and places to eat in Gulf Shores, so I thought I'd share a few today!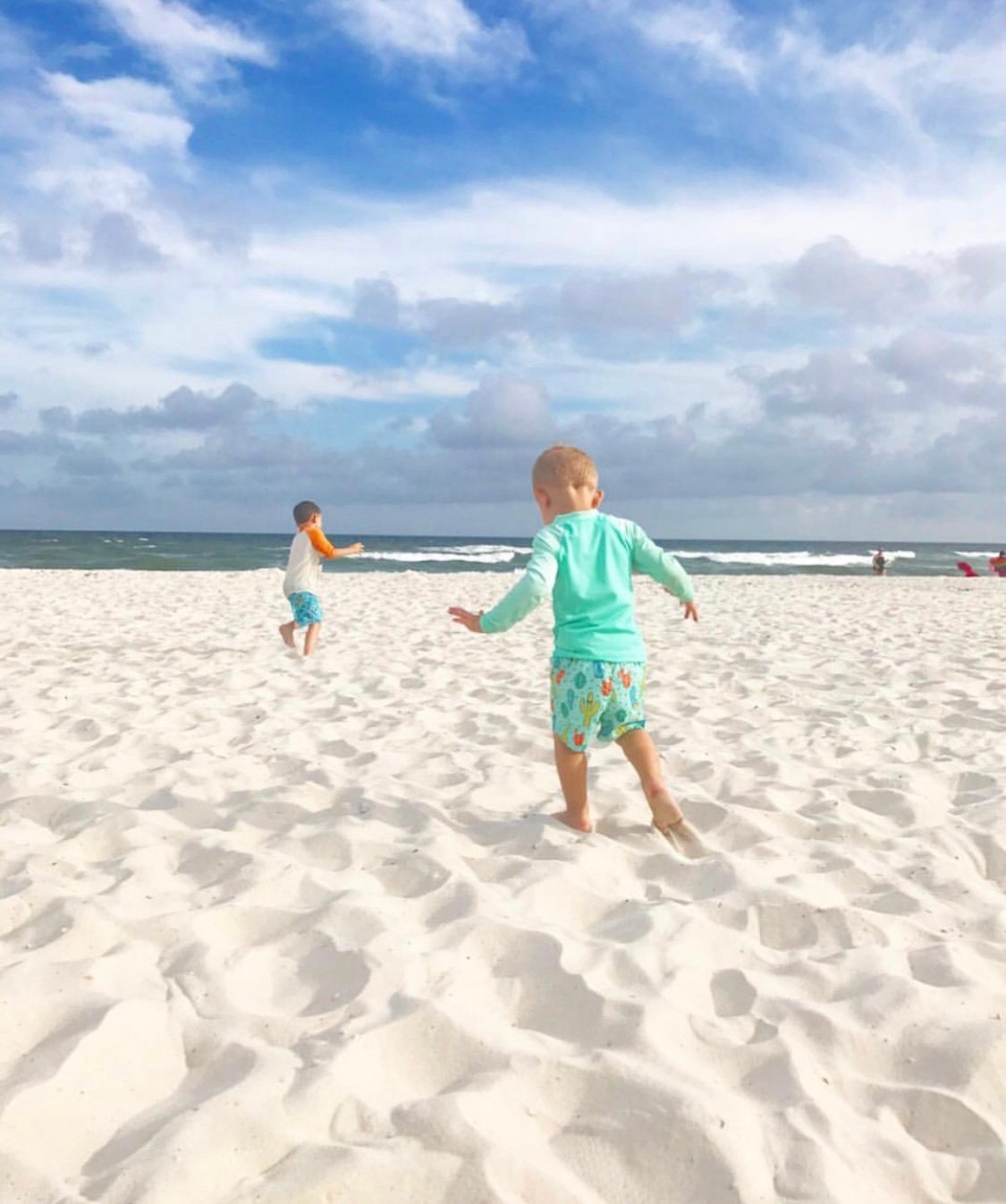 Gulf Shores, Alabama is our happy place.  My inlaws live there, so it's where we go to visit and spend time with them.  My father-in-law has gone there since the seventies.  My husband grew up vacationing there and looking forward to big family trips with his cousins each year, and now my boys want to go every chance we get!My hubby also proposed to me on the porch of my in-laws house, which was also once his grandparents' house, on the fourth of July…with a donut…and a ring!
You get the point, this place is really special to us!!
I had honestly never heard of Gulf Shores until I met my hubby, but he took me to the "Redneck Riviera" and it seemed like home.  We might even retire there someday!
All that being said, I am no expert, but because we go often, we definitely have some favorites that we like to visit again and again.   All of these places are geared more toward families, as we are almost always with our boys on these trips!
The Beach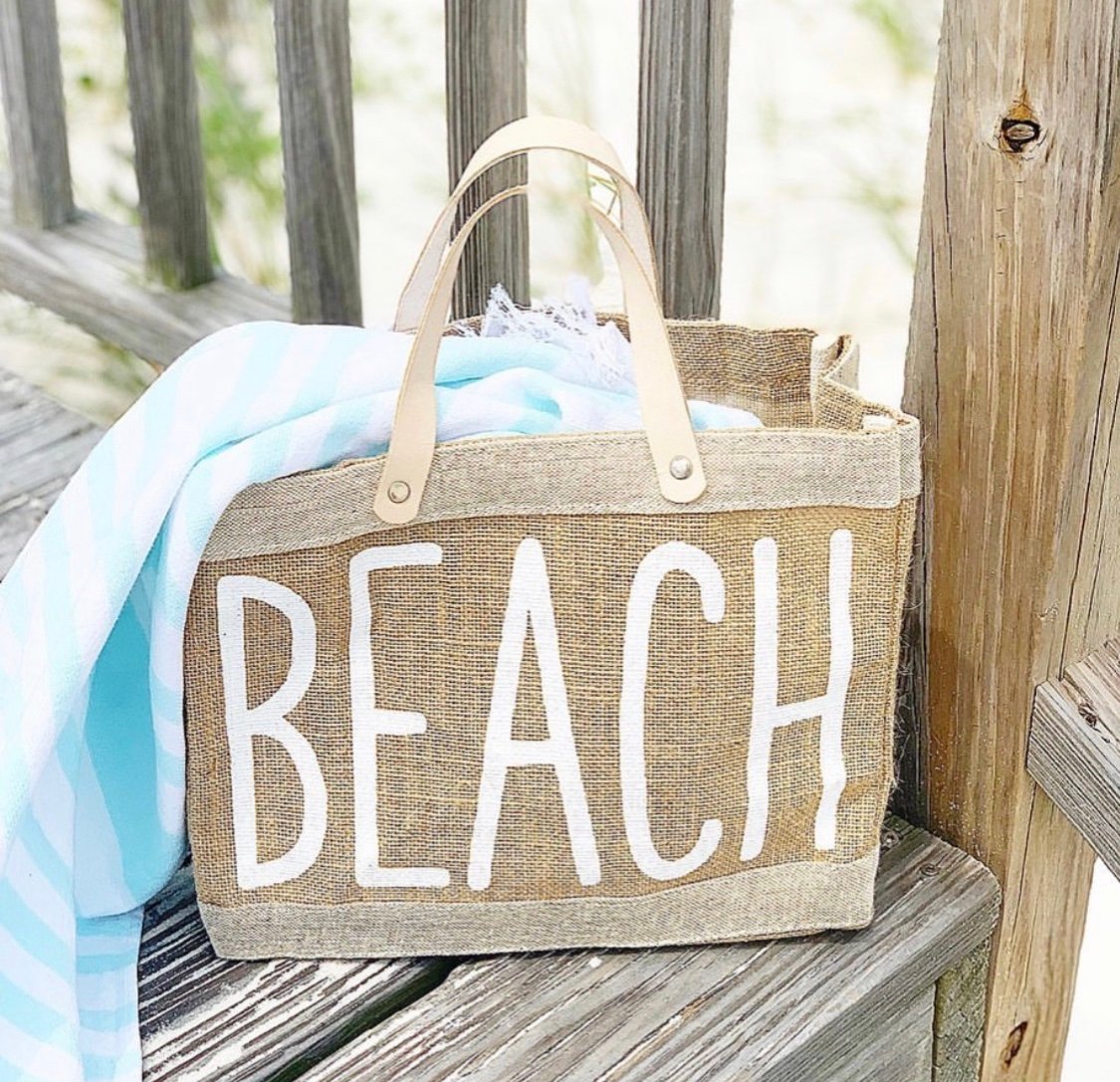 Clearly, this is our favorite part of visiting Gulf Shores.  As a Texas girl, I thought Gulf Shores would be similar to Galveston or Corpus Christi, since it's also the Gulf of Mexico.  However, Gulf Shores has white sand and much clearer water.  Not as clear as some of the Florida beaches, but clearer for sure!
They do a great job of keeping the beach safe and clean!  My inlaws are part of a sea turtle rescue group because so many turtles come up and lay their eggs here.  I have yet to be there when one of the nests hatch, but I'm still hopeful!   My boys love to go at night to "hunt" for ghost crabs, tiny sand colored crabs that are all over the beach.
Sand Castle U
If you are traveling with a group and have a number of kids, this class was so fun!  The instructor teaches some easy methods for making sand castles stick together and how to add some fun details.   This is my masterpiece above!
Find info about how to book here. 
The Hangout
The Hangout is right at the T between West beach and Orange Beach.  It is a tourist attraction, and not my favorite food, but still a must stop for us every time!  The inside is decorated with fun signs, vintage toys…
pez dispensers…
and rubber ducks!  It is a fun atmosphere and casual enough that you can just walk in straight from the beach.
There is an outdoor foam party every hour on the hour.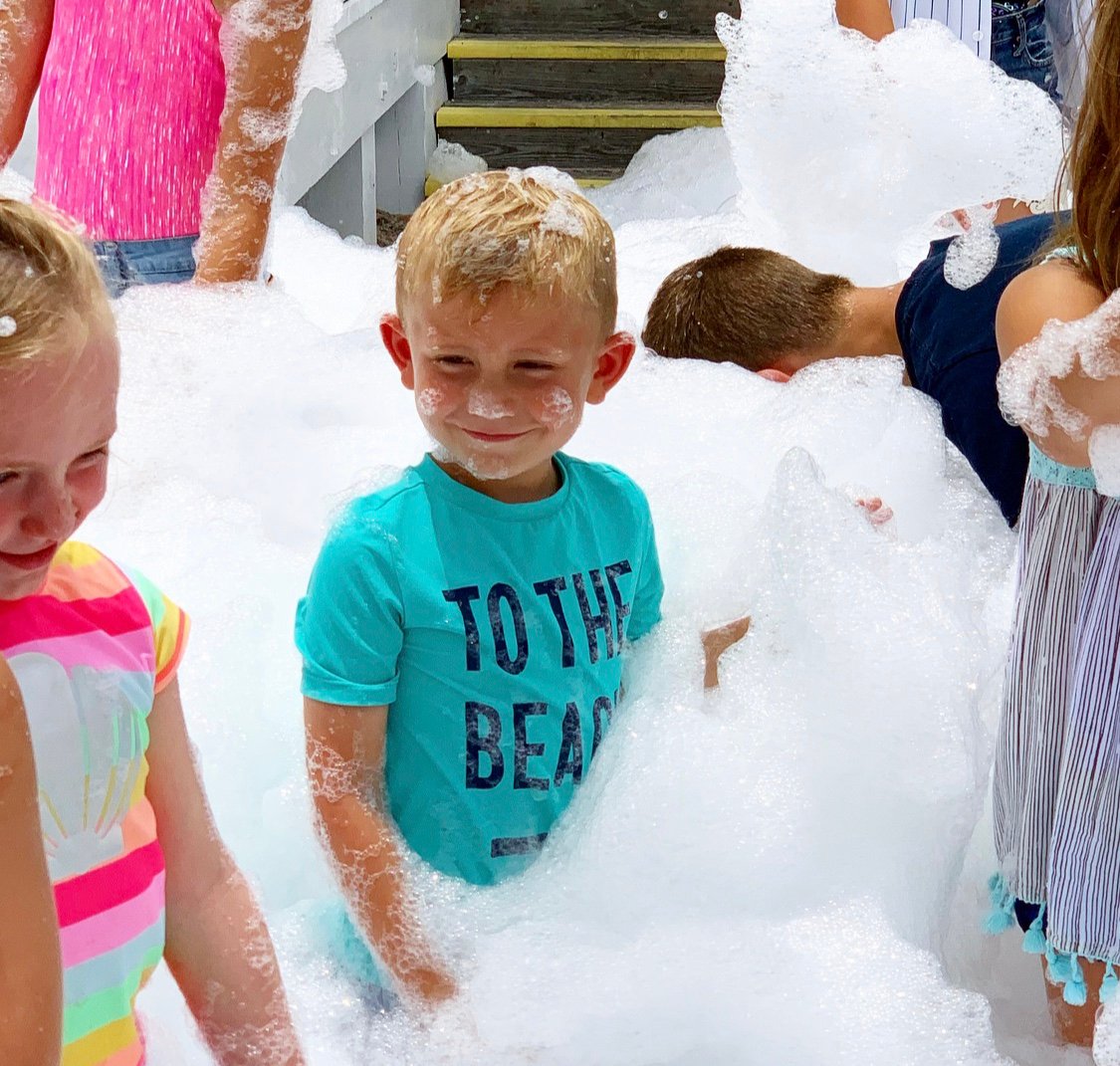 We always write down a wish and add it to the wishing wall outside and my kids like to play with the outdoor games.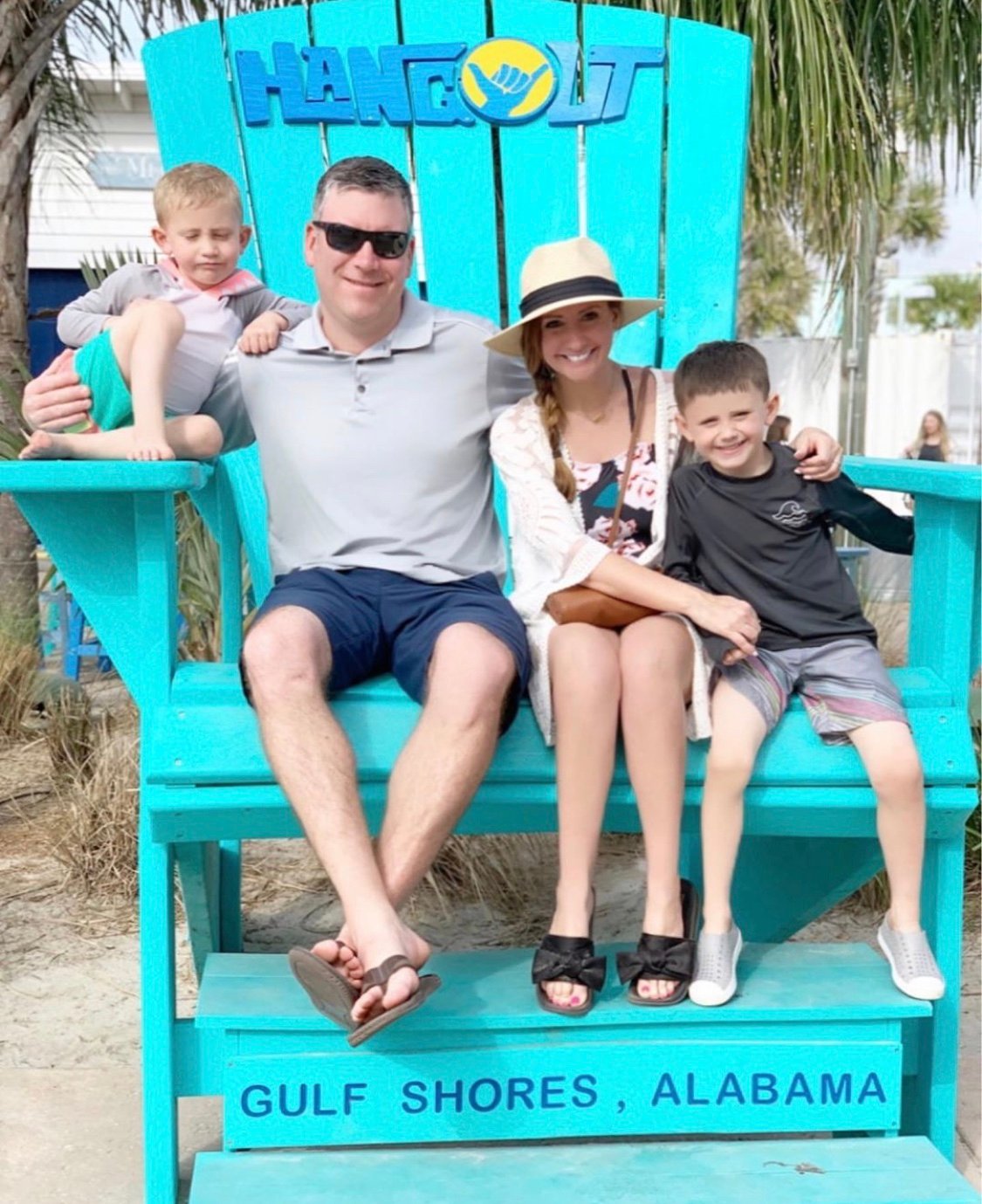 Oh, and lots of photo op spots here….Adam's favorite…haha!  If you have littles (probably 5 or under), they also have a Pirates and Princesses breakfast that my boys thought was fun!
You can find more info and the menu on their website here.
Picnic Beach
This restaurant is fairly new, very close to The Hangout and one of my new favorites!!  It is SO pretty, and probably my favorite food in that little area!
Lots of fresh, healthier choices, smoothies, BBQ and fish.
There is indoor and outdoor seating, board games for the kids and foozeball outside.  You can also get your food to go, and take it over to the beach.
If it were me, I'd eat here and then just walk over to The Hangout to grab a drink and let the kids play!
Find more info here. 
The Gulf
The Gulf is further down Orange Beach, almost to the Florida line.  It is all outdoor seating on the water and is another favorite!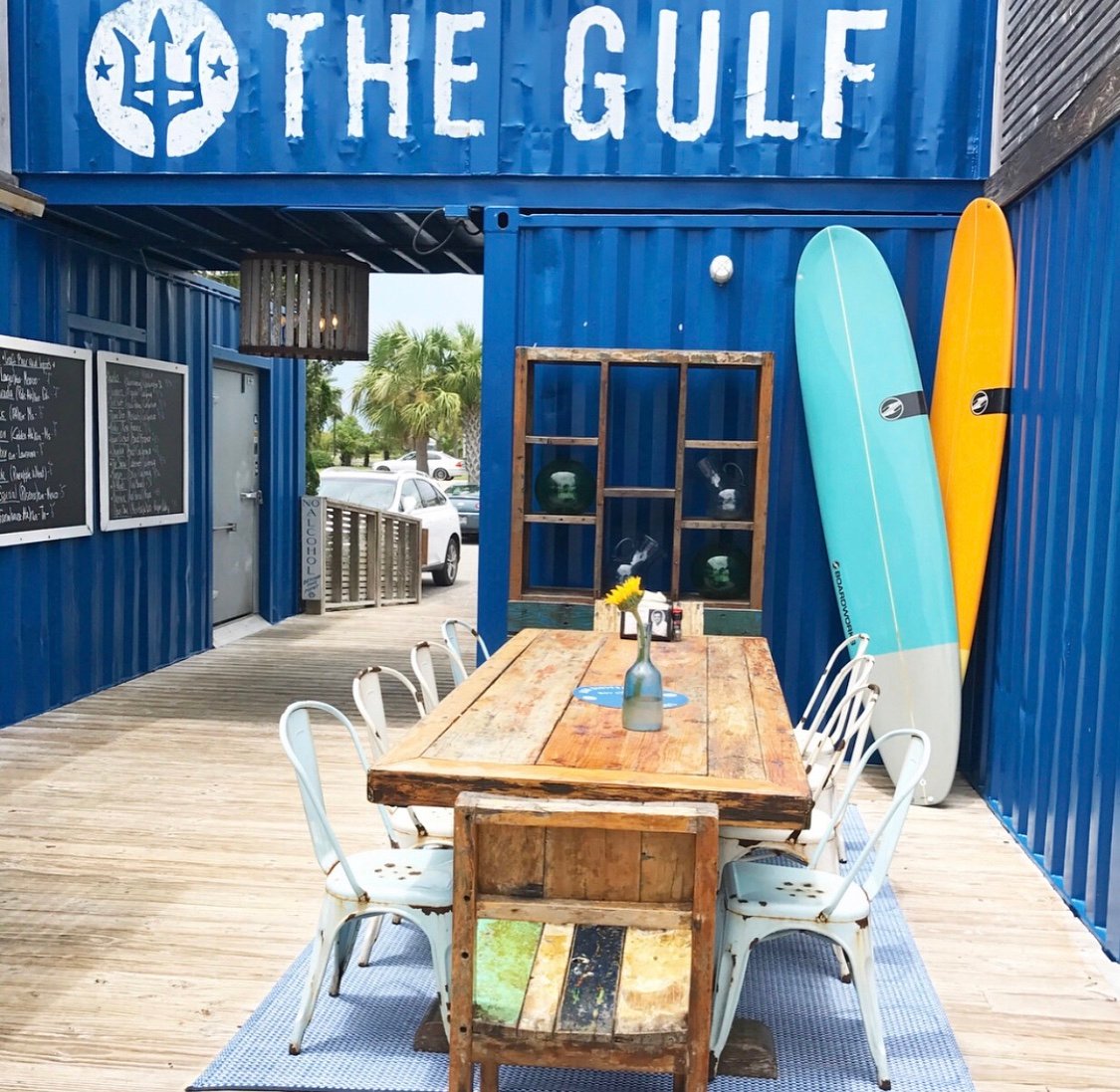 Their menu changes slightly daily, and I love all the eclectic seating.  There is space for the kids to play in the sand and telescopes for them to look out into the Gulf.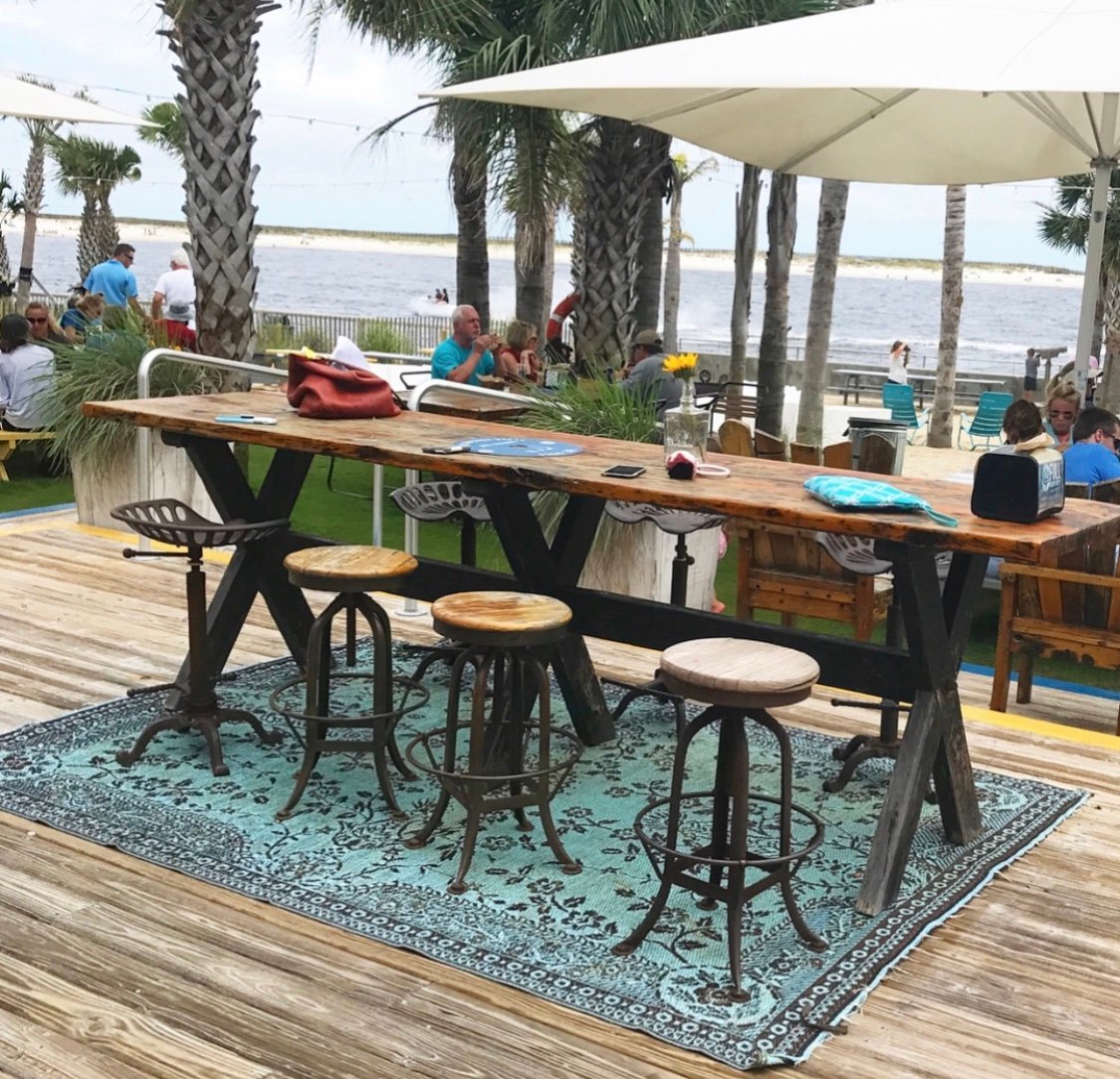 Find more info here. 
LuLus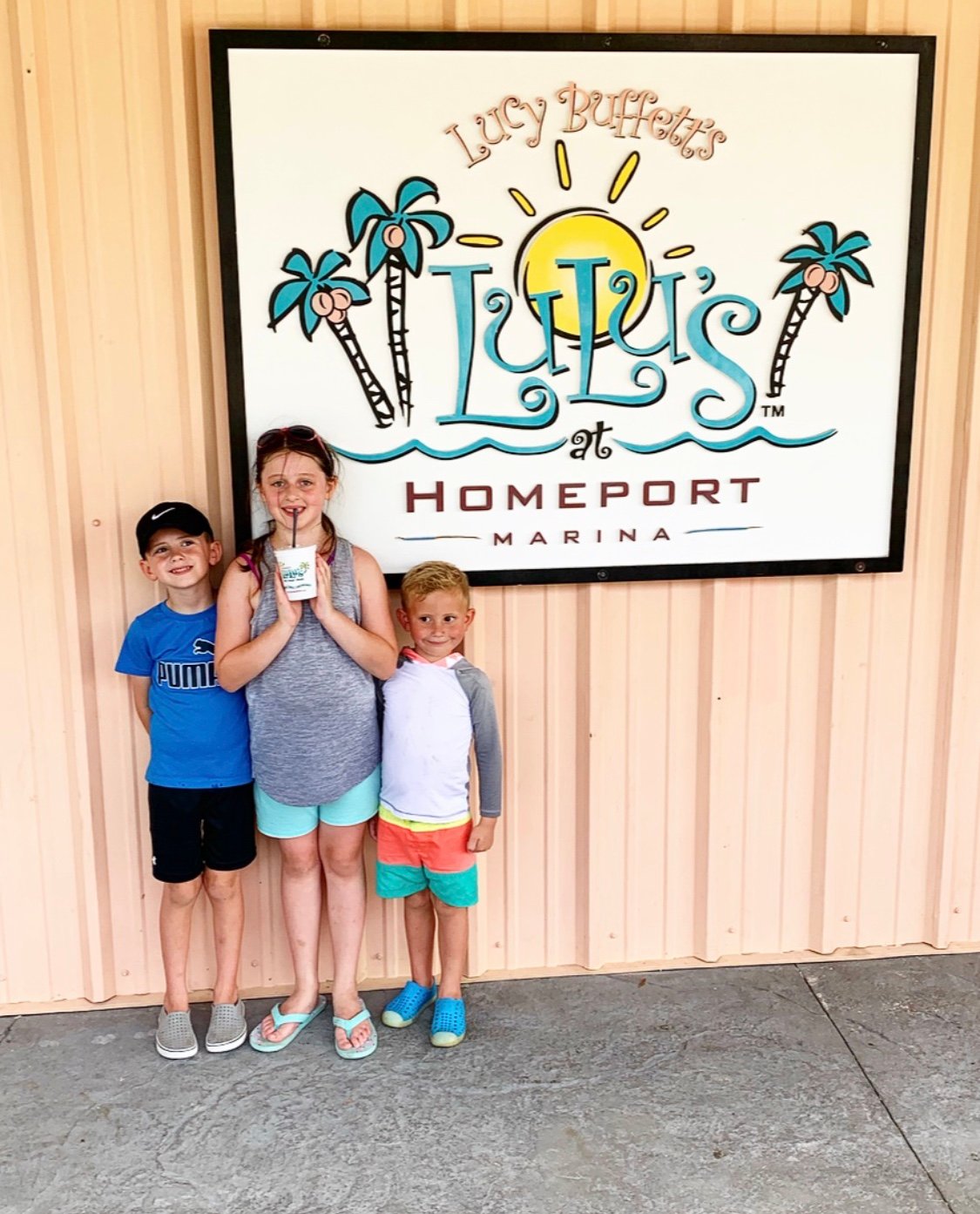 My father-in-law calls this the biggest tourist trap in town, but I still like it! lol.  If you're not familiar, Lucy is Jimmy Buffett's self proclaimed "crazy sister" and she has several locations of her restaurant Lulu's.
The one is Gulf Shores has a large climbing/zip line structure outside that Logan and my niece loved.
There are places to play in the sand, an arcade, gift shop, all the fried food you could want and Jimmy Buffett playing on the radio.  It is next to a marina with huge boats that my kids love to look at as well.
It's definitely touristy, but still fun!
Find more info and their menu here. 
Owa
Owa is an amusement park in Foley, AL, about 20 minutes from the beach.  My hubby and I said we have ruined our kids from visiting any other park because Owa is SO clean, nice and there are never lines!
We have visited three separate occasions and my kids get to just walk onto every ride each time.  At most, they waited one time through….so different than the hour wait at other places!
It is not a giant park, but there are plenty of rides to fill a full day and they are continually adding on.  I also love that there are lots of fun rides for younger kids, not just 1 or 2.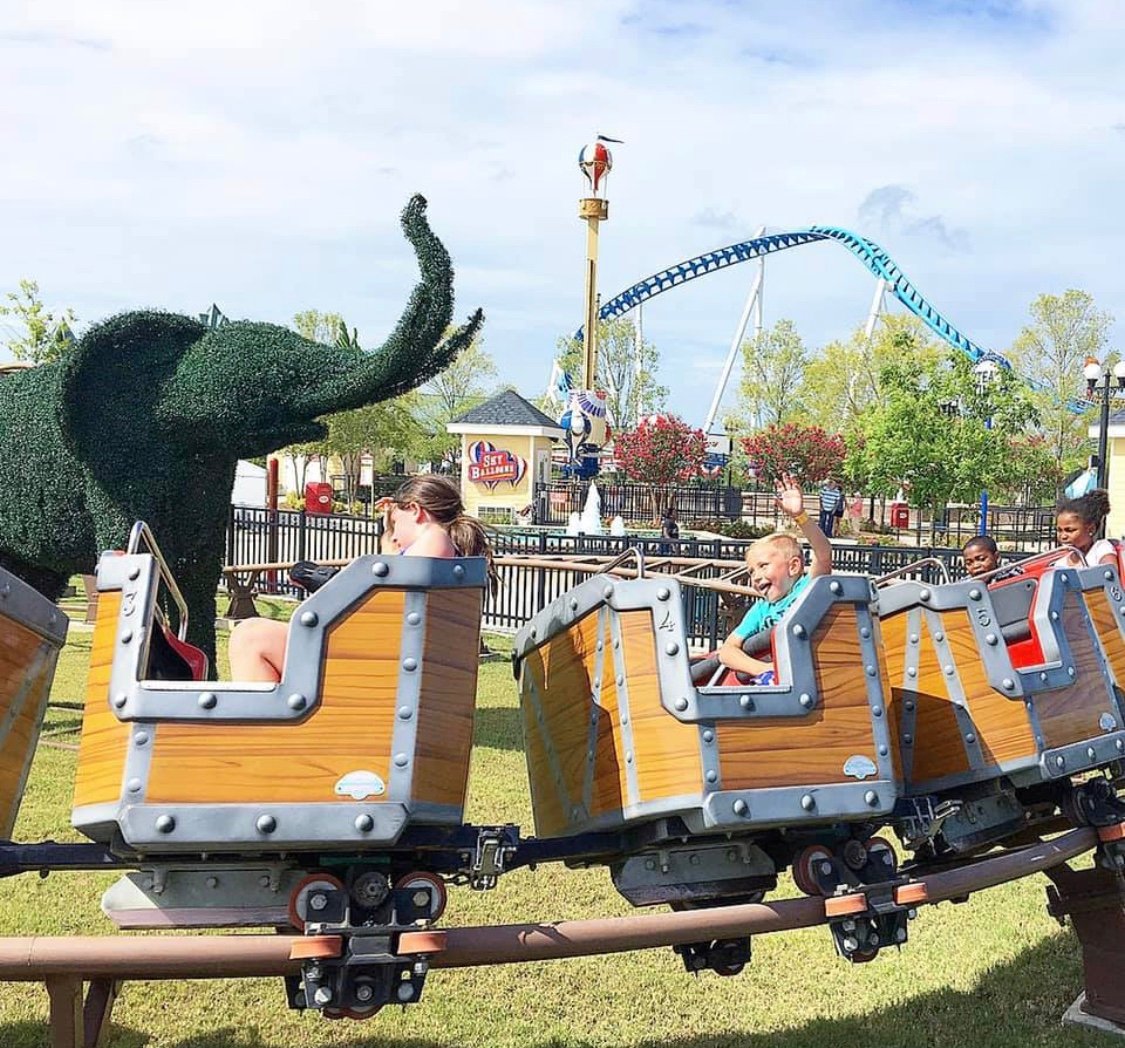 Admission is very affordable and if you are not a rider, like my mom and mother-in-law who like to go with us but don't like to ride rides, you can get in for free.
There is also a splash pad that was great when we went in July!
Outside of the park is a downtown area with shops and restaurants and some nights they also have a light parade called Glowa….we have yet to see that, but it's on the to do list!
Find more about Owa here.
Southern Grind
Southern Grind is THE cutest coffee shop located at The Wharf.  The Wharf has some fun shopping, a ferris wheel, big boats, and some other restaurants, but my favorite part is this little shop!  Wish I was sitting in there sipping coffee now!
Find more info about The Wharf here and Southern Grind here.
Alligator Alley
This one is not for everybody, but my boys LOVED it!
Alligator Alley is family operated alligator sanctuary in Summersdale, about 40 minutes from the beach.  This is fun if you need a break from the beach for a morning or afternoon.  It is an outdoor walk through sanctuary where you can feed and hold alligators and just observe them in their natural state.
They have live feedings a few times a day, so check their website and try to catch one of those times.  They share some interesting alligator facts and seeing them devour that meat is….entertaining/terrifying.
Find more information on their website here. 
Fun Boats Dolphin Tour
There are tons of dolphin tour options, but we chose this one when we went in July, mainly because the tour ends with an (optional) water gun fight on the boat, which I knew would be right up my boys' alley!  My mom and niece opted to stay inside for that part! lol!
This is a two hour tour on the intercoastal waterway.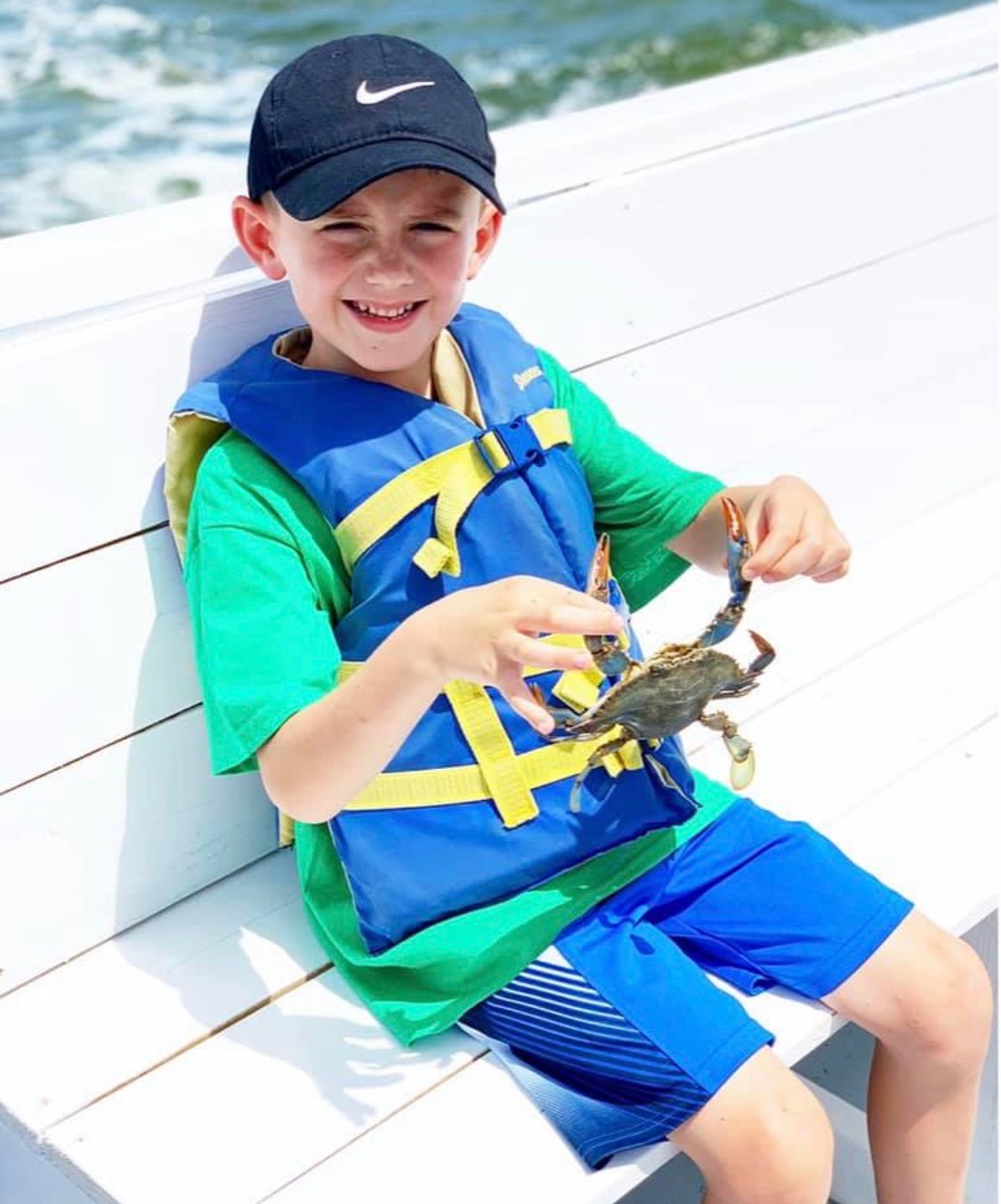 We saw dolphins, got to hold a blue crab and got drenched with water guns…it was a good day.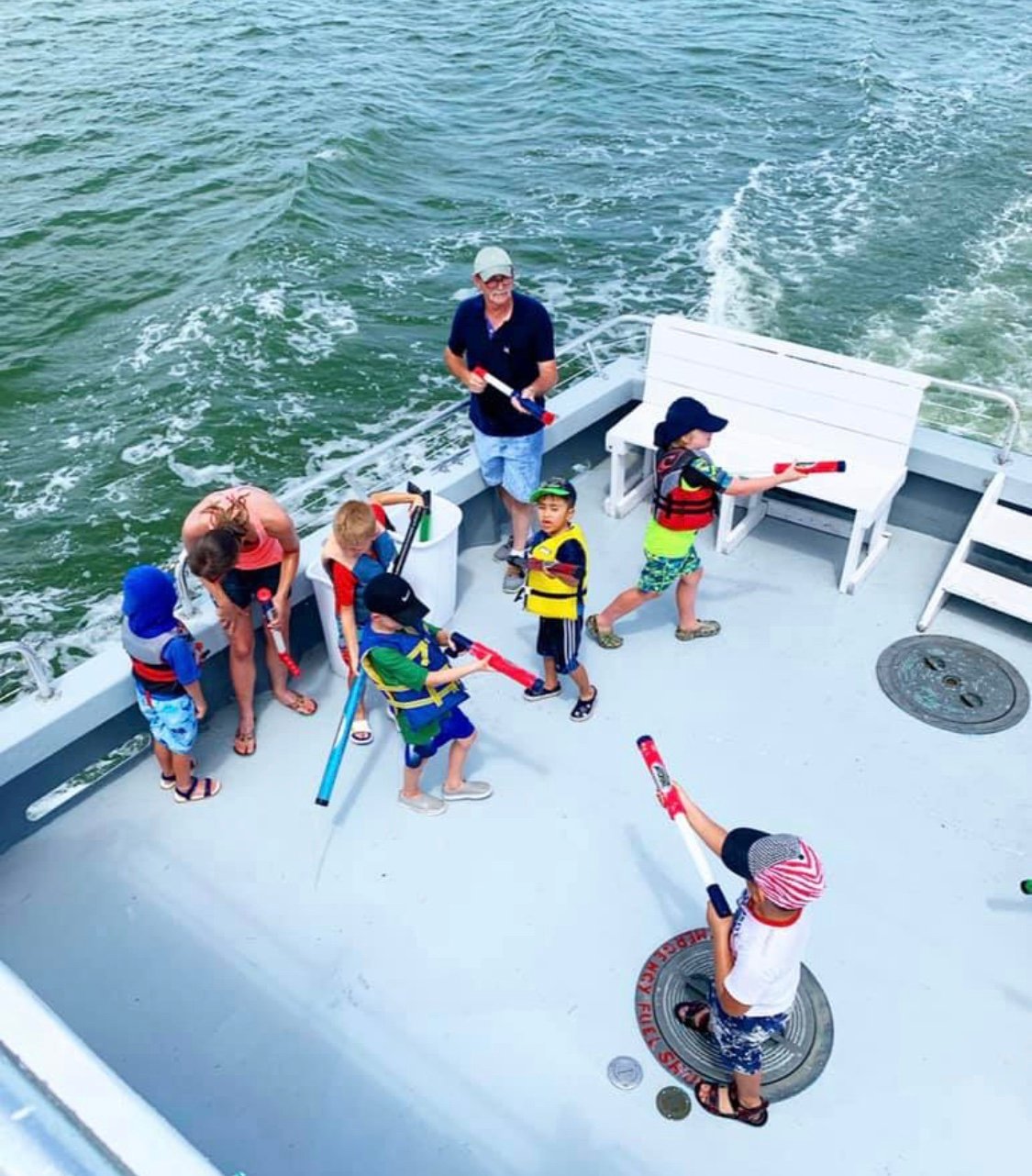 The tour was under $20 per person and there is a small indoor, air conditioned section of the boat and restrooms aboard.  Bring cash for drinks and snacks.
Find their website here.
Other Recs:
I could go on and on, but here are a few other favorites:
Cobalt- One of my favorite sit down restaurants.  We haven't been in awhile because sit down restaurants (where there is not something else for them to go do) with the boys are sometimes a nightmare, but if I was going to go to dinner with just Mac, this is where I'd go!
Find info here. 
Big Beach Brewery- Not kid friendly, but a fun atmosphere and good beer if you have a kid-free night!
Find info here. 
Cosmos- Great food and you can bring your dog.
Find info here. 
Sea and Suds- Fried seafood heaven.  If you want easy, fried food, this is your place.  We often just take it to go!
Find info here.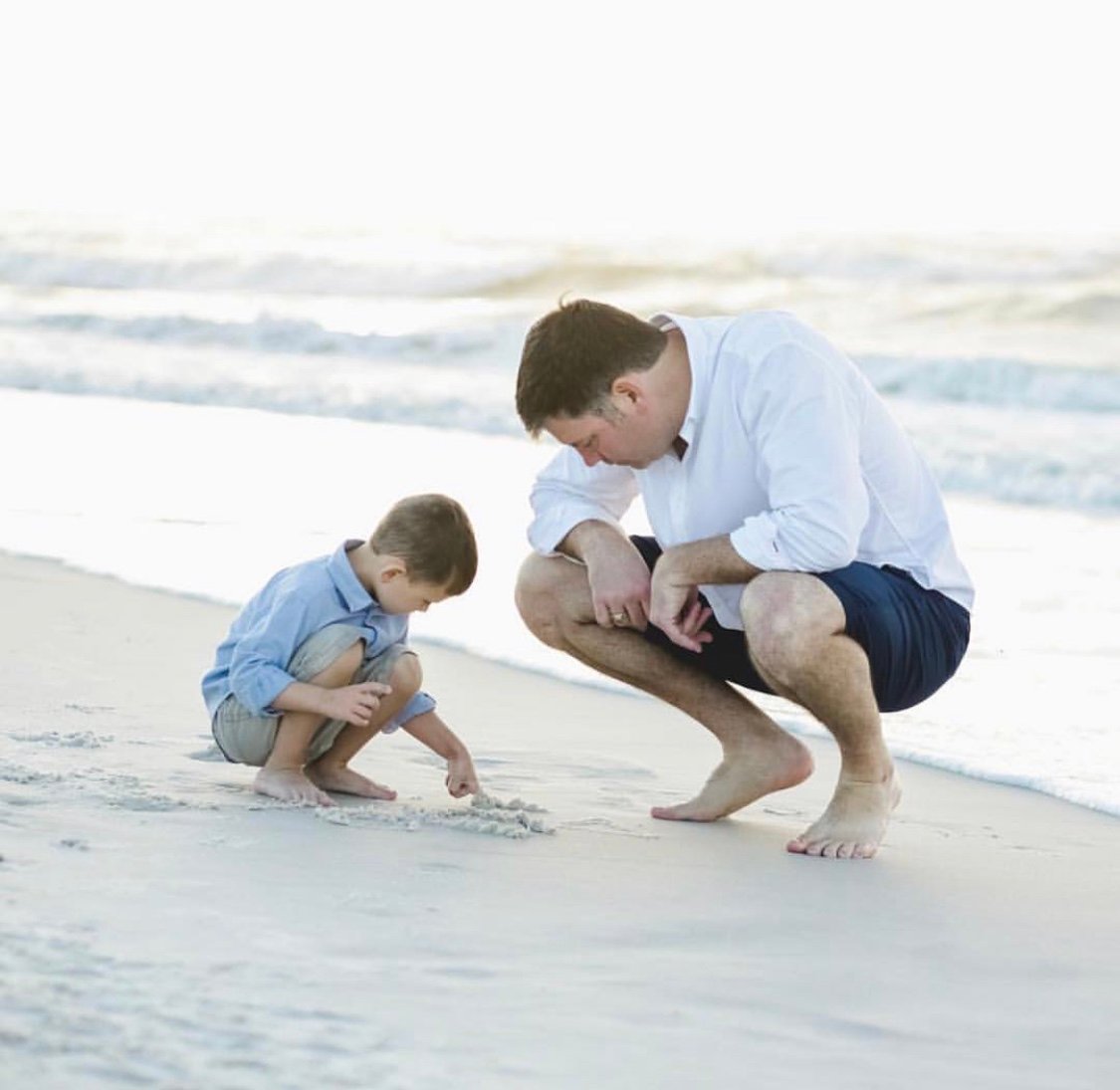 I hope this was helpful!  We LOVE Gulf Shores, and I hope your family does too!