This pulled pork and southern slaw on jalepeno cornbread was made "famous"….at least in our family, by my talented mother-in-law, Bonnie.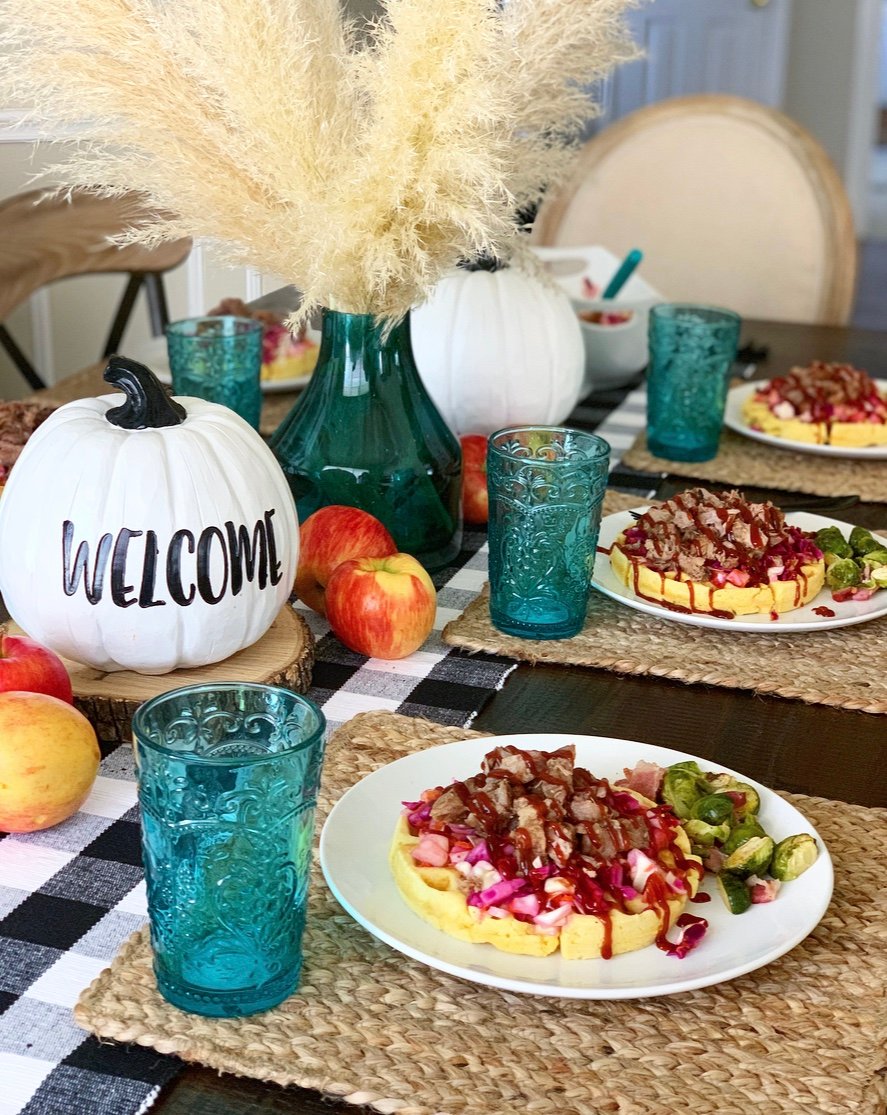 I'm SO excited to share a variation of her recipe today for #walmartcommunitytable. As we head into the holiday season Walmart is encouraging you to share your favorite recipes using this hashtag in an effort to bring people together at the table! You all know that food is one of my love languages, so this is right up my alley! I think searching this tag on social media will be a great resource to find new, fresh recipes this holiday season!  I can't wait to see what everyone shares!
My mother-in-law is an exceptional cook and so creative in the kitchen!  I often feel the need to apologize to my hubby that he grew up with her cooking and now eats mine!  This combination is one of her creations, but my simplified way of making it!  It's Dr. Pepper pulled pork (in the slow cooker) over southern slaw on top of a jalapeno cornbread waffle.  This may sound like a strange combo at first, but I assure you it is LOVE at first bite!  This is a great recipe for the holidays because the slow cooker does most of the work and the slaw is best made well in advance.  This means only the waffles really have to be prepared right before serving, leaving you more time to enjoy your guests!
I am also sharing one of our favorite sides: roasted brussel sprouts with bacon, just to add some green!
Dr. Pepper Pulled Pork
Ingredients
1 pork butt/pork shoulder (3-5 lbs)
2-3 cans of Dr. Pepper, no diet though!
18 oz. of your favorite BBQ sauce, divided
1 sliced onion (optional)
Slow Cooker liners, found here
Directions:
Line your crockpot….side note…I did not know about liners for years, and I HATED crockpot meals because of the cleanup!  Most of you probably already use them, but if not, grab some here!  Game changer! Put your pork and onion in the slow cooker.  Pour soda and about 2/3 of your bottle of bbg sauce on top and cover.  You will use the remaining BBQ sauce on top when we put our meal all together.  Cook 6-8 hours on high in your slow cooker.  When meat is ready it should fall apart with a fork.  It will NOT taste like Dr. Pepper!  It is just there to break down the meat!
Walmart Grocery Pickup
About two years ago I started buying almost all of my groceries through Walmart grocery.  It has been a game changer!! I order online and just drive up to the Walmart that is less than two miles from my house between carting my boys all over town!  I wish this had been available when they were babies!! SO easy, and I have always been happy with the quality of my order!  If you have never tried it, I HIGHLY recommend you check it out here.
Southern Slaw:
Note that this is best made in ADVANCE.  It needs to chill at least 3-4 hours, but is best if left in the fridge overnight before serving!  This is great for parties and the holidays!  Less to stress about the day of!
Ingredients:
2 cups shredded green cabbage
2 cups shredded red cabbage
1 cup diced apples
1/2 cup shredded carrots
1 cup water
1 cup apple cider vinegar
1/2 cup sugar
1 1/2 teaspoons celery seed
1 1/2 teaspoons ground mustard
Salt and pepper to season
Directions:
Mix sugar, water, vinegar, celery seeds, mustard seeds, and salt in a pan and bring to a boil, stirring occasionally. Boil 1 minute. Mix cabbages, apples and carrots in a large bowl. Pour hot vinegar mixture over slaw mixture; cover with plastic wrap, and chill at least 3-4 hours, but preferably overnight.
Cornbread Waffle
This could also be a pancake, but my boys love any excuse to use the waffle maker.  They think it is magical!  If you use Jiffy, one box makes two large waffles, so plan accordingly.
Ingredients:
Cornbread mix (I used Jiffy-it also requires 1/3 cup of milk and 1 egg per box)
1 chopped jalapeno pepper
non-stick spray for waffle iron
Directions:
Make cornbread according to box.  Add jalapenos.  Spray waffle iron with non-stick spray and pour mixture in to make waffles.
Putting it Together

When all the components are ready,
layer your waffle,
your Southern slaw,
and then the pulled pork with a little extra BBQ sauce on top!
I buy these squeeze containers here, so I can better control how much sauce is coming out!
Roasted Brussel Sprouts
I feel like brussel sprouts are so polarizing….people LOVE them or HATE them!  The Crisps are in the LOVE camp, so here is our simple method!
Ingredients:
Fresh brussel sprouts
Bacon, chopped
Extra virgin olive oil
Salt and pepper
Foil to line your tray
Directions:
Line a baking sheet with foil and preheat oven to 400 degrees. Wash and half or quarter your brussel sprouts. Place brussels and bacon on your tray in a single layer.  Toss with olive oil, salt and pepper.   Roast for 15-20 minutes, or until bacon is fully cooked and brussels are the desired crispness for your  crew.
I hope you and your family LOVES this recipe as much as we do! Be sure to share your holiday recipes on social this season using the tag #walmartcommunitytable.
Table Decor:
If you are wanting to make your table a little more festive or the holidays, I am linking the items I used on this table and a few other faves!