I'm excited to share with you how we installed a faux brick wall in Logan's bedroom!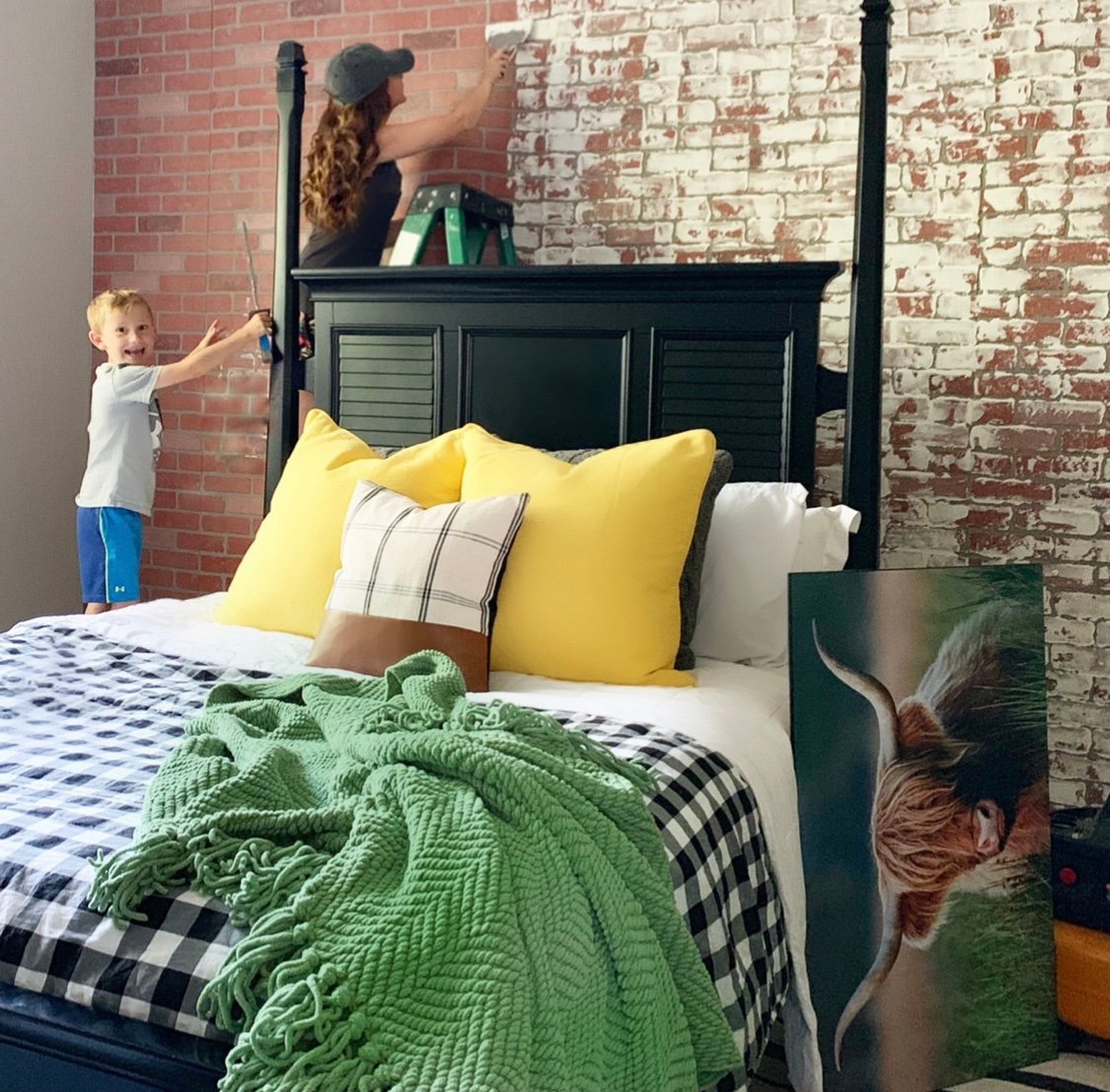 Nothing like getting poked in the bum with a plastic sword….boy mom life!
This was actually an easier DIY than we originally anticipated and a project you could definitely knock out in a Saturday! I think it makes a big impact and is very affordable!
Supplies You Will Need:
Faux brick panels HERE
Spackling HERE
Drywall knife HERE
Sealer HERE– optional
Paint Roller HERE– optional
We chose to seal our wall because I applied the spackling heavier in places. It is chalky and without sealing it I was afraid the boys would rub it off and make a mess. If your faux brick is in a low traffic space and will not be touched much, you may want to skip this step!
Tools you will need:
Table or circular saw
Jigsaw if your wall has outlets
*A few tutorials I read said they used liquid nails. This is an option if you do not have a nail gun, but I can't vouch for this method personally!
Directions for your Brick Panels:
Measure your wall and figure out how many of these 4×8 brick panels you will need. We used 3 full panels and about 1/3 of a fourth for Logan's room. Then we used our stud finder to mark where the studs were so we could nail into them, making sure the panels were secure. We marked where each stud was with painter's tape on the baseboard.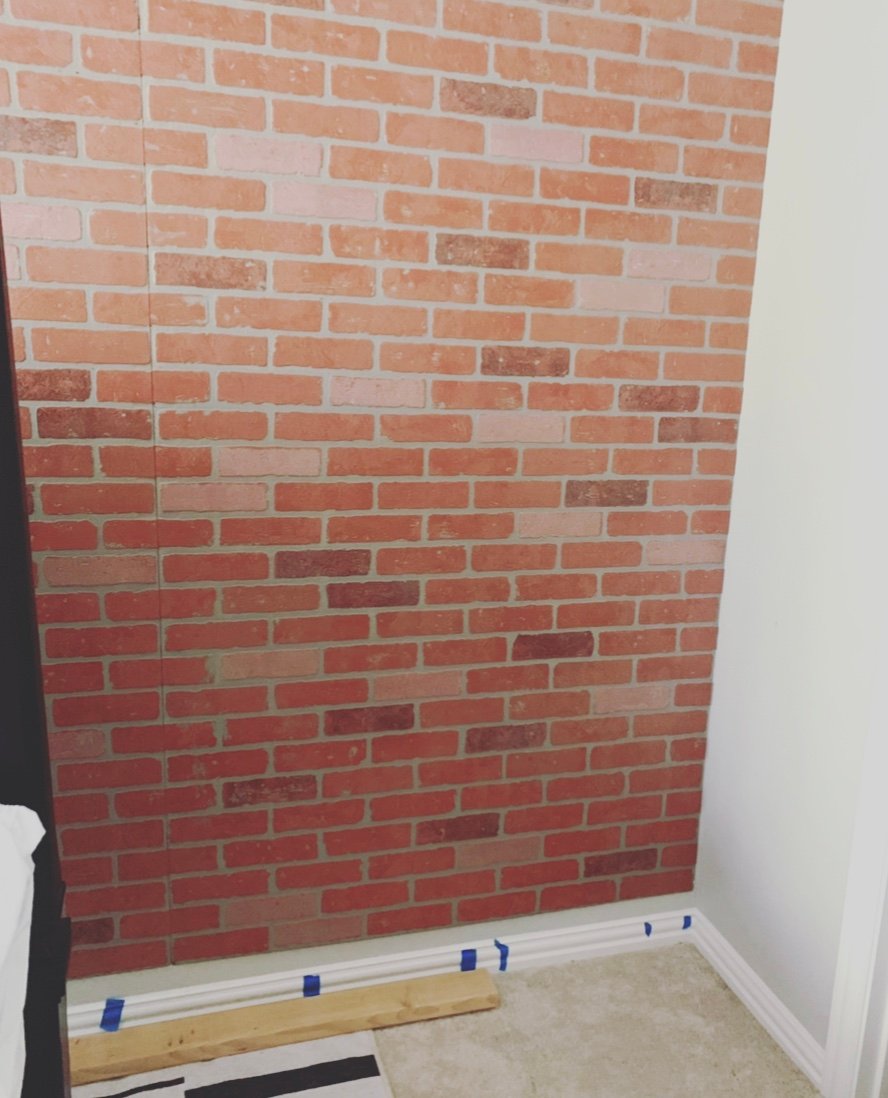 As you can see, the 8 foot height was about 2 inches too short for this wall….isn't that how it usually goes! Haha! Rather than cut an entire wall's worth of single bricks, we chose to install a larger baseboard. Hopefully this will not be the case for you, but even that was easy!
Once you have your measurements and know where your studs are, you will need to cut your panels. We used a circular saw to cut the fourth panel. Use a jigsaw to cut around any outlets.
As you nail gun your panels to the wall, pay attention to the pattern and make sure the brick pattern lines up. You may choose to put caulk in the seams. Because we were going for a more rustic look, I just applied the spackle heavier there, and it does not bother me!
Spackling
I found the spackling we used HERE and spread it with THIS drywall knife. You will need to get the 128 oz for this knife to fit! I wanted a more rustic look for Logan's room, where a good amount of the red brick was showing through, but you can use the spackling to achieve lots of different looks or you can paint the brick a solid color.
You really can't mess it up! Just take a glob of the spackling, put it on the wall and start spreading it around to achieve the look you like!
Sealer
You may choose to skip this step! Because this is in Logan's bedroom and I did thicker spackling in places, I wanted to seal it so it would not flake off if/when he touched it! I found the sealer we used HERE.
THIS sealer looks milky, but dries clear. You want to use a THIN layer so it does not appear shiny. I just applied it with a paint roller. When it was wet I hated the way it looked, but it dried and looked fine. If this was a low traffic area that would not be touched, I would not have done this step!
Before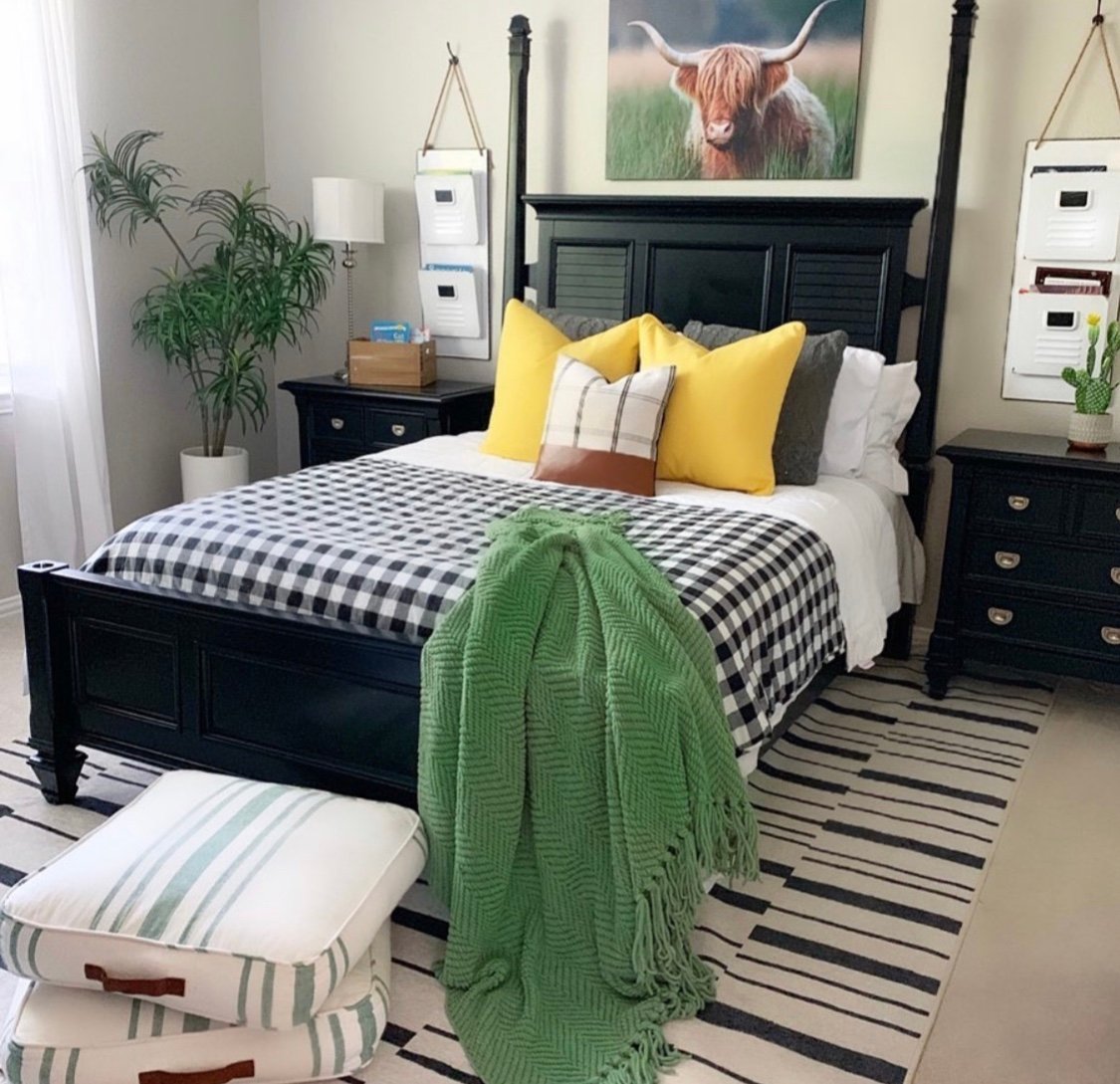 After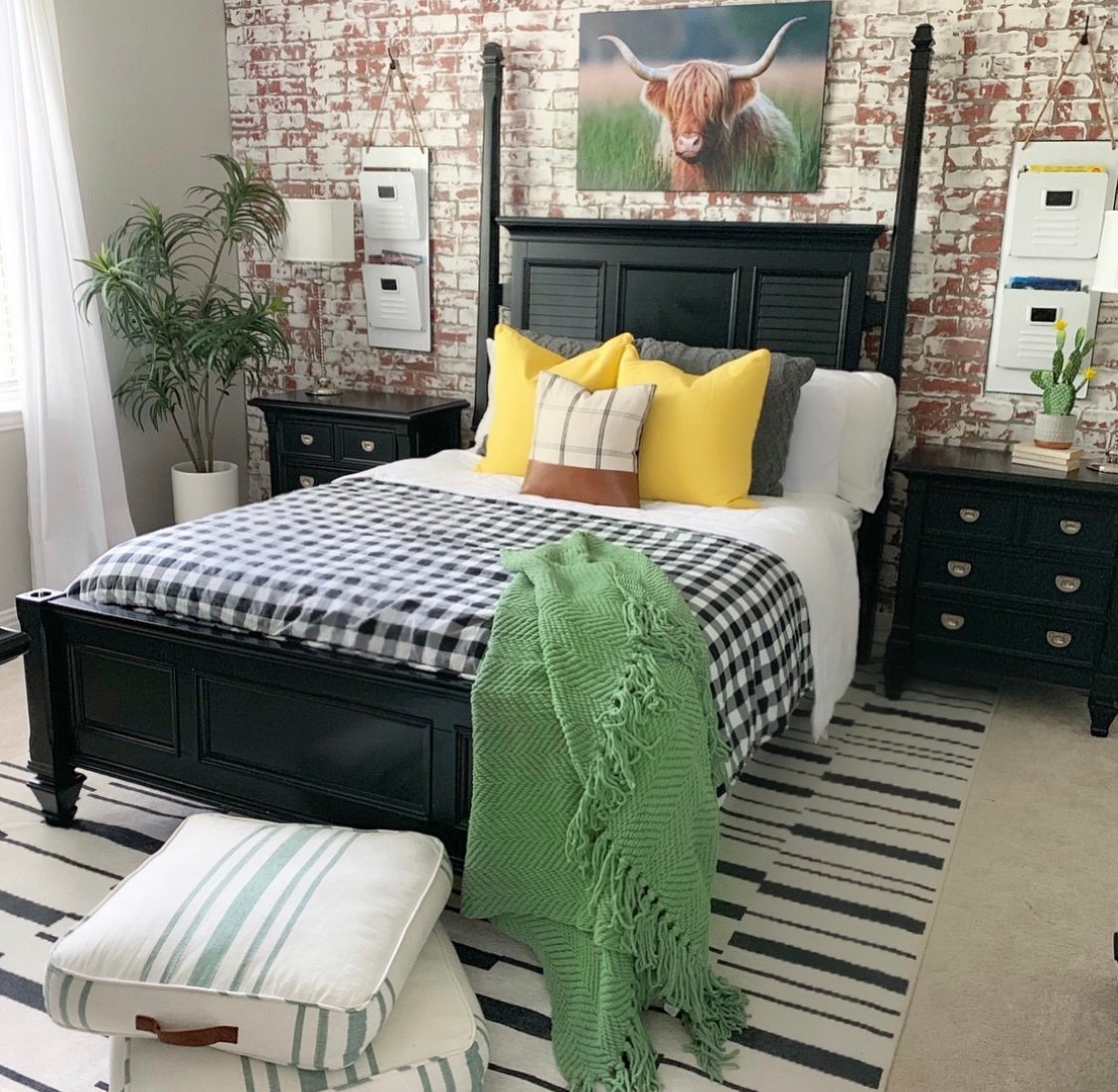 I think this wall adds SO much character to his room, and I love that it is something that can grow with him! It took us about an hour to get the panels cut and up, and it took me about 2 hours to spackle the entire wall. A fairly quick, inexpensive DIY that makes a big impact!
Shop the Post:
Shop the Room: